What is it like to camp with an airplane?
Plane camping combines the freedom of flying with the joys of being outdoors. Sometimes referred to as flamping (a portmanteau of flying and camping), plane camping involves flying to camp in remote areas or airports.
You will be treated to breathtaking vistas of the endless blue skies as well as the thrills of navigating at great altitudes. Flying affords you access to destinations that would otherwise be unreachable via car camping or backpacking.
You can also bring your board games, fishing gear, and other recreational items with you for a fun outdoor activity. All of these culminate in a quiet night under the starry sky in your cozy camping tent.
Whether you enjoy the hustle and bustle of fly-in airshows or backcountry flying with friends, plane camping has something for everyone.
Types of Airplane Camping
Airplane camping generally branches out into two main categories:
The first category involves taxiing onto airports with proper runways and flying to remote areas with poorly prepared or non-existent airstrips. Backcountry flying might lead you to canyons, mountainous regions, dry lakes, beaches, and other remote areas with grass, dirt, sand, or gravel runways and lands with overgrown vegetation. Anyone going this route often has to install large tires, skis, floats, or other equipment suitable for the unpaved runway landing.
The other category of plane campers gets access to asphalt or concrete runways as well as camping amenities such as portable toilets, running water, resupply stores, mail drop-off services, picnic tables, fire pits, grocery stores, and even restaurants. Enthusiasts need only to fly in and pitch their tents.
Getting Started on Plane Camping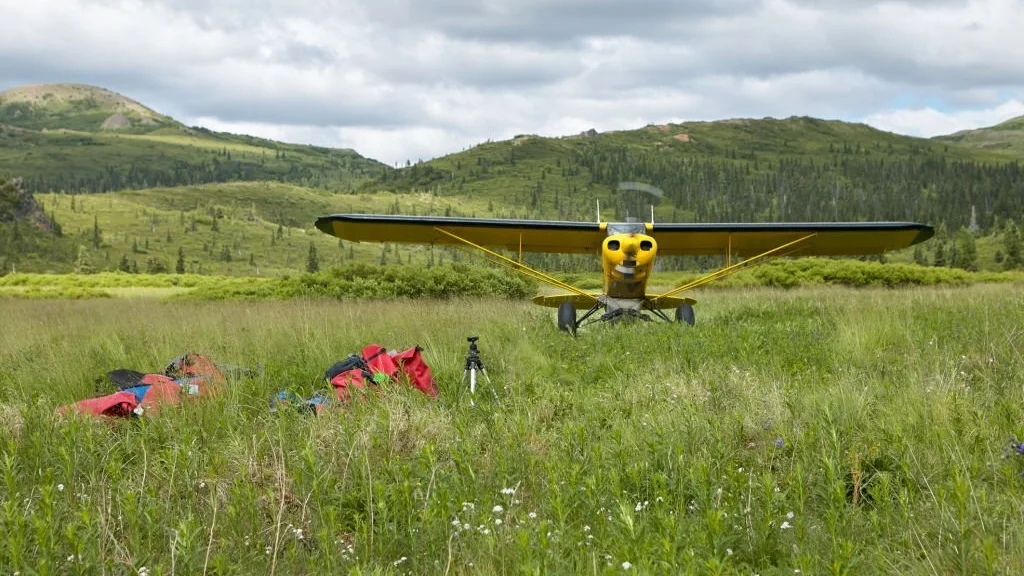 First things first, you will need to be a licensed pilot to fly any type of aircraft. Additionally, federal regulations must be followed during each flight. Generally, a Private Pilot License (PPL) should suffice to fly most types of aircraft but the Federal Aviation Administration (FAA) should guide you accordingly.
Types of Aircraft Ideal for Plane Camping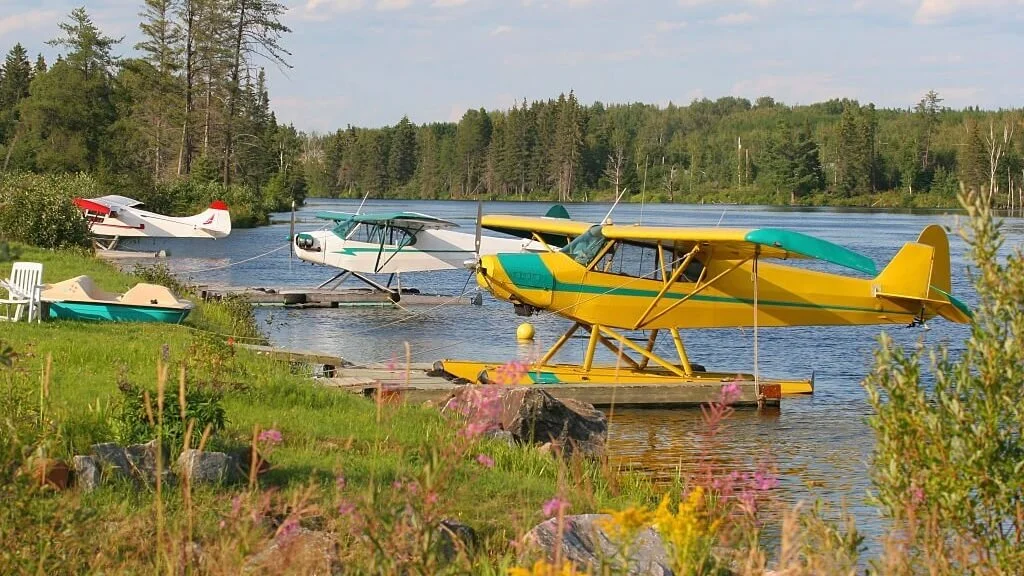 Single-engine airplanes are the most common type of aircraft used for plane camping. They come in two main variants – experimental and ultralights. Airplanes rated as experimental are built from a kit while ultralights refer to commercially built aircraft.
Popular brands of kit planes include the RV aircraft series by Van's Aircraft, Kitfox Aircraft, Zenith Aircraft, Aeroprakt, and Dynon Avionics. On the other hand, ultralights include brands such as Cessna, Piper, Beechcraft, and Pilatus.
Both airplane types can be further differentiated by their seat configuration and type of landing gear.
While 2-seater capacity planes are the most practical ones, you can go for those with a capacity of 4, 6, or more. Take note that the seating arrangement can be in either side-by-side or tandem configurations.
When it comes to landing gear, you get either the classical taildraggers or the typical tricycle aircraft. In taildraggers, there are two primary wheels at the front and a single secondary wheel affixed at the tail, allowing the plane to drag its tail during landing and takeoff. In tricycle planes, there are three wheels, but the arrangement is such that the secondary wheel is in front of the two primary wheels, all affixed to the fuselage of the plane.
Bush airplanes need to have large and low-pressure tundra tires to help cushion and provide traction on gravel, dirt, and rocky terrains. Airplanes destined for water bodies must have floats installed instead of tires. Similarly, planes that operate in the snow often come with large board skis or hydraulic wheel skis affixed to the fuselage.
How to Plan Your Plane Camping Trip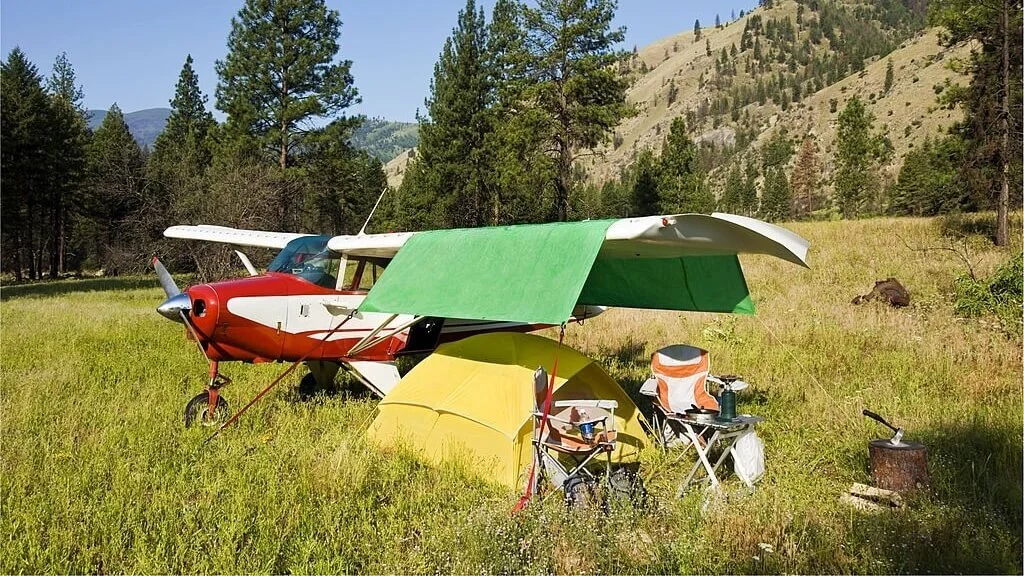 With your pilot's license and proper aircraft documentation, you might want to freshen up your piloting skills before worrying about the camping side of things. Consider training with a Certified Flight Instructor (CFI) familiar with the region you intend to camp at.
Remember that flying a plane entails a variety of other activities, such as pre-flight checks, radio operations, take-offs, landings, etc. Preparing pre-flight, in-flight, emergency, and post-flight checklists helps a great deal in reducing errors and general mental fatigue.
Next, you want to choose your camping destination and most importantly gather the relevant supplies. Try to pitch the camping tent of your choice back home for a better experience in the field. Additionally, a proper route planning and gear list should help you counter some of the challenges you'll face on your trip.
For beginners, you might want to start with shorter trips to airports with camping facilities before upgrading to the bush, mountain, or canyon flying adventures.
What Gear Do You Need for Plane Camping?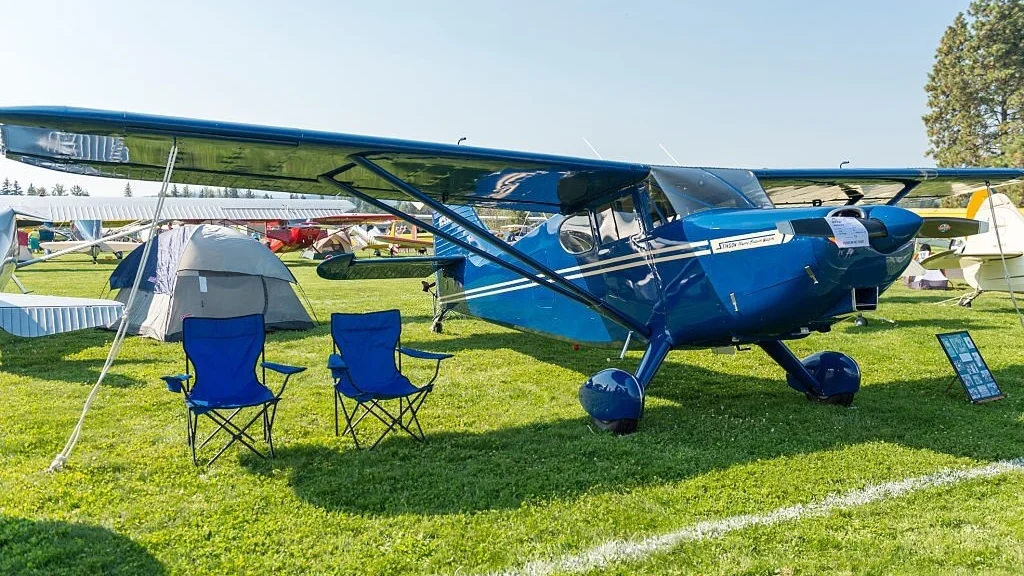 The golden rule when planning a gear list for aircraft camping is to keep the plane's weight limit in mind. Another consideration should be to arrange your flight itinerary to include refill locations to avoid overloading your plane.
If you've never flown with a fully loaded plane, then you may want to do a test flight at your airport to get the hang of it. Find a good balance between your camping and flying gear to avoid going above your aircraft's weight limit.
Make use of cargo nets and organize your supplies according to the frequency of usage when loading the airplane. When it's time to head back home, don't load it up just yet! Instead, you want to first position the plane to better face the runway or taxiway.
If parked on grass or dirt aprons, the aircraft might have settled into the ground overnight. So, you want to give it a gentle shove to make it easier to move.
Essentials for Your Aircraft
Primarily, your aircraft should be equipped according to the type of flying you seek to partake in.
There are broadly two types of piloting namely Visual Flight Rules (VFR) and Instrument Flight Rules (IFR). VFR relies on visual references to get a plane from place to place while IFR piloting depends solely on instruments to fly the plane.
Understandably, IFR flights require more onboard equipment and advanced training than VFR flights. Keep in mind that the FAA periodically lays out the minimum required items for either type of flight rules for day and night operations.
Some of these items might include gauges, meters, indicators, transmitters, night vision goggles, and so much more. Since supplemental oxygen is crucial for high-altitude flights, pilots are required to install adequate oxygen systems and/or have pressurized cabins.
Aside from these mandated requirements, plane campers should always carry some spare parts and basic tools for on-the-go repairs. You should also ensure you have the right tires for the intended destination and carry a tire patch kit, bike pump/portable inflator, and spare tubes.
Other spare parts to bring with you include spark plugs, voltage regulators, vacuum pumps, fuses, alternator belts, filters, lamps/bulbs, and a spare gas cap. A handful of spare nuts, bolts, clips, cotter pins, screws, and washers should similarly come in handy.
Packing extra fuel stored in jerry cans and possibly a fuel tester is highly recommended for long-distance backcountry flamping trips. Always ensure you have enough fuel to get you to the campsite or to the nearest fuel stop.
While you can get portable tool kits with all the basic repair tools, always ensure they include the following:
A variety of wrenches,
Several types of screwdrivers (flat head, Phillips, Allen, and precision),
Drive sockets and socket extensions,
Different types of pliers (regular, needle-nose, and vise-grip),
Side cutters,
Safety wire and safety wire pliers,
Suitable tie-down systems including a hammer,
Spray lubricant,
Tube of sealant and super glue,
Duct tape,
Zip ties,
A small voltmeter,
A portable jump starter
And some cleaning chemicals.
Moreover, a capable multi-tool stored in your plane's glove box can be used for in-flight quick fixes. That said, you should tailor your toolkit to your mechanical aptitude and given aircraft.
You don't want to replicate your bulky and heavy tall toolkit back home. Instead, you want your in-cabin set of tools to be lightweight and good enough for basic repairs. Ditch the metal toolboxes for more practical and lightweight plastic toolboxes or clamshell-style fabric tool bags.
A hand-held two-way satellite communicator is a must-have for when you are out-of-cell range. Signaling gear such as whistles, mirrors, strobe lights, flare guns, railroad fuses, and colored smoke bombs are lifesavers during emergencies.
Lastly, you may include other nice-to-have items such as a portable urinal, a tablet, a pulse oximeter for high-altitude flights, and non-polarized sunglasses. The sunglasses help improve visibility through windscreens during daytime flights. For floatplanes, water-activated emergency lights or beacons and life vests are highly crucial.
Essential Camping Gear for Airplane Camping
When it comes to camping necessities, you chiefly want to satisfy five fronts including shelter, food and water, clothing, utility, and recreation. What to pack in either category will mostly depend on your destination, weather, and personal preferences.
Shelter
Ideally, you need a lightweight, versatile, and reliable outdoor shelter that can withstand the elements. Tarps and hammocks might suffice for summer and warm-weather plane camping trips. Destinations with harsher conditions, on the other hand, require a more robust and protective shelter, such as a waterproof tent.
When picking your tent, you want to consider your space requirements and the destination's weather conditions.
If you need extra room for your gear, friends, or pets, then a larger camping tent is the way to go. Tents rated for 1- or 2-season camping will do for warm-weather camping. Those rated 3- or 4-season are perfect for withstanding harsh winters, considerable snow loads, and strong winds.
Regardless of the weather, your tent should have proper ventilation, durable components, and possibly screened openings. Be sure to grab a footprint for your tent to help protect it and improve water resistance.
Although a regular camping tent will do, you could also go for specialized tents that are designed to attach to the wing of your aircraft.
To accompany your tent, you will need a proper sleeping system. This system should at least include a sleeping bag and possibly a sleeping pad. Again, these items should be rated for the various weather conditions that you will face at your camping destination.
Food and Water Supplies
The length of your trip, camping destination, and weight limitations are the major issues when packing your food and water.
A filtration device can be a good alternative to carrying water in your cabin. Similarly, instead of heavy three-course meals, you should opt for pre-prepped and pre-cooked meals to save on weight.
To heat your pre-cooked and pre-prepped meals, you will need a camping stove, relevant fire starters, and a cookware set.
Remember to store your food in bear-safe containers and preferably out of your aircraft and tent. The food rations should be enough to last you just slightly longer than your trip's length. Further, you might want to have some snacks (dried fruit, energy bars, jerky…) at arm's reach for in-flight re-energizing.
Always observe fire restrictions wherever stipulated for your safety and to prevent wildfires. With that in mind, a small backpacking stove is relatively safer than building open campfires for cooking.
Alternatively, you can just shop for groceries or eat at restaurants near your camping destination. Group fly-outs for meals are particularly enjoyable plane camping activities.
Clothing and Footwear
What you wear for plane camping should be primarily suited to the given weather condition. A tri-layer approach to clothing is a sure winner for any type of weather. It makes it possible to easily add or remove layers of clothing as the weather changes.
In a nutshell, layering your clothing entails wearing a moisture-wicking base layer, an insulating middle layer, and a rain/wind-proof outer shell layer. You want to pack several three-layer sets for your trip just to be safe.
If you anticipate a lot of rain at your camping area, be sure to carry raincoats, umbrellas, and waterproof boots.
The right type of footwear should help you explore any terrain without compromising comfort. Consider packing a few types of footwear for various camping scenarios. You may balance out your no-frills hiking boots with foam clogs or down booties to use at the campsite.
Utility and Survival Tools
To complete your outdoor kitchen and dining area, you might need collapsible tables and camping chairs.
Sunscreen is crucial for protecting your skin during the day while bug repellent will help prevent mosquitoes from biting you at night.
Clean-ups after a day full of activities will be much easier with a portable shower system preferably one that can be attached to the plane's wing.
For night illumination, consider packing camp string lights, a headlamp, a flashlight, an LED rechargeable lantern, or solar lights. A portable battery pack should come in handy in recharging your electronic devices such as phones.
Sometimes you might find yourself stuck on dodgy runways, so you may want to pack a shovel for the job. An ax or hatchet will help in splitting wood for campfires or clearing paths during day hikes. Additionally, a penknife is an invaluable tool for any outdoors lover.
Aside from your plane's mandated survival items, you will also need a first aid kit, a belt cutter, a personal locator beacon, a space blanket, emergency food, and a life vest. Navigation and communication tools such as maps, GPS devices, weather forecast devices, satellite messengers, and a compass are similarly crucial.
Survival tools should be easily accessible in case of emergency landings or other life-threatening situations.
Recreation
Fishing, snorkeling, hiking, watersports, geocaching, birdwatching, playing card or board games, and reading books and magazines are some of the activities you might enjoy on your aircraft camping trip
Alternatively, you could rent some of the items from supply stores near your campsite to save on weight and space in your aircraft.
Where to Go Plane Camping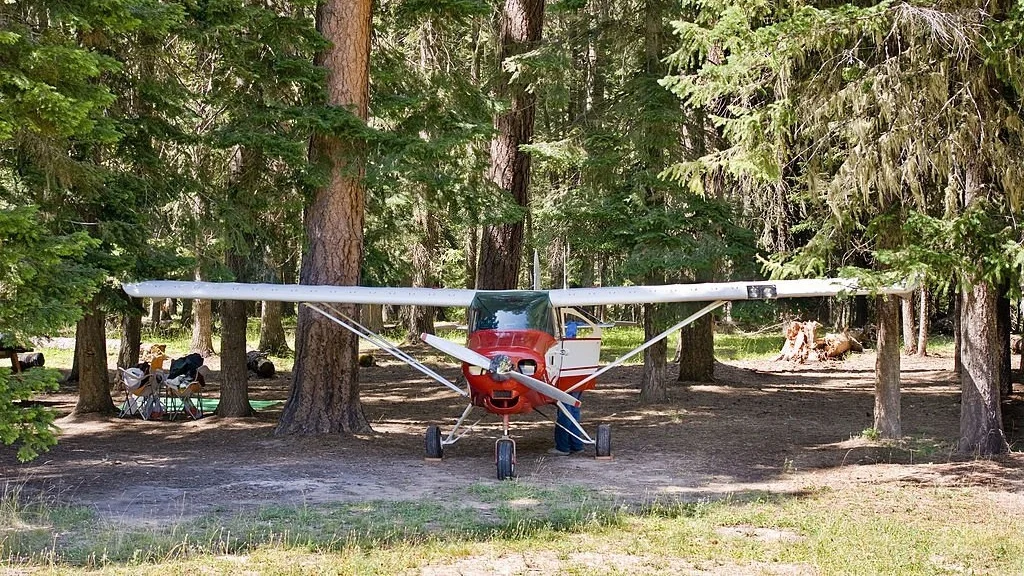 Arguably, your options for plane camping destinations are near-limitless. You can find many resources and updated guidebooks detailing the various destinations including their landing strip information, suggested approach and departure procedures, photos, and other area-specific data.
Regardless of your preferred kind of plane camping, there are numerous locations to choose from around the country. Consider joining recreational pilot associations and related online forums for recommendations and general support on this type of camping.
If you prefer fly-in events cum-camping experiences, the EAA AirVenture Oshkosh and the Sun 'n Fun Aerospace Expo are worth the consideration. Attendees get to enjoy stunning airshows in addition to the week-long camping experience.
For backcountry flying, popular destinations include Alaska's mountainous terrain, most African countries, and the Pacific Northwest.
Challenges of Plane Camping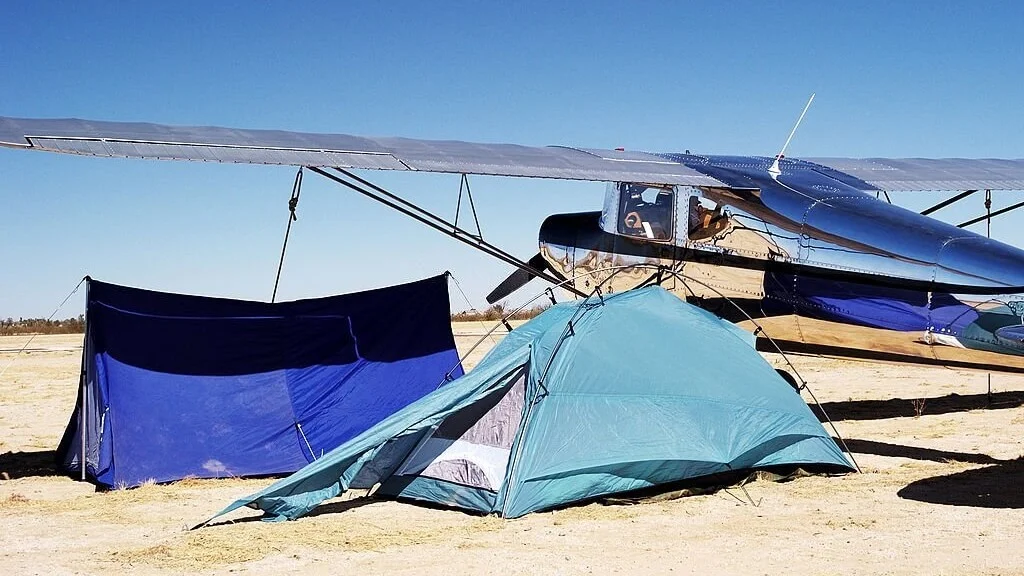 Plane camping, especially in the backcountry, often means exposing yourself to short and unprepared landing strips, severe weather, potential fuel starvation, and mechanical faults. Though these destinations lack proper documentation, sound decision-making skills and planning can greatly help mitigate the risks.
The unpredictability of weather and terrain during plane camping necessitates that you not only stay prepared but also pack proper survival gear and supplies.
Severe Weather
Backcountry flying entails maneuvering over tree lines, bluffs, mountains, and canyons. Such topography greatly affects wind patterns and precipitation making it a pain to counter for winds, density altitude, and cloud cover.
The only way around most of these weather challenges is by staying up to date with the area's weather forecasts. Together with your standard Automated Weather Observing Systems (ASOS) and Automated Surface Observing Systems (ASOS) channels, you can get weather updates from smartphone weather apps and dedicated websites.
Most aviation-related websites will publish PIREPS (pilot reports) and prevailing weather conditions on their platforms. Your main concerns when evaluating the weather risks should include temperature, wind direction and intensity, chances of rain, and visibility.
Hot air might affect the lift of the aircraft while strong winds result in a bumpier flight. Rain generally impairs visibility and can make taxiways and runways harder to navigate. Keep in mind that you can always cancel and reschedule your trip instead of risking weather challenges.
If you fancy mountain flying, be wary that the cold, rough topography and the high altitude might cause problems for your health and the aircraft's performance. Pilots and passengers might suffer from reduced air pressure and limited oxygen availability leading to complications such as hypoxia, dehydration, fatigue, and hypothermia.
Strong Winds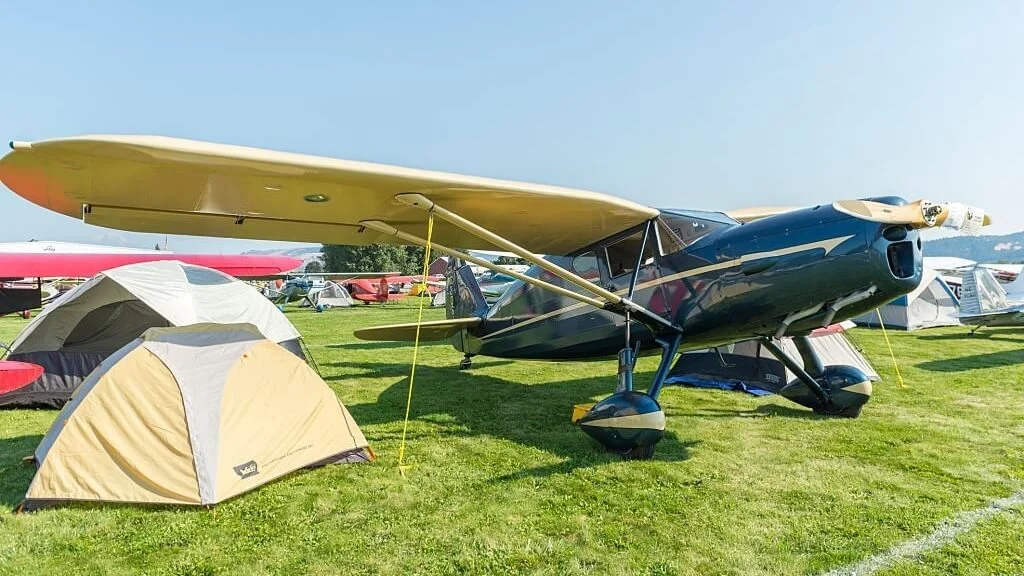 Tying down your aircraft is far more effective than even securing it with chocks. If you leave your small aircraft untied on blustery days, it might lift off and roll with the winds resulting in significant damage to the wings and body of the plane.
Most airports will have anchor points on the apron to help you secure your plane to the ground. However, if you're destined for backcountry land strips, you might want to have a proper tie-down system.
An aircraft tie-down system primarily comprises an anchor and a rope, chain, or bungee cord. The rope is typically connected to the anchor and plane via clips or loops/knots. Ideally, you want to go for a strong, slightly elastic, and durable rope for the best performance. The elasticity helps absorb shock and prevents it from snapping in gusts.
Use anti-slip knots such as a taut-line hitch, square knot, or bowline knot to secure the rope to the aircraft's tiedown-hook and anchor. However, leave some slack on the line to counter any shocks and try to position the plane in the direction of the wind.
Tie-down anchors come in three main types including stakes, corkscrew augers, and helical plate augers. While the last two can be a little harder to drive into the ground, they offer a better bite than standard stake-style pegs.
Poor Runway Conditions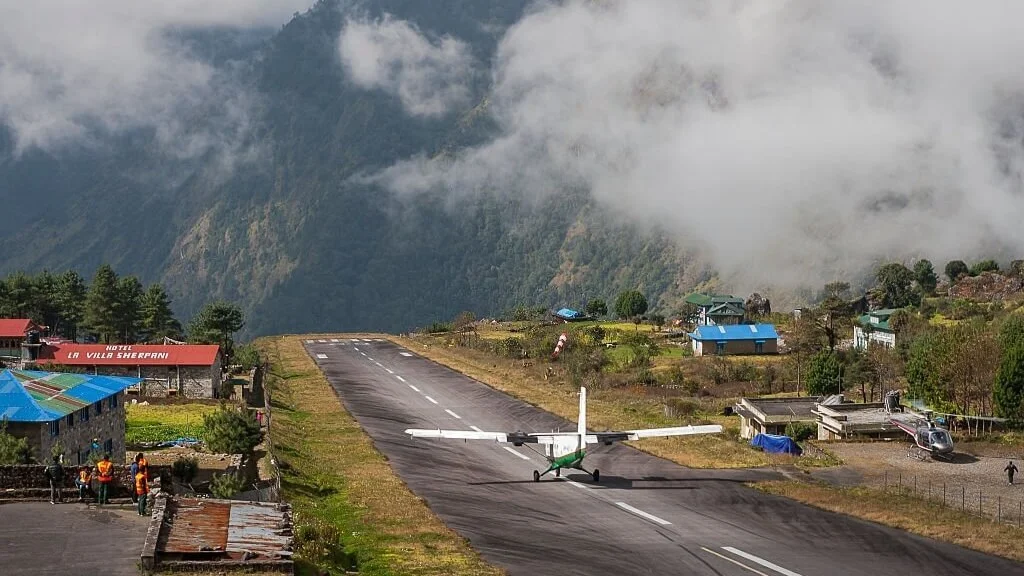 Most backcountry, canyon, and mountain landing strips are narrower, shorter, and sloped than your typical airport runways and taxiways. Braking and handling might be further affected by the rougher terrains.
For instance, grass-covered land strips provide less braking on landing and more physical drag during takeoffs. Experience with short-field and soft-field landing techniques, as well as having a STOL aircraft (short-landing-and-takeoff aircraft), are essential for mitigating this problem.
Before tackling such difficult runway surfaces, practice the various tactics with an instructor. Crosswind and tailwind landings should be covered as well.
Aircraft-related Issues
Inspections, repairs, and general maintenance are the lifeblood of both motorized vehicles and aircraft. Since you will be subjecting your aircraft to tough conditions, it is prudent that you carry out regular inspections and maintenance on it.
Have an FAA-certified mechanic inspect your plane well before your camping trip and address all the raised concerns. Be sure to load up relevant spare parts and tools for an easier time repairing minor issues during your trip.
If a mechanic is to be involved, always ensure you have copies of your service information including a maintenance manual and illustrated parts catalog of your aircraft's make and model. Consider having digital equivalents saved to the cloud for a more seamless experience.
In most cases, you will need to involve your insurance company before carrying out any major repairs.
Where To Land Your Aircraft
Landing on private property is okay as long as you have been permitted by the landowner, else it is considered trespassing. Most private property owners often don't possess liability insurance covers to compensate for any poor landings.
Similarly, you want to keep off protected wilderness, wildlife habitats, and areas under study. Landing on public property such as those under the Bureau of Land Management and the Forest Service may be subject to state or local regulations.
While it can be hard to get the details of landowners, applications such as Recreational Aviation Foundation's new Airfield Guide and Shortfield can be extremely useful in identifying public airstrips.
Finally, deciding on the ideal emergency landing spot is left to the pilot who must weigh between the related hazards and risks.
The Touchdown
Despite all the preparation, camping with an airplane is unquestionably one of the most rewarding experiences ever. The thrills of flying, combined with the tranquility of camping in the great outdoors, are simply irreplicable in other recreational activities. Again, planes, unlike ATVs, cars, and dirt bikes, have minimal impact on natural wildlife habitats.
Although you can "lone-wolf" it, plane camping is most enjoyable when done by a group of friends. Remember that flying is a rare luxury, therefore safeguard those wilderness airstrips and follow the Leave No Trace philosophy!