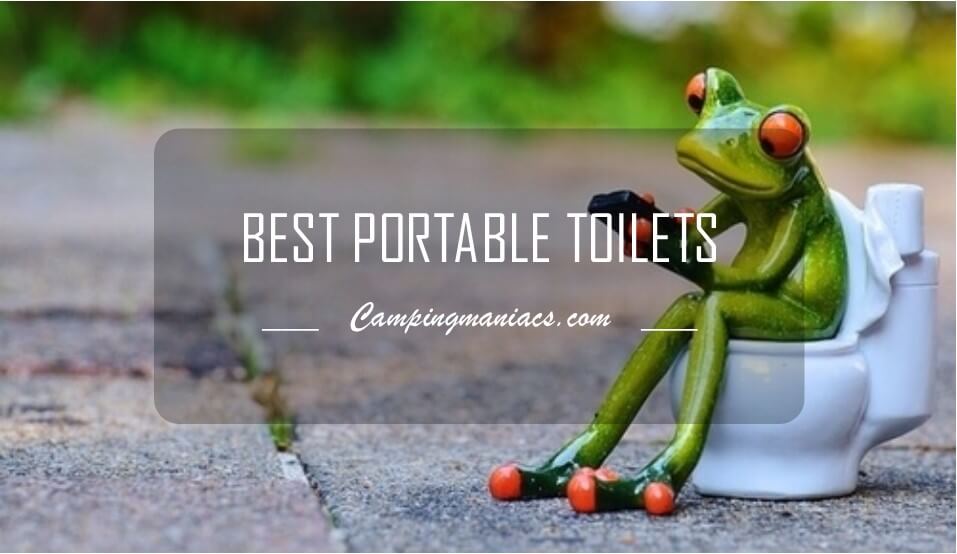 Last Update: 16 October 2020
When you make purchases through links on our website, we may earn affiliate commissions.
Which is the Best Portable Camping Toilet? We Review the Top 20 Brands of 2021
In the middle of the lake, busy trying to reel in some cod, bass or whichever fish that gets baited. Then it suddenly becomes apparent that you really need to do a number two. What do you do? Welcome to the world of portable camping toilets.
Perhaps not the most seamless of segues, but portable toilets are specifically designed around mobility and portability making them a must-have for anyone engaging in recreational activities such as camping, fishing, RVing, and hunting.
In this post, we reveal the top 20 best portable toilets for camping and other outdoor activities.
The best part?
We categorize these porta potties into three major categories to ease your search. So, instead of reading through the entire article trying to find what sticks and what doesn't, you simply get to choose a category that best suits your needs (and budget).
Let's get to it right away: 👇
Which Portable Toilet Are You Looking For?
Top 6 Bucket-type Portable Toilets
In the crudest of definitions, a bucket-type toilet is basically a bucket or pail used to collect excrement. These types of portable toilets are usually a quick solution to emergency situations or for when you're on the road.
It's also a step in the right direction for anyone getting into composting. Make sure to use disposable toilet waste bags on the bucket for a fully no-mess experience. Also, be mindful of where you dispose of the waste, preferably, this should be done at designated dumpsites.
The biggest issue with this kind of portable toilets is that urine and fecal matter is collected in the same pail, thus leading to a lot of funky odors. Some cat litter can come in handy in eliminating the odor as well as absorbing fluids.
Pine needles and grass also work just as effective in minimizing odors. Another tip on combating the odors is to place a diaper at the bottom of the bag as it will absorb most of the fluids.
Bucket-type toilets require no electricity or water to function. Some good-to-have features for your new bucket-type toilet include; tight lid and urine diverting seat.
Here are our top picks of the best bucket-type portable toilets:
1. Basicwise Portable Travel Toilet
Great height.
Multipurpose.
Has a wide base for improved support.
Removable pail and lid; allows for easy and non-messy cleanups.
Made of plastic thus components might break or crack over time.
No doodie bags included with purchase.
The removable lid on the pail must be removed to be able to use the toilet.
The Basicwise travel toilet is the only john in our list that adds some style to the basic bucket-type design. It features a removable pail housed underneath the actual toilet ensuring you bring a little hominess with you when exploring the outdoors.
You can use 4-8 gallon waste bags on the bucket without much hassle. Also, the whole toilet system is lightweight and can be easily transported in its carry case; however, the case must be bought separately.
Stylish yet Functional
Despite being made of plastic, the Basicwise toilet is aesthetically appealing without forgoing functionality. It has a custom-made removable pail that also has a removable lid to contain any odors.
This toilet is full-sized just like your regular toilet and the bottom is wide enough to offer maximum support. There's also an integrated toilet paper holder so that you have everything at hand before getting down to it.
Versatile
This product can double up as a regular seat, especially by small children, when the lid is closed. Although not suited for the use, you can always remove the removable bucket and use the toilet for catholes.
Bottom Line
With a 250 pounds weight limit among other stand-out features, you cannot go wrong with the Basicwise Travel Toilet for all your loo needs when away from home.
However, its use as a seat, especially for adults, is a bit gimmicky as the cover is not sturdy enough to hold that much weight. If constrained by space, you may want to consider the rest of the choices as the Basicwise's seat is elongated and the base is also wider than the top.
2. Stansport Easy-Go Portable Camp Toilet
Lightweight and fairly small in size
Sturdy - made of high-quality, durable materials
Has a comfortable toilet seat with a full-size opening
Its garbage-bin style is a good camouflage for the outdoors
It's tricky to use for males as the opening is quite minimalist
Despite the large encasing, the unit has a very low capacity of fewer than two gallons and thus will require frequent emptying.
Minor Annoyances: the small round-bottomed bucket is hard to pry out of the unit or even rest on a flat surface during cleanups, and its low-profile design may not be friendly to tall people.
The Easy-Go Portable Toilet is a fresh take on the classic bucket-type toilet design. Seeking to make your nature calls that more hassle-free and homier, this camping toilet is comfortable, convenient and easy to use.
Perhaps best known to Stansport as Item Model Number 273-100, Easy-Go has a trash-can design from afar. If you have no plumbing in your cabin, this bucket-type toilet will blend in there just perfectly.
Its full-size seat and lid are not only comfy but also sturdy and will easily keep you in balance. However, males may have some trouble fitting all their parts in the seat as it's not that accommodating.
That said, when you're all done at camp, it has built-in handles for hassle-free portability and storage.
Simple, Rugged Construction
The Easy-Go portable toilet is built to withstand a weight load of slightly over 275-pounds without buckling or toppling. Even though the manufacturer lists a weight-bearing capacity of up to 350 pounds, I would strictly take that as a marketing gimmick and stick to the value of 275.
On the positive side though, its low-profile design and high-quality plastic build ensure that it stays firmly planted on the ground while being used.
Its simple design free of knobs, buttons, and lever controls makes it the best on-the-go toilet when exploring nature.
Further, it occupies a small footprint of about 14-inches by 14-inches thus would be a good add-on to your privacy shelter at the campsite. Plus, unlike most bucket-type portable toilets, you don't have to constantly be reminded that it's a toilet thanks to its garbage bin form factor.
User-Friendly and Convenient
The Easy-Go portable toilet has a small 1.3-gallon bucket just under the toilet seat and lid. You're to use disposable waste bags on the bucket for quick cleanups and odorless "operations". The unit comes with at least one disposable bag to get you started.
There's a miniature storage for your disposable bags and other toiletries at the bottom and can be accessed via the small flip-open front door.
Bottom Line
The Easy-Go portable toilet from Stansport is a good option for RVers or campground campers looking for an emergency outdoor john. If it was your only option, its low capacity would have you emptying it after two to three uses and the bucket is one of those form-over-function pieces.
With that in mind, this is the most improved bucket-style portable toilet you'll find in the market. It is sturdy, comfortable, easy to use, and has a perfect height.
3. Reliance Products Luggable Loo
Economically priced.
Has a Snap-on lid that conveniently latches on the bucket toilet.
Includes a metal handle for easy transport.
Has a standard hinged seat and cover that can be fit on most industrial pails.
The snap-on lid doesn't seem to latch in securely, thus may be ineffective in wadding off odors.
The toilet seat is a bit small for most people.
Made of plastic material thus components may easily break.
In the midst of all the hydration and sanitation products that Reliance Products makes, the Luggable Loo stands out quite a bit. At first glance it looks like a typical bucket, but it's actually more than that.
The Luggable Loo is a bucket-type portable toilet that can be used in tent trailers, boats, and basecamps, as well as during fishing and hunting activities.
Ease of Use
Operating the Luggable Loo is quite easy owing to its innovative yet functional design. It features a fairly wide base, which ensures that it won't tip over or sink into the ground.
Usage is as simple as inserting a disposable bag and sealing it in place with the Snap-On lid. While the lid can lock in odors, it is important that you consider using cat litter or a mix of pine needles and grass to absorb fluids and neutralize odors.
The Luggable Loo has an ideal height for most people, so you won't have to crouch or sit awkwardly as you do your business.
Versatility
This bucket-type toilet is an excellent portable choice to cater for emergency situations or to bring along your camping trip.
Bottom Line
The Reliance Products' Luggable Loo provides an entry-level option for anyone looking for a portable toilet that is easy to clean and use.
The Luggable Loo is especially a good option for those looking to maintain a "real outdoorsy" experience devoid of homey comforts. You will also get to enjoy some much-needed privacy with this bucket-type toilet unlike when using camping ground facilities.
4. Camco Portable Toilet Bucket
The seat shuts tightly on the rim of the bucket; no spillovers in case it's knocked down.
Lightweight.
Made of UV-resistant, durable material.
The seat is not very ergonomically designed to suit males.
The seat shuts too tightly, might even require to tool to pry it off.
Bags sold separate, but 3 free samples are included.
Staying true to its brand, the Camco's portable toilet is a bucket with a toilet seat for a lid that is meant for all kinds of outdoor recreation. Whether it be camping, hunting, tailgating, fishing and even during emergency situations, the Camco toilet is probably a must have.
The smooth interior of the bucket ensures easy cleaning without much need for scrubbing and emptying of contents. Additionally, the bucket's 5-gallon capacity will be more than adequate for the whole family without much inconvenience on portability.
The seat and lid won't fade or be affected severely by sunlight as they are made of durable, UV-resistant polypropylene material.
Disposal of Waste
To lock everything in, the seat snaps tightly over the rim of the bucket and there's an included lid attachment to shut in the odors. Furthermore, you also get three bags upon purchase to help contain everything in a mess-free manner.
Easy Portability
The Camco bucket-type toilet is lightweight and easy to store and carry around. To further improve on this; a carry handle is also included.
Bottom Line
While we highly recommend you to try out the Camco Portable toilet bucket, it's also important to point out a few minor faults about the product.
First, an oval-shaped seat would have been better suited to accommodate both males and females comfortably as the current one is not wide enough. Secondly, the labels are a bit overbearing; over-glued and hard to clean off.
However, if you seek an affordable, mess-free portable toilet to address your nighttime urges then this will do just fine.
5. Reliance Products Hunter's Loo
Adequate 5 gallons capacity.
Lightweight and compact.
Has plastic/metallic handles for easy carrying.
Has a Snap-on hinged strong seat with a replaceable lid.
It's essentially just a bucket with a toilet seat.
The bucket can tip over quite easily.
A minimalist, portable human litter box, the Hunter's Loo effectively implements the bucket loo concept so you can enjoy your recreational activities longer. Plus, it also comes with some added camouflage patterns for the hunter self in you.
Lightweight and Easily Portable
The Hunter's Loo is very lightweight, weighs less than 3 pounds, and features a metallic or a plastic handle to help you carry it around with ease.
This bucket-type loo has the traditional Snap-On hinged seat and cover that seals off the contents so you don't have to worry about any spillages or odor-leaks.
Bottom Line
The Hunter's Loo is yet another budget-friendly, outdoorsy essential from Reliance Products. While it may lack the flashiness in other portable toilets, the Hunter's Loo will provide a convenient and simple way for you to drop your doodies.
As expected, the bucket seems a bit unstable especially with content so you may want to secure the toilet to the ground as it can easily tip over.
Also, it's important to empty the toilet as often as possible and of course don't forget to use suitable liners.
6. Restop Commode Bucket Toilet
Easy to set up.
Comfy foam seat.
The Gamma Seal lid effectively contains the smells and contents while in transit to a disposal point.
Has easy to clean components.
The seat is not fully secured on the rim of the bucket thus making it hard to hold the liners in place.
Not very sturdy especially when in use.
Restop, a division of the American Innotek Inc., focusses on making portable and disposable solutions like the Commode. With a height of 16 inches from the ground, using the Commode will feel just like using your home toilet.
The toilet has a comfy seat and a tight-seal screw-on gamma lid to contain the contents and smells when out and about.
The Commode can be bought with their included supplies bundle or as a solo product. Some of the products in the supplies bundle include the Restop 2 containment bags, storage pouches, toilet paper, and pre-moistened antiseptic wipes.
Comfortable Seat
The manufacturer goes all out with regards to the design of the Commode's seat. It features a flexible foam seat that rests on top of the edges of the bucket. The foam is soft and allows the seat to be folded up quite easily for storage.
Furthermore, it won't be much of a hassle transitioning to this kind of portable toilet as it is the height of standard-low toilet (16 inches).
The manufacturer also claims that the toilet can withstand 300 pounds of pressure as tested over a period of ten hours. While this is definitely impressive, we recommend that you try it out first before making any conclusions.
Bottom Line
The Commode is comfy, easy to use and eco-friendly, especially when used with their EPA-approved Restop 2 bags. The gamma seal lid further cements why the Commode is one of the best bucket-type toilets today.
It makes a suitable portable toilet for tailgating, camping or when plumbing is not an option.
However, the foam seat, even though unique, brings forth some challenges when using the Commode. Since it just rests on the rim, you will be forced to play out a balancing act to prevent any mishaps.
The 11 Best Portable Flush Toilets/Cassette Toilets
Portable flush toilets are a bump up from the basic bucket-type toilets and are geared towards bringing as much home to your outdoorsy activities. They bring with them freshwater flushes, toilet paper dispensers (in some) as well as a toilet seat.
They mostly feature a two-compartment design, with the bottom being the waste tank and the top one for fresh water.
You can always use toilet chemicals to liquefy the wastes, but the emptying process tends to be a messy, stinky affair when it comes to flushable portables.
The stored waste, together with the flush tank, especially when full, make the flush toilet heavy and bulky to get around. You will mostly have to set it up in one place and probably use a shower tent housing over the toilet. More appropriately, these types of toilets are better used for RVing.
Below are our very top picks of the best flushable portable toilets:
1. Thetford Porta Potti Curve
Ideal seat height and design.
Battery-operated flush plus support for a manual operation.
Relatively high capacity holding tanks; 4-gallon freshwater tank and 5.5-gallon waste water tank.
Available in grey and white colors.
Easy to use and clean.
Occupies a fairly large footprint; 17.6 inches high, 15.2 inches wide.
A hold-down kit may be needed to prevent the 5.5-gallon water tank from toppling over especially when in transit.
The sleek design and added features come at a premium price.
The battery-powered pump is prone malfuntion.
Deservedly the gold standard when it comes to portable toilets, the Porta Potti Curve from Thetford will be a perfect fit for you camping, traveling and boating needs.
Long gone will be the days of digging cat holes in the wild or dashing 100 meters to the campground toilets at night.
A look behind the curtain reveals that the Curve's manufacturer, Thetford Corp, is an award-winning company for its innovative yet environmentally conscious products. Besides this, the features on the Curve are just as mind-blowing.
Sleek Yet Functional Design
The Curve comes in a two-part configuration, freshwater tank at the top and waste water tank at the bottom, which easily snaps together during assembly. The flushing system is battery-operated, but you can still manually flush the bowl.
Also, you don't have to second guess whether to refill or empty your tanks as the Curve includes a level indicator which turns red when it's time.
The waste tank has carry handles to help you transport the tank to an appropriate disposal point preferably a plumbed system. The toilet is also fully sealed so you don't have to worry about odors and splashing.
Furthermore, the Curve also has extras such as; a hidden toilet paper holder and easy-to-access water tank inlets.
Bottom Line
If you are looking for a premium portable toilet with as many home-like features as possible then this right here is the best option yet. The Porta Potti Curve will be a convenient essential for any outdoor, emergency or medical situations.
However, even with its resemblance to your everyday home toilet, the Curve is quite large and may not fit in most tent or RV spaces. Also, it is expected that the battery-powered components will face the usual tear and wear over time.
2. Alpcour Portable Toilet
Has a comfortable, well-elevated toilet seat
Designed for quick, easy, and hygienic clean-ups
Has a piston-pump flushing system that's very effective and requires no batteries to operate
The rotating disposal spout makes it so much easier to empty the waste compartment
Durable and perfect for most outdoor activities
The price may be too high for a seemingly entry-level portable toilet
Waste doesn't fully drain out and may require more water to clean out
Minor Annoyances: Men may feel slightly uncomfortable when sitting as the opening is small and circular plus the carry bag is a bit clunky to use.
Fifteen inches is the standard height for most toilets but for a little more outdoor comfort, you'll want to go for a toilet height of between 16-inches and 18-inches. The Alpcour Portable Toilet is the closest you'll get when it comes to comfy outdoor johns.
Its seat is sizable with a surface of about 14.4 inches wide by 16.3 inches long, all elevated to a height of approximately 16.5 inches. And that's not all. The Alpcour travel toilet is loaded with tons of features for homey usability and comfort.
Quick Cleans and Multiple Flushes
Alpcour has a two compartments:
A 3.2-gallon fresh water tank at the top and a 5.3-gallon waste tank at the bottom.
These two compartments are secured in place with strong tank latches on either side of the unit. The flash tank compartment has enough capacity for over 50 flushes!
Whether it's used at the beach or at the campsite, Alpcour will suffice for a medium-sized family or a small group of people.
The piston pump flushes with enough pressure for a full 360-degree spray of water around the bowl. And the flushing system doesn't need batteries or external hookups to operate! Thus, the unit is perfect for those days in the boonies and so much more.
The large capacity holding tanks mean fewer water refills and emptying trips.
When you do need to empty the waste tank, the process is easy, convenient, and clean. The rotating spout makes it easy to dump out the waste hygienically while the included sprayer accessory is perfect for spotless cleaning.
Robust, Convenient Design
Weighing about 11 pounds out-of-the-box, Alpcour comes with a carrying bag for optimal portability and storage. And that's not all. Its durable build can withhold a load of up to 440 pounds! That's more than the average adult's weight in the US.
Further, the material making up most of the encasing can stand against the harshness of the great outdoors without compromising on comfort and ease of use.
You also get lots of small features on the product designed for convenience and maximum functionality.
There are two built-in handles to allow for easy carrying, a user manual with easy-to-follow instructions, and a level indicator on the water tank for precise refill notifications. A waste tank lock is also included for sealing in any odors from the unit.
Bottom Line
No porta-potties or even worse dirty outhouses? An Alpcour Portable Toilet would be a lifesaver. It has all the features that would easily distract you from its mid-range pricing. You'll fall in love with its many conveniences such as the flushing system and comfy seat.
However, be wary that if you're male, the small circular toilet seat opening on this unit may feel slightly uncomfortable. Be that as it may, the product is of good quality and would make for a homey on-the-go porta potty for your RV, car camping, or other outdoor activities.
3. Camco Standard Portable Toilet
Resembles the everyday residential toilet.
Easy to clean and maintain.
Has a manual lever for the flushing system.
Very sturdy construction; can support weights of up to 330lbs.
Easy to set up and use.
The bowl may not be deep enough for most people.
Burping effect may be experienced when you pull the flush lever too hastily.
On the economic side, we have the Camco's Standard portable toilet, which packs in the bare essentials to give you home-like commode while in the outdoors. You will get to enjoy its functional two-part configuration, feathery weight and compactness, all that at a friendly price.
Superior Construction
The manufacturer's choice for going for a polyethylene construction for this toilet delivers exceptional portability. Camco's portable toilet is compact and weighs only 11 pounds making it especially very easy to transport and store.
The two-part design sets the 2.5-gallon flush tank on top and the 5.3-gallon waste tank at the bottom allowing maximum stability. It also has latches to further secure the two tanks in place.
To overcome the inefficiencies of battery-operated pumps, this portable toilet uses a manual lever to pump water into the bowl.
Hassle-free Cleaning and Maintenance
Most people shy off from using portable toilets due to the hassles involved in cleaning and handling them. Camco's portable toilet is designed around solving such issues.
Emptying the holding is super easy on this toilet as you only have to unlatch it and carrying using the included handle to a suitable disposal point. With each purchase, biodegradable toilet chemical is included to help dissolve and deodorize the waste.
You can also spot a sliding seal mechanism on the front which is used to lock in the odors and to prevent any leakage.
Bottom Line
As good quality portable toilets go, this particular model checks most of the boxes. The toilet is easy to clean, use, lightweight and well-built.
The biggest complaint by most consumers about the Camco's standard travel toilet is its flushing system. While a manual system is more convenient and functional, the flush system makes it slightly hard for a clean flush.
The water sprays slightly towards the front instead of the rear thus you may want to close the lid before pulling the lever and also make sure to rinse the bowl clean.
Similarly designed, you can also get an even lighter version of the Camco's portable toilet that can hold 2.6 gallons of waste or a premium version with extra features.
4. Camco Premium Portable Toilet
Multi-directional flushing system that effectively cleans the bowl without spurting out any water.
Large capacity tanks freshwater tank; 3.75-gallon.
Easy to clean and use.
Swivel elbow joint for easy waste removal.
No power-operated flushing system.
Dumping out the waste is not at its best.
A reduced waste tank volume in the newer version; 2.6 gal.
With a slightly larger flush tank, ergonomic features and a sleek new design, say hello to the Camco's Premium toilet. It essentially improves on the misgivings of its standard version, for instance, its flushing system has been reworked and greatly improved.
Ergonomically Designed
It is evident from the get-go that this a truly "premium" product as the overall design is centered on ease of use and convenience.
Firstly, the two main parts of the toilet can be easily attached and detached thanks to their spring-loaded latches. Plus, the two tanks have a large enough capacity for you to focus on your camping, hunting, and boating activities more.
The toilet also has a swiveled elbow joint so you don't have a hard time when dumping the waste. There's also an included sliding gate that is used to tightly contain odors and fluids in the tanks.
Lastly, the bowl's interior surface is made of high-quality ABS material to ensure nothing clings on it and to make the cleanups less unnerving.
Improved Flushing System
This portable toilet has a non-operated flushing system that allows the toilet's use even in the remotest of scenarios. It utilizes a pumping action to drive the water out of the tank and into the bowl.
Additionally, the system also has three directional water spouts which offer an ingenious yet simple way to make sure the bowl is thoroughly cleaned with every flush.
You can also spot a sliding seal mechanism on the front which is used to lock in the odors and to prevent any leakage.
Bottom Line
Having two flushing options, a manual piston and a battery-operated pump would have been the cherry on top for the Camco's Premium toilet. However, it does pack a lot of useful features and improvements over its Standard model.
The most outstanding feature about this product still remains its piston action flushing system. The modern, curvy design is also quite nicely done. Still, you'd want to empty the holding tank once it gets halfway for a better waste disposal process.
5. Thetford Corp Porta Potti 345
Has comfortable toilet height and seat.
Swing-out spout for easier emptying of the.
High capacity tanks; 4-gallon freshwater tank and 3.17-gallon waste tank.
One-unit design due to the seamless connection of both parts.
Very sturdy; can support up to 250 pounds.
May require a hold-down kit for extra stability especially when used on boats.
Possible leakages over time from weak points such as the latches, flush handle, and the holding tank's seal.
Thetford Corp. is already a market leader when it comes to portable toilets and other outdoor essentials, and the Porta Potti 345 is yet another show of their brilliance and ingenuity.
The Porta Potti 345 is a family-sized flushable portable toilet that features well-thought solutions bound to improve your outdoor activity. For instance, the toilet has a piston pump flushing system, seamlessly connected parts, and a rotating pour-out spout as salient features.
Easy To Use and Clean
This particular Porta Potti comes pre-assembled so you don't have to worry about going through endless instructions to do the same. It has standard latches at the bottom of the freshwater tank for quick and effortless connections.
Also, the swing-out spout on the holding tank makes it extremely easy and convenient to dump the wastes. Toilet chemical is also included to liquefy and deodorize the waste for easier dumping. Furthermore, there's an integrated carrying handle to ease the process.
Bottom Line
The Porta Potti is a valid option for anyone looking for a flushable portable toilet with minimal caveats. The piston pump flushing system is especially very effective in jetting the bowl clean, and the pour-out spout is also a welcome feature.
An indicator for the flush water levels would have been nice, but all in all the Porta Potti is a good buy.
Bonus Tip: Use lots of toilet chemical for a better experience when emptying the holding tank.
6. Nature's Head Portable Composting Toilet
No any flunky odors thanks to the composting effect.
Made of durable, stainless steel hardware.
Offers quick disassembles when it's time to empty.
Has a full-sized elongated seat for extra comfort.
No water supply or sewage hookup needed.
Environmentally friendly.
Mold growth can still find its way into your toilet.
It's fairly heavy to carry especially when emptying the solids tanks.
You may require an extra holding bottle for liquids.
A composting toilet eliminates the need for a black tank as it separates the waste into solids and liquids. This concept brings about a lot of convenience and benefits as you will see with the Nature's Head composting toilet.
The Nature's Head toilet has a maintenance-free and odor-free operation so you can get back to your recreational activities without any worries. It comes with a sealed off composting compartment at the bottom to keep the solids, and a liquid collection bottle.
Unlike your conventional toilet, the Nature's Head toilet minimizes odors the longer it goes without being emptied. Peat moss or coconut coir are used with the toilet to facilitate an expedited decomposition process for the solids. The resulting odor is earthy and devoid of any poo smell.
The 4-gallon holding tank may seem small at first. Surprisingly, you can go as high as 80 uses or even more before having to empty the tank thanks to the decomposition and compacting of the solid waste.
Rugged Design
This toilet was originally engineered for use in a marine environment. Therefore, you can expect a robust, all-stainless steel hardware on the product. Furthermore, the toilet still has latched connections so you don't have a hard time why emptying the tanks.
Bottom Line
Designed by two longtime sailors, the Nature's Head composting toilet is specifically made to withstand the harshness of marine environments but can be used as a perfect RV toilet. It provides a sanitary and environmentally-friendly approach to waste disposal.
You can use it on a boat, campground, RV, truck or even at home as a replacement to your conventional toilet. We can't recommend this portable toilet enough solely based on just how effective it is at naturally controlling and containing odors.
However, there are also some slight annoyances that you may have to deal with when using the product such as:
Spraying vinegar/water to clean off the urine from the bowl just doesn't come close to the effectiveness of your typical flushing system.
You will need to empty the liquids tank as often as possible.
7. Palm Springs Portable Toilet
The toilet is easy to use and features a practical design.
It allows for an easy mess-free emptying process.
Its large waste tank capacity ensures fewer waste emptying frequencies.
It's fairly lightweight and portable as compared to most outdoor flushable loos.
The T-type flushing system cleans the bowl efficiently without using too much water.
It has a sturdy hard plastic build that can support a weight capacity of about 325 pounds.
A bellow pump would have been a better choice for quicker and more effective flushes.
Odors quickly build up.
It has a bland design that lacks most of the extra features in similarly-priced portable toilets.
Freshwater tank capacity is a bit on the lower side.
An expected entrant on our list is the Reliance Products Flush-N-Go toilet, a portable commode with all the functionality but none of the flashy designs. We're talking grayish and black colors, a manual piston-pump flushing system, and generally a no-frills engineering approach on its components.
Moving past the overall bland design, this portable toilet has a comfortable seat height and is packed with a couple of practical features that are guaranteed to put you at ease when pooping outdoors.
Simple Design
The Flush-N-Go toilet has two main pieces; the toilet seat with an integrated freshwater tank at the top and the waste tank at the bottom. There's a water inlet at the top left corner of the seat and a rudimentary piston pump on the opposite corner.
The toilet's 2.5-gallon flush tank and its 5-gallon waste tank will suffice for a few uses when in an RV or outdoors. If you're a solo camper, you may only need to empty it once a week but be wary of possible odors.
For larger parties, you'll have to look elsewhere as this toilet would fill up too quickly and the odors would make it impractical to use.
With a height of about 17 inches, the Flush-N-Go toilet is not too far off from your standard home toilet. However, its comfort may vary from person to person as others may opt to raise it higher on a platform or wooden stand.
While its compact form measuring approximately 16.5 inches in length and 16 inches in width won't eat up much of your car trunk's space, it can be a bit bulky to carry around for long distances. That said, the unit is still fairly lightweight for a portable flushable toilet weighing only 12 pounds.
Essentially, you'll want to set-up the toilet in one place at the campsite or where applicable for the best experience instead of moving it around.
There's also the fact that these types of toilets can be detached into separate pieces for easier portability and emptying.
Speaking of which, dumping out the waste from the Flush-N-Go is hassle-free thanks to the waste level indicator, the detachable bottom compartment, and its orange swivel disposal spout. You get to know when to dump out the waste and the activity is just as worry-free and splash-free.
Concerning durability, the unit is made of hard plastic that is sturdy enough to support a weight capacity of about 325 pounds. Regardless of the fact, you can expect the usual downsides of plastic especially if you plan to use the unit in extreme temperatures.
Manual yet Effective Flushing System
The Flush-N-Go comes with a simple piston pump flush system whose efficiency is greatly enhanced by the T-type nozzle. It's not lost on us that manual piston pumps are as cheap and as basic as they come but it does get the job done on this particular unit.
The T-type flush nozzle performs spectacularly as the water is flushed in three directions all around the bowl. However, you'll want to operate the pump handle gently to avoid splash-backs and to allow air pressure to do most of the work.
Although a minor issue, we noticed that the valve sometimes comes slightly undone when you separate the two compartments during emptying. This means more odors to suffer through and equally increased risk of leakages. Sure, you will want to get some enzyme toilet deodorizers for good measure.
As with most similarly-designed toilets, we found the slider to add an unnecessary complication to using the toilet. Before sitting on the throne, you must first open the exhaust valve else you will be in for a messy clean-up.
You'll also want to operate the puller lever for the slider valve gently to avoid damaging it.
Bottom Line
A lightweight and functional toilet for the great outdoors; you can use the Flush-N-Go toilet at camp, at the construction site, on a boat, or even at home during emergencies. While its design doesn't call out for attention, you will undoubtedly fall in love with its minimalism and handy features.
However, you'll have to live with the manual flush pump and its minor flaws.
8. SereneLife Portable Toilet
Has a piston pump flushing system.
Has an included carrying case.
Has large-capacity tanks.
Made of durable high-density Polyethylene.
Secures the parts tightly and disassembles easily when needed.
Leaks may occur from the water pump.
The emptying spout is inconveniently located at the top.
The seat is a bit small for some people.
Practically designed, the SereneLife's portable toilet still maintains a spectacular boxy design with grooves and recess for handholds and latches.
It has most of the features found in good quality portables, but the piston pump flush and rotating emptying spout stand out the most.
The waste tank in this model holds a capacity of up to 5.3 gallons, which will definitely go a long way before you need to empty. The freshwater tank holds a capacity of up to 3.2 gallons that translates to slightly over 50 flushes.
Easy To Clean and Maintain
The integrated three-directional flushing system will leave your SereneLife toilet clean and sparkling. As we found out, the water jet from a pump action system is enough to get rid of the solids from the bowl without requiring too many flushes.
Dumping the waste is further expedited and made mess-free by the included rotating pour-out spout.
Sturdy Build
The SereneLife's portable toilet comes ready to face the harsh outdoors due to its sturdy, durable materials. The toilet is made of high-density Polyethylene, which in itself is corrosion-resistant and easy to clean.
Bottom Line
A piston pump flush and the no-splash emptying spout are reasons enough to go for this product. Still, this portable camping toilet packs some more lovable features and conveniences such as the level indicator on the holding tank and the 3-way flush mechanism.
The SereneLife's product is well-constructed and definitely a good buy for anyone looking for a flushable portable toilet.
9. Leopard Outdoor T-Type Travel Toilet
Has a 3-directional flush system which efficiently washes the waste.
Has a sturdy build and weight bearing capability due to its raw material polyethylene and the wide base.
Easy to use, clean and dispose of waste.
Has a sealed off valve to avoid leakages and smells
Has handles on both the bottom and top compartments hence very portable.
The toilet lacks indicators for fresh water and waste tank levels.
The waste holding compartment lacks a proper emptying spout hence a bit unpleasant while emptying using entry spout.
Made from strong polyethylene, the Leopard Outdoor Portable Toilet has a sturdy build and weighs a modest 11.5 pounds when empty. If you asked me, this is one of the most portable camping toilets in the market right now.
Small in size and manageable in portability, the T-Type is a flush toilet with 3-directional flush sprays that make it cover the entire surface area of the bowl while flushing. You will never have to bear with the disgusting sight of waste remains on the bowl again.
Favorable Capacities
With a 3 gallon fresh water holding capacity and a 5.2 gallon waste carrying capacity, this is one of the most reliable camping toilets which you can use for quite some time without the worry of a fast filling. The sealed gate-valves protect against leakages and odors.
Awesome Features
One of the most likeable features of this toilet is its possesion of handles on two sides of both the lower and the upper compartments. These compartments are separable, a feature which apart from making this toilet very portable, also makes it easy to empty and clean.
In terms of prices, I found this New Invention model quite affordable especially compared to its counterparts with similar features.
Bottom Line
Improvements on the Leopard Outdoor toilet are very much justified as the toilet is now easier to use than ever before. A reliable, portable and easy to clean are features which easily become an understatement when you dig deeper into this toilet.
It does have a few minor setbacks, but they are nothing you can't work around on.
10. Best Choice Products Portable Toilet
Minimal assembly needed and equally very easy to use.
Superb flushing system that ensures a quick, clean flush every time.
Has an ideally-situated and comfortable seat.
Has a water-saving feature.
Leaks may also occur over time.
The seat still falls short of expectations for most male users.
Gets very heavy when full.
Portability is at the very core of the design of the Best Choice Products' portable toilet. You can easily detach the holding tank for easy clean ups and carrying. Plus, the portable toilet is very lightweight making it great for use in the outdoors.
It has a standard porta-potty design with little tweaks to improve on the overall usage of the toilet. The portable toilet has polyethylene-made parts and can support a weight load of 440 pounds.
440 pounds! A bold statement indeed but to which we can attest.
Also, the toilet is full-sized and very comfortable, guaranteed to support any plump shape or size. The toilet measures 16 inches long by 14 inches wide, with a toilet seat of about 16.25 inches tall.
High-Quality Construction
For an almost odorless, leak-proof operation, the Best Choice Products' portable toilet has durable tanks secured together with side latches with a double-sealed drain. The seal is effective in preventing any leakages and odors.
The large-capacity freshwater tank assures up to 50 flushes when full thanks to the creative dual-spray jets flushing system.
Bottom Line
A general consensus among the critics of the Best Choice Products' portable toilet is that the ergonomics and portability of the product are particularly above par. Also, it has a plethora of useful features necessary to withstand the outdoors without trading off too much comfort and convenience.
11. Sanitation Equipment Visa Potty Toilet
Has detachable compartments hence easy to empty and clean.
Has a larger toilet seat suitable for plumpy guys as well.
Multi-directional flush piston.
Easy to read the flush water and waste tank levels.
Its main raw material is low-quality plastic.
Makes lots of noise while flushing.
Lacks pour-out spout for directing waste while emptying.
Sanitation Equipment Visa Potty Model toilet has a deep bowl that enhances the comfort of its user. Now, if you are familiar with toilet flush water splashing on your butts as you drain your bowel, this is what I mean. This toilet model attempts to avoid such discomforts by providing a deep bowl that ensures the waters don't splash onto your behinds.
Secondly, this toilet model is a flush toilet with a replicable piston pump. It has a two-directional rinse which enhances bowl surface coverage, hence ensuring highest level of hygiene (now we all hate that sight of waste remains on the bowl surface after flushing).
Easy to Clean
Another feature worth noting for this model is the easiness of cleaning for the waste storage compartment. This compartment is detachable for the purpose.
Bottom Line
Overall, the Sanitation Equipment Visa Potty Model is an affordable brand with a number of impressive features. Apart from a few misgivings such as lack of pour-out spout, being plastic-made and making noises while flushing, this brand has got many salient features that will make you impressed.
It is, particularly notable, suitable for plumpy people since it has a large toilet seat. Its separate compartments make it easy to empty and clean. A two-directional flush piston makes this toilet likeable due to the high-level cleanliness it can maintain of itself.
The 5 Best Foldable Camping Toilet Seats
Also commonly referred to as a folding toilet or a backpacking toilet, there exists an even more minimalist, lightweight, portable toilet than the bucket-types. The folding chair toilet basically provides a comfortable seat for you to do your number twos.
A waste bag is used to collect the excreta.
The folding toilet seats can be set up in seconds and are very flexible when it comes to mobility. It is extremely important that you go for a sturdily-built seat as you risk falling onto your own mess if the seat is weak.
1. Green Elephant Portable Toilet Seat
Lightweight, easily foldable and portable.
Has a standard-sized toilet seat.
Very Sturdy.
Short for some people.
Collapsing it back down may require some extra effort.
Backed by an ambitious 2-year guarantee, the Green Elephant's toilet seat will be there when you really need to go. It is extremely lightweight, weighing at only 3.5 pounds, and folds easily for enhanced portability.
To use the toilet seat, just unfold it and unwrap the plastic bag around it then get down. Alternatively, you can go the eco-friendly way and dig a hole beneath the chair and drop your twos.
Comfortable Toilet Seat
The throne is 15.3 inches off the ground and measures 15 inches and about 15.8 inches from front to back. The seat is comfortable and can support people of all ages, heights, and sizes.
The toilet seat is secured to the four-legged frame with screws so you can do your business in a relaxed manner.
Bottom Line
With the Green Elephant's toilet seat, you can say goodbye to squatting or digging holes on the ground when answering your nature calls in the wild. The seat heavily leans on functionality as opposed to cosmetics and will be a godsend for hikers and disperse campers.
2. Reliance Products Fold-to-Go Portable Toilet
Sturdy legs and frame.
Very lightweight and portable.
Comes with a compostable double doodie bag.
Secure locking mechanism for the legs.
Tricky leg locking mechanisms.
Low profile stature.
Yet another solution from Reliance Products, the Fold-to-Go portable toilet is a clear winner when it comes to folding toilet seats. Two factors that really stand out about this toilet seat are; the integrated carrying handle and the lockable foldable legs.
You can use a compostable waste bag with the toilet or go the ecological way by digging a hole underneath the seat. It won't matter what recreational activity you're engaged in and as long as you weigh less than 300 pounds, the Fold-to-Go will be there for you when nature calls.
Very Lightweight and Portable
At about 5 pounds, Fold-to-Go toilet is one of the most lightweight foldable toilet seats. This, together with the integrated carrying handle enhance its portability. Additionally, you can set up and fold away the toilet in mere seconds.
Bottom Line
Some minor issues may pop up when you use the Fold-to-Go toilet for the very first time. Specifically, the toilet is 3-4 inches shorter than your standard toilet and its locking mechanism needs some practice before one gets used to it.
The toilet makes up for the above inefficiencies by featuring quality construction material that will see it serve for more than just a few years.
3. Cleanwaste Go Anywhere Portable Folding Toilet
Collapsible with a carrying handle for easy portability.
Great weight bearer; weight rating - 500 lbs.
Made of heavy-duty, durable material.
Comfortable toilet seat.
Mesh bag to hold waste kits is included.
Slightly heavier compared to other foldable toilets.
Requires use of doodie bags which will make you incur additional costs.
Leg release is not that all hassle-free.
What if your briefcase would – upon the call of nature – unfold to allow you to respond to the call? What if I told you there's such a possibility? Well, not exactly but a semblance of it.
A Compact Folding Toilet
From design to the ergonomic handle, Cleanswaste is a foldable toilet that resembles a briefcase when folded. As a matter of fact, one would easily mistake you for a CEO, only to frown when they see what you choose to do with your "briefcase".
Featuring 3 sturdy legs and ample top dimensions, this foldable toilet has a whopping 500 lbs. weight rating. Finally, a portable toilet seat for the big people. The strong, durable plastic used in its construction won't for a moment let it crush under whichever weight.
Additionally, you will appreciate the locking mechanism that the legs feature and the additional support that this toilet's cover offer against the ground. Aptly, this is a toilet for many terrains, the even and the uneven.
Comfortable and Sanitary
This toilet's seat and bowl massive dimensions, coupled with its favorable height off the ground, are everything that bright your home bathroom to the wild. Forget about those toilets that see your knees kissing your chin every time you use them.
Featuring only in the Cleanwaste toilet, the mesh holder for the wag bag is a clever inclusion that ensures sanitary operation. The seat tucks the bag in the rim ensuring that it doesn't fall under the weight of your waste. A peace of mind much, right?
Bottom Line
Now you may ask: is the Cleanwaste devoid of any problems? The answer to this is a definite "No". The waste bags, apart from costing quite some bucks, are a bit uneasy to handle. But with practice, you will get used the the act.
Again, the Cleanwaste Toilet is heavier than other similar toilets. Much as it features a cool briefcase-like design to enhance its compactness and portability, you will have to bear with its 7-pound weight. Not the best of backpacking toilets definitely but recommended for car camping.
4. Trail Bum 3-in-1 Toilet Seat
Can be used in three configurations.
Has a sturdy and lightweight aluminum frame,
Ultra-light and one of the best backpacking toilets.
The toilet seat's height is way shorter than the standard version.
The 3-in-1 forms are mostly an overkill.
The Trail Bum 3-in-1 is an ultra-light campers' delight disguised as three outdoorsy essentials in one compact unit. It can be used as a toilet, a camping chair or as a table.
Sturdy Build with Easy-To-Use Features
The 3-in-1 has a sturdy, durable frame that is made of aircraft-grade aluminum with UV and water-resistant webbing straps. In fact, you can put on a stress weight of up to 220 pounds when in toilet/stool mode and up to 3 pounds of weight when it is set up as a table.
The frame is easy to reconfigure on account of their shock corded design and the integrated easy-release straps.
Bottom Line
The ability to setup the unit into three different forms may seem like a gimmick at first but can be a lifesaver especially when you're a one-person party. The Trail Bum 3-in-1 succeeds at packing the most features into a light, compact structure.
5. Hovermaster Hands-Free Portable Camping Toilet
The most lightweight portable toilet.
Delivers the said hands-free experience.
Made of sturdy materials; strong enough to support heavy weight.
Requires digging a hole beneath and collection of the waste if needed.
Cleaning up after use can be extremely dicey.
Lastly, we have the Hovermaster 4000, which takes things a little further in an effort to deliver a hands-free portable toilet. It essentially helps you to assume a sitting or squatting position as you do your business into a dug hole beneath. Not quite a toilet seat, but we had to force it into this category for convenience.
Interesting Design
The "device" comes in a zippered Cordura-made pouch and includes a heavy-duty webbing used to support your weight against a tree or any other belaying object. The pouch also has side pockets to hold some toilet paper, wipes and sanitizers.
Bottom Line
The Hovermaster 4000 puts to test your balancing prowess and could easily make for a gag gift. However, when nature does call and your bidet toilet is out of reach then it's time to whip out the Hovermaster 4000 and assume your squat or seated position.
How to Use a Porta Potti
Why We Didn't List the Coleman Flush Toilet
First off, let me be straightforward on the reasons why I did not include the Coleman Portable Flushing Toilet in our flush toilets list.
To be honest, Coleman outdoor products have always fascinated me and I would have loved to give you a detailed coleman portable flush toilet review. I regret their missing out on this list but, as you will find out shortly, there are some very genuine reasons why their toilet didn't make it here.
The Coleman is in the flush portable toilets category and it simply didn't match the others in that category.
First, we had to bear with frequent leaks after every pumping, which was quite annoying. Then there's the pain of emptying! Carrying the bottom waste compartment to a dumpsite, we had to bear with awful leaks through the center hole.
To add to that, the toilet has a very low height which will see your chin kissing your knees every time you use it. And as if that wasn't enough, the price tag for this toilet is sky-high. These and others are just some of the reasons the Coleman toilet couldn't feature on our list.
So, I decided to write a review of the Coleman toilet separately. Here's the article: Coleman portable toilet review.
Summary Plus Wrap-Up On Portable Toilets
These Are the Best Portable Camping Toilets:
Basicwise Portable Travel Toilet - Bucket Toilet With Carry Bag
Stansport Easy-Go Portable Camp Toilet - Toilet on the Go
Reliance Products Luggable Loo - The Best Bucket Toilet
Reliance Products Hunter's Loo - Best Hunting Toilet
Restop Commode Bucket Toilet - Stylish Bucket Toilet
Camco Portable Toilet Bucket - The Doodie Bag Toilet
Thetford Porta Potti Curve - Editor's Top Pick
Alpcour Portable Toilet - Toilet in a Bag
Camco Standard Portable Toilet - Standard Flushable Toilet
Camco Premium Portable Toilet - Premium Flushable Toilet
Thetford Corp Porta Potti 345 - Large and Stylish Toilet
Nature's Head Composting Toilet - Composting Portable Toilet
Reliance Products Flush-N-Go Toilet - Bland Looks But Functional Design
SereneLife Portable Toilet - Best for Serenity In the Wild
Leopard Outdoor T-Type Travel Toilet - With 3-Directional Flush
Best Choice Products Portable Toilet - For Heavy Individuals
Sanitation Equipment Visa Potty - For Large Individuals
Green Elephant Portable Toilet Seat - A Simple Foldable Toilet
Reliance Products Fold-to-Go Portable Toilet - The Fold-and-Go Toilet
Cleanwaste Go Anywhere Portable Toilet - Briefcase-Like Toilet Seat
Trail Bum 3-in-1 Toilet Seat - The Toilet With Versatility
Hovermaster Hands-Free Portable Camping Toilet - Hang On Me Toilet
Well, we have done our best in selecting what we consider to be the best portable toilets for camping. These reviews are based on our own experiences with porta potties and also on some user reviews.
They say that opinions don't lie, especially when a majority of the same seem to marry. Even then, rather than taking everything as is, you may want to do a further due diligence and learn about the exact factors that should guide your choice of a camping toilet. Below is what we know to be the major considerations that any individual ready to buy a portable camping toilet should consider.
Buying a Portable Camping Toilet: Factors to Consider
Whether you are looking to rent or buy a portable toilet, here are a few factors you may want to consider before settling on a brand:
1. Price of the Toilet
For anything you will ever buy, variety will always exist according to price. Same goes for portable toilets.
No matter the make of the porta potty, always look into your wallet before telling the cashier you are getting a specific one. Another point to note, always get the best portable toilet that is within your budget limit.
Additionally, check whether your portable toilet is self-reliant so to speak, or needs waste kits. Models that require wag bags are costlier in the long run because buying the kits is a recurrent cost.
Also, look up the warranty on your toilet. Go for those with longer warranties in case they fail to live up to their advertised durability. That way, you can be sure of getting your money's worth.
2. Size of the Toilet
The size of a portable toilet comes in play during the transportation, and determines its comfort during its usage.
For flushing toilets, three main sizes and types exist:
The standard model: this model is designed for a person of the average build. If you are a bit larger, go for a portable potty with a bigger toilet seat.
The deluxe model: this model is a bit roomier than the standard model and has additional features such as toilet roll holders.
The luxury model: for those who can afford them, the luxury portable toilets are elegant and have most of the features of a typical home toilet. Some come with toilet paper holders and even surfaces where you can put your handwash and soaps.
For all the toilets in general, ask yourself the following questions:
Are the toilet's dimensions enough to fit in your car?
Is the toilet's seat comfortable enough for you to sit in?
Will the toilet fit or be usable in your boat, RV or tent?
Even if you're looking after your budget, ensure that you pick the right size of toilet for you. Don't suffer for miserliness if you can help it.
3. Duration of Stay and the Number of People
I'm combining these two factors because they have a lot in common. When you're hosting a large crowd for a short time or a small crowd for a long time, or a mix of the two, consider the ease of maintenance and the carrying capacity of your porta potty.
Portable toilets with large water and waste carrying capacities such as the Camco 5.3 gallon capacity and New Invention models are suited to longer periods and more massive crowds. Similarly, it is more economical to get smaller porta potties such as the Camco 2.6 gallon capacity for smaller crowds or shorter periods.
Look for models from which the water and waste levels are easy to read so that you note when waste needs to be disposed or additional water obtained. Portable toilets that are easy to clean and efficient in water use (use less water per flush) are also more advantageous when dealing with week-long camps or hundred-people crowds.
Also, factor in any disabilities in the crowd you're hosting. A porta potty to be used by somebody in a wheelchair will be different from that of a person with no handicap.
4. Portability and Ease of Use
Buy a portable toilet that is convenient for you to move and at the same time suits your standards, especially in roominess. Some models weigh as little as 3 pounds and are easily moveable, while others weigh as much as 13 pounds thus harder to maneuver.
In addition to the weight, look at how you will move your porta potty. Models like the Travel and Hassock brands are collapsible and can fit into your backpack, while some models have to be carried as are, such as those of the waste basket variety. Also, consider the ease of dismantling the toilets (if collapsible) and reassembling them. Look at which is more suited to you.
Portable toilets vary in weight because of the materials they are made of. Go for models which, light as they are, are sturdy enough to withstand harsh weather conditions (especially if you are camping) and can easily withstand great weights. One such porta potty is the GAL Portable Toilet which can hold up to 440 pounds of weight.
5. Design/Features
There are different things to look at when checking up the design of a portable potty.
For one, you have to check whether the potty has a floor and if it does, is the floor flat? Curved floors can be a bit hard to use when placed on the ground. Always go for toilets with wider bases as these are more stable and won't let you topple over into your own mess.
Then find out if the porta potty is designed to seal off odors. Some models use waste kits to curb odors, while others such as the Turbo Portable Toilet model have chemicals lined at their bottoms to liquefy waste and prevent stench.
The next thing you need to consider is how hygienic a porta potty is based on its design. Those toilets with deep bowls are hygienic (not to mention comfortable) to use because water doesn't get onto your behind as you utilize them. Also, porta potties that make use of pour-out spouts for waste are safer to use than the ones with kits as the latter means that you have to handle your waste during disposal.
Additionally, portable toilets with multidirectional flush units leave less waste hanging around after you flush, making it more hygienic when the toilet is shared among large crowds.
6. Is the Toilet Comfortable?
Remember that you will use your portable toilet numerous times, so make sure you're comfortable with it before you buying.
The criteria for comfort are never fixed, but a suitable portable toilet will be easy to use because its toilet seat size and height will be convenient for you. You will not flinch when you hear that toilet flushing, or complain when the lavatory is not pleasing to your eye.
Finally, choose a porta potty that gives you privacy especially if your group is large. And don't forget to ask if it's eco-friendly.
7. Purpose/Use
Figuring out why you need a portable commode is usually a good start in your process of budgeting for one. Some common uses for these toilets include:
For recreational activities such as hiking, camping, RVing, hunting, and fishing,
For emergency situations like natural disasters,
For environmental concerns,
For construction work environments and,
As an alternative for when your indoor plumbing is busted.
Whichever purpose you intend for the portable toilet, it is important to feature it in your final decision. Generally, composting toilets work well for the environmentally-focused folks and a folding toilet will be easy to pack and carry for camping or boating adventures.
8. Accessories and Spare Parts
A bunch of useful accessories can be bought in the market today to help you get the most out of any product. Portable toilets are no different, so be sure to factor in such costs in your budget.
A few of these accessories include; urine diverter, camping toilet tent for privacy, rapidly-dissolving/biodegradable toilet paper, toilet chemicals, wag bags and deodorizers.
Like all things, some components in your portable toilet may break, get damaged or come off over the toilet's use. Buying a good quality portable toilet that has standard components and parts will make it easier to find replacement parts from multiple sources.
9. Composting Toilets or Conventional Toilets?
Composting Toilets
The gist of composting toilets is that they use the composting or rather the decomposition of organic matter as a method of treating excreta. The portable versions of these toilets come self-contained with a tank for the solids and another for the liquids.
Advantages of Composting Toilets
The arguments for composting are as below:
No water needed for flushing.
No need for a black tank as the liquids and solids are separated, thus leaving no sewage.
No chemicals needed, just use a composting medium and you'll be all set.
Easy disposal of waste; the waste can be disposed of anywhere, for instance, the liquids can go in any toilet and the solids – now composting – can be thrown in a dumpster.
The most commonly used composting mediums are coconut coir and Sphagnum peat moss. Using the former is highly recommended as it's environmentally sustainable, odorless and has a low risk of having insect larvae in it as is the case with the latter.
Portable composting toilets are also odorless as they come with a small exhaust fan fitted within them. The fan helps to ventilate out the exhaust odors, keep the toilet's interior dry, and draw in fresh air. The exhaust fan also helps prevent mold growth inside the toilet.
Disadvantages of Composting Toilets
However, these types of toilets also do have a few limitations as is discussed herein. Firstly, the liquid tank needs to be emptied frequently, at least per day, which can be slightly inconveniencing.
Emptying the solids tank might also have you gagging due to the awful smell as soon as you open up the lid to dump. However, having used enough composting medium will let out a more earthy or dirt smell.
Additionally, the emptying process can be a bit tedious as the waste needs to be dropped into a garbage bag and the composting medium needs to be prepped, rehydrated and put in the tank.
In fact, the process may take up to 30 minutes or even an hour, luckily you will mostly do it once per month if you have a small family.
Lastly, you will also want to use very little water for rehydration bit of the composting medium else you may run into potential mold issues further down the line.
A composting toilet is best suited for dry campers, boondockers and also anyone looking for a more economically-conscious portable toilet.
Conventional Toilets
As compared to composting toilets, conventional toilets may stink a little during normal use due to the sewage buildup in the holding tank. The use of strong chemicals will mostly be very important in an effort to combat the odors.
Also, a flushing system must also be in place for a conventional toilet to be used. This means you may have to refill your tanks every so often depending on how frequent the toilet facility is used.
Emptying the black tank requires access to a dumpsite and is usually a straightforward process that won't take too much time to accomplish. A conventional portable toilet will mostly be ideal if you don't want the extra costs and time investment applied in composting toilets.
Conclusion
In the sea of misinformation that is in today's markets, having an in-depth insight on everything about a product will help you narrow down to the very best of products.
Undoubtedly, a portable toilet is an essential item to have, be it for emergency purposes or for use in recreational facilities. It is our hope that the above information will help you pick the best portable camping toilet for you.
Let us know your thoughts in the comments section below.