Camping in the rain: the necessary evil?
The Great Smoky Mountains National Park receives about 11.4 million visitors each year making it the most visited park in the US and probably the world over too. You'd be surprised to know that it records the highest annual rainfall in the region, approximately 58-60 inches.
Are these people not afraid of getting soaked while camping or hiking? Well, to be fair, most of the rain in the Smokies is in form of fog, mist and low-level clouds. Still, these millions of people prepare intensely to counter the drab, damp weather conditions.
While camping in the rain isn't as enjoyable as summer camping, there are a few measures you can take to turn this around. These include applying some known hacks, buying suitable gear, knowing where to set camp and so much more as explored in this guide on how to effectively camp in the rain.
1. Pitch Your Tent the Right Way!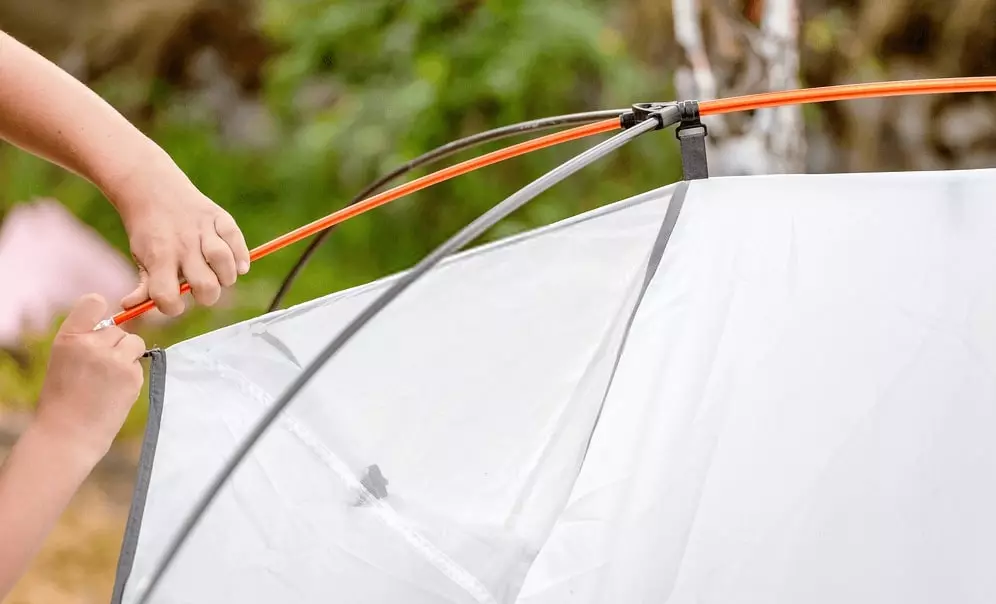 The first step to surviving the rain is to have the right shelter – the ideal tent pitched in the right spot. Flat, elevated grounds should always be your go-to option when looking for somewhere to set up camp.
Your terrain of choice should not be where water pools during rainfall, which leaves valleys out of the question. Very flat grounds also attract water pooling, therefore, go for spots with slight inclinations to avoid sleeping in a potential puddle of muddy water.
Stay away from rivers, lakes or any other water bodies by camping at least 200 feet away.
You will also want to avoid being directly under a tree as the water dripping after the rains will quickly become a nuisance. Widowmakers should also be a concern here because as the dead tree branches soak in water, they become prone to falling and quickly ending your camping days.
To prevent any sudden gushes of water, rain or mud from getting into your cozy tent as you sleep, ensure the entrance is pointing downhill. You get extra points by setting up your tent facing the morning sun, where possible.
The wind may get very aggressive when it's raining so make sure to protect your tent and tarp from being blown away or being ripped apart from the grommets. To counter this, you may place rocks on the corners to give your tent a solid base and in the long run, prolong its life.
As true Leave No Trace followers, it's always a good idea to use well-worn campgrounds rather than build new ones to reduce the impact on the environment. Plus, they are good indicators as to where is safe to camp during rains.
Lighting is also very important when setting up camp. Whether it's LED light strips, candles in mason jars, headlamps, lanterns or reflectors, they will not only set the ambiance around your outdoor shelter but also help you navigate in the dark.
However, keep a closer eye on naked flames to avoid starting fires and remember to bring extra batteries.
Additionally, to cut back on the downtime during rains, you may also consider setting up an outdoor lounging or living area. A tarp or two overhead, some camp chairs, music, snacks, and brew are enough to wait out the rain instead of retreating to the tents.
The lounge area can also double up as a kitchen to cook your meals and a dining area.
2. Get the Right Gear, Really!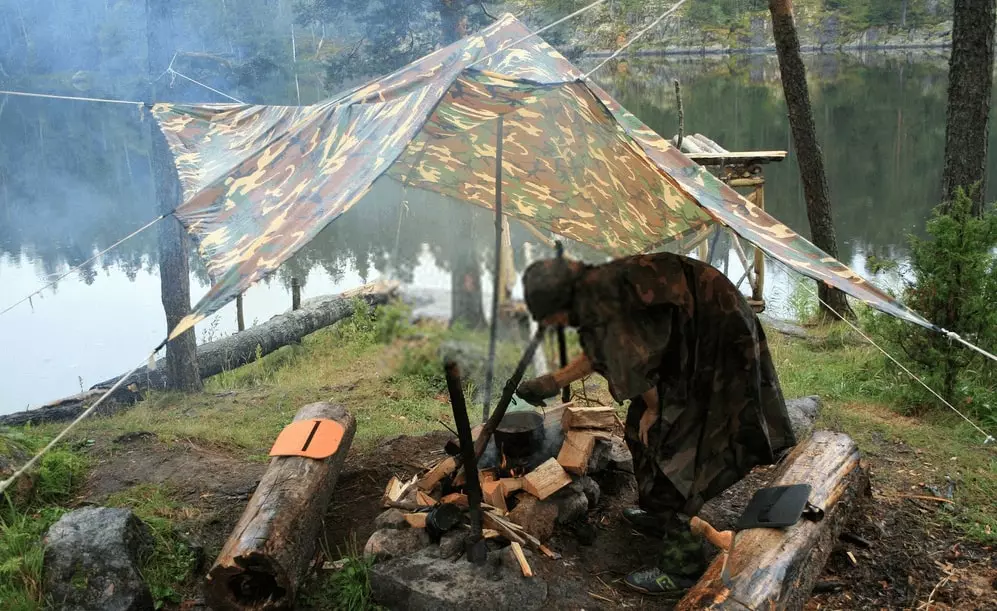 A huge step to staying dry and warm in horrid weather is to have the right gear and to use it accordingly. Camping in the rain has its caveats one of which is that you are required to carry extra gear to shield you from the rain. Again, what's the need for some extra weight if you will get soaked wet?
Tarps are the most effective and affordable means of waterproofing your tent while tent footprints are perfect for keeping groundwater out of your sleeping area (read the comparison). Some extra bungee cords will come in handy for securing the tarp and other gear from the elements.
Tyvek tarps are especially easy to recommend due to their waterproofing qualities and versatility. Plus, you may run it through a washing machine to make the tarp lither and easier to pack.
Since sleeping off the ground is very effective in dealing with sudden downpours, make sure to invest in an elevated sleeping system. This can be as rudimentary as staking some items to lay your sleeping bag on or more practical options like camping beds and cots.
Synthetic sleeping bags are good options to consider as they have waterproofing properties and are fairly cheaper than down ones. Just ensure you layer it up properly for warmth and comfort.
Aside from the matchbox or gas lighter, it's always a good idea to pack some classic fire starters like concave/convex lenses, spark-based fire starters, and circuit shorting options. This will not only make it easier to build a campfire but will also get you warm in no time.
Interestingly, duct tape cut into tiny pieces makes for good kindling and cotton balls dipped in Vaseline (any petroleum product) perform even better.
If the ground is cold and wet, you may add a Bivy bag for extra warmth. The Bivy bag is specialized to help retain body heat and protect the sleeping bag from moisture. Breathing into the bag will deteriorate the bag's performance so keep your face exposed.
Apart from getting the right gear, you will need to ensure all your gear is in tip-top shape. After all, a leaky tent will just ruin your camping trip. This will entail sealing tent seams, waterproofing your gear, inspecting the tarp or rain fly for holes, and checking for bent poles.
The waterproof membrane in tents and boots wears off over time thus you need to replenish it annually with suitable spray-on options to keep off moisture and rainwater. Keep in mind that dirt may block the waterproof membrane's pores and limit breathability.
3. Wear Suitable Clothing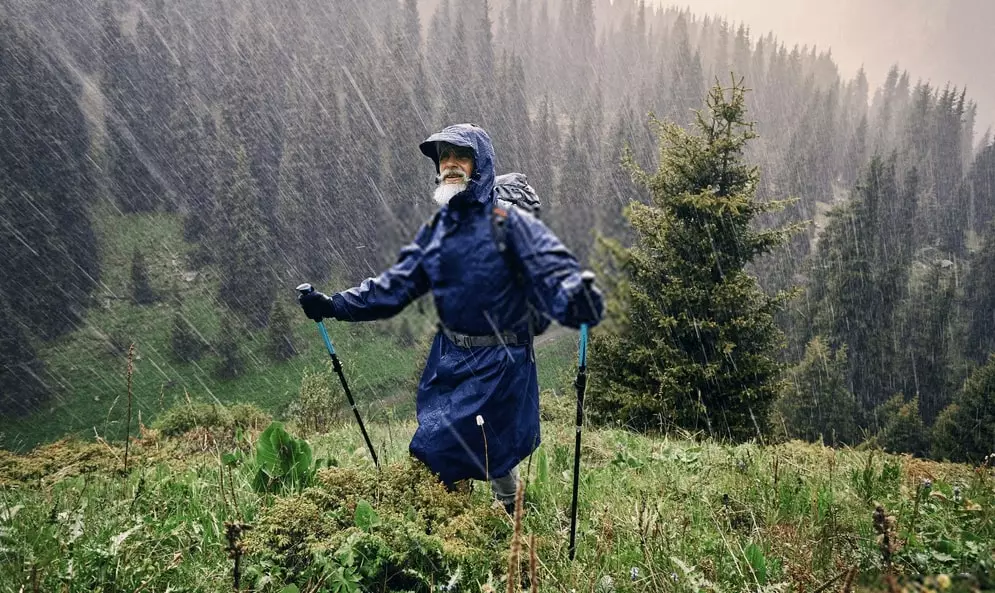 The right wear will keep the rain out and help keep you and your clothes dry. A good quality rain jacket, rain poncho or raincoat should feature a hoodie, be sufficiently waterproofing, have armpit vents, and be easily packable.
Easily overlooked by many campers, backpacking rain ponchos can greatly set your camping experience apart. Other than helping you maneuver the wet trails under dripping trees, ponchos can also help you set up your tent even when it's raining. Consider going for ultralight options that easily pack without taking too much space in your backpack.
Rain pants with drawstrings, an elastic waistband or Velcro fasteners will protect you from the rain and will be easy to slip on and off your boots. Quick-to-dry synthetic shorts and t-shirts are also very welcome for wet conditions.
Gaiters with water-resistant uppers will add extra footwear- and leg-protection against snow, dirt, mud, pebbles, and vegetation. They are also the best option for bushwalking in wet conditions.
Again, this is the right time to go for the hiking boots as opposed to the hiking shoes (learn the difference). The boots have better waterproofing capabilities as compared to the shoes and can help you easily maneuver the wet terrains.
Merino, polyester and nylon materials on your clothing of choice will be perfect for the weather. However, cotton is out of the question as it tends to soak in moisture. Particularly, wool clothing tends to resist moisture, wicks away sweat, keeps you warm, and dries quickly.
Dress in layers to keep warm and toasty.
The base layer is worn next to the skin to keep it dry by wicking away moisture. It should dry quickly and be very lightweight and thus polyester, Merino wool, polypropylene, silk, and polyester make good base layers.
The middle layer is the insulating layer which protects you from the cold by retaining body heat. Here, you may go for thicker and naturally insulative materials such as polyester fleece, down-insulated jackets and synthetic insulated coats.
The shell layer is the outermost layer that is supposed to protect you from rain and wind. The durable water repellent (DWR) rating will mostly come into play here with the only contention being breathability versus water resistance.
That said, it's also important to wear bright colors like orange or red for visibility in humid rainy days.
If you're car camping, then compression dry bags should also rank high on your priorities for camping in the rain. A dry bag keeps your gear and clothing dry even if submerged in water. A backpack rain cover will also do wonders in keeping your gear dry.
4. Pack Ready-to-Eat Foods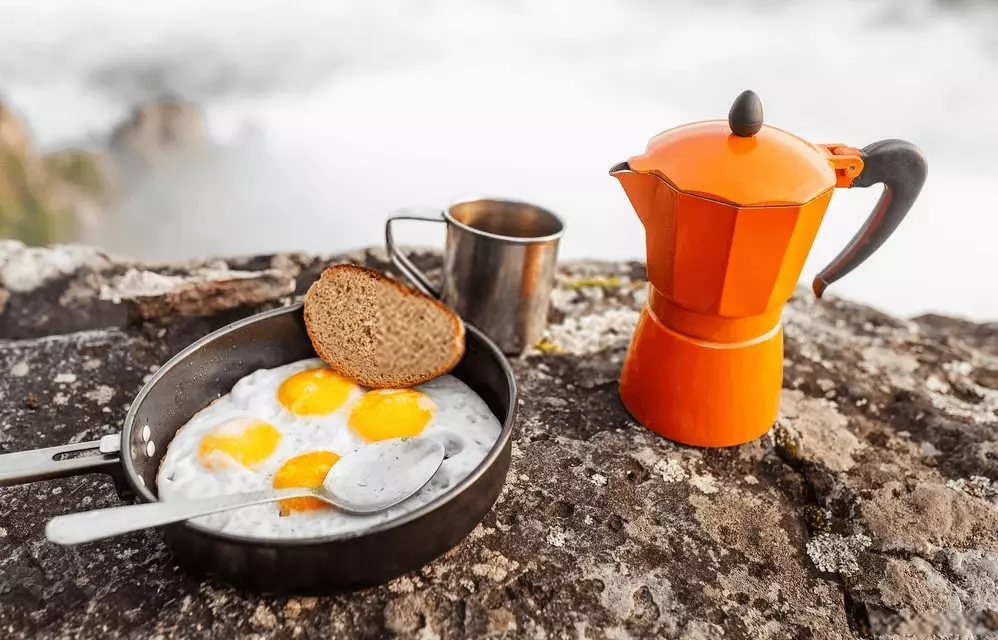 Turns out, we humans need food to maintain our body temperatures in chilly weather. Therefore, you must have some food and drinks, preferably, pre-prepped and ready to eat packs waiting for you at camp.
Hot chocolate, cocoa or better yet some steaming cup of coffee will immensely help you survive those cold nights or afternoons. Always bring ready-to-eat food packs to limit the need for extra gear and to allow for quick fixes else chopping and peeling in the cold will only frustrate you further.
Non-cook foods come in four main types; raw, dehydrated, freeze-dried and packaged ready-to-eat.
Fresh fruit and veggies are perfect for thru-hikers as they spoil quickly and can be cumbersome to carry over multiple days. Whichever option you go for, make sure to check the nutrition information, if available, so you can balance your diet.
A neat trick when dealing with rainy weather is to pack your ready-to-eat foods closer to your body so they are not ice-cold during mealtimes.
Some popular options for breakfast, lunch and dinner include the following:
Breakfast; canned beans, dried/fresh fruits, coffee, instant tea, instant hot cereals, pancake mix, granola bar, and dehydrated eggs
Lunch; energy bars, bagels, fig bars, beef jerky, nuts, and dried fruit
Dinner; ramen noodles, pasta, instant soups/sauces, instant rice, tuna, and packaged meals
5. How to Quickly Dry Your Wet Clothing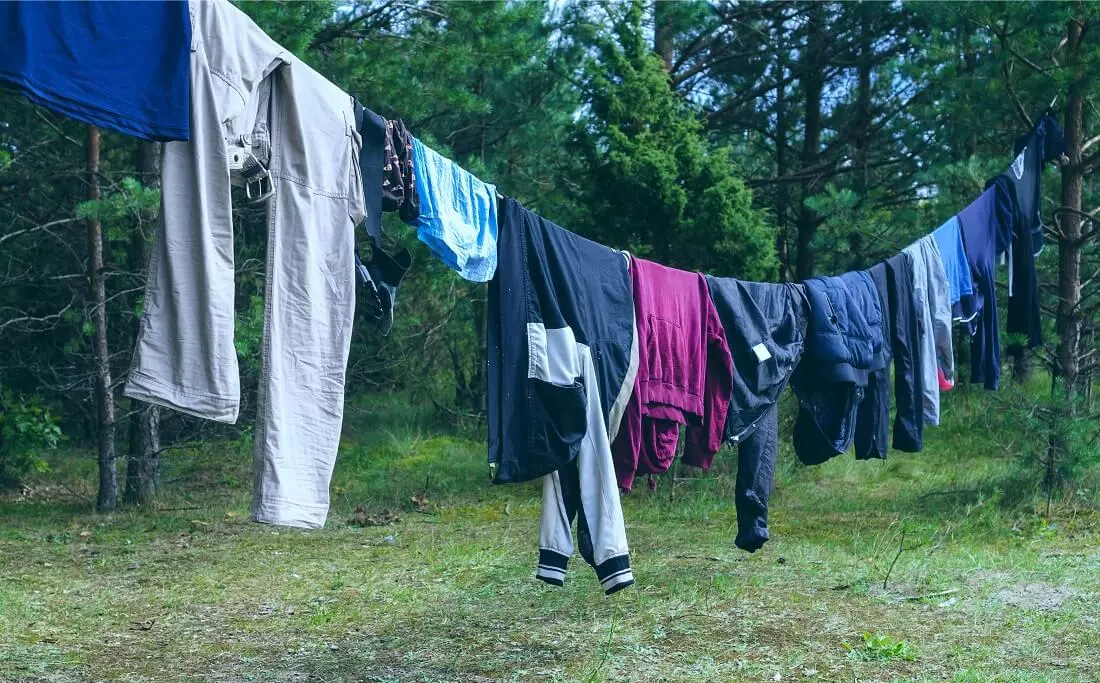 If your clothes get soaked, consider drying them first to reduce risks of mildew growth and loss of body heat. It has been observed that the surest way to keep warm is to stay dry and wet clothes only make it harder.
That said, experts advise that you should keep them on only if you're doing chores around the campsite that will get you wet anyway. You may also leave them on to dry if you are not feeling too cold.
Hanging wet clothes is by far the best option when camping in the rain. You may use a portable clothesline, spread them over a bush when it's sunny or hang securely off your backpacks when on the move.
When the rains are too heavy, you can always use compressible organizers, resealable tubs/bins or garbage bags to temporarily store your damp clothes. A microfiber towel will help you dry off and you may also use baby powder to prevent body odors due to dampness.
6. Hack the Rain!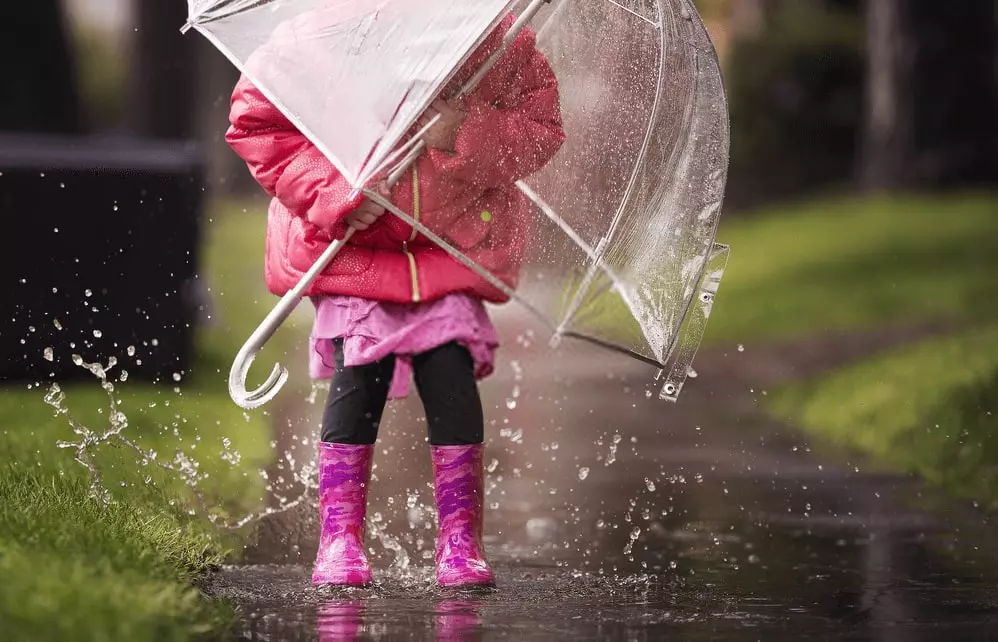 Preheat your Wear
Nothing dampens the mood than waking up and trying to wear cold, damp clothes. You can avoid this madness by 'preheating' your clothes overnight. Simply put them in a compressible organizer and place them under your sleeping bag to find them nice and warm in the morning.
Non-electric boot dryers loaded with silica oxide beads can help absorb moisture in your leather footwear.
Water-Freezing Temperatures
Are you the type to wake up parched in the middle of the night? While that may signal dehydration, it would suck to find your water bottle frozen. A good hack to counter this is to flip your water bottle upside down before you hit the hay so the bottom will freeze first.
Other equally effective methods include using insulated bottles, burying your water flasks, and putting the bottle into your sleeping bag.
Stuff to Do on Your Downtime
As you wait in your outdoor lounging area for the rain to wane, it's time to whip out the board games and keep the hearty conversation going. You will be spoilt for choice by the many board games, conversational games, storytelling, and card games among other camping games that you can play indoors.
This is also an opportune time to inspect your gear for dampness and hang to dry if needed.
Other Simple Yet Forgettable Tips
Trail runners are quicker to dry and more lightweight to waddle with on muddy, slippery trails, therefore, you may want to consider them over hiking boots. Carrying an umbrella won't hurt. It will be easier to dry rather than relying solely on your rain jacket or raincoat.
Your sleeping bag is the last thing you want to get wet, therefore keep it safe and dry at all costs. Here, a dry bag or even a trash bag will be of great help.
Pack as many extras as you possibly can for emergencies and don't forget to tuck cuffs and hems of your base layer to avoid wicking in water over time.
7. Know When It's Time to Pack It Up...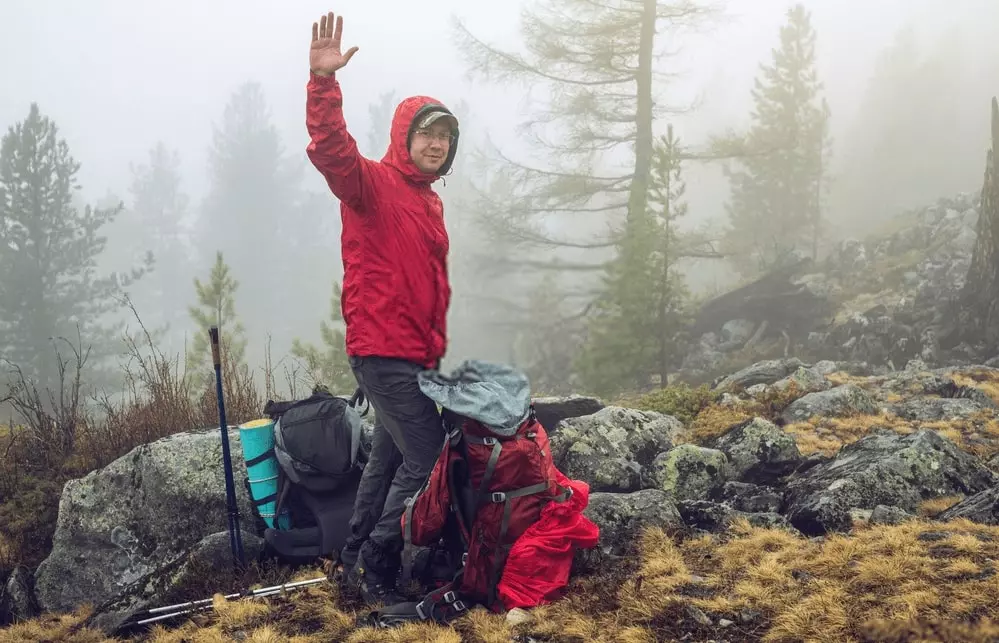 Camping in the rain has its fun, but it is also very important to know when to pack up and head home. Water saves lives and at the same time can cause a lot of destruction in the form of hurricanes, tornadoes, flash floods and tsunamis.
A NOAA (National Oceanic and Atmospheric Administration) weather radio should be part of your camping gear for weather updates and alerts.
Flash Floods
Flash floods will occur shortly after a heavy downpour in areas that can't soak up the water, for instance, low-lying areas, streams, rivers and so on. The power of the flowing water is so immense that six inches of flowing water are enough to knock over a full-grown man.
Flash Floods will tear out trees, roll boulders, obliterate buildings and bridges and break banks. The first step when caught up by such an occurrence is to get to higher grounds and stay away from washes, canyons, valleys, dips and low spots.
Never attempt to cross flowing streams regardless of your confidence. Instead, Turn Around Don't Drown! Also, keep an eye out for warning signs and avoid hiking near river beds in low-lying areas.
Wet Trails
Long after the rain has subsided, danger still lingers on the trails. Trek very carefully if the trail has slick-looking bare rocks and be even more cautious when stepping on damp logs and moss-covered rocks.
Trekking poles will help keep you steady and balanced over slippery trails. Still, don't shy away from using your hands on the ground to maintain balance. When crossing streams, undo the sternum straps and hip buckles of your backpack so you can easily ditch it in emergencies.
Landslides
A landslide is the movement of a mass of debris, rock, or earth down a slope. Some of its telltale signs include saturated grounds in areas that are not usually wet, seeps, springs, atypical bulges in the ground, increased turbidity or unusual sounds such as boulders knocking together and trees cracking.
You will want to avoid hiking in areas with existing landslides, bases of slopes and bases of minor drainage hollows. Flat-lying terrains away from sudden variations in inclination and at the top of ridges are considered to be relatively safe.
If you do get caught up in an area susceptible to debris flows and landslides, consider leaving whenever it's safe to do so. Always stay alert and awake to sense any minor earth tremors.
Also, familiarize with the landslide preparedness safety tips as detailed on the Red Cross website.
Lightning
As one of the major causes of storm-related deaths in the US, lightning is at the top of the list. It accounts for 10% deaths of all reported cases leaving survivors with varying degrees of disability. Always plan your camping trip according to the weather forecasts.
Stay alert for the formation of large storms and if you hear thunder, then keep in mind that you are within the range of a lightning strike.
Keep off wide open fields, isolated trees and instead opt for low forested sections for protection. When hiking as a group, avoid metal objects and spread out from each other. Fences and flag poles should be avoided where necessary and always remember to drop your hiking poles.
Conclusion
Camping in the rain has its little treasures, whether it is the control over often busy campgrounds, the increased opportunities to get out more or the refamiliarization with nature sounds, smells and serenity.
Hopefully, with this newfound information, you can better plan your next camping trip without worrying too much about the rain.