What the Difference Between a Tarp and a Tent Footprint?
Together with your spanking new tent, you should always consider getting some accessories like a tent footprint or a tent tarp for extra protection against the elements. These items will not only prolong the life of your tent but also improve on its performance making it serve you for longer.
Tarps date far back in time as the must-have accessory for your tent and home while footprints have emerged in recent history and are well-liked for their specialized ground coverage.
In a nutshell, a tarp is lighter and more versatile in its uses while a tent footprint is made to form the foundation of your tent. To further expound on how they can protect your tent from rain, damage and wear, let's take a look at their major strengths more keenly below.
Tent Footprints – Specialized Groundcovers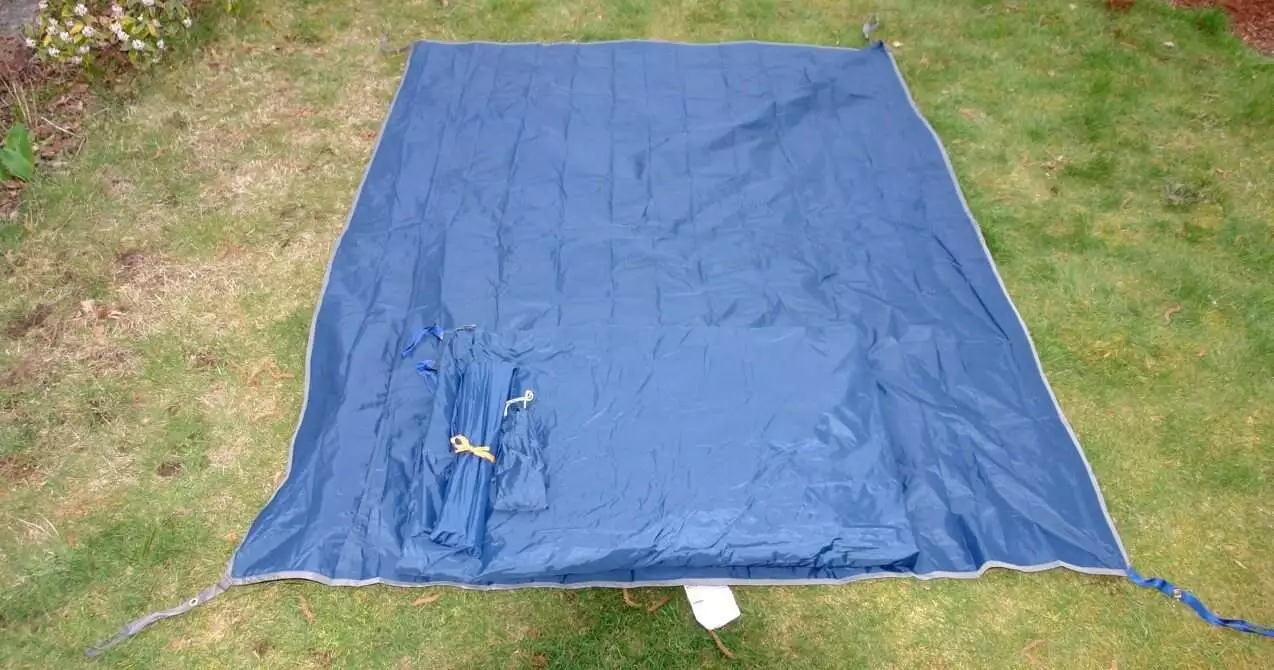 Usually made of polyethylene (other types of polyester may be used), a tent footprint is a groundcover that is specifically tailored to fit underneath the tent. It eases off the friction between the tent flooring and the ground and further protects your tent from punctures and tears.
The snug-fitting of the footprint also helps prevent any moisture or dew from seeping underneath the tent flooring and condensing on the inside walls. Your tent will not get dirty quickly thanks to the added layer of protection by the footprint.
If you treasure the lux comfort provided by air mattresses and inflatable sleeping pads but are worried they might get punctured or poked by sticks and rocks, tent footprints will put your mind at ease. The groundcover protects your airbeds, sleeping bags and sleeping pads as well as other camping gear from the jagged bare ground.
We cannot possibly talk about the great outdoors without ground-crawling bugs and critters coming to mind. Thanks to the protection offered by tent footprints, most of these bugs are kept out of your tent as you enjoy the peace inside.
Tent footprints are available for specific tent designs and brands from either the tent manufacturer or other specialist companies. They offer the optimal size for the given tent flooring but will cost slightly higher than other options.
Their made-to-order characteristic makes them less versatile save for uses such as shades, makeshift bags, and water collector or emergency blankets in dire situations.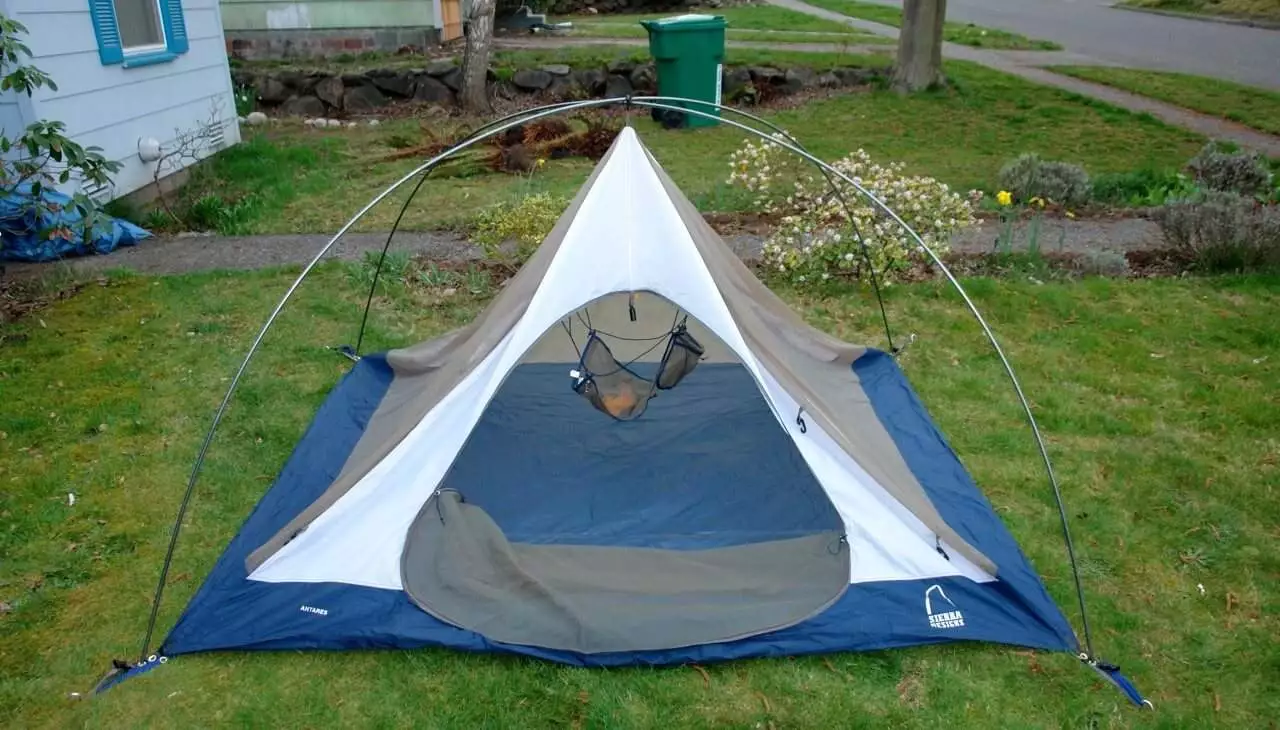 Lastly, tent footprints allow for easier and faster tent pitching thanks to the custom design that sees them feature grommets where tent poles hold onto.
If you've got the time and DIY bug in you, making a tent footprint is a fairly easy affair. Just get your material of choice online or at the hardware store ensuring that it's slightly larger than your tent floor.
Next, lay out the sheet on the ground and set up your tent atop it then trace out the tent footprint with a sharpie. Using a sharp blade or box cutter, cut along about two inches inside the traced line.
The footprint is made slightly smaller than the tent floor to ensure no rain runoff or pooling is captured beneath.
Tarps for Unmatched Versatility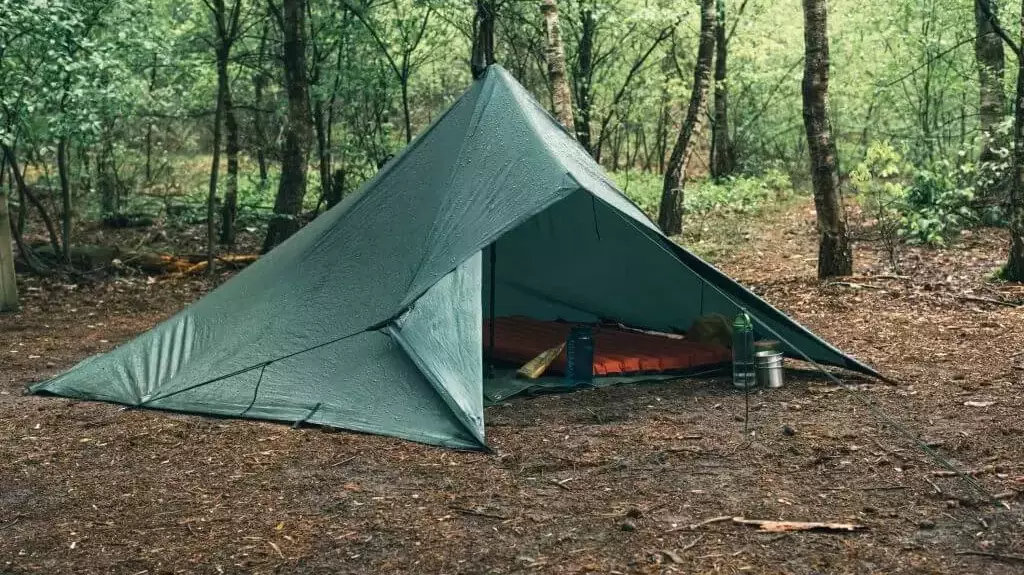 Thanks to innovation and technology, manufacturers have extended the uses of the classic tarp to become a practical must-have camping accessory.
Usually flexible and waterproof in nature, tarps or tarpaulins are large sheets of material made out of canvas, polyethylene plastics or polyester-coated polyurethane. Tarps have found a myriad of uses around the camp and their versatility is easily unmatched. Take a look at some of the commonest uses of tarps below:
1. As a rainfly to protect against vertically falling elements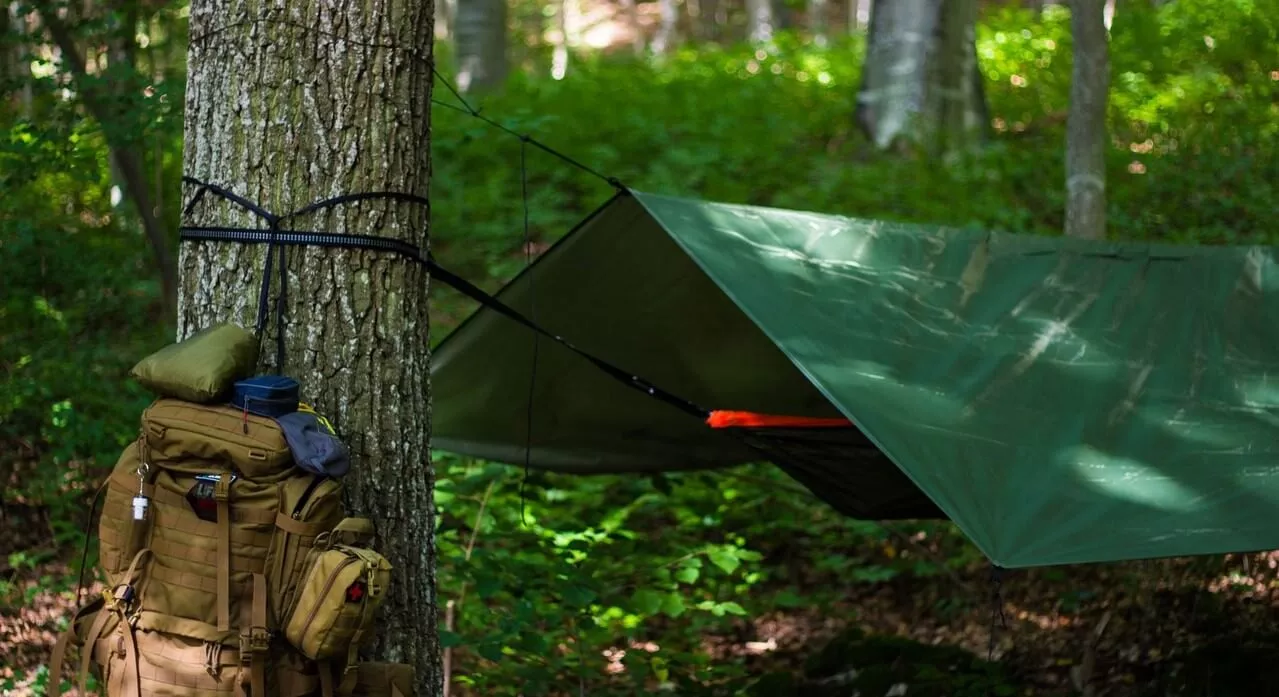 You can use the tarp as a rainfly of sorts by placing it over the tent to keep off falling elements like rainfall, snow, branches, bird droppings, and falling leaves.
With a closer focus on rain and snow, you will agree with me that not every tent is sufficiently waterproof on its own. Still, as your tent ages, its seams and canvas become more penetrable to water. Using a tarp over the tent helps in reinforcing its waterproofing capabilities and keeping you and your gear drier.
While packed to the brim with wonders and natural splendor, the outdoors also pose great risks for camping enthusiasts everywhere. These risks range from wild animal attacks to the deadly Widowmaker.
Tarpaulins used over camping hammocks or tents can be lifesavers as they can help break the fall of the dead logs or branches. Of course you may be scared to death (not literally) when such a branch falls with a thud on a tarpaulin above you but at least you will still have your life.
The shade provided by the tarps will also protect your tent from harmful UV rays from the sun that may degrade your tent's performance and durability over time.
Related: Ingenious camping safety tips that every camper must know.
2. To protect against horizontal elements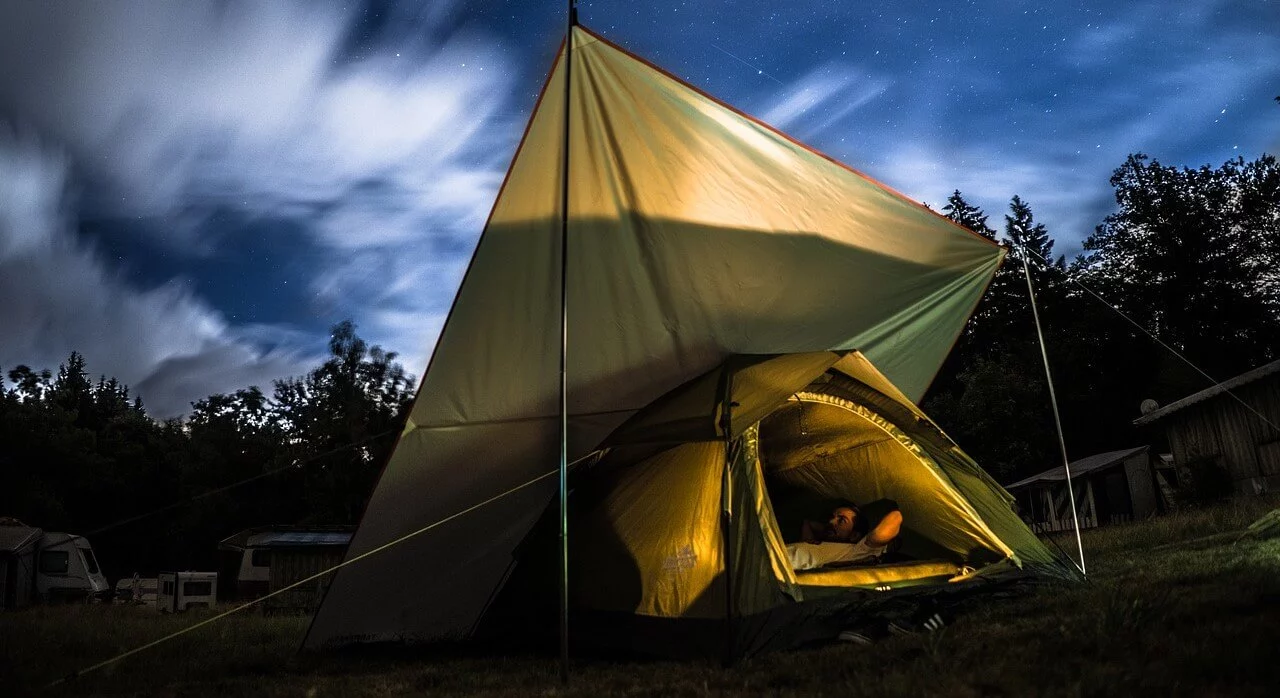 It can be all fun and merry-making until a strong wind overturns and blows away your tent leaving you stranded. In addition to guying out the tent, setting up a tarp vertically or in a slightly diagonal orientation will help in breaking the wind and safeguarding your tent.
Tarps also offer some protection against dust and sandstorms on the beach when set in the direction of these elements. Camping on the beach is, especially, more fun and refreshing under a tarp as it allows for maximum air circulation unlike in enclosed tents.
3. As a tent alternative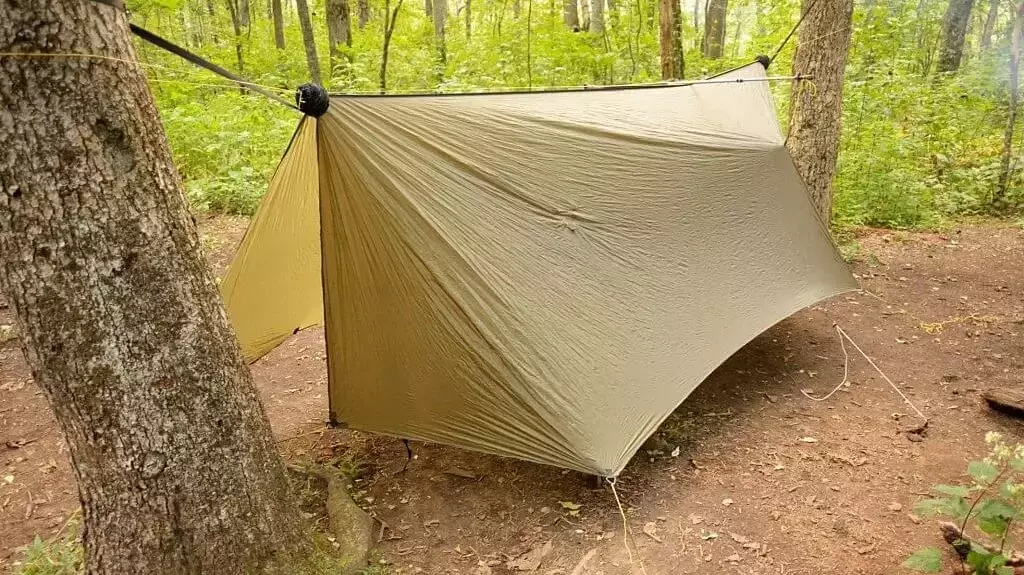 Tarps can be morphed into A-frame, lean-tos or teepee-style shelters in emergencies.
Such shelters will also offer great alternatives to tents in hot summer camping due to their improved ventilation that allows free air circulation while offering the much-needed shade.
At summer nights, when it gets too hot and uncomfortable to sleep in a typical tent, aerated shelters provided by tarps come in handy as a great alternative to the rather stuffed tents.
Still, there are those amongst us to whom claustrophobia is an issue of concern. If you are such an individual and camp only in the summer, packing a tarpaulin then setting it up as an A-ridge tent but leaving the sides open will greatly offer a relief.
4. For gear storage and protection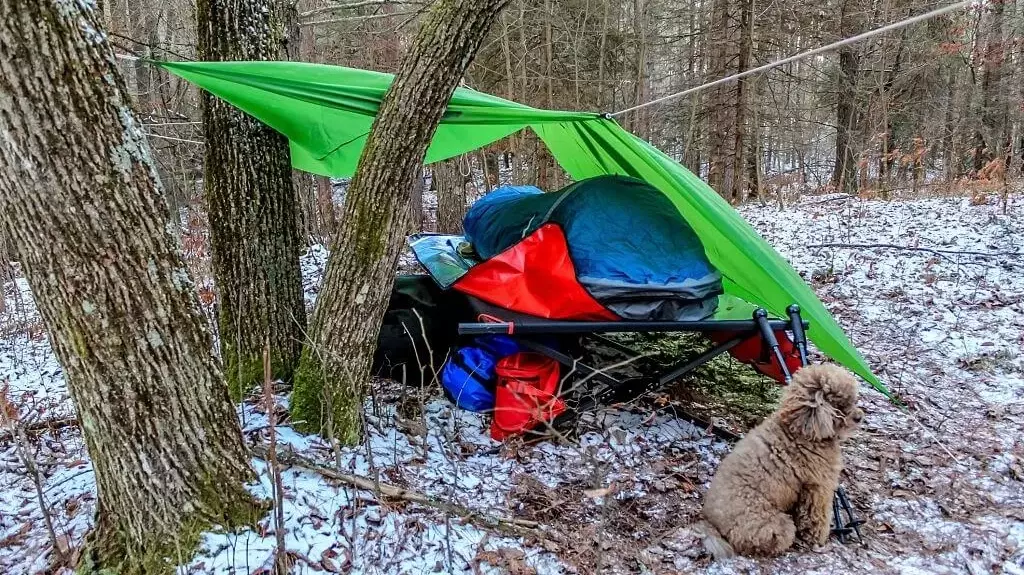 Alike most avid campers, the setup and weight limitations that come with typical camping tents necessitates us to come up with ingenious ways to store our camping gear. After all, it can't all fit in the tent's vestibule or its interior space.
A tarpaulin is therefore perfect for gear storage as it can be used as cover for outside storage while the tent serves just the human occupants.
Additionally, tarpaulins will protect your gear from direct UV rays, dust, bird droppings, rainfall, snow and other possible elements that may reduce their longevity.
5. As an awning for lounging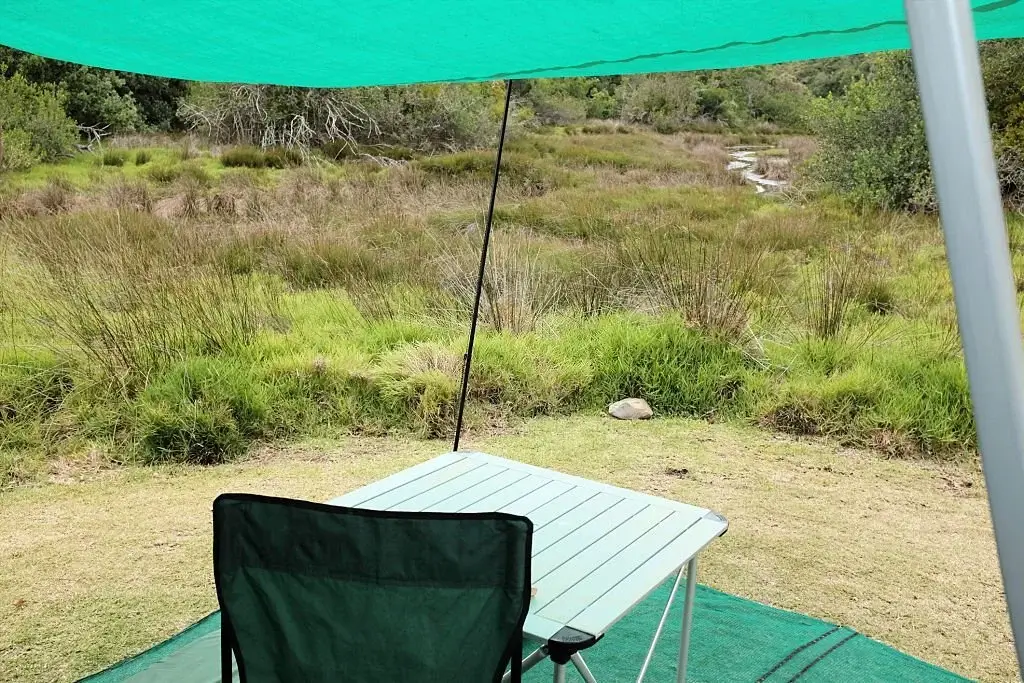 When it comes to enjoying the outdoors, improvisation is everything. By use of a tarp, trekking poles, your tent as the backdrop, and not-so-complicated skills, you will have an awning for lounging in minutes. What this gives you is an extra space to enjoy the spectacular views and the cool temps in the shade of the awning.
You can play board games or card games, enjoy your drinks or just have a hearty conversion while taking in the cool breeze.
6. As tent footprint alternative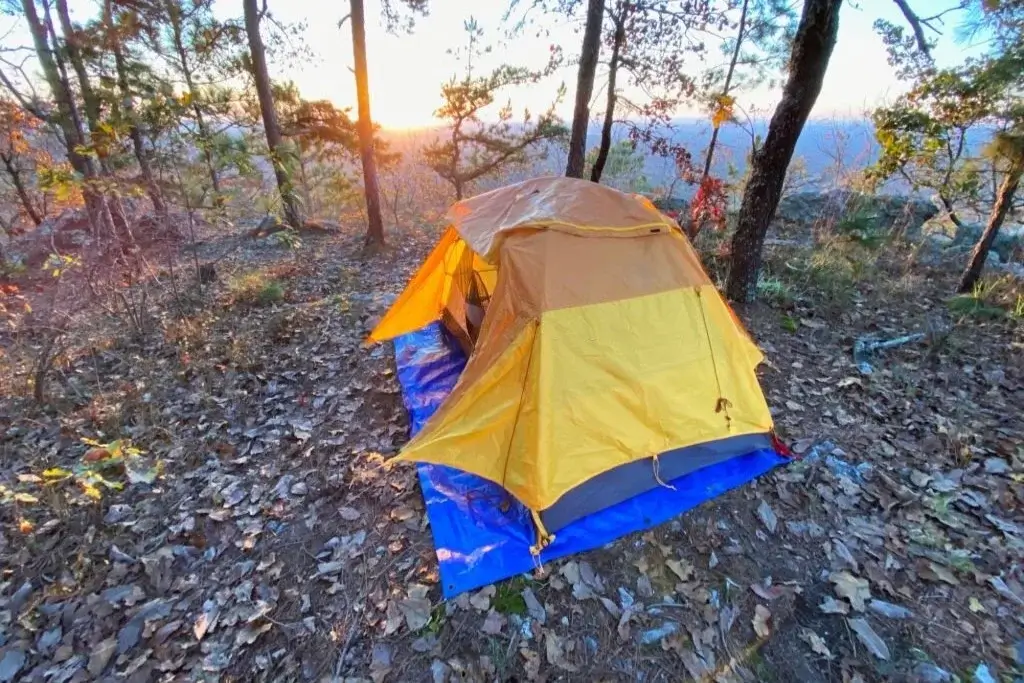 Just like tent footprints, tarps can also be used as ground mats.
They can be used in most areas including woodlands and fields. However, if you're camping on the beach, place the tarp inside the tent to keep out any water as sand promotes seepage of water. On the bright side, sandy grounds absorb water fairly quick so you may not even need the tarp.
Pro Tip: As expected, if the tarp extends way beyond the tent floor when used as a footprint, always fold the excess under itself to prevent any seepage of water or dew beneath the tent flooring.
Aside from camping, you can improvise your tarp for even more uses such as the following:
As covers for outside storage at home to prevent water damage on a variety of items.
To secure cargo on truck beds during transportation.
They are also great for secondary packs in case you need to carry some extra gear. A simple wrapping mechanism and you just might carry some of your scavenger hunt wins.
Tarps also do well as rainwater collectors, emergency blankets, and shades.
Other Alternatives to Tent Footprint and Tarp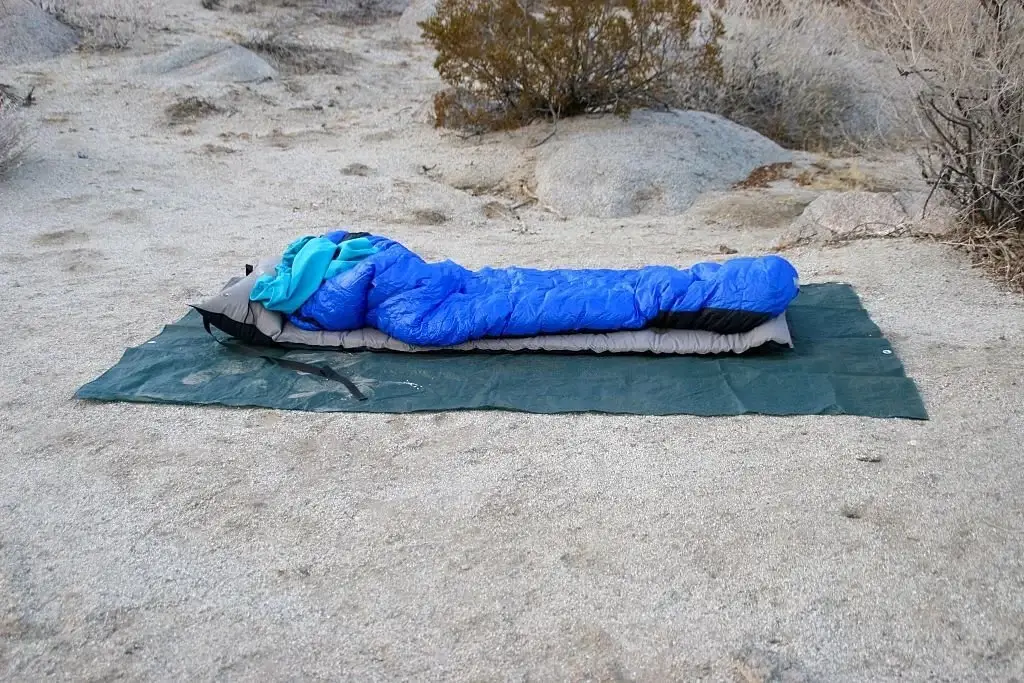 If the tent footprints and tarps make you frown for whatever reason, then worry not as there are other options for you to try out. Lawn tarps, plastic sheets, plastic tablecloths, rainflies, and window wraps are some of these items.
While most of them can be sourced in many convenient locations, the latter is perhaps the least expensive of them all. Notably, these options should be used as last resorts as they are not built for the same functions as those of tarps and footprints.
It's also worth noting that today's tents are built to last and thus not using ground cloths isn't that much of a deal-breaker. Tent repair kits such as duct tape, spray-on sealants, glue and patches can also help restore your tent. Find out more in this article on how to take care of your tent and make it serve you better.
Which Do I Go For? Tarps or Tent Footprints?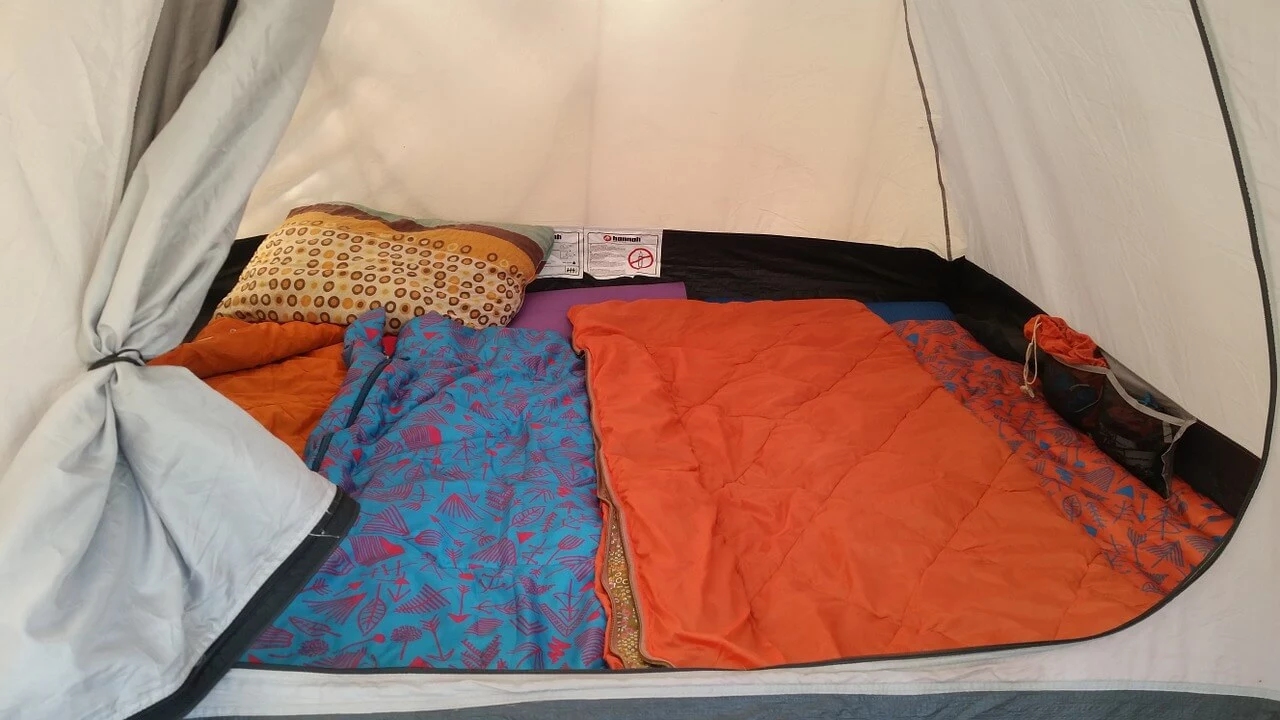 Pitching up a tent can make or break your camping experience and thus the more reason to prepare ahead and be armed with all the necessary accessories and gear.
Tarps and footprints have a wide range of uses and knowing when to use either will greatly help you get the most out of your camping trip.
Here are some key factors to consider before you decide:
Ground Covers
Before we get entangled in that never-ending discussion, it's important to understand why we need tent flooring protectors in the first place.
Today, the best camping tents are fairly well-built to withstand the elements, even though most of them are made of very lightweight components. However, if you camp frequently, the minor rips and tears that occur in the tent's fabric can quickly become a concern.
Pitching a tent on rocky and uneven surfaces will quickly wear out your tent.
Any form of groundcover will provide you quick wins such as these;
They provide a moisture barrier between the ground and the tent flooring.
They help ensure your sleeping surface is level.
Some tarps and footprints may be made of soft rubber materials that add extra comfort to your sleeping system.
The groundsheets protect your tent floor from rips and tears that may be caused by pitching on rough terrains.
Groundcover also protects your camping gear from getting wet.
Further, one of the major factors on why tent floors wear out quickly is the constant abrasion against the ground. The situation is exacerbated by the eventual tossing and turning during sleepless nights. Thus, getting some groundcover would be a great start at solving this predicament.
That said, tent footprints seem to offer a more practical and effective ground coverage as compared to tarps. The footprints are sturdy enough to face the elements head on and well-tailored to keep off moisture and dirt.
Material
Generally, tarps will be made of less durable materials than tent footprints but preference for either will all depend on your style of camping. Strenuous winter camping or multi-day camping will demand you go for durable and sturdily-built gear.
Canvas, polyethylene, nylon, and mesh materials are commonly-used materials for tarps. Polycro, Tyvek (high-density polyethylene fibers) and shrink plastics are good options to consider when looking for water-resistant and lightweight tarps and footprints.
Groundsheets made of polyethylene are mostly waterproof and fairly durable than other materials. The canvas material is primarily cotton-based making them heavier and non-waterproof. The biggest strength for canvas is that they can withstand a lot of abuse as compared to other options.
Those made of mesh materials tend to be more breathable and lightweight but are terrible at protecting you from the elements whether as a groundsheet or as a rainfly. Lastly, nylon groundcovers are usually affordable, waterproof and lightweight making them very portable.
Take caution when getting silnylon options as the silicone coating can easily wear off leaving your gear non-waterproof.
Weight and Portability
Ideally, you want your overall load to be as light as possible and thus your accessories of choice should also be lightweight and portable. This is without compromising on sturdiness and weather protection.
The weight will mostly be determined by the materials used in the tarp or tent footprint. However, you can expect the tarp to be fairly lightweight as compared to tent footprints.
Size and Coverage
Backpacking is synonymous with very light and essential packing due to the limited space and preference for agile mobility. Therefore, your accessory of choice should be in line with this logic.
That said, we found tarps to be more flexible and easily foldable to fit any space. Tent footprints seem to be more rigid and less adaptable, however, you may be lucky to grab hold of the few models that allow for such minor adjustments.
Using a general-purpose tarp as a footprint may also add some bulk to backpack.
Camping Site Terrain
Rough terrains with jagged rocks, twigs and such will demand the more sturdily-built tent footprints. Tent footprints were built to offer protection of the tent floors from scratches and tears and thus you can't go wrong with one.
The roughness of the terrain might do a lot of damage to your tarp in a matter of a few nights. On the other hand, a tarp may fair well for other purposes as a rainfly and camping gear storage cover.
Expectations of Rain or Extreme Weather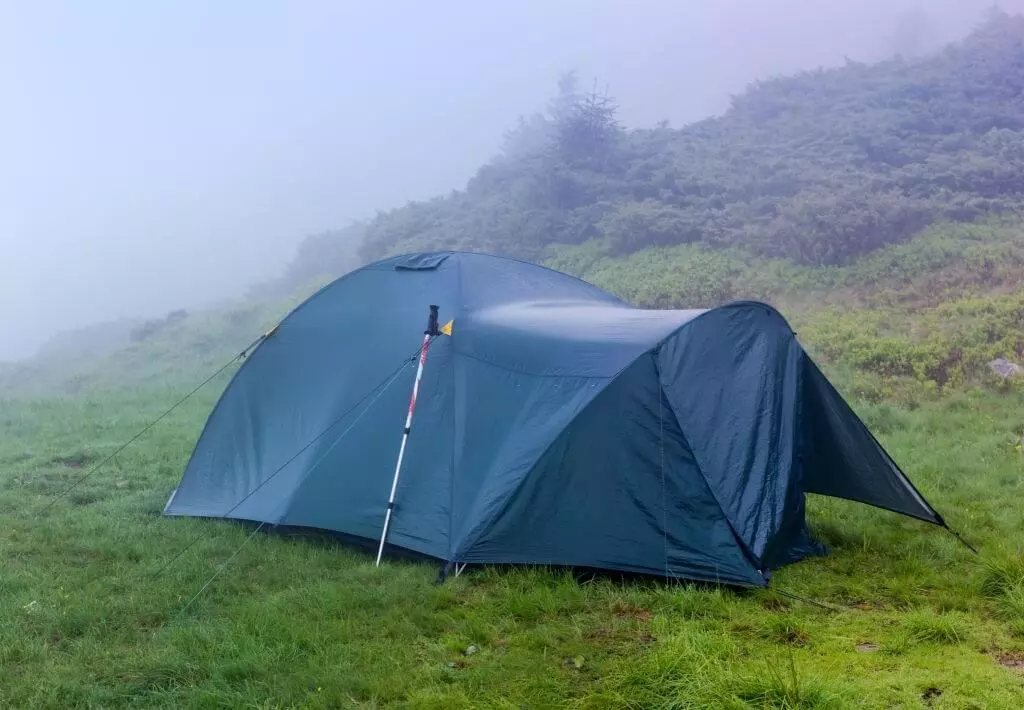 While both are water-resistant and solid options, a tarp will mostly be your best bet if expecting regular downpours during camping for overhead and ground protections. However, the custom fit provided by a tent footprint works wonders in preventing water from settling underneath the tent flooring.
That said, ensure your tarp is well fitted under the tent to keep moisture and rainwater away from your tent flooring. If used as over-tent cover, make sure the tent is well strapped in position and peaked to avoid water from pooling over the tent.
Longevity
Nothing has a camper's heart racing faster than having faulty equipment or worse yet running out of bug spray. The same applies to these two items, you want your tarp or tent footprint of choice to be durable and sturdy against day-to-day abuse.
Most tent footprints tend to last longer than tarps due to the high-quality materials they're made of. Even though you will notice some signs of normal wear and tear, tent footprints are just unbeatable when it comes to durability.
That said, the longevity of tent footprints comes a little pricey than the good ole tarp. Also, snag-proof features like Ripstop or oxford styles can be good indicators of the longevity of the product.
Other Extras
Good quality in tarps or tent footprints can also be determined by have features like strong, practical straps or grommet eyelets, carrying bag as well as compact and highly foldable design for easy packing. Tent footprints will mostly have more extra features as compared to tarps.
Let's Wrap This Up
To prevent rain from ruining your camping experience, a tent tarp or a tent footprint are worthy accessories to consider. With regards to which to go for, it all zeroes down to your preferences.
A tent footprint is an ideal size for the tent, it's lightweight, easily packable and feature-rich for quick setups. On the other hand, tarps are great for unpredictable weather, shady spots, and multipurpose usage.
In other words, a tarp will pack more versatility while a footprint will just act as the perfect base for your tent flooring. So, be clear on the aspects you'd want and go for it!