Thru Hiking the Appalachian Trail: Your Comprehensive Guide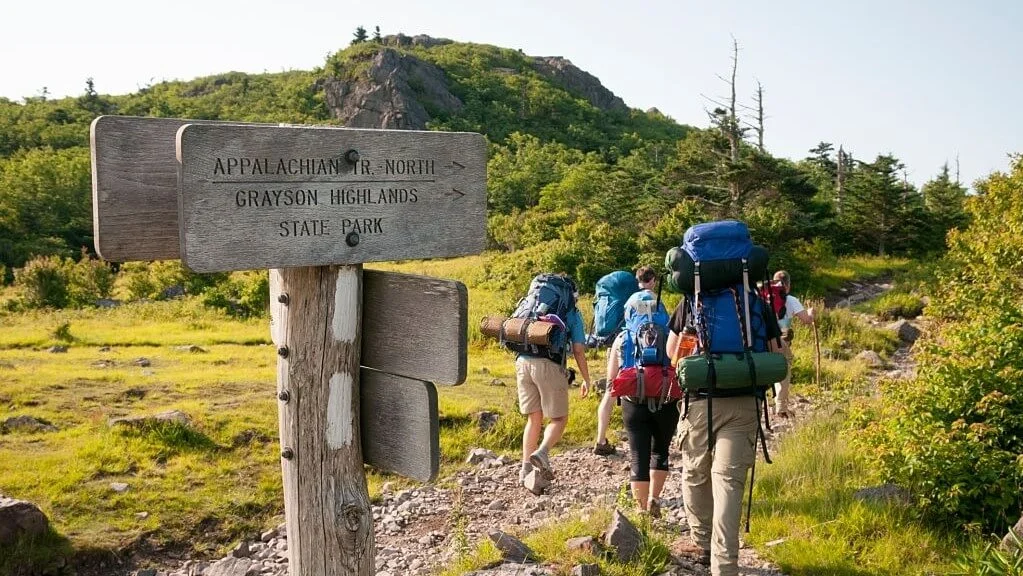 Officially known as the Appalachian National Scenic Trail, the Appalachian Trail is a long and skinny trail in the Eastern United States. It runs between Mount Katahdin in Maine and Springer Mountain in Georgia.
A popular destination for campers and hikers, the AT is one of the longest hiking-only trails in the world spanning well over 2000 miles and running through fourteen states, three national parks, multiple national forests, and state parks.
It is cooperatively managed largely by the Appalachian Trail Conservancy (ATC) and further supported by other parties such as the National Park Service, US Forest Service, numerous state agencies, trail clubs, and thousands of volunteers.
Properly maintained, the trail is accommodative to all types of hiking including casual day hikes, section hiking, and ultimately thru-hiking.
Broadly speaking, the trail features plenty of road crossings and trailheads for easy exploration and to easily accommodate all levels of hikers. In one sense, it is near major urban areas and roads so you can postpone or start your hike at any point you prefer.
Over 3 million people visit the AT each year and a good number of them manage to complete the trail within a few months. As you can imagine, thru hiking the entirety of the trail is a lofty undertaking. Nonetheless, the experience is highly exhilarating and rewarding.
The AT is a haven for picturesque scenes, iconic stops, and a front-row seat to a wide variety of flora and fauna. You get to see the wondrous wild ponies in Grayson Highlands, Virginia, and to enjoy the spectacular panoramic views of New England at Mount Moosilauke in New Hampshire – just to name a few.
That said, some sections of the trail can be crowded, and the terrain can be a little too steep and challenging at some sections. In addition, the AT does not have as many open views as most National Scenic Trails.
Again, the costs related to thru hiking the AT can be a little prohibitive if not draining for most people. Not to worry as most of these challenges can be dealt with by planning accordingly.
The thrill of preparing and embarking on your first thru hike across the great AT is simply unmatched. The experience will have you looking up online forums, researching outdoor gear, reading books, and studying the various routes for the trail. All of which can be quite overwhelming.
Whether you prefer the south-bound or north-bound approach to the trail, we have rounded up all the information you need to conquer the AT!
A General Overview of the AT
The Appalachian Trail passes through fourteen states including Georgia, North Carolina, Tennessee, Virginia, West Virginia, Maryland, Pennsylvania, New Jersey, New York, Connecticut, Massachusetts, Vermont, New Hampshire, and Maine.
Going by the U.S. National Park Service Regions, the AT stretches over 2000 miles through the Southeast Region, National Capital Region, and Northeast Region.
Southeast Region Hikes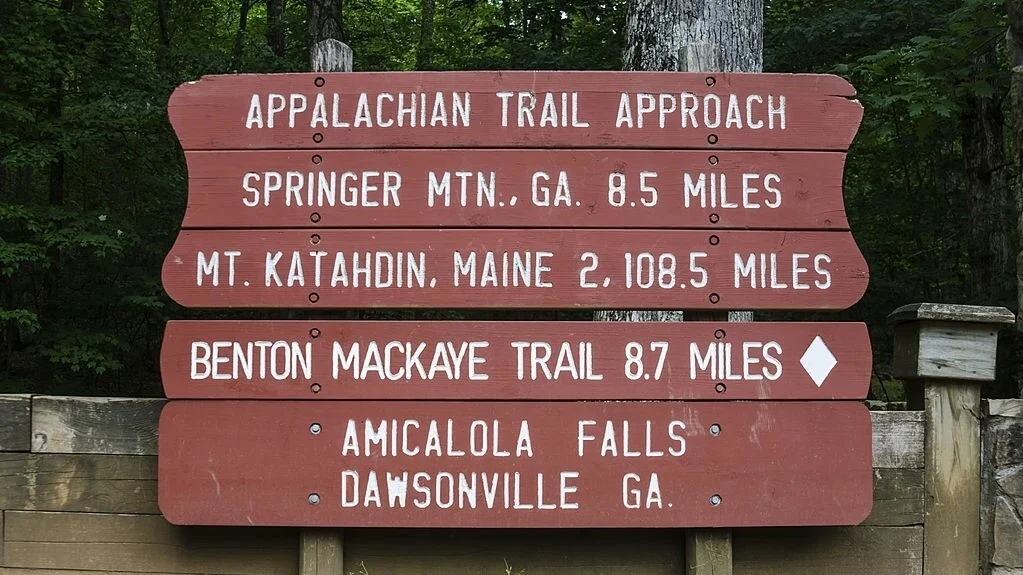 For northbound thru hikes, the Appalachian Trail begins at the southern end at Springer Mountain in Georgia. The footpath weaves through 25 counties in the Southeast Region more specifically in Georgia, North Carolina, and Tennessee. Keep in mind that you must hike a couple of miles from Amicalola Falls State Park to where the AT trail markers officially start, at Springer Mountain.
In Georgia, the trail is mostly wide, smooth, and well-graded but you can expect a bit of a climb here and there. Given it's the preferred originating point for most thru hikers new and well-seasoned, the trail can be very crowded at this section.
Moreover, there are several gear shops with various hiking gear that were previously cast aside by unprepared and overburdened hikers. So, be mentally and physically ready to take on the challenge.
Anyway, the trail here is a good prep for anyone looking to take on mountain trail hiking and the views are simply unmatched.
Snaking in and out of Tennessee and North Carolina, the trail offers panoramic views of Western North Carolina. It features a wide array of flowering shrubbery including rhododendron gardens, old-growth forests, and grassy "balds".
The trail has one of its highest elevations at this section going well above 6000 feet. Additionally, weather can change suddenly and be overall unpleasant in this turn of the trail. The section also has the densest population of black bears so you want to be always prepared and alert.
National Capital Region Hikes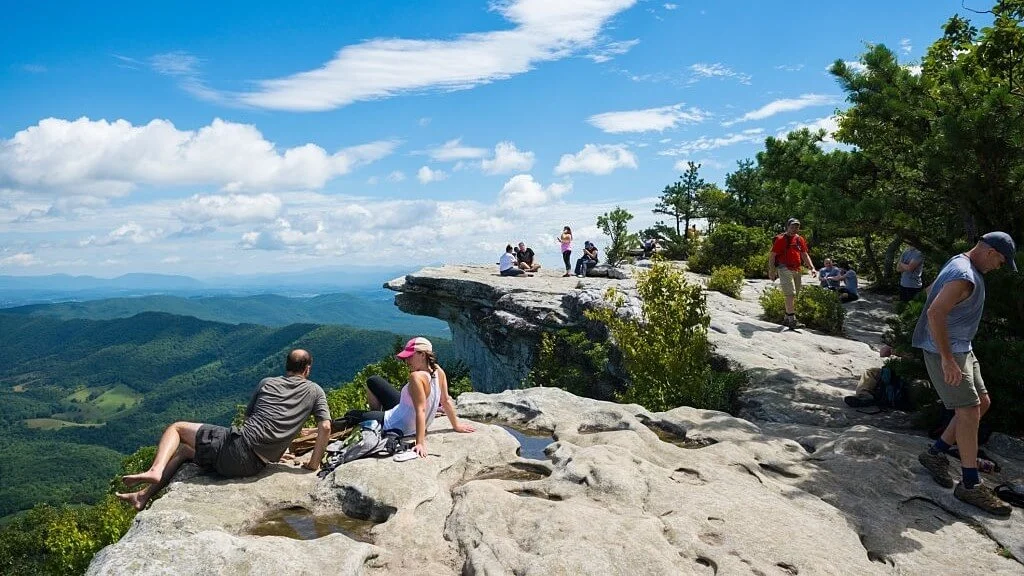 About a quarter of the trail runs through the state of Virginia where you get to experience sights of wild ponies and thick forests. Further, the trail takes you to one of its most iconic points yet, the McAfee Knob.
The trail here does not have many viewpoints due to the dense tree cover. Further, it features an up and down topography that might prove taxing for most thru-hikers.
Since the AT only crosses a few miles through West Virginia, you can easily cover the distance in a day. This section of the trail also includes the popular but unofficial halfway point, Harpers Ferry. The destination is a perfect starting point for both sectional hikers and flip-floppers.
The trail goes through Maryland where it is mostly flat and beginner-friendly. Moreover, it features a couple of war monuments and historical sites so you can learn a thing or two about American History.
Northeast Region Hikes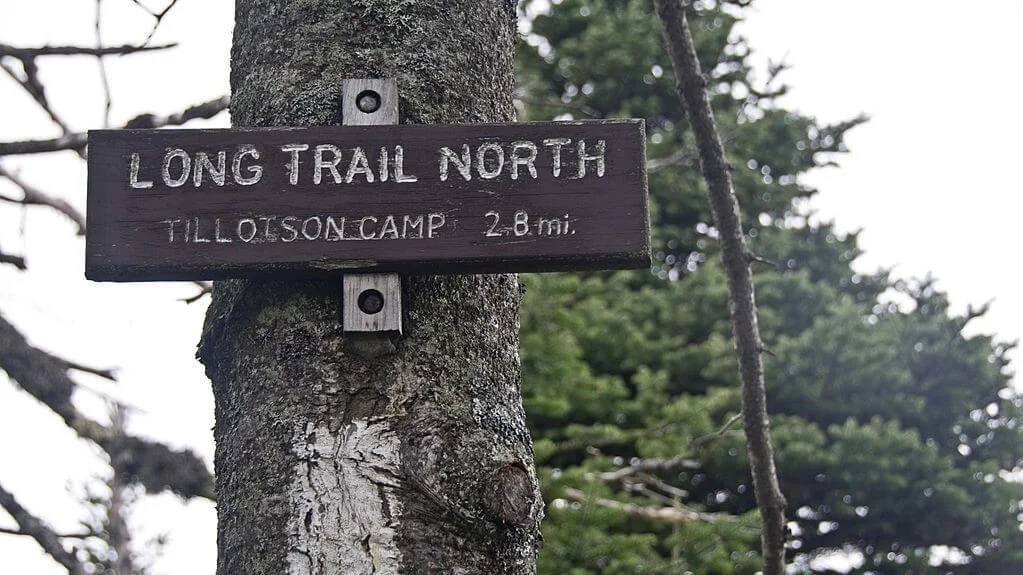 Save for the rocky terrains, hiking through Pennsylvania aka "Rocksylvania" is relatively easy to accomplish.
This section features the official halfway point of the trail, Pine Grove Furnace, where you get to participate in the ceremonial half-gallon challenge. The challenge involves eating half a gallon of ice cream in one sitting for thru-hikers who are halfway done with their hike.
The AT through Pennsylvania features flat low rocky ridges, well-graded trails, and mild climbs. In addition, the section has several game lands and rattle sightings. So, you want to stay extremely alert and wear accordingly in this section of the trail.
In New Jersey, there's a large black bear population to be slightly worried about but trailing on through New York is a breeze save for the higher expenses.
Since there are no switchbacks in Connecticut's AT trail, you have to suffer through the gradual steep climbs. That said, the section is short and manageable in less than a week. Further, the trail provides beautiful scenery especially since it mostly runs along river banks.
Moving on to Massachusetts, you will start feeling the climb again but it's not as tough as further north of the trail.
The Vermont section, also known as "Vermud" among thru-hikers, is one of the easier parts of the AT. It flows into one of the oldest hiking trails in the United States, the Long Trail. That said, the path here is prone to heavy downpour that results in a lot of mud and trail erosion. So, you want to avoid this section during spring and instead opt for summer and early fall seasons.
In New Hampshire, the trail stays mostly above the treeline meaning panoramic vistas, scenic routes, and spectacular sunsets. As you can imagine, the steep climb and frigid weather may take a toll on most thru hikers.
Nonetheless, this section is a nice training ground for anyone looking to embark on a mountaineering trip or an international expedition.
For northbound hikers, the northern terminus atop Mountain Katahdin in Maine is their destination. The section features bogs, clear streams, pristine lakes, and sightings of loons and moose. But don't let the attractions fool you, it is easily one of the most challenging and remote of all the other sections.
We are talking about limited resupply points, dangerous unbridged stream crossings, eventual heavy rains, swarms of black flies, mosquitoes, and overcrowding especially in summer. Novice thru-hikers should steer clear of this section of the trail as it is mostly steep, uneven, and sometimes muddy and slippery.
Even for seasoned hikers, feel free to backtrack and reroute if the trail gets too much for you.
How to Plan Your Thru-Hike
Setting off for a four- to seven-month thru-hike on a long-distance footpath like the AT is a great deal. It takes a lot of planning, physical training, and mental preparation just to complete a few hundred miles.
Most of your planning and gear considerations will revolve around four main factors; the terrain, weather, your preferred hiking approach, and how long you plan to thru-hike.
Firstly, the Appalachian Trail provides a wide variety of terrains throughout its length. This ranges from smooth, well-graded footpaths to steep and rocky trails. The weather is just as unpredictable and unforgiving.
Brace yourself for sudden transitions from sleet and chilly weather to sweltering summer heat throughout the trail.
Type of Thru-Hiking Approaches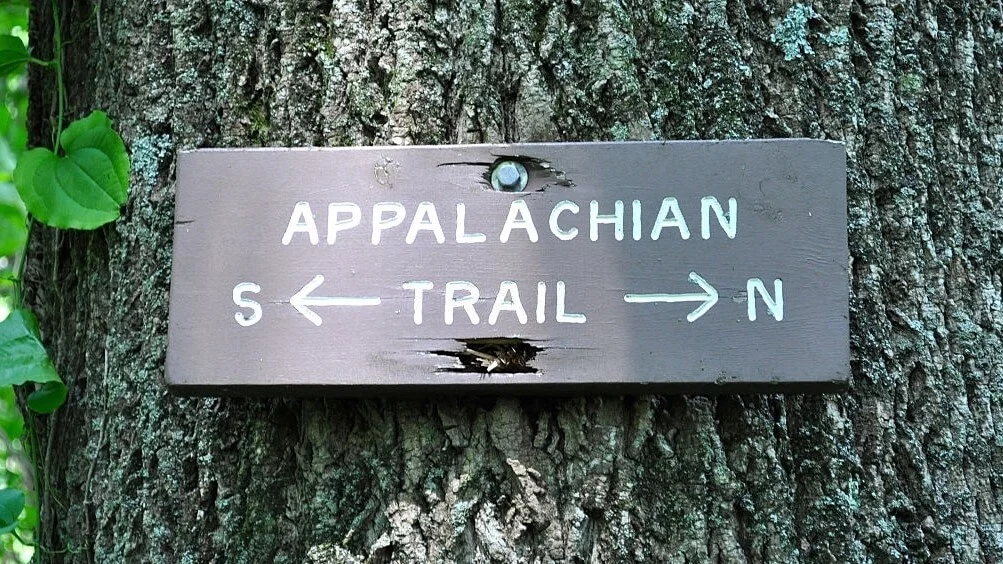 Choosing your hiking route is equally an essential part of your planning. It determines, among other elements, how long it will take to finish the trail. Some of the most popular and effective methods to conquer the AT include the Northbound Route, Southbound Route, and Flip Flopping.
Northbound hikers (NOBO) start their hike at a point atop Springer Mountain in Georgia while Southbound hikers (SOBO) begin their journeys at the Northern Terminus on Mountain Katahdin in Maine. NOBO hikes are especially popular and never short of a supportive hiking community.
However, the large crowds of hikers impact the trail more severely and may result in higher expenses along the trail towards the North. NOBO hikes start on a challenging spot and end on Mountain Katahdin, which is easily the toughest climb on the entire trail.
For northbound hikes, the perfect time to start your trip is either in late March or early April. This is in line with the expectations of completing the trail by September or early October. The weather gets more favorable as you hit more markers towards the north.
SOBO hikers start with the hardest part of the trail and slowly make their way to the more forgiving Southern part of the AT. If you can push through the starting section with its bad weather and rocky, slippery footpaths, then the rest of the trail will be child's play.
Ideally, you want to start your SOBO hikes in June or early July to hopefully complete the trail in November or December. This route is usually less crowded but you may face weather challenges and hunting season inconveniences.
The NOBO and SOBO routes are the most popular among hikers, so you may want to try other noncontinuous and less-crowded routes such as a flip-flop thru-hike. This approach mostly involves starting at the halfway point of the AT, hiking either north or south, then back to the halfway point, and finally to the opposite side of the trail.
The main benefits of the flip-flop hiking approach are that you can beat the crowds and avoid bad weather. Unfortunately, the route planning and transport itinerary can get unnecessarily complicated. Plus, you might end up taking more time to cover the trail than end-to-end thru-hikers.
Though Pine Grove Furnace would be a good starting point for a flip-flop thru-hike, Harpers Ferry is the most popular. Other flip-flop starting termini include Shenandoah National Park in Virginia and Pawling in New York.
If you feel you're not ready to deal with the over 2000-mile long monster, choosing a shorter trail is a solid alternative to improve your hiking skills. Sectional hiking equally works as you can slowly chip away at the trail, mile by mile, in short manageable sections.
With that said, always treat your initial plan as a starting point since multi-day thru-hikes often mean plenty of unpredictable eventualities. You may experience closures or other unforeseen trail conditions, so be sure to stay well-informed before and during your hike.
Additionally, you want to make practical contingency plans before embarking on your trip.
Getting Ready Physically, Mentally, and Financially
Completing over 2,000 miles of the AT in either type of hiking route is a huge undertaking. You will most likely encounter plenty of curveballs and insurmountable challenges all through the length of the trail. So, be sure to start your journey while you are at the top of your game in terms of your physical and mental state as well as finances.
Staying Sane on The Trail
Solo thru hikers may get bored or feel lonely and homesick when hiking the Appalachian Trail. Walking for miles on a skinny footpath just isn't as stimulating as watching movies or reading a book back home. Although hiking with a buddy might be a lot of fun, you want to ultimately be at peace with solitude.
You may try shorter solo hikes beforehand to help you gauge how you would fare on the gargantuan AT. Engaging in trailside community activities might also replenish your social fuel.
Self-doubt is another huge impediment to fully enjoying and completing this hiking trail.
A few ways you can help cope with self-doubt is by focusing on attainable intermediate goals. These are things such as covering a certain mileage, reaching a given state line or national park, or any other easy milestones you are looking forward to. The resulting sense of progress will help keep you going.
Additionally, you want to be very intentional and objective when answering the "why" question. Why are you doing this? Your reasons should be enough to keep you on track even during bad days. Reading up on blogs, online forums, and books detailing other people's experiences on the trail is highly recommended.
Such resources help you to better manage your expectations and most importantly to keep you motivated.
Finally, mental fatigue can be handled with some short stints of nature photography, writing, reading, music, or any other activity that relaxes your mind.
Overcoming Physical Challenges
It's going to be leg day every day on the AT, so you might as well hit the gym now in preparation. While you don't have to exercise like an athlete just yet, some light stretching routines and star jumps wouldn't hurt. Ultimately, the best way to prepare your body for the trail is to hike beforehand.
You want to participate in a couple of short hikes, overnighters, or even backpacking trips. Ideally, you want to bring along a backpack with the same weight as you will lugging during the AT trip.
Thru-hiking in winter will undoubtedly slow you down especially due to its cold-related complications and tough terrain. Other factors that might disrupt your hike include injuries, general discomfort, rugged terrains, malnourishment, dehydration, and illness.
So, know your limits and learn when it is time to quit the trail to avoid contracting other severities. After all, about 10 percent of thru-hikers quit within the first week each year. Only a quarter of the hikers manage to complete the entirety of the trail.
Getting Your Finances in Order!
Taking half a year off from work and family to conquer the Appalachian Trail is an expensive and often impractical endeavor for many outdoor enthusiasts. Regardless of the hiking route, funds will be gobbled up by hefty expenses including hiking gear, food, lodging, transport, laundry, postage, permits and fees, and other miscellaneous costs.
The AT is mostly free to access and enjoy for all. However, since it passes through many states, parks, public lands, and forests, a few of these sections charge fees for entering, sheltering, and/or parking. The fees cater for overnight/day stays and parking and are ultimately used to maintain the trail.
Additionally, permits are required for sections of the trail where it goes through certain forests and parks. This includes the Great Smoky Mountains National Park, Shenandoah National Park, Baxter State Park, White Mountain National Forest, and Green Mountain National Forest.
Any off-trail excursions, for instance, to the nearby communities or towns should be well factored in your budget. Moreover, you want to have enough funds to address unforeseen issues such as illness or injury.
The best strategy for this challenge is to research extensively and budget according to your type of spending. Other than that, you want to get yourself a travel insurance cover for peace of mind. Double-check that the plan has you covered for evacuations and rescues from remote areas.
Finally, consider paying your recurring bills in advance or leaving them on an auto-pay plan.
Regardless of how you will source the funds, it all comes down to making a commitment to sacrifice a few months' savings to take on the AT.
Other Considerations…
If you have pets or even plants at home, it's important to arrange for them to be taken care of when you are gone. You can entrust the responsibility to your friends, family members, or anyone you trust. For pets, be sure to leave updated records of their vaccinations and medications to their temporary guardian.
A bit far-fetched but necessary, be sure to update your current living will and appoint someone you trust to practice the power of attorney on your behalf before hitting the trail. Additionally, you want to carry a brief medical history of yourself just in case.
Next, plan how to send your mail drops for resupplying along the trail or just coordinate with a friend to deliver the same.
Packing for Your Appalachian Trail Thru-Hike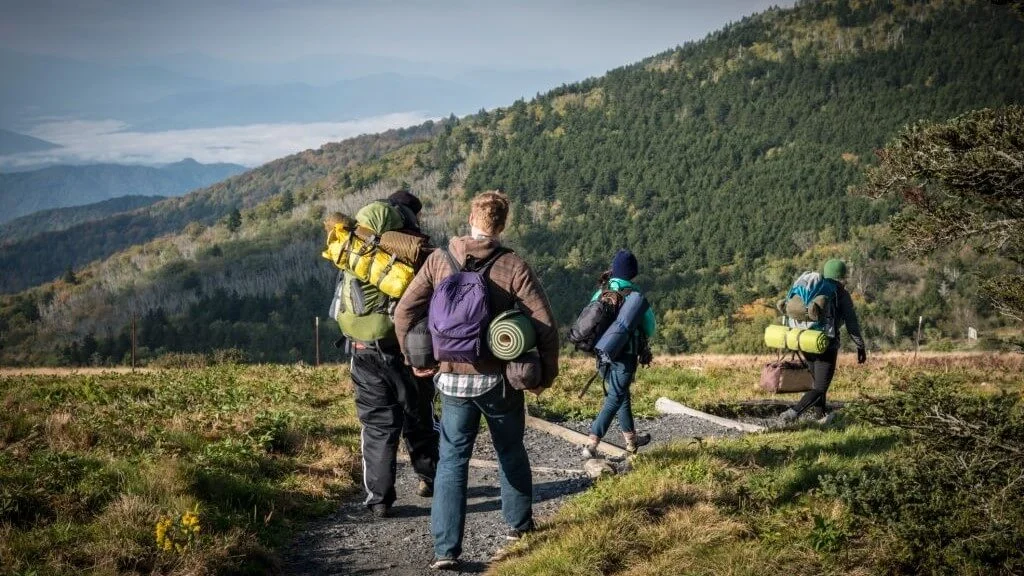 Unlike your typical backpacker, thru-hikers cover more miles each day meaning more focus on small and lightweight packs. Most AT thru hikers prefer keeping their pack weight well under 35 pounds to keep their feet and knees happy and to cover more mileage.
Most of what you will pack for the trail mainly depends on the hiking route, weather conditions, and terrain.
SOBOs, for instance, must pack winter-related and mountaineering gear to beat the initially harsh weather and steep climbs at the north of the trail. On the other hand, NOBOs will mostly focus on bringing adequate bug repellent to fight off swarms of black flies.
The five major items to pack for your AT thru-hiking trip includes a backpack, a camping tent, insulation, food and water, and navigation tools.
Backpack
Backpacks with external frames are highly sought after for their ventilating backs and effective weight-bearing qualities across varying terrains.
If you can get a hold of these types of backpacks, then you can consider other factors such as the weight limit, waterproofing, durability, fit, ventilation, and number/organization of compartments. These factors will heavily influence the overall comfort and efficiency of the pack.
Consider getting backpack accessories such as liners, stuff sacks, and covers to help keep your essentials dry and organized. Learning how to pack and hoist a backpack properly are both highly recommended.
Shelter
Even though the Appalachian Trail has plenty of free shelters along its length, it's always best practice to carry a tent just in case you don't secure space in the shelters. Essentially, you want to get a sturdy, windproof, four-season tent with a removable rainfly so you can use it in both cold and hot sections of the trail.
Ensure your tent of choice offers plenty of ventilation and be sure to pack a footprint to help prolong its life.
Alongside your sheltering solution, be sure to invest in a dependable sleeping system. It should primarily comprise a warm sleeping bag and a highly insulative sleeping pad. A warm quilt or mummy sleeping bag should guarantee a restful night's sleep.
Clothing and Footwear
When dressing up for outdoor activities like thru hiking, the multi-layer strategy is highly endorsed. The clothing layers include a moisture-wicking underwear layer, an insulating middle layer, and a protective outer layer. With all the layers at hand, you can easily remove or put on layers as the weather changes.
Pack a few changes of clothing while maintaining the layering principle for a more comfortable experience on the trail.
Don't forget to bring extra socks and a good quality pair of hiking shoes. While most hikers swear by their hiking boots, waterproof trail runners are arguably kinder to your feet, especially for longer hikes.
Hydration and Nutrition
You should always pack enough meals to serve between resupply points plus one extra meal for emergencies. It will be more practical to go for food items that are easy to prepare and cook instead of complex multi-course meals.
Therefore, consider packing pre-prepped ingredients or even tailored meal packs for the best results. Pack enough meals to cover breakfast, lunch, and dinner. Additionally, toss in a few energy bars or gels, trail mix, and snacks in your pack's side pockets to munch on while on the trail.
Get yourself a rugged but lightweight bear canister to haul and store your food items in. Else, the food odors might attract bears or other unwanted guests.
For your camping kitchen, pack a cooking stove, fuel, and fire-starting items such as waterproof matches or a lighter. A cookware set with cooking pots, utensils, and necessary tableware will make you feel at home while away from home. Finally, pack a few garbage bags to help you contain and dispose of any kitchen waste more responsibly.
Staying hydrated on the trail is extremely important so be sure to pack a water filter as well as a hydration reservoir or water bottle.
Wayfinding and Navigation
A guidebook, a map, and a compass are perhaps more than you require to retrace your steps and avoid getting lost outdoors. If you don't mind the extra ounces, a GPS device with extra batteries is worth the shot for your wayfinding system.
Miscellaneous Items
A first-aid kit and an emergency repair kit are essential for any multi-day hiking trip. The repair kit could come in handy for repairing your hiking gear and tent while the first-aid kit is irreplaceable for emergency uses.
To protect yourself from the elements while on the trail, be sure to pack the following:
Gaiters and suitable hiking boots to get through muddy terrains.
Sunglasses, sunscreen, and a wide-brimmed hat for protection against the sun.
A head net and insect repellent.
For your bathroom and hygiene needs, pack the following items: biodegradable soap, tissue paper, hand sanitizer, and a potty kit. The potty kit should include a trowel, a resealable waste bag, and an optional lightweight toilet seat.
Downtime is inevitable even for shorter hikes so be sure to pack a few entertainment solutions and gadgets to beat the boredom. This could be anything from your camera, smartphone, spare batteries, power bank, board games, and books, etc.
Trekking poles are a must-have if you want to take the strain off your muscles and joints while Vaseline helps quite a bit with chafing. Of course, you will need a headlamp or torch to illuminate your tent but remember to pack extra batteries.
It is not possible to carry everything you need for this six- to eight-month undertaking – that's where resupply points come in.
Resupplying on the Appalachian Trail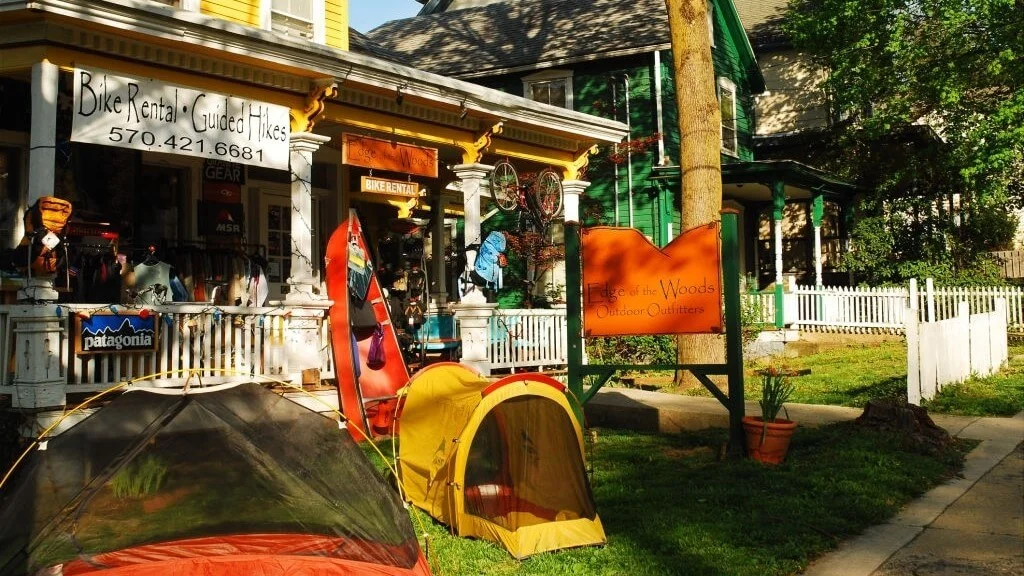 If you run out of supplies, you have two main options to resupply including buying them in towns along the trail or shipping them ahead to given locations on the trail. The latter is the preferred option for most long-distance hikers since groceries and businesses in trailside towns have limited stock and few options.
To ship your supplies, you can either use a bounce box or coordinate with a friend to have items delivered to your next resupply points. A bounce box or a mail drop is used to pack everything you might need in the succeeding sections of the trail including special-diet foods, extra batteries, clothes, seasonal gear, and toiletries among other items.
The bounce box can be shipped to post offices or local motels, hostels, and other businesses. For most resupply points, you might have to seek permission first before sending the box. Always go for ones that deal mostly with hikers as they tend to remain open throughout the week during the hiking season.
Remember, most post offices only open on weekdays for a limited number of hours so pack your initial supplies accordingly.
Preparing your Appalachian Trail Itinerary
Planning for your departure date starts by gathering the required gear, planning your route from start to finish, and looking into your transportation and sheltering options. Ideally, you want to have all this information jotted down in a checklist format beforehand for the best hiking experience.
Where to Start
Firstly, you want to carefully study the route and regions you will be hiking through to better anticipate any changes in terrain or elevation. Here, maps and guidebooks will be of tremendous use. Then you can evaluate which hiking approach will be ideal for you following what we discussed above.
After deciding on which route works for you, the next big step is to register your hike with the Appalachian Trail Conservancy on the ATCamp platform. The registration is voluntary and goes a long way in helping you beat the crowds, keep you informed, and prepare your itinerary.
Moreover, the platform provides statistics on how many hikers are expected for certain dates so you can plan accordingly.
To register, you only need to provide your start date and your group size. The information further helps the ATC to avoid or mitigate the potential social and ecological effects of overcrowding. That said, you will still have to register or seek permits for specific sections of the trail.
Next, how will you get to the starting point or navigate from point to point?
Means of Transport
There is a wide array of parking spaces along the trail. Some might feature trailhead kiosks, while the rest may simply be dirt or gravel unmarked parking spaces. The spaces fill up quickly so be sure to get there early to secure a spot.
Though not very common in many trailheads, vandalism and outright theft are still plausible in some parking areas. A few steps you can take to reduce risks of vandalism include the following
Don't leave your valuables in sight and store them in the trunk wherever possible;
Consider alternative parking spots such as in nearby local businesses and visitor centers. Where applicable, be sure to request permission and acquire relevant permits beforehand.
Check recent reports on vandalism by contacting the local police or Trail Clubs.
Lock your vehicle and have your car keys with you on the trail.
Alternatively, private shuttling services are available throughout the hiking trail just be sure to book your seat in advance. Listings of shuttling service providers can be found on dedicated online forums, guidebooks, and AT Clubs.
Ride-sharing services and taxis are also available when crossing cities or populated areas. Some areas along the trail often have local public transit systems including buses and trains to ferry you to the Appalachian Trail. Levelling up a bit, you may get to the trail by plane as there are a handful of airports near and along the AT.
These means of transportation will help you get to the trailhead or nearby town for resupplying or lodging. However, a short hike to town is still a valid option for most thru-hikers. If the above alternatives are unavailable, then hitchhiking might be a worthy last resort to consider.
The only major caveats with regards to hitchhiking include the potential legal issues and the idea of accepting rides from strangers. In all the states that the Appalachian Trail passes through, hitchhiking is mostly illegal with complete bans in some states.
Some states have relaxed or vague laws concerning the act but be sure to research widely on the matter beforehand. Above all else, make sure not to obstruct the flow of traffic when hitchhiking and trust your instincts when sticking out your thumb for a ride.
Navigating the Appalachian Trail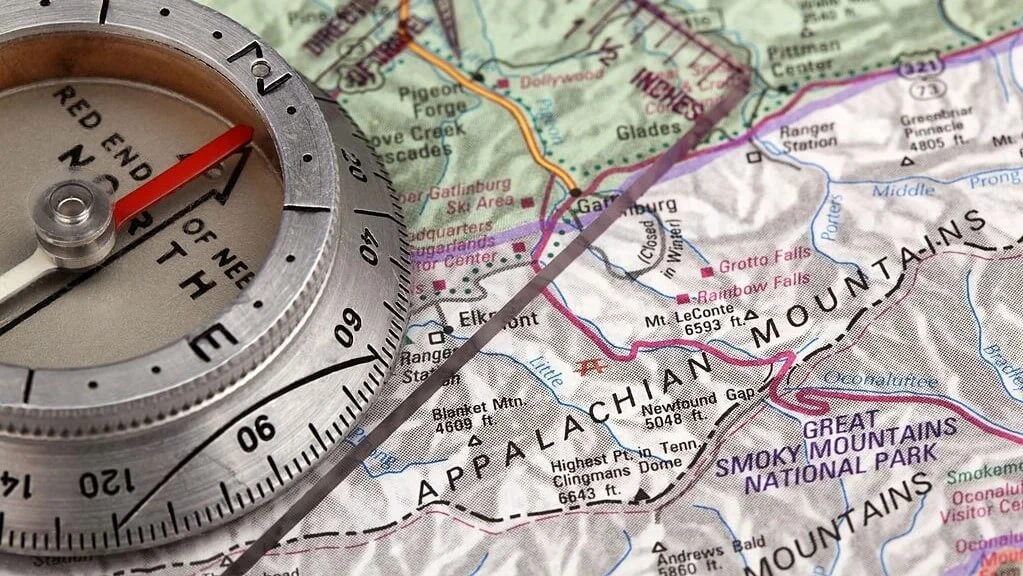 Part of your hiking gear should include navigation tools such as a map, guide, compass, and GPS device. A smartphone with Google Maps/Earth should suffice as a secondary navigating tool. That said, you need to refresh your map reading skills and learn how to use a GPS receiver the right way.
Else, you risk losing daylight or even getting lost while hiking through the AT. Fortunately, you can make use of the numerous markings on the trail to retrace your steps and stay on track.
The Appalachian Trail is marked with white blazes, blue blazes, and cairns to guide thru-hikers along its length. The markings are meant to aid daytime travel in either direction.
A white blaze is a small swatch of white paint measuring approximately 2 inches wide and 6 inches long. The swatch is commonly placed on trees, signposts, guardrails, rocks, or any other visible locations on the trail.
Single white blazes dot out the trail itself and are mostly placed about a quarter-mile apart from each other. Double white blazes with one on top of the other indicate an upcoming trail intersection or a sudden direction change. If the double blazes are offset, you are supposed to turn in the direction of the topmost blaze.
Blazes with blue or other colors signify intersecting trails and side trails. Where blazes aren't practical to be placed, cairns are used to mark the trail. A cairn is simply a pile of rocks. In areas above treeline or wherever the blazes would be covered in fog or snow, cairns pick up the slack.
Except for the wide Kennebec River in Maine, thru-hikers may need to ford creeks, streams, and rivers along the trail. The crossings don't pose much danger but you may want to be extra cautious during heavy rains. Some streams will have attached ropes to help you balance yourself when fording them.
Make use of the ferry service at Kennebec River as it is the only safe way to cross the river.
How Many Miles Should I Cover Each Day?
A quick note on your daily hiking mileage: while it may be determined by road crossings and location among other factors, a lower mileage is often the way to go for beginner thru-hikers. Anything below 7 to 12 miles won't be too hard on your feet and body.
Otherwise, if you are too ambitious, you might end up with blisters, rolled ankles, or injuries. Keep the mileage low and only gradually increase it as you go if you feel your body is up for it. As you will constantly hear, Hike Your Own Hike (HYOH)! Feel free to thru-hike the AT using your style and don't feel cornered to accept another hiker's approach.
Where to Stay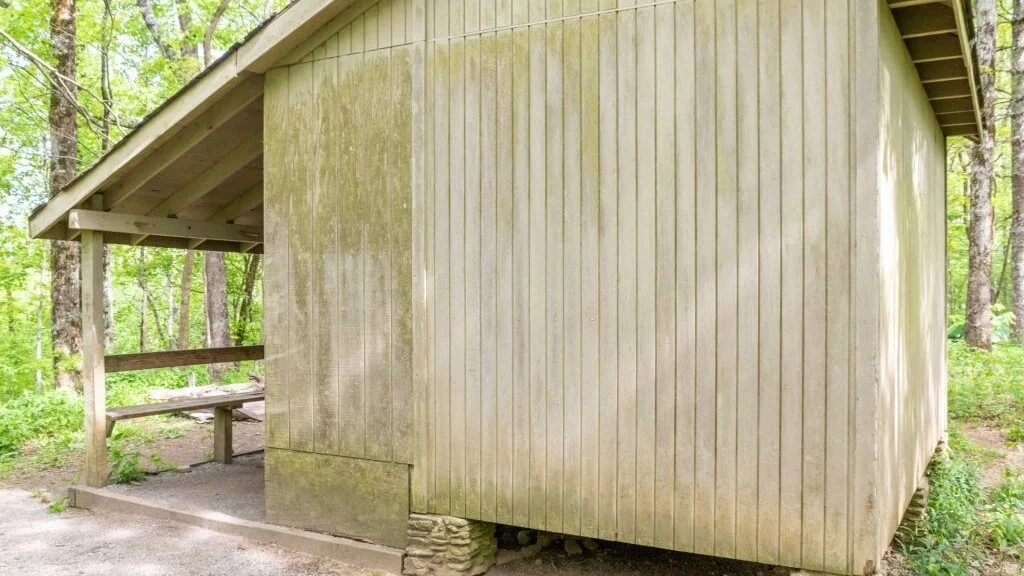 After you are done with your day's hike, you have two main options to shelter in for the night. You can either pitch a tent or stay in any shelter available along the trail.
The Appalachian Trail offers about one shelter every 8 miles totaling well over 250 backcountry shelters. They mostly feature a lean-to design with a wooden floor, metal roof, and three walls. These shelters are accessible on a first-come, first-served basis so they can be a hit or a miss, especially on overcrowded sections.
The shelters can often be rodent-infested and grimy since they are supposed to be cleaned and maintained by thru-hikers and volunteers. On the bright side, they stay dry during heavy downpours and can be good meeting places for hikers.
Lastly, since you won't be pitching your tent, these shelters greatly help reduce the impact on the environment. Plus, they tend to be constructed near water bodies and have nearby outhouses for sanitation needs.
Whether or not you will be spending the night in one of these shelters, it is good practice to always carry a camping tent.
Tents come in handy when you can't find a shelter or when the dusk is at your heels. With regards to where to pitch your tent, the regulations vary from region to region. Dispersed camping is allowed in some forests and parks while in other areas, camping is restricted to designated campgrounds.
Consult the teams in charge of the various sections or check the guidebooks for wherever you will be hiking. Remember, restrictions to tenting are put in place to help protect fragile environments and to reduce the impact on the given areas.
Permits and fees for tent camping might be applicable in some campsites.
Building fires in shelters along the Appalachian Trail is prohibited in most sections so be sure to bring a camping stove for such cases. Where permitted, build the fire in established fire rings, use dead and downed wood, and keep the fire small.
Don't forget to clean up the area as per the seven LNT principles and ensure you do not leave any embers or smolders in the fire pit.
If you miss out on the two options, you can trek to towns for hostel and inn accommodation. Towns near the Trail will have plenty of inns, motels, B&Bs, and bunkhouses for you to spend the night. However, they fill up fast so you want to start making arrangements in advance well before nightfall.
Safety Concerns and Challenges on the Appalachian Trail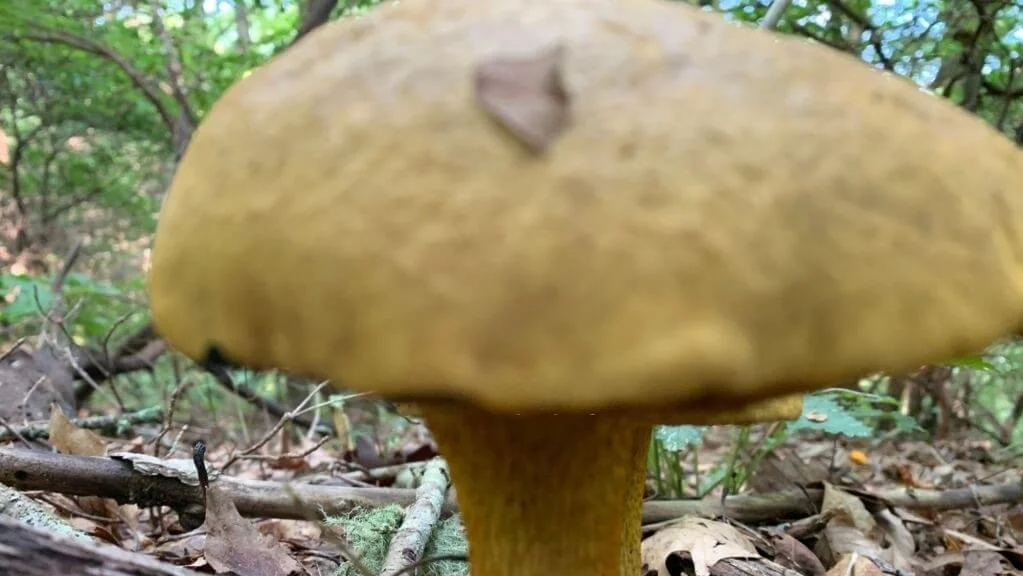 For the most part, hiking through the AT is safer than being exposed to the dangers of the urban areas. You will be faced with the usual outdoors-related issues such as bad weather, unfriendly wildlife, illnesses, and sometimes hostile humans.
Ultimately, it could be argued that under-preparation is perhaps the biggest hindrance to a successful thru hike.
With the right gear, skills, and information, you can easily mitigate or fully avoid the many hazards associated with the great outdoors. Read on for the most common threats along the AT and how to solve or avoid them.
Weather Challenges
The Appalachian Trail takes over six months to complete and traverses many regions with varying elevations and climates. Irrespective of your hiking route, you will most likely encounter harsh winter weather and high summer temps as you hike through the trail.
Erratic Weather
The higher elevations in the north are characterized by frigid cold, very strong winds, hail, prolonged rains, and snowstorms. For instance, the New Hampshire trails are the most dreadful to get through as they are prone to gusty winds, arctic temperatures, and snow.
As expected, your stamina and overall progress will be greatly slowed when going through these sections of the trail. Here, fog and mist result in poor visibility throughout the trail and you risk your supplies getting ruined by the bad weather.
The heavy downpour might even lead to trees falling so you want to be very careful when thru-hiking in such conditions. Wear warmly and in layers or wait out bad weather in shelters or nearby towns as prolonged exposure to extreme cold can cause hypothermia and other cold-related complications.
In contrast, the summer temperatures can get very high in the southern bit of the trail. Overexposure to extreme heat often means potential issues such as heat exhaustion or even heat stroke for most thru-hikers.
Sunburns, heat cramps, and dehydration are often not too far off when you've been hiking in the hot sun for long. Wearing loose-fitting clothes and staying hydrated are both good methods of preventing heat-related ailments.
Other solutions to the problem include starting your hikes early in the morning when the temperatures are cooler, consuming electrolytes, and resting frequently.
Lightning Strikes
While the chances of being struck by lightning are very low, it is worth taking precautions. The few people who have ever been struck by lightning while hiking have either died or sustained severe injuries.
The best way to protect yourself from lightning strikes is to closely monitor weather forecasts and avoid being in open areas during thunderstorms. An NOAA Weather Radio would be an ideal source for on-the-go weather updates accompanied by weather apps and websites such as ATWeather.org.
Lightning strikes the high points so you want to avoid open ridgelines, bald summits, and other open areas where you are the tallest feature. If caught up in a thunderstorm, run for forest cover, drop your metal hiking poles, and avoid sheltering near any tall features or water bodies.
Learn as much as possible on how to protect yourself from lightning and remember to call for help if needed.
Wildlife Threats Along the Trail
Black bears and snakes get a bad rap when it comes to talking about wildlife threats on the trails. Instead, you should worry about the seemingly humble ticks and rodents that are notorious for transmitting severe diseases like Lyme disease and Hantavirus.
Ticks, Mosquitos, And Other Insects
Ticks are present throughout the length of the AT. They are the most dangerous creatures to encounter since they carry a concoction of highly transmittable diseases. Blacklegged ticks are known to carry Lyme disease, which causes symptoms such as skin rashes, headaches, fever, and fatigue among others.
Always perform a tick check before going to bed by thoroughly checking your body and clothes for any latched-on ticks. Pretreating your clothes and gear with Permethrin products similarly helps keep ticks away.
On the trail, you will likely encounter mosquitoes, black flies, spiders, bees, and other stinging and biting insects. To help soothe the eventual stings and bug bites, be sure to get a list of medications from your doctor beforehand.
Do include insect repellent sprays in your bug-fighting arsenal for good measure. They should contain about 20-30% DEET or instead use natural bug repellents such citronella, tea tree, or thyme oils to keep the bugs and insects away.
Wild Animals
On the Appalachian Trail, black bears are most prevalent in Georgia, the Shenandoah National and Great Smoky Mountains Parks, and some parts of New Jersey and Pennsylvania. Historically, black bears are only responsible for killing 61 humans across North America in the last 120 years.
They will most likely attack as a defense mechanism, else they just run away at the sight of people. Moreover, black bears won't necessarily attack you for your food. Instead, they will just wait until you are asleep and steal your food.
The best way to minimize interactions with bears is to store your food more securely, avoid getting too close to them and make noise to make them aware of you. Ensure you prepare, cook, eat and store food away from your camping tent or shelter to minimize food odors lingering.
To store your food safely, either hang them using a sturdy bag from a tree branch or stash the food items inside a bear canister and away from your camping tent.
Poisonous and non-poisonous snakes are commonly found in sections of the trail where the climate is warm. Most of the snakes that you will stumble upon are harmless, for instance, ring snakes and eastern rat snakes. But there still are venomous snakes along the trail which may include timber rattlesnakes and copperheads.
Ideally, snakes normally bite as a defense reaction but getting bitten is a rarity while hiking on the trail. Just watch where you are stepping or sitting and let the snakes go their way to avoid accidental bites. If you do get bitten, seek medical attention immediately.
As for wild boars, coyotes, and other wild animals, they mostly won't attack or even get close to you so you should keep your distance whenever you encounter them. However, some animals might bite you and pose the risk of infecting you with rabies.
Likewise, mice and other rodents might infect you with hantavirus or other highly transmittable diseases.
Though not as severe as contracting diseases, the wild ponies found in Grayson Highlands, Virginia, may bite you, charge at you, or even eat your hiking gear. So, ignore any urges you might have to try and pet them or get in their way.
In summation, you want to give any wild animal a wide berth and never disturb or try to feed them. Always be aware of your surroundings and note which sections of the trail certain wildlife are most populated.
Personal Safety and Awareness
Your safety might be threatened by other people and even more likely by human error. We found the best way to improve personal safety is to prepare wisely, stay informed, and be alert to each setting. Else, injuries are bound to happen or even more severe complications.
Other Humans
Despite what Hollywood might have you believe with their horror flicks, there are rarely any violent crimes on the trail. Sure, there have been reported cases involving theft, homicide, abduction, and assault in earlier years but they are just a few incidents.
Protecting yourself from unsavory characters mostly sums up to trusting your instincts. If you feel uncomfortable about someone, you want to keep your distance and take the necessary precautions. The same applies when hitchhiking into town.
You can always alter your route, skip a section of the trail, or spend more time in town to avert any perceived danger. Avoid camping near roads, leave your jewelry at home, and keep your money and other valuables out of sight.
If you are a solo hiker, be extra cautious on the trail or tag along with a group whenever possible. A bottle of pepper spray stored within reach is highly recommended for use against potential threats.
To prevent catching communicable diseases, practice good hygiene and make good use of hand sanitizer. Norovirus, also known as the stomach bug, is perhaps the most contagious disease affecting most thru-hikers. Take the necessary measures to avoid contracting or spreading the virus.
Good hygiene is paramount wherever applicable and most importantly, washing your hands with clean water and biodegradable soap can be very effective at killing the virus. Lastly, avoid sharing utensils and water bottles with other hikers and be on the lookout for any symptoms of the stomach bug.
Human Error
For most solo hikers, getting lost on the Appalachian Trail is very plausible especially for inattentive hikers. Familiarize yourself with the various markers used on the trail and never wander off the footpath to avoid getting lost.
Be sure to bring along a secondary wayfinding system for redundancy purposes. Preferably, you want to have an updated paper trail map and guidebook in case your smartphone runs out of juice or is out of network range. Consider getting a personal locator beacon (PLB) or satellite messenger to help you send distress messages.
It is always a good idea to inform a friend, a neighbor, or someone you trust about your itinerary and hiking plans before embarking on your trip. The information comes in handy for rescue missions.
Ensure you have a safety whistle integrated into your pack or just bring one with you on the trail to help you call out for help if you get lost or are in danger. Some hikers fall to their death while trying to take selfies on precarious locations such as overlooks and ridgelines. So, consider yourself warned…
If you are a gun owner, it is probably best that you leave it at home. Statistics show that there is a high chance of it being used against you in an altercation. However, if you insist on bringing the gun with you on the trail, then be sure to follow each state's gun laws.
Other Risks Facing AT Thru-Hikers
The biggest nightmare for most solo hikers is perhaps getting seriously injured on the trail and having to stay put helplessly waiting for help. Fortunately, the Appalachian Trail has plenty of visitors busy hiking up and down the trail, so you will most likely get someone to help you in a few hours.
With that in mind, communication should be a high priority when planning your thru-hike trip.
Firstly, check if your current network provider has good cell phone service along the AT. If not, then consider switching to a more reliable option and be sure to pack a fully charged power bank. Secondly, a suitable PLB or a GPS messenger is worth considering for such emergencies.
Hunting is allowed in most of the states along the Appalachian Trail. During hunting season, you want to always be seen and heard to avoid falling victim to a stray gun pellet or arrow. Be sure to wear a blaze-orange cap/hat/beanie and vest as well as a visible backpack cover at any given time.
Keeping tabs on upcoming hunting seasons is highly advisable.
To conclude, if you plan on hiking with your dog, research widely on the various related rules and regulations for each section of the trail. Normally, you are expected to have your dog leashed at all times throughout the trail. Furthermore, ensure it is fully vaccinated against rabies, parvovirus, and other viruses before heading out for the trail.
Some national parks might have specific requirements about the dog leash so be sure to do your homework well.
Stay Safe and Happy Trails!
The brainchild of Benton MacKaye and other foresters, conservationists, and outdoor enthusiasts, the Appalachian Trail is an exciting and worthy pursuit for any thru hiker. It ranks highly among other hiking favorites in the United States such as the Continental Divide Trail, Great Western Loop, and Pacific Crest Trail among others.
Understandably, taking on a multi-day 2000-mile hiking trail is no easy feat, and quitting is always a valid option. However, with a little preparation, you could easily conquer this lengthy hiking trail. Heck, you might even get certified as a true 2000-Miler!