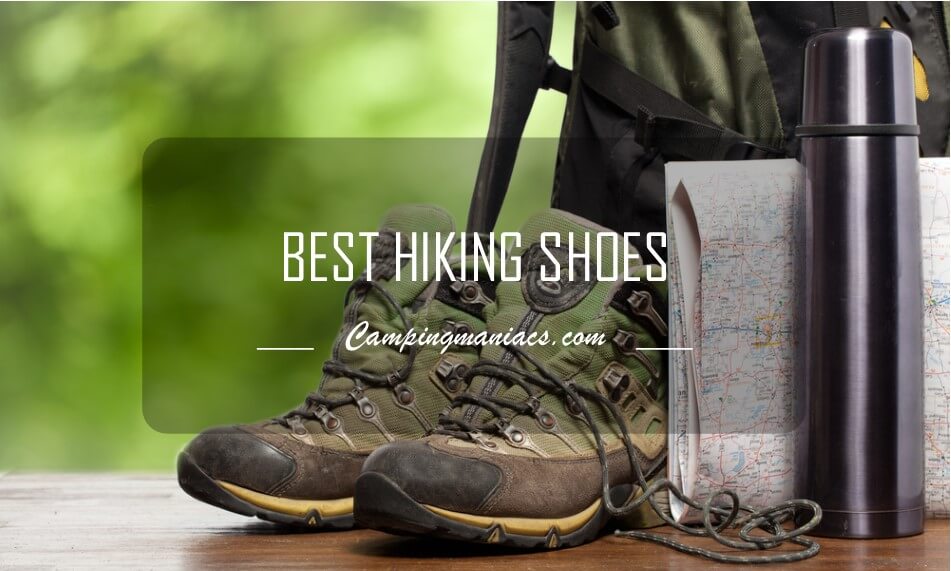 The Ultimate Review of the Best Hiking Shoes (Both Men's & Women's)
We are well aware of the frustrations that people undergo while searching for the best hiking boots to buy. In most cases (or at least in the first one), a newbie shopper will spend their money on a totally regrettable piece of complete BS! Be it a trail running hiking pair of shoes or simply lightweight boots that will stand the test of the elements of the wild, you are in for the expert reviews of the best shoes for hiking you could possibly find in the market.
And, just in case you are in doubt, we list and review the best hiking shoes for women and men alike. Without any further ado, here we go:
---
The Salomon Quest 4D II GTX Hiking Boots
In a nutshell, the biggest advantages of the Salomon Quest is that it is comfortable straight out of the box, is fast and agile while on your feet and offers great support and stability to boot. It is also important to note that it is water resistant, which may come in handy while you are out in stormy or wet weather.
The drawback of the Salomon Quest is the tendency for the hiking boots to have seams that wear out too quickly, as well as appearing to be too aggressive for camping novices or people who do not camp that much.
---
The Keen Targhee II Mid
The boots offer great value for money and come with extra toe protection with solid traction that will give you stability on slippery, unpredictable terrain. The Keen Targhee also falls into that hallowed group of hiking boots that are ready to go with awesome out of the box comfort.
The Keen Targhee has some failures, including drawbacks on overall stability when wearing them. They are not as durable as other camping boots, which means that you might have to plunge back into your pockets and remove some of that hard earned cash in buying another pair of hiking boots. The question you will have to answer is whether you are willing to buy several pairs of inexpensive hiking boots over the course of your camping career or whether you are comfortable with a few, solid but expensive pairs. The jury is still out on that decision.
---
Hoka One One Men's Tor Summit Mid Waterproof Hiking Shoe
The Hoka One is the shoe to go for if you are in the market for comfort that borders on the extreme and boots that are lightweight and less of a burden to wear than others. It is also important to note that the Hoka One is very good at absorbing shock, something you will find coming in handy when you are in uneven terrain and suddenly lose your footing.
The Hoka One boots are not that good when it comes to moving through muddy grounds. You are bound to lose your traction and get mud all over your clothes and camping equipment. The Hoka One also loses some major points in stability and durability. If you are looking for hiking boots that will stay with you for a very long time, the Hoka One would not be your first choice.
---
Asolo Men's Fugitive GTX Hiking Boots
The Asolo Fugitive is the boot of choice for campers who place a lot of value on excellent traction on both wet and dry surfaces. This is due to the fact that this is exactly what the Asolo Figitive GTX delivers. No more embarrassing falls on wet and dry rock because your shoes could handle it. The Asolo has you covered. It is also lightweight, which is another boost for those who would not want their camping trip to become an exercise obsessed boot camp. It is of sufficient durability due to its leather material which means that the somewhat high price tag will cover your camping expeditions for a very long time (about 3 years) before you are forced to replace your pair with a fresh box of hiking boots.
The Asolo Fugitive GTX also has some disadvantages, chief among which is its price tag. You might have to dig deep into your financial pockets to afford the pair. This is a problem if there are other hiking boots presenting roughly the same attributes (except durability) but at cheaper prices, of which there are plenty. But given its high water resistance and an excellent durability, the cost is well justified and well worth the value you get.
---
Columbia Men's North Plains II Waterproof Mid Wide Hiking Boots
The Columbia North is the best hiking boot to go with on your camping trip if you are in the market for a light weight solution, and if you know that you won't be carrying any extra weight. It is best suited for day hiking, which could easily translate into hiking for a few hours and coming back to your campsite for some well deserved rest. If you include any other parameters, then the Columbia North will quickly be overtaken by other hiking boots that pack more features and more sophistication.
The Columbia North is not that stable and this is a huge dent in its favorability. It has a low flood level and is not durable. This means that if you use the Columbia North too many times, then you are likely going to find yourself searching the web for a quick replacement.
---
Vasque Men's St. Elias Gore-Tex Backpacking Boot
The Vasque GTX is the shoe for you if you are in the market for a comfortable and stable pair of hiking boots that has a great ankle collar and comes in two features: wide and narrow.
You might dislike the Vasque GTX for it is heavy and will require some strength and endurance especially during long hikes when your energy has been sapped and you do not have the strength to take another step. In one of these moments, you might severely detest having a pair of heavy hiking boots on your feet. It also features permeable leather that needs to be treated often. This presents an added cost and there are people who lack the vigilance and discipline to constantly treat the camping boots so that they do not start breaking down.
---
Lowa Men's Tiago Mid Hiking Boot
The Lowa Tiago is great for people looking for camping boots that offer good stability, are light weight and have solid water resistance. All these features mean that you won't fall that easily while wearing a pair of Lowa Tiago boots. They are light and thus will not present a burden to those who prefer uncomplicated hiking trips that do not exact a harsh physical toll on them. The solid water resistance assures you of dry feet in wet weather or when wading through shallow ponds and water.
One of the biggest drawbacks of the Lowa Tiago is the below average lacing system that will present challenges during your hiking. There is also a demonstrable deficiency in comfort while wearing the boots, something that does not augur well with frequent campers. It is not as durable as other camping boots that have already been reviewed. You should therefore be psychologically prepared to spend more money in acquiring another pair of hiking boots in time to come.
---
Merrell Capra Venture Mid Gore-Tex Surround Boot
The Merrell Capra Venture is the ideal hiking boot for people looking for solid traction and stability, and is the heaviest in the lightweight category.
You will find the Merrell Capra Venture to be of low comfort and poor durability. It is also noisy and this might present problems if you want to creep up to a herd of gazelle in the wild. Noisy shoes might also alert predators of your presence if you are camping in habitats that may be dangerous for human activity. Imagine ticking of a mother bear with her cubs, a situation many would not want to be in. Noisy shoes could prove to be the last straw that broke the camel's back.
---
Lowa Men's Renegade GTX Mid Hiking Boot
The Lowa Renegade has been designed for midweight hikers and comes with good features such as a comfortable collar, great support, stability and lightweight qualities for its class.
The Lowa Renegade also has a few drawbacks that are worth mentioning to the keen observer of camping boots. It does not have the best lacing system and has lots of upper seams that may present challenges when tying your shoes or when backpacking through rough terrain.
---
Salewa Men's Mountain Trainer Mid GTX Hiking Boot
The Salewa Mountain Trainer features strong lateral stability with a solid lacing system and an overall durability that will be very appealing to midweight hikers who want the best value for their money.
The biggest drawback of the Salewa Mountain Trainer includes the fact that it is uncomfortable and feels heavier than it actually is. It also features average traction on wet and dry rock, a disappointing feature for those who were looking for better than average traction.
---
Arc'teryx Men's Bora2 Mid Hiking Boot
The Bora2 Mid features excellent stability and has good traction in a wide range of elements such as rock, scree and snow. It also has superior foot protection that will come in handy for mountaineers and hikers trudging through rough and harsh environments.
The Bora2 Mid does not allow your feet to breathe which results in sweaty feet that you might not like very much. It is also heavy and is a burden when walking. The Bora2 mid tends to collect water inside the boot and also presents durability problems. This is a harbinger to some recent future event in which you dig deep into your pockets for money for a fresh pair of hiking boots.
---
---
Hoka One One Tor Ultra Waterproof Women's Shoes
The Hoka One is comfortable and provides lots of cushion underfoot with good traction and water resistance for those who do not like waterlogged socks. It is lightweight and has a rockered sole that will assist you in your strides even while hiking.
However, the Hoka One is expensive and has an oversized sole that can be bulky for some.
---
Lowa Women's Renegade GTX Mid Hiking Boot
The Lowa Renegade GTX for women comes in a whopping 11 color options. It also features PU monowrap frame construction with both narrow and wide fit options as well as seamless Gore-Tex lining. The Lowa Renegade GTX does not have arch support, is expensive, bulky and heavy. These drawbacks may make you think twice about the Lowa Renegade for women.
---
Columbia Women's Redmond Mid Waterproof Trail Shoe
The Columbia Redmond presents a quick break in feature with a wide toe box and provides good value for money. Its lightweight design also makes it suitable for day long hikes. A downside though is that the pair lacks support and is not very durable which could present financial challenges to you later on as the pair you buy wears out quickly.
---
Ahnu Women's Sugarpine Hiking Boot
The Ahnu Sugarpine hiking shoes come in a fashionable design that will make you look good even while out camping. It features a stiff sole and solid ankle support, reducing the risk of spraining your feet while hiking. It is water resistant and offers good value for money spent.
The Ahnu Sugarpine only has a minimal tread that may present issues with traction and stability in wet and dry surfaces. The boots do not carry weight very well and are therefore not suitable for campers accustomed to carrying heavy bags and equipment for long stretches.
---
Oboz Women's Bridger B-DRY Hiking Boot
The Oboz Bridger is extremely supportive and has excellent ratings when it comes to durability. It also features protective soles and is waterproof enough to guarantee you dry socks and dry feet even while out in the rain.
Hoever, the Oboz Bridger pair of hiking boots is very difficult to break in, owing to the fact that they are all leather. This means that you will find them to be very stiff in the beginning, with an obvious lack of flexibility in the forefoot.
---
Salomon Women's X Ultra Mid 2 GTX Hiking Shoes
The Salomon X Ultra is well padded, comfortable and has good ankle support. It is also waterproof which ensures dry feet and dry socks when out in wet environments or when it is raining. The Salomon X Ultra has the drawback of having a sizing that runs big. It is also important to note that the flexible and soft sole does not do anything constructive once you embark on long hikes. Finally, the extra padding in the tongue makes the camping boots look bulky.
---
KEEN Women's Targhee II Mid Waterproof Hiking Boot
The Keen Targhee is comfortable and has sturdy soles that are versatile and have excellent toe protection. It is lightweight and will not present problems to those who do not want to lift heavy feet while dealing with a tough terrain and heavy loads. The Keen Targhee has a low ankle shaft height and its durability is in question, which means that sooner or later you will have to discard your pair and buy a new one.
---
Choosing the Best Hiking Shoes: What Considerations Should You Make?
The following are some of the things that you need to be aware of before choosing your hiking boots:
The Type of Outdoor Footware

There are many types of outdoor footwear including: trail runners, hiking shoes, hiking boots and mountaineering boots. Trail runners are designed and manufactured for running on the pavement and are not the best for tough and uneven terrain. Hiking shoes are lightweight and are more durable and sturdier than trail runners. They are ideal for any light hiking and trekking, though their lack of ankle support means it is easier to get foot injuries while wearing hiking shoes.

Hiking boots are in turn better than hiking shoes as they provide ankle support, have better foot protection and are also more durable. Most hiking boots are also waterproof which means that your feet will be kept dry and comfortable. There are three categories of hiking boots: lightweight hikers' boots, midweight hikers' boots and heavyweight hikers' boots. Mountaineering boots are made to be stiff, heavy and bulky bearing in mind the weather and terrain conditions that you will be exposed to while out hiking.

Your choice of outdoor footwear will depend on where you see yourself hiking frequently, and whether you are concerned with the possibility of foot and ankle injuries or not.

Water Resistance

Does the footwear you are interested in waterproof or not? This is important especially if you are going to be trekking on wet trails or during wet seasons. Bad weather days may also make the going tough for you if you do not have water resistant hiking boots with you.

Weight

With all other factors remaining constant, it is better and more advantageous to have lighter footwear than the heavier ones. It is true that heavier models of footwear are more stable and more durable. However, lighter footwear are more likely to be enjoyable to wear and walk in than the heavier models that may leave you grunting and gasping, trying to muster all your energy in making the next step.

Durability

For the most cases, leather footware tend to last longer than their cloth and polyester counterparts. However, other factors such as water resistance, comfort and weight come into play when determining the type of a hiking pair to go for. Balancing between all these factors is crucial if you must have a successful hiking experience. Even then, a durable pair means that you will not have to spend your money every now and then on purchasing a new pair for each hiking excursion.