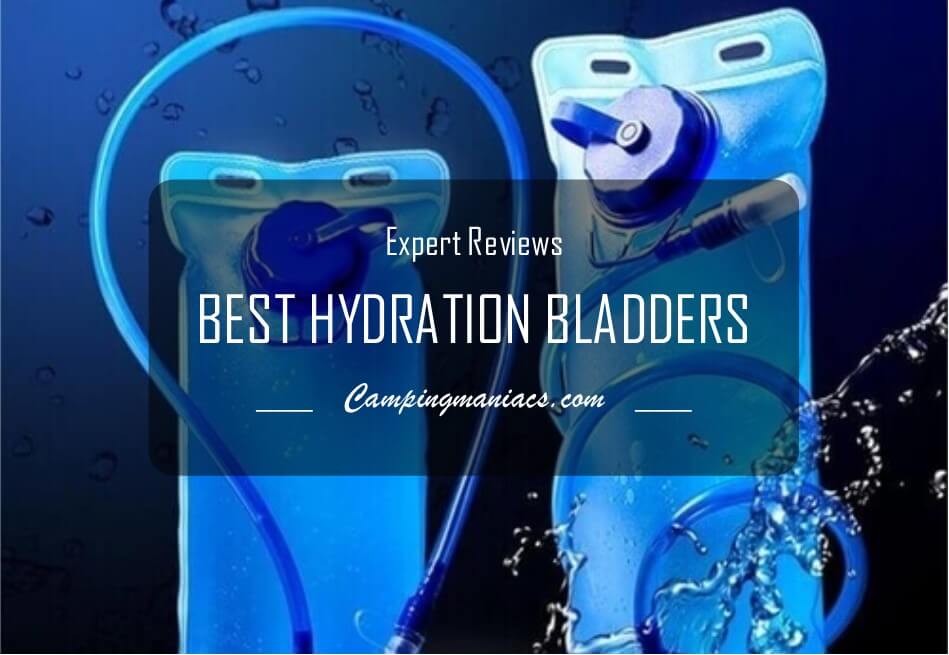 Best Hydration Bladders for Outdoor Enthusiasts - 2018 Buying Guide
Which is the best hydration bladder to buy in 2018? While this question is easy to come by, the actual process of searching, testing, comparing and selecting the best water bladder isn't as easy.
That's why we rummaged through the market, tried out 20 of the top-rated brands and settled for the best ten below.
Our tests dwelled on reservoir capacity, their leak proofing capabilities, ease of access and cleaning, insulation, durability, safety for health, and even the miniature details such as their bite valve types and ease of suction through their hoses.
To say that this list consists of the best water reservoirs is a gross understatement. We think there isn't a better, a more practical list out there. Let's get to it:
Which are the best hydration bladders of 2018?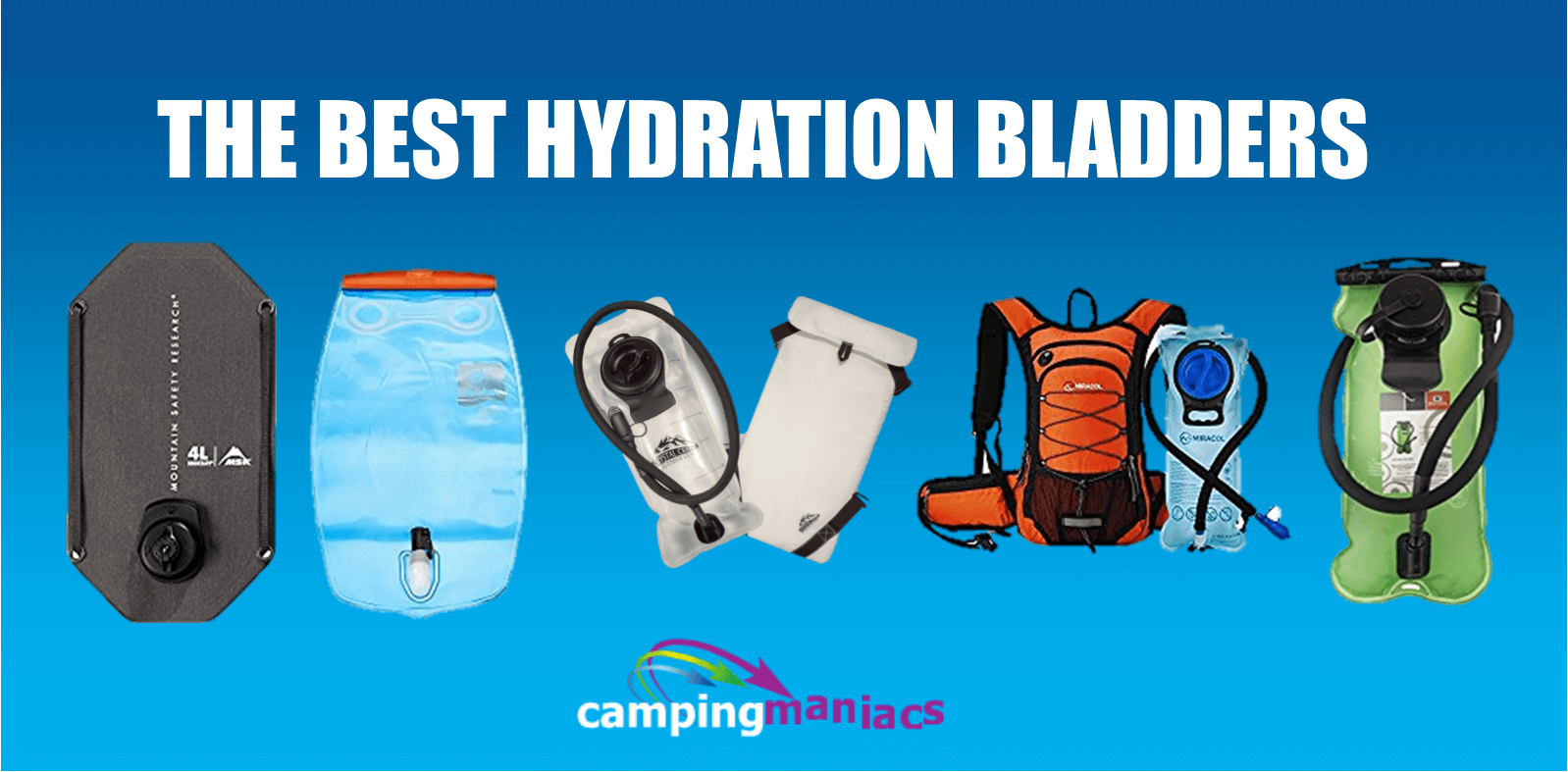 1. Source Tactical WXP 3-Liter Hydration Reservoir: A Mixed-Technology Hydration Bladder
My favorite pick, the WXP offers an array of irresistible features to any individual who knows what to look for in a hydration bladder. First off, this hydration bladder features a combination of both the screw cap and a slide-locking design for opening and closing, both of which are water-tight and leak-proof. Since this feature caters for both preferences, it has seen the WXP so quickly rise up the popularity scale to become a favorite of a wide group of hikers and outdoor-savvy individuals.
Easy to refill and clean
The slide-locking design of this reservoir allows it to slide wide open for easy cleaning, refilling, and ice insertion. And if you prefer only water in your hydration bladder, the screw cap offers a quick way to refill the WXP.
Highest Quality construction
This 3-liter, high performance hydration reservoir is constructed with topnotch coextruded polyethylene material that is not only low maintenance but also free from chemicals and toxins. The interior of the reservoir and tube features a glass-like liner which serves a crucial role of acting as a mechanism to prevent bio-film build-up which in turn prevents bacterial growth in the reservoir. Additionally, this liner prevents stored water from developing plastic flavor. The WXP is further enhanced with Grunge-Guard antimicrobial technology that prevents bacteria and other micro-organisms from thriving.
Other Versatile Features
Though not with the best kind of technology, WXP does a great job in insulating its tube. The insulation mechanism consists of a fabric webbing that deters UV light and, to some extent, keeps the water cool for a reasonable length of time.
Another feature that WXP prides itself in is the patented push and pull storm technology for the suction valve. You pull it and the water gushes into your mouth with a 25% more flow than most other bladders. You push it back and the valve closes. This technology is a gem in two subtle ways. First, since pulling the valve doesn't allow it to completely come off, you will never have to harbor a fear of losing it. Second, the fact that the valve remains closed and you open it only when you need to suck some water means that your water remains sterile and uncontaminated.
Generally, this is an incredible reservoir that is characterized by a wide range of performance-enhancement features. From antimicrobial technology to leak-proof design, cool weave, wide open access and taste free system features, this reservoir has so much to offer. Furthermore, it is easy to clean and maintain. It only needs to be rinsed with water and, using the techniques listed below, hanged open for air drying.
Drying the WXP bladder
At first, we had found it difficult air drying the WXP since it is practically difficult to keep its apposing sides separated when empty. However, a few tricks learnt through a long-term experience in dealing with hydration bladders proved handy. The first hack is to have it stand upside down on a bottleneck of any drinking bottle or an empty glass of water. The second hack is to hang it by the tube connector, and stuff a small dry towel into it. The third hack is to fold its tube into a spiral and insert it into the bladder to keep it open.
Pros
Features both screw-cap and slide locking mechanisms both of which are leak-proof
High quality construction
Embedded with antimicrobial technology
Self-cleansing mechanism
Keeps water cool for a long time
Cons
Somehow too tall hence a bit of a trouble fitting it in most hydration backpacks
Needs some hacks to keep it open while drying. Luckily, these hacks are easy to learn and implement.
Bottom Line
Overall, this is an excellent choice for a heavy duty reservoir. From the capacity to design related features, you pay less for more. Three liters of water is quite something and on top of that, water temperature remains under control for at least four hours. The quality of the material used to construct the reservoir is incredible. It is completely leak-proof.
---
2. Deuter Streamer 2.0 Hydration Bladder: A Hiker's Top Pick
Made of thick polyethylene material, the Deuter Streamer 2 liter hydration bladder offers an odorless flow of water that will see you stay rehydrated throughout your hikes for more than just a couple of years. Now we all hate that putrid taste of water stored in those hydration bladders made of polyurethane.
Base-line hose connector
One striking feature about this hydration bladder is the location of the quick connect for the hose. Right at the base of the bladder, the quick connect will enable extended flow of water until the bladder is almost empty. This is unlike other hydration bladders which have the hose connector about one third of the distance from the base.
Bite valve cap
The bite valve is just about the perfect size and has a nicely-fitting removable cap that features push and pull technology for closing and opening. Therefore, your water is kept safe from dust and you open the valve only when you want to sip the water. The cap also ensures absolute absence of leaks via the mouthpiece.
Even then, some people hate the fact that one has to remove the bite valve cap every time they want to sip from the bladder. I'm not one of those people since I value my health more than comfort.
Full-width opening
Ease of cleaning and hassle-free refilling of the Deuter Hydration Reservoir is all made possible by the zip-locking mechanism that sees it open for its entire width. You can turn it inside out then clean and dry with ease. Now some people may think that the full-width opening is a disadvantage which is likely to cause some leakages. But far from it! The Deuter has a locking top that also acts as handle. This seal is perfectly leak-proof and to be honest with you, you can never find a better leak-proof bladder.
Pros
No odors in water.
Full-width opening makes it easy to clean and dry.
Long-lasting (made of thick polyethylene).
Easy to use.
Base-line location of hose connector makes it convenient with even small volumes of water.
Fully leak-proof.
Cons
We didn't like the fact that you have to open the bite valve every time you want to sip water from it.
Bottom Line
If you are looking for something that has been on the market for quite some time and which has been shown to stand the test of time, the Deuter hydration bladder is the perfect choice for you. No leaks, no bad odors, no disappointments.
---
3. CamelBak Antidote Reservoir: The Most Trusted Pick
If not for anything else, you will want to make this 70 oz hydration reservoir your choice for its trustworthiness. Introduced into the market decades back, this hydration bladder has stood the test of time. Surprisingly enough, this water bladder has maintained its high ratings and positive reputations. A number of quality-enhancement features have been carefully crafted into the CamelBak and you will be buying into nothing less than a proven masterpiece.
Reasonable Picing
Given the high quality and the improvements this hydration bladder has had to undergo over the years, its price is reasonable enough. It might not be as affordable as the two reviewed above but as you might be expecting, CamelBak is incomparable in a number of ways. For lack of a better description, CamelBak is a premium water bladder which lives up to its promise by all means.
Additionally, the Camelbak Antidote water bladder comes with a limited lifetime warranty which enhances its long-term value.
Cool and Latest features
Over time, CamelBak has been modifying its hydration bladders in response to feedback received from users worldwide. The CamelBak Antidote Reservoir is the newest of their reservoirs that date back to years ago.
Compared to the older versions, the newer Antidote has an array of performance-enhancement features that see it outperform its competitors in a number of ways. Its wider mouth opening, together with its larger grab handle, enables easy refilling and cleaning. Its baseline hose-connector allows complete draining of water from the reservoir. The two water chambers is a clever feature that, apart from welding the bladder into a slim-profile reservoir, reduces sloshing of water within it. Other additional features include a removable hose, integrated fold-out dryer arms and a Quick Link system which makes changing the reservoirs seamless.
Another feature that has seen improvement is the bite valve. Medium in size, the bite valve is neither too small nor too large. Unlike with the previous CamelBak models, the bite valve in the newer model is firmer and not easily detachable. This has put to bay the complaints of the bladder leaking through this particular point.
Enhanced versatility
Built as a slim-profile water reservoir, the CamelBak has an uncanny ability of turning any backpack into a hydration pack. This means that even with your normal backpack, you can still carry your CamelBak Antidote reservoir without worrying about space or getting your backpack wet. Its airtight fillport, apart from being leak-proof, reduces on weight. The hydration bladder weighs about 10 ounces which is lightweight enough.
Pros
Easy to fill and to refill.
It has a large screw top opening.
It has a great bite valve.
It has a narrow profile which makes it compatible with different backpacks and hydration packs.
It has compartments that prevent sloshing of water in it.
It has stood the test of time while holding onto its good reputation. Future improvements are by all means plausible.
Cons
It is difficult to clean and may need using of specilaized hydration bladder cleaning kits.
It is usually harder to fill in trickling streams.
Bottom Line
The Antidote is the hydration bladder of choice for many, the reason being CamelBak has been a major player in hydration bladders for some time. The Antidote scores highly and is of great value. It has won the hearts of campers, hikers, runners and all other outdoor enthusiasts.
---
4. Platypus Big Zip LP Reservoir: Most Durable Water Bladder
This cute reservoir is worth a try especially if you are looking for something that will hold about one to three liters of water. It comes in three sizes that include 1.5, 2, and three liters. The variation in sizes allows users to select the size that suits their water reservoir sleeves and adventures better. The mouth of the reservoir opens wide for easy refilling and it has a slide-locking design for more secure locking. Additionally, its overall design is compact and user-friendly. It rides flat in a hydration pack thereby making your load more manageable.
Platypus Big Zip is constructed with high quality material that is free from BPA, BPS, and phthalate. Most importantly, it does not alter the taste of water. It is embedded with silver-ion that offers protection from mold and bacterial infestation. Lastly, it is fitted with a quick-release hose and a shutoff valve that allow users to drink and refill water easily.
Pros
Available in three different sizes
Does not add taste to water
Free from BPA-, BPS-, and phthalate
Features silver-ion that protects it from bacterial agents and mold
Easy to use
Cons
Some users have experienced leakage issues
The quality leaves room for improvement
Bottom Line
This is a very convenient water reservoir. It provides potential buyers with limitless opportunities because of its three different sizes. They enjoy the privilege of choosing the size that favors them the most. This reservoir does not interfere with water quality. It is free from harmful agents that alter the chemical composition and taste of water.
---
5. Geigerrig Hydration Engine: The "Pressure" Water Bladder
The Geigerrig Hydration Engine is the most innovative and versatile water bladder tested. With its sleek design and pressurized system, it has a multiplicity of uses that no other bladder tested can match. The sleek profile is thin and narrow, which allows compatibility with all sorts of backpacking backpacks and running packs. The bladder offers you the ability to keep it pressurized or unpressurized with a double chamber - one for air and one for water. When pressurized, it is the easiest to drink from and doubles as a sun shower.
Versatile
With its versatility, it is a great way to get rid of dog dirt or dirty sports utility before throwing it into your car. A caveat with this system is that when fully pumped, the water does slosh around quite a bit.
Dishwasher-Safe
With its dishwasher safe technology, this was one of the two bladders that could easily be flipped inside out and cleaned right in the dishwasher. We also found that manual cleaning was easy with a simple brush. All parts were easy to take apart. The Geigerrig hydration engine is a bit pricey than most other reservoirs. The hydration engine's many innovations considered, it is worth the price. Carrying the pump around is tedious because it is a bit weighty.
Pros
Has many innovative uses.
Has a slim profile.
Has a pressurized system.
It is light.
It is easy to fill.
Safe to be used in a dishwasher.
Cons
It is expensive.
It has a small learning curve.
Has no measurements on the bag.
Bottom Line
The Geigerrig hydration engine is loved for the versatility and creativity that it offers. The machine finds new applications daily, from pet grooming and cleaning to showering. Initially, it was supposed that this would be a product geared for nerds only, but recent evidence suggests otherwise, and its uses have been observed to extend past the tech-obsessed outdoor user.
---
6. MSR Dromedary Bag: A Camper's Top Pick
I have learnt from experience that hiking, cycling, backpacking or camping demand more than just quenching your thirst. It is therefore always obvious that you will need more water than your ordinary water bottle can carry. Let us look at the features that make the MSR Dromedary Bag an effective solution to this nightmare.
Versatile Outdoor Water Bag
MSR manufactures 2L, 4L, 6L and 10L Dromedary bags. A bigger bag provides a capacity for more water and this saves campers and hikers the hassle of moving to water source every time they need water. The bag has a lid that reliably prevents any spillage; there is a wide opening for easy refilling or pouring of water. And if you thought your drinking needs are not considered then you are all wrong. This water bag comes with a detachable mouthpiece for easy sipping when there is need.
Collapsible and Easy to Carry
Space is an essential factor for campers, hikers and all other adventurers. This water bag is collapsible hence space and storage is not an issue. Collapse the Dromedary Water Bag and keep it in a travel bag or backpack and fill it with water only when necessary.
It is also important to note that the collapsible water bag comes with webbings and straps for easy storage and hanging when necessary.
Pros
Strong and durable.
Easy to store and carry.
Highly versatile and convenient in multiple situations.
Comes in different capacities.
Comfortable ergonomic handle.
Cons
Slightly heavy particularly when filled with water.
Bottom Line
The Dromedary Water Bag comes in handy when you need a larger and more portable water container during your hikes or camps. Armed with this MSR product, you will get your water when you need it. I find this water bag easy to use. Its three in one cap enables filling, pouring and drinking with unimaginable efficiency.
---
7. Miracol Hydration Backpack with 2L Water Bladder: The Top Backpacker's Choice
It is not logical to review the best water bladders without mentioning the Miracol Hydration Backpack with 2L Water Bladder. The sleek backpack and water bladder has all the features that make it your number one adventure buddy. Read along to learn about some of its unique features!
Versatile Outdoor Gear
If you love adventure then the Miracol Hydration Backpack is going to be your friend and companion. The combination of a backpack and a hydration water bladder makes it unique and arguably the most versatile. The built-in 2L hydration bladder provides a convenient storage for the water.
The Miracol product solves the storage problem for most hikers by providing many storage compartments in the backpack. You therefore have spaces and pockets of different sizes to safely carry your phone, keys, fishing reel or that extra sweater that you will need during your outdoor trip. Moreover, entertainment lovers will find the incorporated earphone opening all they need for their favorite music or gigs. Isn't this interesting and fulfilling?
Reliable Thermal Insulation
You obviously need water to quench your thirst during your outdoor adventures. However, what is the need of carrying water when you can't keep it cool? Thermal-insulated backpacks are trendy and best suited for long hikes or adventures.
The Miracol Hydration Backpack with 2L Water Bladder guarantees that! At least four hours of cool water during your adventure.
Durable and Cost Effective
The economy today demands that we look into the lifespan of everything we spend on. While this backpack is definitely trendy, its strength and durability is not sacrificed for the sporty look.
Pros
Adjustable chest and shoulder straps to help secure the backpack.
Sleek and attractive.
Comfortable on the back.
Replaceable 2L water bladder.
Comparatively more affordable.
Cons
Not machine washable.
The bladder may leak after several uses but this is easy to replace.
Bottom Line
Hiking, cycling, trail running, trekking, skiing and other outdoor adventures are becoming common ways of spending weekends and holidays. The Miracol Hydration Backpack with 2L Water Bladder makes these exciting and memorable by providing you with cool water as well as sufficient and comfortable storage. Apart from not being safe for machine washing, this product scores very highly and is a must have for outdoor adventurers.
---
8. Crystal Creek Hydration Bladder: All Weather Hydration Bladder
Crystal Creek is definitely among the best hydration bladders and here's why:
3 Liter Capacity
If you are a hiking enthusiast then you will agree with me that an ideal hydration bladder should be large enough to contain a reasonable capacity of water for more tasking trips. The hydration bladder has a capacity of 3 liters or 100 oz. This makes it ideal for long treks, hikes, trail running, biking and hunting expeditions.
Insulated Sleeve
The bonus insulated reservoir sleeve remains one of the top reasons why the Crystal Creek Hydration Bladder is one of the best hiking equipment in its category if not the very best. Firstly, the insulation maintains your water at a cool temperature hence ideal for both cold and hot environments. Secondly, it efficiently provides an extra protective layer to the hydration bladder. This accidentally but awesomely confers extra durability to the bladder.
Easy to Use
The design of the Crystal Creek 3 Liter Hydration Bladder ensures a hassle free usage. It is easy to refill, clean and close. Moreover, the positive flow mouthpiece concept makes accessing your water a breeze.
Pros
Handsfree hydrating aided by the positive flow.
Screw threads at the lid make it easy to close and keeps your water safe.
Clear body makes it possible to see through and determine if your bladder and water are clean.
Cons
Slightly more expensive than most hydration bladders but it is worth the price.
Bottom Line
The Crystal Creek 3L Hydration Bladder and Insulated Sleeve delivers everything that it promises, and much more. You will certainly find it durable, easy to use and more versatile than most bladders. As a matter of fact, this is an item that I can confidently recommend to a friend or give them as a gift.
---
9. Hydrapak Shape-Shift Reservoir: Top Pick for Lightweight Adventures
Lightweight and Slim
The HydraPak Shape-Shift Reservoir is the best option for lightweight adventures. It has a simple, lightweight design and slim profile that makes it race-ready and compatible with any running or hiking pack. The zip-lock divider prevents water from sloshing around, while the flip top opening makes for easy cleaning and fill ups. The blaster valve delivers water quickly with little sucking required, while the quantum clip keeps the tube in place.
3 Liter Capacity
Another plus feature for the Shape-Shift is its ample capacity that will see you hydrated over longer tracks. Now we all hate the experience of water running out of our hydration pack mid-track.
Pros
It is light.
It has an internal zipper that reduces sloshing.
Features a magnetic clip.
It can be used in a dishwasher without any issues.
It has a quick release hose.
It is compatible with other brands.
It has a large flip-top closure.
Cons
You will need to maintain the O-ring.
The closure is not attached well.
Bottom Line
This Top Pick for Lightweight Adventures is perfect race-ready bladder truly excelling where lightweight design is required.
---
10. Osprey Hydraulics LT Reservoir: The "Magnetic" Hydration Bladder
The Osprey Hydraulics LT Bladder stands out for its longer flip top closure, built-in handle, and an extended quick release hose system. The hydration bladder has a magnetic bite valve that serves to keep water close at hand. Despite it being very easy to use, it is compatible with most backpacking and running hydration packs. A large plastic handle is part of the bladder's design, and it also allows you to hold the bladder level during filling.
The longer collar on the flip top is a buyer's favorite since it helps one to collect and share water. It comes with a magnetic tube clip that attaches anywhere on the tube; this clip can also be removed and used for other packs that don't come with a tube clip.
Pros
It is easy to clean.
It has a larger and longer collar for easy filling.
It is affordable.
It has an extended hose attachment.
Cons
It is hard to flip inside out.
It has a plastic taste.
Bottom Line
This bladder is perfect for the person looking for a light, functional flip top bladder with a handle. The magnetic attachment is super handy for easy drinking access while the quick-release system is ideal for fully loaded packs. It has lots of cool features that create value for money spent.
---
The Hydration Bladdder Buying Guide: What Should You Consider?
Outdoor activities are becoming a favorite of many people across the world. Hiking, trail-running, mountaineering, cycling, camping and hunting are just but a few of the many outdoor activities contemporary humans engage in with utmost zeal. However, it is impossible to mention some of these activities without the word "hydration" coming to mind. Whether it is in the winter or summer, hydration during outdoor excursions is mandatory and means you stay alive and get the most out of your trip. It is no wonder then that hydration bladders have taken the outdoor world by storm in the recent years.
Becoming widely popular from early 90s and first featuring among cyclists, hydration bladders have no doubt become an essential necessity for outdoor excursions. During their breakthrough in the market, they were marketed and purchased in hydration packs and this led to the realization that this was a very convenient way to keep cyclists, backpackers, campers, hikers and other athletes hydrated. Thanks to this discovery, backpacks are made to be hydration bladder compatible, either as a tiny hole through which the drink tube passes or as multi compartments where the hydration tube is threaded through the shoulder straps.
The following are what you should consider while buying hydration bladders:
Size and Compatibility

It is important that one chooses a hydration bladder that will snugly fit in the bladder compartment of your backpack. Readily available hydration bladders are commonly designed in the same shape, but with slight variations. Hydration bladders come in different capacities most commonly two-liter and three-liter capacities, but smaller sizes are available (1 liter = 33.8 ounces or a little more than a quart).

3L capacity hydration bladders are recommended compared to 1L and 2L bladders because of the increased capacity despite the slight price variation. A 3L capacity hydration bladder is not recommended in instances where the bladder compartment of your backpack is tiny.

Sizing Guide

In as much as a larger bladder is recommended, it might not always be the best choice for you. As you already know, water is heavy but you still need to know what capacity you would need for your trip. You also need to decide if you will refill along the way and if so, how often. When shopping for a water bladder, consider the following before you make your choice.

0.5 Liters to 2 Liters: Any bladder within this category is ideal for light expeditions such as running, day hike, ski, trekking and snowboarding. Most of them offer a commendable balance between bulk and lightweight on one hand and sufficient water in situations that may require occasional refills such as short distance biking, running and hiking. Lighter bladders are also available for kids.

3 Liters and Above: Have you ever adventured in a place where you are not certain of your source of water but still don't have access to a backpacking water filter? In such cases, you need bigger bladders that will last you the entire time of your activity. In general, bigger hydration bladders are ideal for long distance trekking, trail running, hiking and camping. A bigger size is a favorite because you have the option of carrying either a large or a small volume of water.

Bladder Profile

Another compatibility consideration is the profile of your bladder. Some bladders are wide while others are narrow. Some are fat while others are flat when filled. So, what do you need? Most that are hydration-backpack-compatible come with a built-in sleeve. If you take a look at the sleeve, you will be able to see how wide or narrow it is. From that, you'll be able to determine which bladder to choose.

Hydration Bladder Opening: Zip Top, Fold Top, or Screw Cap?

When considering what kind of bladder opening to go with, you need to consider how easy it is to fill, the environment you are filling in, and how easy it is to open and close. Three styles of bladder openings are available: fold top, zip top, and screw top.

Fold Top bladders were the most popular in this review. The tops flip up and fold over; once folded over, you slide a closure over the top, and the bag is free from leaks! We found this to be the best type of bladder opening when filling up in streams or other outdoor environments where you need to gather water from limited sources. We also thought they were great to use under a regular tap at home. We loved that we could turn most of these inside out to clean and get to the hard to reach places.

Zip Top bladders are similar to the fold top style. They resemble a large zip lock bag with a closure that fits over the top the zipper. Even though these are easy to use, many of our testers thought they took a little longer to open and close then fold top styles. These bladders are also great options for filling up at slowly flowing streams and at home under a regular tap. Even though they are easier to clean than screw top options, we found them harder to clean than fold tops as you needed a brush and could not flip them inside out.

Screw Top bladders take a little longer to open and close than zip top or fold top versions but are the easiest to fill in shallow basins. During filling, the screw models can be held in different positions and this allows them to fill with ease from a sink or water fountain. Screw bladders can also be topped off completely whereas with flip and zip top design bladders have to have some air allowance at the top for them to close smoothly and without spilling. Cleaning screw top versions is troublesome since they have hard to reach nooks and crannies.

Bite Valve Size

Bite valves vary in size and type, and most feature a locking mechanism. Some bite valves are larger while others are smaller. The size of the valve affects how easy or hard it is to suck water from the tube. In general, we found that bite valves that were larger were harder to suck water through when using non-pressurized bladders. Small valves were sufficient but didn't offer sufficient water flow to make you feel the satisfaction. Therefore, medium-sized mouthpieces are the best bet.

For locking mechanisms, there are two types, the turn valve and the switch valve. We recommend the switch as they are easier to clean and easier to use while exercising. Even though we have preferences with bite valves, we found that most reservoirs have an interchangeable tube and valve options. So, if you prefer a certain type of valve/tube but love the reservoir, simply change it and you are ready to go.

Ease of Use

A hydration bladder is an essential outdoor equipment but it becomes useless when you cannot easily drink from it. Ease of use is largely dependent on the type and size of mouthpiece and the type of drinking mechanism. A suitable mouthpiece should neither be too large nor too small. Larger mouthpieces are harder to control while smaller mouthpieces are difficult to use.

Locking and drinking mechanism is another aspect that determines how easy to use your bladder is likely to be. In many cases, the mechanism involves slightly biting the valve and sucking. It is worth noting that the biting and sucking should not take a lot of energy. This is why we strongly recommend medium sized valves as they guarantee an easy and consistent flow of water when you suck. However, sucking is not the universal technology in all valves as some valves only require biting to allow out water.

Switch and twist locks are the two most common types of locking mechanisms commonly used in water bladders. Switch locks are simpler and easier to use while twist locks are more delicate and need people who are a bit more careful.

Ease of Cleaning

No matter how sleek the bladder of your choice is, the wisest decision is to certainly go for a hydration bladder that is both easy to clean and maintain. Without proper cleaning and care of a hydration bladder, it will most possibly become a habitat and breeding ground for mold and bacteria. When this happens, it becomes a health hazard.

Most hydration bladders have hidden areas that are difficult to clean and dry. These hard-to-reach spots are the usual culprits for breeding harmful bacteria and mold. A hydration bladder which is used solely for carrying water does not need cleaning very often. However, if you use your hydration bladder to carry sugary and energy drinks, you have to clean the bladder every time after using it. Three main areas should be focused on while cleaning the bladder: the hose, the bladder and the mouthpiece.

When purchasing a bladder, consider how easy or hard it is to clean it. Look for a wide mouth or a zip-locking bladder so you can either easily fit a brush inside or flip the bladder inside out. Make sure you can disassemble the hose and mouthpiece easily. Many bladders come with a quick-release mechanism that allows you to disconnect the hose from the mouthpiece. It will be difficult to clean the hose without the quick release functionality. In general, flip top bladders that can be easily turned inside out and thrown into the dishwasher are the easiest to clean if they are dish-washer safe.

Ease of Filling and Refilling

Many backpackers find filling and refilling of hydration bladders cumbersome. It is therefore important to choose a bladder that is easy to fill and generally easy to use. While bladders with wider mouth openings are easier to refill, closing them is usually a challenge. Just like with the mouthpiece, we recommend that you choose a bladder that has a medium mouth opening. This gives you a balance when filling, closing as well as when cleaning the bladder.

Pressurized Versus Unpressurized

A pressurized hydration bladder has a double chamber, a water and an air chamber. Using a pump, you can blow up the air chamber to create a pressurized reservoir. The pressure will force water to squirt out of the bite valve automatically.

Making a choice for a pressurized hydration pack over a non-pressurized option should always be considered as an independent choosing tip. Pressurized hydration packs are easier to use, more luxurious and will not require sucking to have your sip.

Hose Compatibility

When considering a purchase, make sure your bladder has a quick release mechanism in a vertical orientation. Most hydration hoses use a quick release mechanism to connect to the bladder, and this allows for easy filling and cleaning of the bladders.

Winter Consideration

When temperatures drop below the freezing point, chances are that the water inside the bladder will freeze inside the tube and in the mouthpiece. It is advisable that during the winter one blows the water back into the main bladder. This clears the hose after each sip. Tube kits tailored for winter are also available, and they cover the hose in neoprene. Winter tailored kits are designed to insulate the hose and prevent it from freezing. The Crystal Creek hydration bladder is one of the best winter-suited hydration bladders due to its additional insulation sleeve.

How Much Water Should You Plan to Drink Daily?

In general, one should drink 17-25 oz. of water per hour and the intake during endurance activities is more. The amount of water one takes varies with temperature and humidity conditions and the exertion level.
Hydration Bladder 101: Understanding the Hydration Bladders
Hydration bladders, otherwise referred to as water bladders or hydration reservoirs, are considered are considered a must-have for backpackers and outdoor adventurers. Designed from mostly flexible material, modern hydration bladders are compatible with most backpacks hence more handy than conventional water bottles.
Advantages of Hydration Bladders over Traditional Water Bottles
As opposed to water bottles which are commonly made of aluminum, glass or plastic, hydration bladders are made of flexible materials making them more lightweight while still able to hold larger capacity of water.
Hydration bladders can be compacted hence more portable. Water bottles are impossible to compact and will need more space that may be hard to come by.
Another interesting feature of hydration bladders is the fact that they have seals between the tube and the bag. This feature makes them safer than conventional water bottles.
Hydration bladders are more convenient since most of them have straws or tubes making them hands-free and ideal for active outdoor sports such as trail running, trekking, biking among others.
Most hydration bladders use more modern technology that allows built-in water purifiers, filters and tubes or straws for easy use.
Larger hydration bladders (up to 6 Liters) are suitable for camping due to their expansive capacities.
With that said, it is important to note that even though hydration bladders share most of the above advantages over water bottles, they come in different types. While all hydration bladders are essentially designed for easy and safe drinking of water when you are on the go, they can still be broadly classified into two categories.
Types of Hydration Bladders
Broadly, there are two types of hydration bladders - pressurized and non-pressurized types. However, taking other factors into account, it is possible to have a plethora of classification for the hydration bladders. For instance, we can use size, shape and material to classify the hydration reservoirs. For the sake of this article though, we shall use the most obvious technology to have two broad categories of the hydration bladders:
Non-Pressurized Hydration Bladders

Initially, all hydration bladders were classified as non-pressurized as their reservoirs had only one chamber that is meant for holding water. Using mechanism of non-pressurized hydration bladders is simple but still requires total involvement of the user. Most of these systems will require biting the valve and gently sucking to bring up water as you quench your thirst. While they are not the most luxurious to use, these hydration bladders are more affordable. Another downside of this type of hydration bladders is that they require frequent cleanups as they are more susceptible to clogging and back flow.

Pressurized Hydration Reservoirs

This is a more modern type of hydration bladders. These systems have two chambers separately reserved for air and water. Use an air pump to inflate the air chamber until fully inflated. In order to use, bite or squeeze the valve and water will efficiently come out of the bite valve without sucking. It is important to note that even the non-pressurized systems are easy to suck water from. However, these pressurized systems are more versatile hence come with many other advantages.

During camping, you can use pressurized hydration systems to enjoy a shower, give water to your dog or even wash your dishes. The versatility of these systems is not limited to camping and outdoor expeditions alone but can also be used to water tree or vegetable nurseries.

Since there is no possibility of backwash going up the tube, these hydration bladders are cleaner, not easily susceptible to bacteria and mold build up and may not require frequent cleaning. It is however recommended that you flush them with a lot of water every time you use them with sugary or sports drinks. As expected, these systems cost slightly more than non-pressurized hydration bladders but the additional cost is worth the benefits that come with them.
How to Care For Your Hydration Bladder
Drinking water should always be kept clean and safe. However, most people find it difficult to effectively clean and maintain hydration bladders. For the record, bladders are prone to providing conducive environment for growth and development of molds and bacteria if not properly taken care of. This, as you may know, makes your water taste more flunky and may also become a health hazard.
While hydration bladders should always be properly drained, washed, rinsed and dried in open air after use, you may not find that time after your weekend trip or vacation. Instead, you will often leave it in the backseat or toss it somewhere in the closet and rush to the house to get yourself a bottle of beer or a refreshing bath just to think of it when you begin to plan a new trip.
When the time comes for retrieval, your bladder will have accumulated chunks, flunky flavors, mildew and molds. This is the reason why it is recommended that you clean your hydration bladder after every outing but this, like many other activities, is easier said than done. Strange enough, even those who would want to obey this basic rule find it difficult to do so as they do not know how to properly clean a hydration bladder.
So, how do you clean your hydration bladder? This should not be a big issue as there are four easy ways of effectively cleaning your hydration bladder.
Using Baking Soda or Bleach

Step 1: Drain the contents of your hydration bladder flush the hose by holding the reservoir above your head and pinching the hose.

Step 2: Fill the reservoir halfway full with warm water, swish and flush the hose again as you drain.

Step 3: Scrub as much as possible the interior of the reservoir. Rinse properly.

Step 4: In a different container, add two teaspoons of bleach or baking soda for every liter of hot water and stir properly until the mixture is fully diluted. The reason of mixing this in a separate container is to help minimize the taste of chlorine remaining in your reservoir.

Step 5: Add the mixture into your bladder until the reservoir is full. Push some of the mixture through the bite valve and the hose. Let it soak for about one hour.

Step 6: Drain the contents of the reservoir ensuring that you flush the bite valve and the hose. Rinse with Castile soap or mild dish soap. Remove the gasket to find ample space for scrubbing the threads.

Step 7: Rinse with clean water and air dry.

Using Denture Cleaner or Efferdent Tabs

Step 1: Empty the contents of your hydration bladder.

Step 2: Pour hot water inside the reservoir and ensure to pass hot water through the tube and bite valve.

Step 3: Add one tablet of denture cleaner and soak until the tablet stops working. This should take between 30 minutes to 1 hour.

Step 4: Scrub properly using dishwasher brushes or any appropriate brush. Remove the gasket and scrub the threads well.

Step 5: Drain the washing solution and rinse with mild dish soap as you scrub again.

Step 6: Rinse with clean water and air dry to ensure that no moisture is left in the interior of the bag.

Using Lemon Water or White Vinegar

Step 1: Just like in the initial stages of the other methods, drain the contents of the bladder.

Step 2: Pour hot water in the reservoir and add two cups of lemon water or white vinegar for every liter of water.

Step 3: Pinch the valve to ensure that this detergent mixture passes and rotates in the valve and tube.

Step 4: Let the mixture soak for about 30 minutes before you drain. Scrub the interior of the bag well.

Step 5: Rinse with Castile soap and scrub again. Drain the mixture making sure that you push some through the valve and hose.

Step 6: Rinse with clean water and air dry.

Using a Dishwasher Machine

This is the simplest way of cleaning your hydration bladder. However, it only applies to bladders that are dishwasher safe. In this case, these bladders often come with cleaning instructions. Most bladders will need to be disassembled before being put in a dishwasher for cleaning.
How to Air Dry a Hydration Bladder
Drying a hydration bladder is one of the greatest challenges for outdoor enthusiasts. This is basically due to the fact that the interior of the reservoir often collapse allowing no airflow to and from the reservoir. Another reason is because the bite valve is never left open hence susceptible to the development of molds and bacteria.
It is important to always air dry your hydration bladder because if you don't, the moisture trapped inside will definitely provide a habitat and breeding environment for bacteria and molds. The best way to dry your bladder is to use a special hanger that will keep the interior of the bladder apart. For the bite valve and the hose, leave a toothpick or a small piece of stick in the hose to ensure that there is enough airflow through the valve. This will ensure that the tube and valve are completely dry before storage.
Additional Care Tips for a Hydration Bladder
If the weather is so humid that the bladder may not be able to dry, keep it in a refrigerator to prevent the growth of bacteria, mold and mildew.
Soak the hydration gear overnight with your preferred detergent (I prefer lemon water or vinegar) if your bladder is very dirty and the bad taste cannot go away even after initial clean up.
Rinse the bladder with clean water every time you use the bladder for a sports or energy drink.
Some alcohol brands such as tequila have a strong taste that will not easily get out of the bladder. It is therefore advisable you buy a separate bladder for such drinks.
Microorganisms Commonly Found in Hydration Bladders
Without proper cleaning and care, hydration bladders will host several microorganisms which in essence will contaminate your water. These microorganisms also affect the quality and taste of your water, making it less interesting. Factors that contribute to growth of microbes in hydration bladders include:
Continuous contact with hands and mouth.
Cracks, edges and hidden areas of bladders.
Humidity that is often trapped in the bladders provide a conducive atmosphere for the growth of microbes.
The most common microbes likely to be found in the hydration bladders include:
Bacteria: Streptococcus and Staphylococcus species are the most common types of bacteria in hydration bladders. The other common type is the Bacillus cereus.
Norovirus.
Fungi which are majorly harmless.
Yeast too are present but these pose no danger when present in low quantities.
Molds especially Tramets, Cladosporium, Penicillium and Bjerkandera species.
Frequently Asked Questions about Hydration Bladders
Q: Why should I purchase a hydration bladder?

If you are enthusiastic about outdoor sports and activities, then you most definitely need a hydration bladder. In fact, hydration bladders are no longer a luxury for backpacking enthusiasts but a necessity. Dehydration during enduring activities is not only uncomfortable but also a health concern. Dehydration, when severe and extended for a considerable period of time, will cause severe injury to your kidneys and as a result to your other internal organs. Therefore, hydration bladders are indispensable and a good way to access clean and safe water throughout your outdoor activities.

Q: How do I use my hydration bladder?

Depending on the type of bladder you opt to buy, simply bite the valve and suck to enjoy your water or drink. However, with pressurized hydration bladders, you do not need to suck. Simply bite the valve and water will freely flow.

Q: Can I use a hydration bladder to carry other drinks during my outdoor activities?

Depending on the type of a hydration bladder, you can use your hydration bladder to carry any drink that gives the needed motivation for your favorite outdoor activity. These could be energy drinks or sports drinks. What you ought to do is check what kind of advice the manufacturer gives about their hydration bladder. However, these drinks provide a conducive environment for bacteria and other micro-organisms to grow by providing them with the source of food. It is therefore important to thoroughly clean the bladder after each use with these kinds of drinks.
Final Verdict
While it's not an easy task searching for and finding the best hydration bladder for hiking, camping or any other outdoor activity, it really doesn't have to be so hard. Our hydration bladders reviews have been carefully curated with outdoor enthusiasts in mind. We subjected the different water bladders to a number of tests and finally came up with the list of only the best. If you really have to buy the best water bladder, pick one from our list.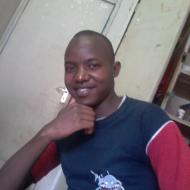 ABOUT DANIEL MSANII
When he's not camping or adventuring the outdoors, you'll find him grinding hard on his keyboard to put up some super-awesome content on campingmaniacs.com. Starting off on camping escapades back in 2011, he has grown fond of the activity over the years. His exposure to a myriad of different camping terrains, gear and the outdoor atmosphere has hitherto changed his perception of the entire outdoor life. He enjoys sharing the experiences of his adventures and gear reviews with the awesome camping community on this platform. Read more about us.