How to Prepare For Fulltime RV Living
Adopting a nomadic lifestyle (fulltime RV living) is bound to be a challenge for anyone. It will definitely take time and effort to let go of your comfort zone. The following steps will help you to better plan your transition.
Why do you want to be a Fulltime RVer?
Assess your reasons for wanting to be a fulltime RVer and evaluate whether they are good enough for the move. Below are some common reasons RV owners come up with when deciding to be fulltime RVers.
To live a simpler life. In a society burdened by consumerism and materialism ideals, there needs to be a timely solution to this situation. It is not strange to see garages filled with junk or even a living space littered with useless items. RVing promotes a simpler lifestyle often characterized with having only the necessary stuff and thus opening up opportunities for more freedom, adventure and quality time.
To support active and balanced lifestyles. Many fulltime RVers were "worker bees" on the brink of a burnout and plunging into this nomadic lifestyle helped them cope. Most RV owners confess that RVing helps them enjoy nature and outdoor activities as well as have quality family time. This balance has also played a great role in strengthening family bonds and healthier lifestyles.
As a cost effective form of travel. Hotel and Flight Costs are on a constant rise. They rise even higher during holidays. RVing offers a more affordable and fulfilling way to travel. For a family of four, the savings on travel costs are significant regardless of any increase in fuel prices.
To join the remote workforce. Lack of internet access was a hindrance for many potential RVers going fulltime a few years ago. Fortunately, today you can choose to work remotely thus making it possible to adopt an RVing lifestyle. Modern motorhomes and trailers are lightweight and energy efficient, making them a perfect choice for the remote workforce.
To be part of the community of adventurers. If the lack of a supportive RV community a few years ago was holding you back, fear no more as the internet has helped tremendously in growing the community. Thanks to social media, like-minded RVers are just a message away.
Retirement plan. Most retirees opt for travelling as a retirement plan and thus fulltime RVing is the perfect solution to this.
Assessing Your Finances
You MUST be financially prepared before committing to fulltime RVing. Clearing your debt before embarking on a fulltime RV lifestyle is highly recommended. Assess your assets, plan out a budget and figure out whether you will keep your current job. If you fully own your home then a good source of travel funds would be to rent it out or sell it.
A monthly budget might include Gas/diesel, propane, RV insurance, Campground fees, health insurance, mortgage payments, RV service and RV payments (if any) among others.
Picking the Right RV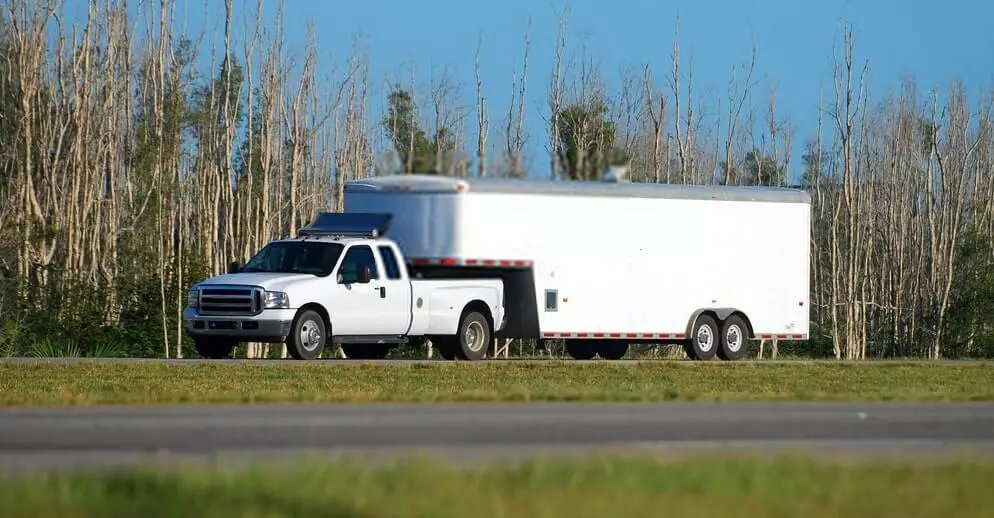 There are motorhomes and towable RVs, each with distinct features to cater to your specific needs. It is important to consider issues like space, family size and camping styles among other factors before picking out your RV. It may be advisable to rent different types of RVs to try them out over a period of time before settling on a specific one. RV camping styles mainly involve having a campground as your base or boondocking. Generally, fifth wheel trailers, class C motorhomes and coaches are favorites for most fulltime RVers.
You can also opt to convert your vehicle into an RV with specifics tailored to your needs. If that is the case then remember to register your converted vehicle as an RV. Otherwise you may be fined for exceeding the weight limits of the said vehicle.
Other Mandatory Prerequisistes
Declare domicile. While full-time RVers get to live wherever they want, the law still requires them to declare a state of domicile. A domicile or home base will be necessary for reasons like driver's licenses, issuing of plates, medical coverage, insurance, voting and taxes.
Adopting a minimalist lifestyle. Space is probably the biggest challenge you will face when stepping into full-time RVing. You will have to get rid of most of your households be it kitchenware, furniture, hobby items and a lot more in favor of bare necessities and smaller appliances. A common practice is to start downsizing months before taking the plunge. Therefore, outline your necessities and come up with solutions to get rid of the excess which could be through giveaways and charity, garage sales or renting a storage unit.
Additionally, DIY knowledge will come in handy for doing minor repairs and coming up with "duct tape" solutions while on the road.
Insurance. An insurance policy to cover for your RV and personal belongings is a must-have for every RV owner. It will cover any damages to your home on wheels or personal belongings as stated in the policy.
Other life needs. Mail, internet, medical care and education are a few key things to address before beginning your RVing journey.
Getting reliable internet and phone services for on-the-road use can be a hurdle, keeping in mind that the RVing life may take you to remote locations. Consider a plan with a carrier that has extensive coverage.
Most RV parks and campgrounds will have wireless internet connections and a Wi-Fi signal booster can help you get better reception in the RV. A reliable internet connection may address most of your work, communication and entertainment needs. For instance, you can cancel your cable TV subscription in favor of streaming services like Netflix and the like.
Joining RV clubs is also a great idea as they will give you access to valuable information on RVing and offer you a support system to deal with potential challenges. RVing also means living very closely together and thus you should make sure your partner is on board with the idea before making any moves.
Mails can be forwarded to relatives or friends. Alternatively, sign up for e-billing, automated billing or prepaid options for your utilities or other payments.
If you have kids, you must decide if a homeschooling system is appropriate for them. While homeschooling has been proven to be just as effective as a form of education, you can reschedule this huge step of living on-the-road for when the kids are done with high school.
Not all health insurance policies will cover you when you travel out of your domicile state. Therefore, always go for medical coverage plans specific to RVers and make sure to read and understand their usually strict requirements.
Which RV Should You Buy?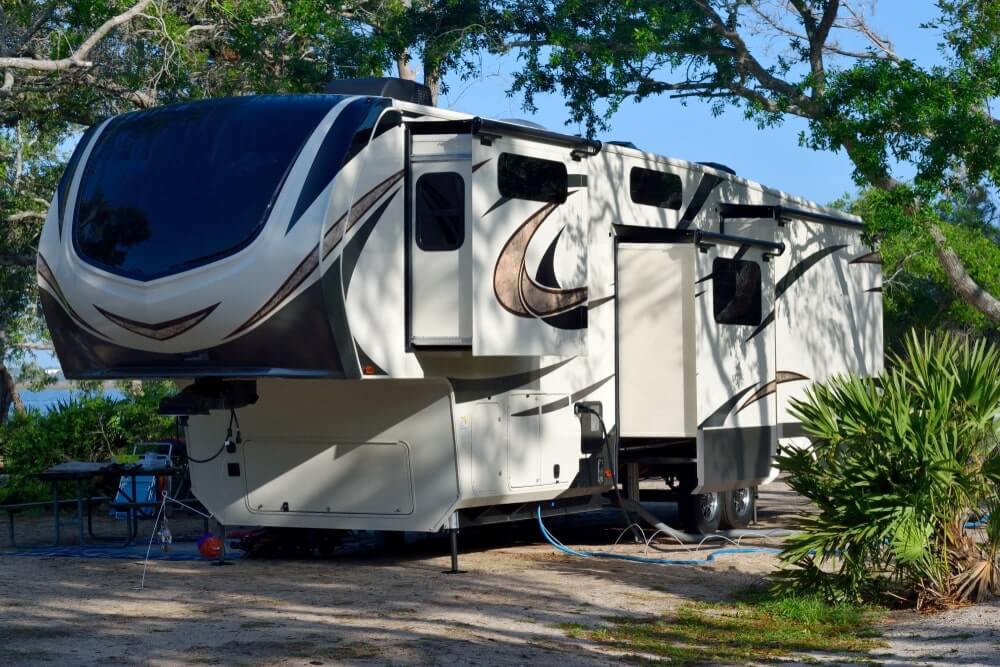 Having tuned your mind to the idea of living in an RV year round, another hurdle that awaits you is choosing the right RV for you and your family. Due to the rise in popularity of the RVing lifestyle, you may be bombarded with a lot of factors to base your decision on, ranging from affordability, type of RV, amenities and features.
We have compacted a quick checklist on things to consider when buying an RV with hopes that it will be beneficial to you. As a basic rule, consider what you need rather than what you want before buying your RV – luxury features can always be obtained in the future. Think of it as a house on which you can always customize and add features as needed down the line.
Consider the following key issues before budgeting for an RV:
Types of RV
Recreational vehicles are classified into two main groups namely:
Motorhomes
These are self-motorized RVs, which are further grouped into Class A (coach), Class B (campervans/van conversions) and Class C. In comparison based on size, coaches are the biggest, campervans are the smallest and lastly Class C motorhomes are in the middle.
Class B Plus are another campervan-like RVs, middle in size and amenities between the class B and Class C motorhomes.
Motorhomes provide a self-contained home on wheels with amenities and features like bathrooms, furniture, kitchen spaces, bedroom compartments and so much more included.
Why Motorhomes Are the Ideal RV for Fulltime RV-Living
Undoubtedly, motorhomes offer the best solution to full-time living and will especially be ideal for travelling on paved roads and staying in RV parks/campgrounds. They are self-contained with all the necessary amenities, features and rooms for some luxuries.
Motorhomes have tons of space be it living space, bedroom or storage. More so, you can pick from four differently sized classes depending on your needs. This makes it possible for comfortable living for your family and pets.
Unlike towable RVs, motorhomes are easier to drive and maneuver on highways and trail roads. However, motorhomes are more expensive than most towable RVs with toterhomes being the most luxurious ones.
Towable RVs
Simply put, these are trailer-like rigs that can be towed. Some examples of towable RVs include travel trailers, folding and tent trailers, fifth wheel trailers, toy haulers, truck campers and teardrop trailers.
Trailers are the most popular choice for many RVers. They are ideal for small and growing families as they have multiple rooms and beds. Most of the towable RVs have a ton of options in terms of layouts, sizes and features. Some like folding trailers can be towed with pretty much any vehicle. For long tow vehicles/trailer RVs, reversing, maneuvering and parking can become quite a challenge.
For a compromise on living space in favor of off-road performance, truck campers are the best for travels to remote locations. They are ideal for couples or lone wolves unconcerned with the small living spaces.
Why towable RVs would be best for fulltime living
Towable RVs are more affordable as compared to motorhomes. Small travel trailers, truck campers and pop-up RVs are an inexpensive route to get into RVing as they can be propelled by a truck or family SUV. There are many designs and sizes of towable RVs in the market, sufficient for any budget.
The fact that you can detach the trailer from the towing vehicle brings about a lot of convenience and flexibility, enabling you to use your towing vehicle to get to work, run errands or make quick day trips – no need to take your home everywhere you go.
On the downside, you will be required to invest in a towing vehicle leading to an additional cost. A fifth wheel trailer, for example, requires the towing vehicle to have an open or flat bed for the gooseneck hitch to work. Also, you can't use the amenities or features included in a towable RV while travelling as they are in a separate vehicle.
Related: The many different types of trailer hitches.
Purchase Options When Getting an RV
The cost is always a primary factor to reflect on before investing on any product. For RVs, besides the type, you can pick between a used one and a new one depending on your credit score among other determining factors. You can finance for the purchase through your dealer, bank or other third parties.
A finance expert can advise you on the process but the primary goal is to get a deal that can afford you to pay off your monthly installments comfortably. This is in addition to being able to clear it off as early as possible.
Generally, new RVs will support the most customization down the line whereas used ones will have lesser optimization options. The cost may be high in the long-term on either depending on added features, RV service, maintenance and repairs. An additional cost to expect is sales tax, which is calculated depending on the original price of the RV.
For first-time RVers, it is safer to go for a used RV and especially from a dealer as opposed to a private buyer. A dealer will shield you from some of the issues as the manufacturer's warranty is extended to you.
Benefits of Buying a New RV
Besides getting a spanking new, top-of-the-line RV, you get custom options like room layout, choice of color and so much more. In fact, you can get the RV specific to your preferences regarding amenities and features.
Upon purchase, the full manufacturer warranty protection commences. You won't have to worry about tear and wear, or other issues when buying a new RV. After all, the model will be at most a few months off the assembly line.
Drawbacks of Buying a New RV
The price for this option will be on the high side especially if you want more features included. The dealer or manufacturer may not offer customization services thus it will incur you more expenses.
Other related costs will tend to be higher for new RVs. For instance, insurance premiums and purchasing of a towing vehicle if needed among other things. You may also have to cover shipping costs if local dealers don't have the RV model you want.
Benefits of buying a used RV
Purchasing a used RV will save a tidy sum of money given the low initial purchase cost. You can opt to rebuild, restore or tailor your RV to your needs. You can also address future issues by carrying out repairs and upgrading components.
RVs of preference may no longer be in production; the used RVs market offers you scouting ground for the exact model you seek.
Other related costs like insurance premiums are lower for used RVs.
Drawbacks of Buying a Used RV
Due to wear and tear, you may have to repair a few issues before even using the RV. It is important to exercise caution as there's no sure way of telling just how depreciated the RV is, what might be wrong or might require fixing in the future.
You may not enjoy benefits of insurance or manufacturer's warranty given the uncertainty of the RV's condition.
Other Things to Factor In When Buying an RV for Full-Time Living
The RV's primary features i.e. electrical, propane, water and sewage systems form an essential consideration point. They make your RV a livable space, so be sure to check on them before purchasing. Test the systems as extensively as is possible and don't forget to check on seemingly minor cosmetic and structural details as needed.
Constrained RVs may lack a sewage system forcing you to purchase a separate portable toilet, which comes with its own drawbacks such as requiring dumpsites, smaller waste holding tanks and so forth.
The family size, places to visit, amenities and features among other factors can also help in picking out the right RV for you. RVs with large spaces like fifth wheel trailers, class C motorhomes and coaches will be the most ideal for families of four to eight, whereas truck campers will be best for couples.
Various types of RVs will be tailored to specific needs ranging from sightseeing, campground parking or off road travels. Some RV parks may not allow long towing vehicle, trailer or coaches.
Another factor to consider is on amenities and features. While everything can be customized down the line, space will mostly be the biggest challenge.
Aside from maintenance and repair costs, your new home-on-wheels will also come with other expenses such as gasoline, propane and fuel costs, insurance and registration fees, internet and cable fees, parking fees and meal costs.
If you still can't decide, then considering a home-on-wheels as a long-term investment may help keep things in perspective. Renting or leasing an RV before you buy can also give you an idea of the right fit for you and your family. It can also help you determine best features and floor plan for your needs.
What is it Like Living in an RV Year Round?
Living in an RV is a double-edged sword and might not be for everyone. Primarily, it offers freedom to travel wherever you want with your home at the expense of a few life conveniences. Below are the challenges and coping mechanisms associated with fulltime RV living as well as its benefits.
The Challenges
Maximizing On the Limited Space in RVs
As earlier mentioned, lack of enough space is a big challenge in RV. Your motorhome or trailer is a vehicle after all, thus living space, kitchen area and sleeping quarters will be minimal. This means sleeping interruptions, cramped living areas and scant storage space. To save up some space and maximize on storage space, there are a few hacks that can be of help.
In general, hanging things and using storage containers offer a great way to save on space. Try to use any space available for multiple purposes. For instance, the kitchen table can double up as an office table. Pull-out/Fold-up tables and benches can also be great space savers.
For hanging things, make use of command hooks/strips, tension rods and suspension rods. Collapsible containers or bins are also an easy way to save on space as they can be stored in compact sizes when not in use. Portable washers can be forgone to save on space and instead laundry can be done at RV parks.
Storage organizers can be used in bedframe storage compartments, in RV closets and in cabinets to fully utilize the available storage space. Over-the-door containers and baskets are another add-on to storage spaces. Broom holders can be used to mount adapters, hold brooms and other supplies on the ceiling of your storage compartment or RV wall.
Being on transit will also mean breakages or falling over of your household appliances and items. Hold things in place by using bungee straps, towel rods, plastic mesh sleeves on bottles and nonslip liners in cabinets and drawers.
A Few Steps to Help You Afford the RV Lifestyle
As with any household, recurring expenses can be a challenge to keep up with and having a home on wheels doesn't make it easier. RVing will vary from straight up boondocking to periodic setting up in campgrounds (state parks and RV parks).
Some RVing related costs include RV payments, lodging, insurance premiums, parking fees (admissions and tolls), food, RV service, fuel costs (propane, gasoline, diesel, fuel) and other utility costs. Utility costs will encompass water & sewer, electricity, internet, phone services and television fees. The costs will of course vary depending on your needs as well as RVing style.
Here's a few things you can use to get control of your money issues while on the road:
Making money on the road. A steady income is the make or break factor of a fulfilling RVing lifestyle. Fortunately, being mobile affords you an opportunity to scout for work anywhere, to work on remote jobs, start your own business and/or work at the camp.
In general, full time RV living and working needs a tinge of creativity. The entrepreneurial route is a gives you the best option of being in control of your work and finances. Learning a valuable skill also helps in acquiring and retaining clients. For remote jobs, there exists numerous online job boards and platforms to help on this end. Providing RV related services is also a great way to earn some extra cash.
Frugal living and money-saving tips. It all starts with building a monthly budget that is within your means, sticking to it and learning a few ways to trip it down even more.
Boondocking, also known as dry camping, can be a clever way to dodge the extra costs that come with setting up in a campground. Some companies like Walmart offer free overnight parking thus can secure you a free night or two. Campgrounds in big cities are usually more expensive in terms of compulsory fees and extra costs on activities and attractions as compared to those in rural places. Also consider getting an annual national park pass necessary for getting into sites of attraction.
Buying only what you need will save you money and space. This means doing thorough research on any item before buying it. A DIY attitude will also save you a considerable amount of money on tow vehicle/ RV repair, maintenance and upgrades. Carrying out regular oil checks & changes, replacing old tires and parts by yourself will undoubtedly save you some money as compared to taking your vehicle to the shop.
Eating healthy and exercising regularly are always good practices to adhere to, else you will spend a lot of money on healthcare. While you may be tempted to dine out on most nights due to the small kitchen spaces, cooking is a proven and preferred money-saver for fulltime RVers. A large refrigerator and cooler will make your trips to the grocery store less frequent.
Propane will be used for cooking, heating and refrigerator. To lower this fuel cost you can trying the following; get a fuel efficient stove, a cooler that can be replenished with ice and insulate your RV to reduce the heating costs. Most campsites offer free electricity hookups thus take full advantage of this instead of using up your battery reserves.
Showering & Bathrooms
Showering in an RV is nowhere close to as taking a shower at home. Low water pressure and small hot water tanks in RVs results to very quick showers in RVs. Savvy RVers can give you insights on such matters for specific RV models, so be sure to research and consult widely. The best alternative to this is showering elsewhere i.e. in hotels, campgrounds and the like.
You can always grab a quick shower while you travel in facilities provided by campgrounds, truck stop showers, national recreation areas, Rec Centers and community swimming pools.
Privacy and Safety Concerns
Walls in houses provide an assuring sense of security and privacy. However, in an RV, things are a little different owing to the thin walls between compartments and sheer lack of a place to hide in case of an intrusion.
Carrying a licensed firearm and installing burglar alarms are some minor measures you can take to improve on your security and safety. Storing your valuables in fireproof and waterproof safe boxes is also another pro hack.
Park your RV where it can be sighted when boondocking especially during fall hunting seasons and always be wary of wildlife. Always be vigilant of any suspicious activities whether you are living in a campground or boondocking. Regular RV maintenance and repairs also lower the risk of it breaking down and thus improving on safety.
Another unspoken challenge is privacy especially if you have children; your sex life will definitely take a hit. To maneuver this, you can go for a bigger RV with more apparent separation between your kids' sleeping quarters and the master bedroom. If you own a trailer, then making use of the towing vehicle is your best option.
The Benefits
RVing is the best form of travel
Most travel enthusiasts have to cope with fluctuations of hotel and flight costs and the hassles of always packing and unpacking when travelling. An RV offers a home on wheels – a familiar home setting regardless of where you choose to travel. Additionally, it is the most cost effective way to travel especially if you are a family of more than four.
Being a fulltime RVer gives you freedom to travel wherever and whenever you want. Household chores in an RV like cleaning up take little time, and thus giving you more travelling time.
Being a Fulltime RVer Saves you Money
Going fulltime as an RVer means benefiting from free RV related services and dodging the running costs of having a house. Most campgrounds offer free hookups on electricity, sewer and water, which will save you a lot of money in the long run. Heating and air condition costs will also be significantly lower in an RV as compared to a house.
Buying a decent used motorhome and going fulltime is considerably more affordable than living in a mortgage-backed or rented home. It can also be a means to an end that is as a way to manage debt.
RVing Can be the Best Approach to a Minimalist Lifestyle
The space constraint in an RV lets you evaluate what you need most in life and helps you get rid of the unnecessary "trash". Therefore, if you seek to live a simpler life with less impulsive buying of unwanted things, an RV is a good starting point.
You will also get more time for family through the many camping activities provided for by this lifestyle.
Freedom
Fulltime RVing will help you make time for things that matter most in your life be it quality time with family and friends, an active and balanced life or quenching your wanderlust.
There's more freedom to traveling with this kind of lifestyle and enjoying nature at firsthand. You can escape from winter-affected regions to sunnier parts whenever you want.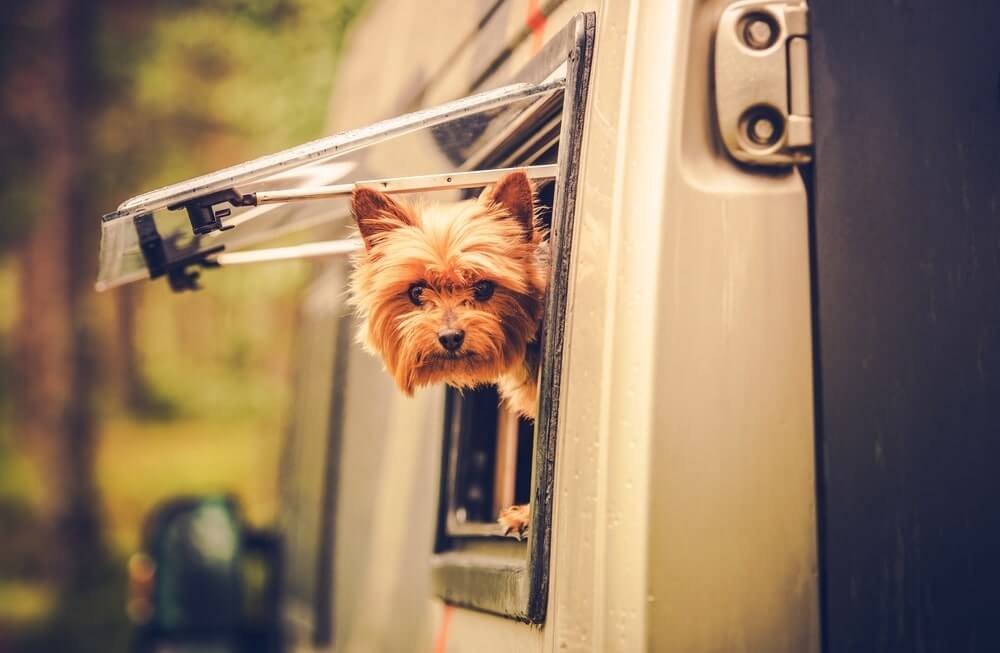 A home on wheels is also a bold statement against society conventions that force individuals into renting or mortgages as the only way to have a home.