Definition
A trailer hitch refers to the device that is attached to the chassis of a vehicle for towing purposes. It can be a tow ball, a tow pin or a towing Pintle, all of which are designed to allow articulation and swiveling movements of the trailer.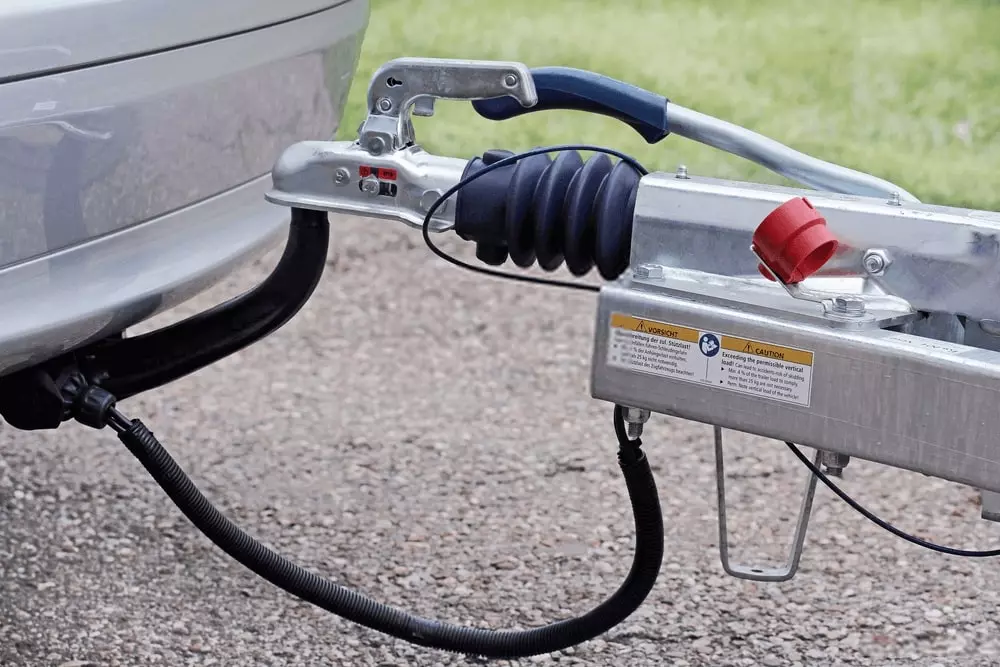 The most basic classification of trailer hitches would be to group them into weight carrying hitches and weight distributing hitches. Trailer hitches can also be categorized by their weight capacities commonly done so by classes.
Trailer hitches can also be further classified by the type of mechanism they use to hook up to the towing vehicle.
Common Terms
Before diving into the various types of hitches, it's important to get acquainted with the various terms used in this field. Also, most of the weight ratings defined below will be provided for by the manufacturer in the owner's manual or on stickers on the trailer and on the hitch.
Some common terms you might hear concerning towing and trailer hitches include the following:
Coupler
This is one of the components of a trailer hitch. It is the front part of the trailer tongue that mounts and locks on top of the hitch ball. The coupler is designed to swivel around the ball making it easy for the trailer to turn.
There are two main types of couplers namely; the straight-tongue coupler and the A-frame coupler. The latter is meant for A-shaped tongues while the former is built for trailers with a straight tongue.
Regardless of the type of coupler, the hollow cup fits over a hitch ball with a compatible diameter. Then, a spring-loaded latch securely locks the coupler and hitch ball together.
Sway Control
This is primarily a shock absorber that impedes swaying of the trailer or tongue which may occur due to wind gusts, high speeds or passing vehicles. It is meant to keep the towing vehicle and trailer stable when driving.
Hitch Class
Hitches are grouped by their maximum weight capacity rating as well as receiver opening size. They start from Class I, which is the smaller weight capacity to Class V which has the highest weight capacity as well as largest receiver opening size.
Tongue Weight
This is the force exerted downwards by the trailer's tongue. You can use a specialized scale or use commercial scales to measure the tongue weight. As a general guideline this weight should not be greater than 10% of the GTW.
Tongue Weight Capacity
This is the maximum weight that your towing vehicle can endure i.e. the force being exerted downward onto the hitch from the tongue of the trailer.
Gross Combination Weight Rating (GCWR)
This refers to the maximum towable weight limit and includes total weights of a loaded trailer and tow vehicle with everything included such as fuel, passengers, safety gear and cargo.
Gross Trailer Weight (GTW)
This is the total weight of a loaded trailer including the fluids, safety gear, cargo, wheel chocks and everything else. As a precaution you can measure your loaded trailer using commercial scales or add up the weights of the cargo and such, to the trailer's weight as indicated by the manufacturer.
Weight Carrying Versus Weight Distributing Trailer Hitches
The most popular type of trailer hitches are the weight carrying hitches, which basically bear the trailer's tongue weight on the rear of the towing vehicle. These hitches are usually enough to tow small and medium sized trailers.
On the other hand, weight distributing hitches are used on heavier trailers as they excel at evening out the trailer's weight between the wheels of the trailer and those of the towing vehicle. This distribution helps improve brake control as well as the steering.
Weight distributing hitches mainly utilize a receiver, which connects to the vehicle, and a spring bar setup.
Types of Hitches
Both weight carrying hitches fall under six major categories; receiver hitches, bumper hitches, front-mount hitches, fifth wheel hicthes, gooseneck hitches and pintle hitches. Weight distribution hitches on the oter hand form their own category.
Receiver Hitches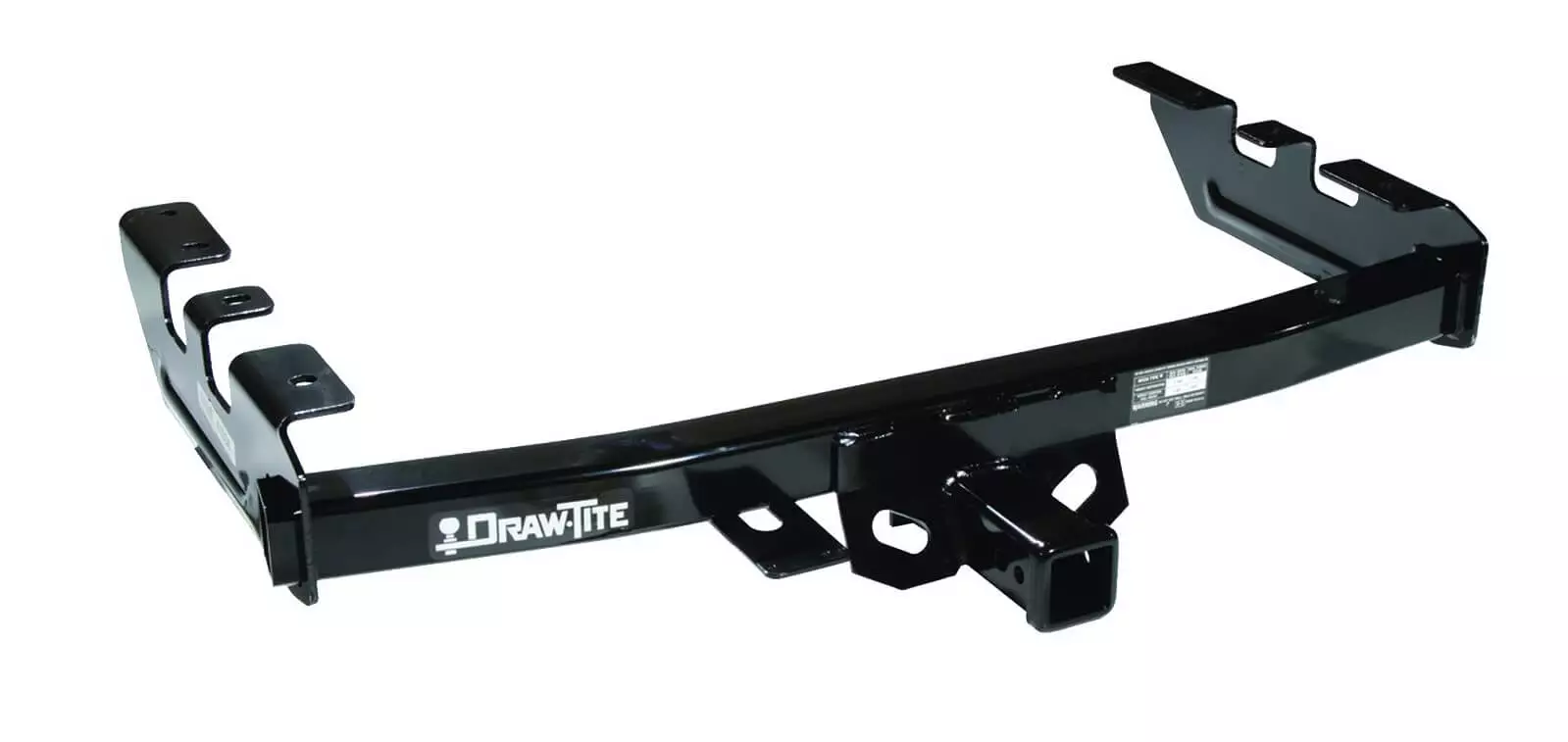 These types of hitches are further categorized into hitch classes (1 to 5) depending on the maximum weight they can safely tow. The rear receiver hitch is the most common type of trailer hitch. It mainly consists of a square receiver tube on which you can mount a myriad of components and accessories.
The receiver tubes typically come in 1" × 1", 1¼" × 1¼", 2" × 2" and 2½" × 2½" sizes. The build quality of most if not all receiver hitches is solid and all-welded for optimal safety and strength.
Manufacturers follow region-based classifications to make trailer hitches for towing specific trailer weights. In North America, the Society of Automotive Engineers (SAE) is responsible for defining the various classes of hitches.
Therefore, it is expected that the classification for different regions will have slight variations with regards to weight ratings, receiver tube sizes and tow ball sizes.
Classes I and II can be considered as basic weight carrying hitches. On the other hand, classes III, IV and V come fitted with weight distribution systems to help even out the weight when towing and prevent sagging especially around the trailer's tongue.
Notably, most heavy-duty trucks already have a preinstalled standard receiver hitch in the rear. Also, most of the class specifications detailed below apply to the types of hitches.
Class I
Gross Trailer Weight – Up to 2,000 lbs.
Opening Size – 1-1¼".
Tongue Weight Capacity – Up to 200 lbs.
These light-duty hitches are typically used for towing light to moderate loads such as motorcycles, boats, bike/rack, jet skis, cargo trays and small utility trailers. The Class I hitch can be found in most passenger cars and some crossover SUVs.
They use a 1" by 1" or a 1¼" by 1¼" receiver tube and can support a GTW of up to 2000 pounds and a corresponding TW of up to 200 pounds.
Class II
Gross Trailer Weight – Up to 3,500 lbs.
Opening Size – 1-1¼".
Tongue Weight Capacity – Up to 350 lbs.
These are moderate-duty hitches that are usually installed on small trucks, minivans and mid-sized sedans. They utilize a 1" by 1" or a 1¼" by 1¼" receiver tube for the ball mount and are rated for towing a GTW of up to 3,500 pounds as well as a tongue weight of up to 350 pounds.
This class of hitches can be used for towing moderate loads such small campers, snowmobiles and mid-sized boats.
Class III
Gross Trailer Weight – 3,500 to 6,000 lbs.
Opening Size – 2".
Tongue Weight Capacity – 350 to 600 lbs.
Commonly installed on minivans, pickup trucks and full-size SUVs, these versatile trailer hitches are capable of towing mid-sized campers, mid-sized boats and even utility trailers.
They implement a 2" by 2" receiver tube and can support a GTW ranging from 3,500 to 6,000 pounds with corresponding tongue weights of 350 to 600 pounds.
Class IV
Gross Trailer Weight – 6,000 to 10,000 lbs.
Opening Size – 2".
Tongue Weight Capacity – 600 to 1000 lbs.
These hitch receiver is usually mounted on large SUVs and heavy-duty pickup trucks. They utilize a 2" by 2" receiver tube for the ball mount and are rated to support towing a GTW of 6,000 up to 10,000 pounds as well as a TW of 600 up to 1,000 pounds.
Class IV hitches are used to tow heavy loads such as boats, large campers and toy haulers.
Class V
Gross Trailer Weight – Over 10,000 lbs.
Opening Size – 2-2½".
Tongue Weight Capacity – 1,000 to 1,200 lbs.
These are the heaviest-duty hitch receivers that can be mounted on the rear of a tow vehicle and are usually installed on heavy-duty commercial trucks. These hitches use a 2-2½" by 2-2½" receiver tube for the ball mount and are rated to tow a GTW of more than 10,000 pounds and a TW of between 1,000 and 1,200 pounds.
Class V hitches are normally used to haul heavy loads such as large boats, full-sized campers and construction equipment.
Bumper-Mounted Hitch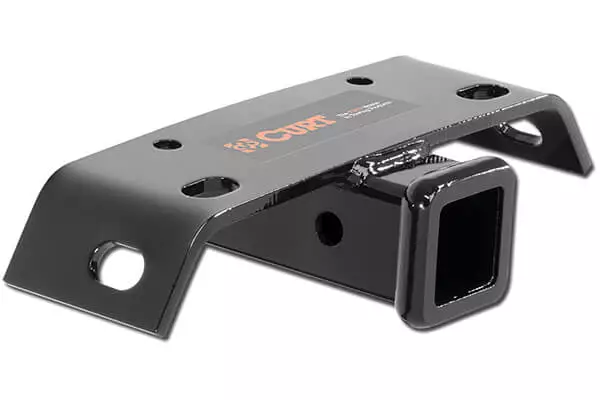 As the name suggests, this type of hitch is mounted to the bumper instead of the frame of vehicle to allow for more flexibility and adjustments. This makes it especially versatile in the variety of loads they can tow ranging from campers, boat trailers and so much more.
It's important to keep in mind that due to their specific way of mounting, bumper-mounted hitches can only tow/support as much as weight as the bumper can.
Front-Mount Hitch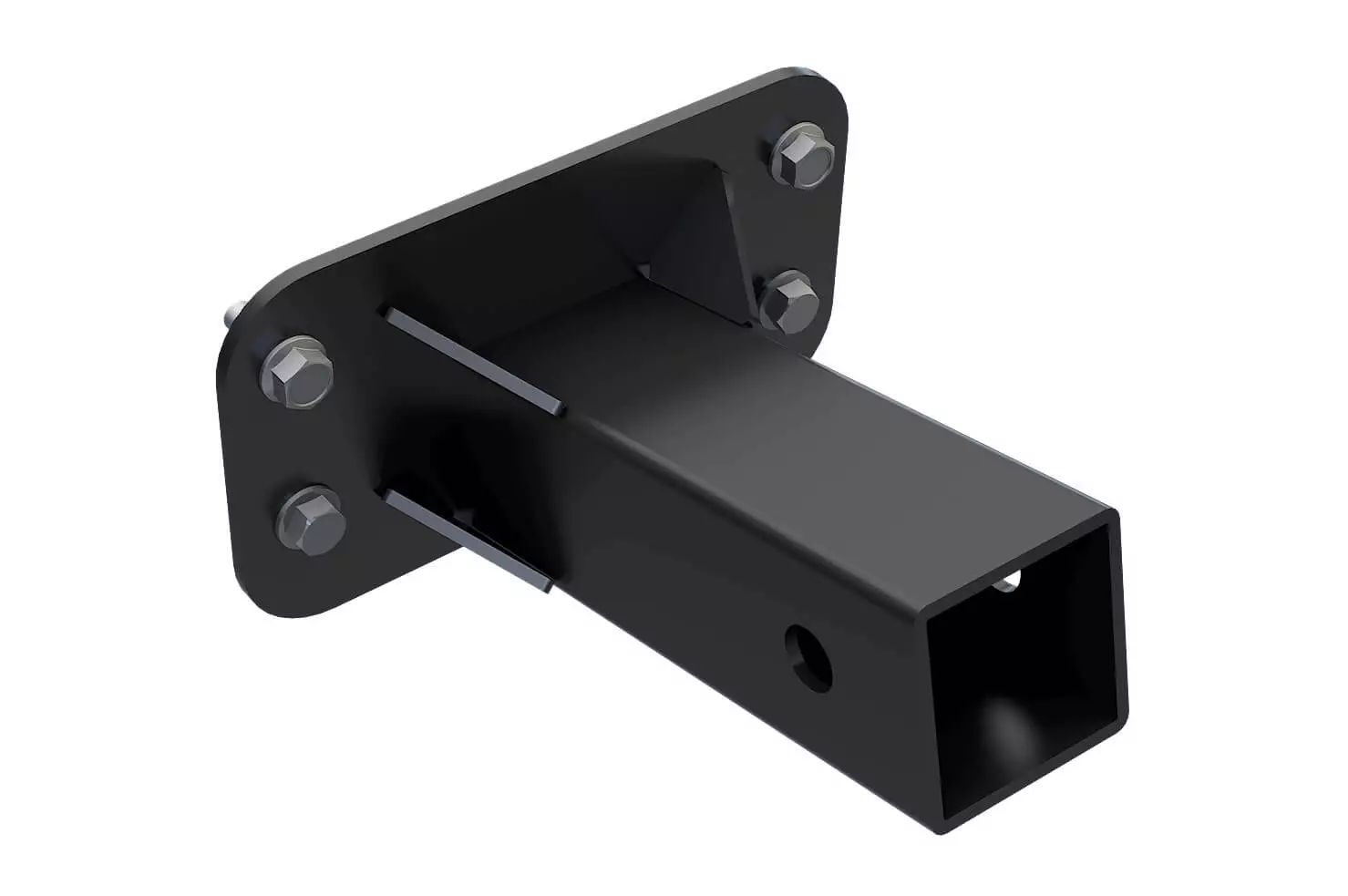 Front-mounting hitches are a godsend for off roaders and camping enthusiasts as they allow for better road vision ahead when towing. They also make lining up your rig relatively easier, for instance getting your boat in/out of the water is a breeze with this type of hitch.
These hitches can also accommodate cargo carriers, hitch steps, winch mounting plates and many other accessories. Similar to the rear receiver hitch, the front mount hitch is also attached directly to the frame.
Fifth Wheel Hitch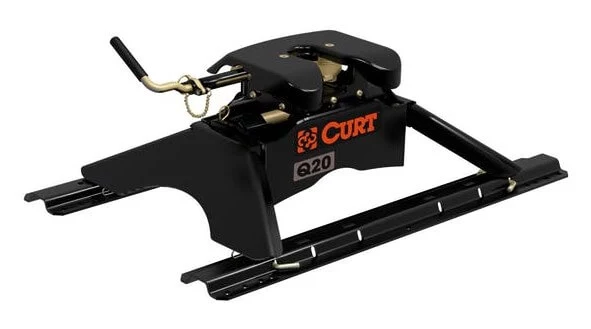 This type of hitch is installed inside the truck and is specifically designed for heavy-duty towing with pickup trucks. Capacities for fifth wheel hitches range from 15,000 to 30,000 pounds. The hitch rests on the front of the rear axle and thus long-bed trucks are most preferred for this type of hitch.
A slider fifth wheel hitch can be used for short-bed trucks to prevent the trailer from striking the cab. Also, it goes without saying that fifth wheel hitches can only be used with pickup trucks.
Fifth wheel trailers use a kingpin, which is a round steel shaft attached to the trailer's coupler, to secure the rig in place. The hitch receives the kingpin from the fifth wheel trailer and secures it with a jaw mechanism.
This type of hitch offers the best articulation allowing it to absorb bumps and easily maneuver through the road's twists and turns.
Gooseneck Hitch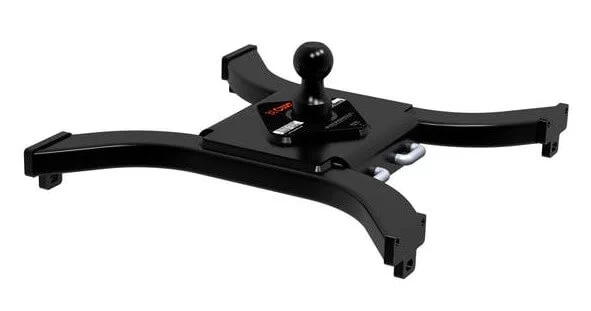 This type of hitch is purposefully built to improve the towing experience by allowing for a tighter turn radius without chipping the cab of the truck. Just like fifth wheel hitches, a gooseneck hitch is also mounted in the bed of a pickup truck.
The main difference between a gooseneck hitch and a fifth wheel hitch is that the latter uses a kingpin connection while the former uses a ball and coupler connection.
The biggest advantage of gooseneck hitches over fifth wheel hitches is that their mechanism is less intrusive thus allowing for complete truck bed use when not towing. Having a turn-over ball makes the process even easier and convenient as it can be removed or stored upside down when not in use leaving a clear, level bed in the truck.
They are particularly efficient in towing bulky loads such as large trailers, toy haulers, flatbeds and livestock. Gooseneck hitches also tend to have higher weight capacities than other types of hitches.
Pintle Hitch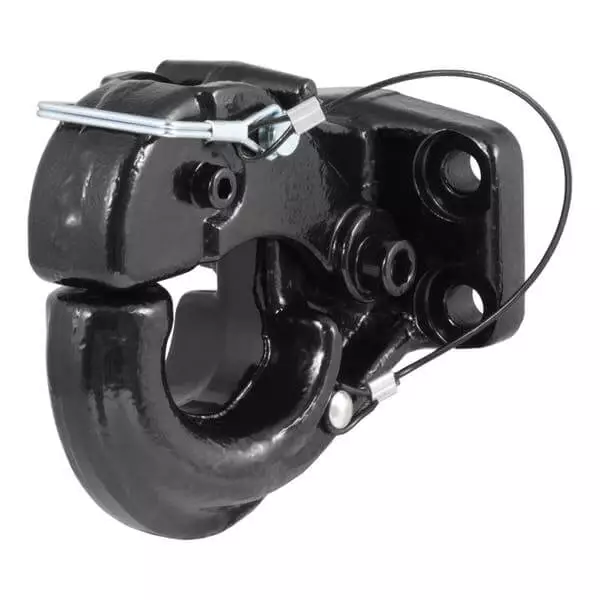 A breakaway from the use of a ball mount, a Pintle hitch uses a hook (Pintle) and a ring (lunette) to attach your towable to the tow vehicle. The Pintle is attached to the framing of the tow vehicle and the lunette is attached to the trailer.
The weight ratings of Pintle hitches tend to be very high making them ideal for large commercial trucks, dump trucks and large trailers.
However, the Pintle hitch is usually a bit noisy than the standard ball mount mechanisms and perhaps that is why they are mostly used in the construction industry.
Weight Distributing Hitch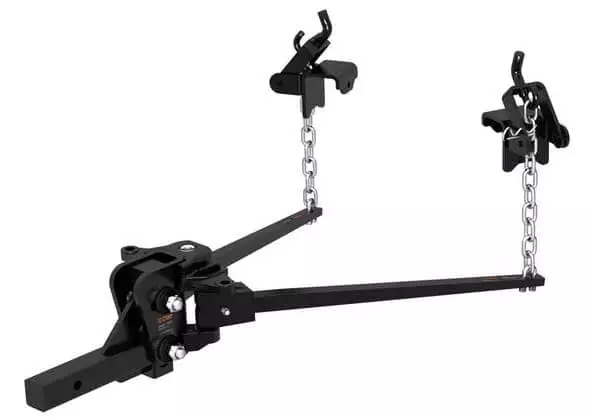 Even though weight distribution hitches are mostly considered as a hitch attachments, they are still a worthy mention on the various types of hitches. They are mounted to the rear receiver of a tow vehicle with the sole purpose of spreading the tongue weight evenly across the trailer and tow vehicle.
They achieve this distribution by use of long rods referred to as spring rods, which effectively take the weight off the rear of the vehicle making it easy to steer. This feature alone makes them very popular with camping recreational vehicles.
You can get this systems as a kit comprising of a hitch head, a set of spring bars and a shank. The head is middle point of the weight distribution hitch. It receives the shank on one side and the spring bars on the other side.
In general, weight distribution systems can extend the towing capacity by a considerable amount. However, the use of airbags to achieve the same only eases the pressure off of the trailer's suspension system and doesn't necessarily increase the towing capacity.
Hitch Components and Accessories
There are many hitching parts and accessories in the market that can help ensure that your towing experience is secure, safe and stress free. Below are some of the most popular ones:
Ball Mount
A ball mount is the part that is inserted into the hitch receiver and is secured in place with a locking pin. Always ensure that the ball mount weight rating is equal to the hitch for safety. The weight ratings of ball mounts fall under the same Class I to V categorization.
Hitch Ball
This is the doorknob-like shiny, stainless steel part of the hitching mechanism. It can also come with a chrome or zinc plating for aesthetic appeal and rust protection. The shank of the ball fits through the ball mount and is secured with a nut and washer.
The ball comes in different sizes, but some manufacturers do offer variants with interchangeable balls (up to three balls), each with a different diameter. This makes it easier to tow a variety of trailers with different couplers.
The mechanisms of these two/three-ball models may be either a positive-latch or a quick-release design for easy swapping of the balls without the need for extra tools.
Trailer Jacks
This specific component is usually mounted to the trailer, unlike other hitch accessories, to make the hitching process safer and easier. They are positioned on the tongue and closer to the coupler.
Trailer jacks mainly come in side-wind and top-wind styles and can be cranked to lower or raise the trailer/tongue from the hitch ball.
There are also electric models of the same if you don't prefer the cranking option. Lastly, most of the trailer jacks can be swung away for storage during towing.
Hitch Pin, Locks and Clips
To keep the ball mount attached to the hitch receiver, a pin & clip or a lock and key mechanism is needed. The pin passes through holes in the ball mount and receiver while the clip is fitted over the head of the pin to keep it from sliding out.
A lock and key serves the same purpose but can also protect the ball mount from theft. Similarly, you can find a locking system for other components such as the coupler lock.
Safety Chains
These are located on the tongue of the trailer, a single chain on each side. The chains have an S-hook on the ends which is used to connect to a hole in the hitch. The chains are there to prevent the tongue from dropping in case of any detachment while on the road.
Safety chains are installed in such a way that they allow for enough slack when turning but not too much that they drag on the road surface.
Be sure to adhere to set weight ratings and also remember that safety chains are a safety requirement in most states.
Trailer Brakes and Brake Controllers
For safer braking and improved control over your rig especially on large trailers, trailer brakes are a requirement. A trailer brake controller helps interface the trailer brakes and the towing vehicle's brake pedals.
Trailer braking systems come in many types ranging from time brake controllers, accelerometer/proportional brake controllers to inertia brake controllers.
While the choice of either will dependent on your preference and type of trailer, it is always recommended to refer to manufacturer's manual. Also, some of the installation will require some precise wiring thus make sure to factor in the installation costs.
Hitch Adapters and Extenders
This accessories are meant to ensure compatibility of the various components to the hitching system. For instance, if the shank of a ball mount doesn't fit into the size of the receiver then an adapter would be more than ideal to remedy the issue.
You can also find an after-market gooseneck adapter to attach to your trailer's kingpin for compatibility with gooseneck hitches.
An extender is used to improve the clearance for hitch-mounted components. For instance, an extender will be necessary if the hitch is located well underneath the vehicle's bumper. A hitch extender can move the receiver 6 to 12 inches forward making it possible to tow some trailers or to attach extra accessories such as bike racks and cargo carriers.
Cargo Carriers, Bike Racks
These accessories are tailored to increasing the use of your hitch especially when you're not towing anything. A flat cargo deck can carry extra loads such as camping gear, garden equipment, lumber, hunting/fishing gear and so much more.
They come in open-style and enclosed designs and can be made of steel or polypropylene. Furthermore, enclosed carriers may come with lockable lids as well as in swing-away and stationary models.
You can also get a bike rack for any hitch class, in fact some can hold up to five bicycles.
Tube Covers
Dirt, dust and grime among other unwanted elements can enter the hitch receiver when you're not towing. Thus, to protect against this you can use a tube cover over the ball mount hole.
There are quite number of tube covers to choose from ranging from plastic ones, forged steel covers to even branded covers. You can also go an extra mile with a dual-purpose hitch step/tube cover.
Hitch Wiring and Lights
Trailer lights must be connected to the towing vehicle thus you may be required to get trailer wiring harnesses to hold everything neatly together. A trailer connector wiring will typically use 4-7 wires to control your trailer lighting and brake lights.
This is a legal requirement in most states for you to use your trailer on public roads.
Hitch Immobilizer
This accessory is meant to reduce sway and noise of the trailer hitch during towing. It achieves this by tightening the receiver and ball mount connections.
Final Word
Trailer hitches are primarily categorized by their weight ratings and receiver tube openings. However, their main differences can be further seen by the many types of hitching mechanisms they apply.
Safety precautions must always be observed when pulling trailers along; you should never exceed the towing capacity of your tow vehicle. Also, the weight of the loaded trailer must never exceed the load capacity of the hitch.
It's recommended that you check on the manufacturer's hitch recommendations and weight ratings, on the vehicle manual. A good practice is to double-check the weight ratings by weighing your rig using commercial scales.
What do you think? Let us know your thoughts in the comments section below.