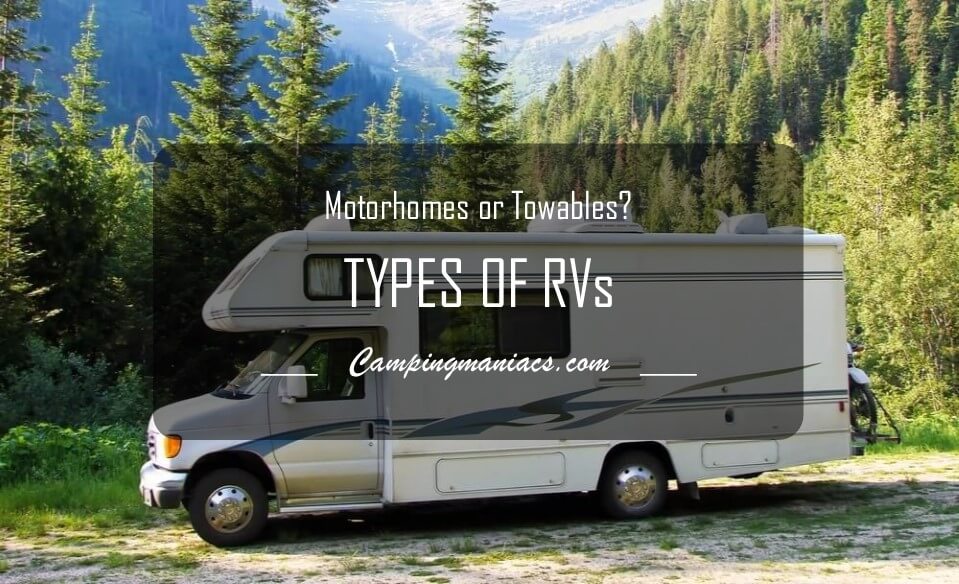 A Big Deal Question: Which is the Ideal RV Type for You?
Recreational vehicles (RVs) are self-motorized vehicles or trailers mainly used for camping or other temporary accommodation purposes. RVs may include only sleeping quarters, cooking facilities or even extra features like televisions, satellite receivers, specialized storage for equipment, air conditioning, and so on. Some examples of RVs include 5th wheel trailers, Toy haulers, Tent Trailers, Camper vans, Teardrop trailers and motorhomes.
So whether on a lone-wolf expedition, family vacation or just a road trip with friends, you can find different types of RVs for all your travel needs. Thor Industries website has a quick tool to get you started.
Why Do I Need an RV ANYWAY?
Over the years, RVs have grown tremendously popular since their advent back in the 18th century. Their primary goal has always been provision of transitory accommodation. However, most people take full residency in these mobile "homes" given their accompanying features and amenities. In the US, RVs are most commonly used by people of an average age of 45 (as of 2016). RVs have also proven a favorite for anyone escaping the harsh winter climate to warmer regions especially for residents in the United States and Canada.
A general prerequisite before owning an RV is checking the law of the land regarding the matter. The stipulations will mostly be different in various states, so make sure to adhere to all of them. For instance in UK you may be required to get a second license before hooking up a trailer or getting a motorized RV especially if meant for commercial purposes. In the US, various states will also stipulate on the required RVs total length, height, trailer length, parking regulations among other specifications.
Apart from your budget, other factors to consider before getting an RV include:
Frequency of use of the RV – for vacation purposes it is a good idea to go for a used RV or an RV type that is cheaper yet functional. Whereas for retired individuals or ones with a spirit for adventure, then an RV type meant for fulltime occupancy is suitable e.g. motorhomes.
Preferred Amenities – if you are looking for something extra in your RV-ing life then it's important to get acquainted with the many classes of RVs. This is because different RV types come with different amenities and features.
Types of Recreational Vehicles
Motorhomes/Motorized RVs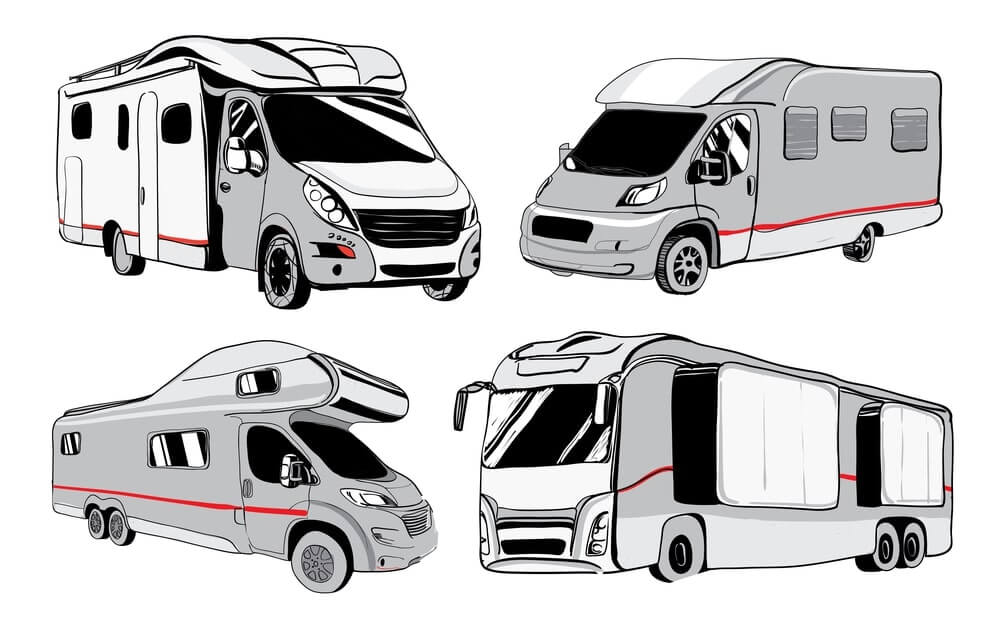 As a general definition, the motorhomes are the recreational vehicles whose residence cabins are a part of the vehicle. As such, these vehicles can self-motorize.
Class A Motorhomes
The Class A motorhomes is in every detail the belle of the ball in the world of RVs, a true form-meets-function example. They are constructed on a specialized bus chassis making the end product resemble a public transit bus. Their large front windows offer an exceptional view of the road.
Class A RV type, also known as coaches, come with a variety of amenities and may use diesel fuel or gasoline. Some notable brands in these category include Fleetwood Flair, Monaco Signature and Tiffin.
Pros
Size. These RV types are massive, with lengths of up to 50 feet in some models. This provides a huge space for features like counter tops, king size beds and so on. Some of the coaches come with slide-outs that are accessible from the inside as well as the outside of the RV assuring more convenience and plenty of space.
Packed with many features. Given how popular these motorhomes are, manufacturers take full advantage of the large space by including entertainment units, kitchen, full bathroom, washers, dryers, climate control systems and a lot of storage room. Clients also get to choose from many models/brands available in the market. For a group of 4 to 12 people, a Class A motorhome will provide enough space to accommodate them comfortably.
Cons
Costly. The immense space and features come with a costly price tag, in fact these luxury coaches are some of the most expensive in the RV industry. These motorhomes are also dubbed diesel/gas guzzlers as they have very low fuel efficiency. Be prepared to spend a pretty penny for every fuel refill.
Size and mobility. Parking, maneuvering and mobility are not synonymous with big-sized vehicles. You may encounter challenges when getting somewhere to park, when navigating trail roads and highways as well as inconveniences during short errand trips.
Class B Motorhomes
Built using a standard van, Class B motorhomes are basically vans that have been transformed into smaller RVs. Class B RVs are most commonly referred to as campervans. They feature a raised roof or a coach-built back and are built to offer comfy sleeping quarters for one or two travelers.
Some states like California, US stipulate that a vehicle must have a refrigerator, a heater or AC unit, a cooking system, a toilet and a fuel system, to qualify as a Class B RV. Ford Trader, Toyota Hiace, Isuzu NPR 300 and Iveco are a few brands that dominate the campervans market.
Pros
Ease of maneuverability and driving. Campervans are smaller in size as compared to coaches, thus guaranteeing a hassle free driving experience and easier maneuverability. Parking and storage are also easier owing to its size.
Less maintenance and operation costs. Although campervans are a bit steep priced to purchase, they still make more economic sense in terms of operating and maintaining. The RV's self-contained package ensures that its one or two occupants are comfortably accommodated with equal access to all available amenities.
Top-notch mobility and convenience. Need to dash to the nearest convenience store for some milk? The campervan is built on this principle, none of that cumbersome feel when trying to edge a coach through a drive thru. This RV makes it possible to run errands and do quick day excursions.
Cons
Small Interior Space. You will have to adopt a minimalist lifestyle to enjoy this kind of RV. From getting smaller appliances, reducing your cargo and even less of luxury facilities like full-sized entertainment units. Failure to which, the interior space of campervans will quickly seem cramped.
Limited to one or two travelers. Perhaps the biggest drawback of this type of RV is the fact it suitable to host only one or two people. Thus travelers with kids will not benefit from the low-cost convenience that this RV type offers.
Class C Motorhomes
This RV type is the middle ground in relation to coaches and campervans. It spots a unique cab-over profile which houses part of the sleeping quarters, storage space or entertainment section. Class C RVs are built upon a truck chassis or larger van and have enough space to accommodate four to eight people comfortably. Winnebago, Jayco Redhawk, Ford and Thor Chateau are a few of leading brands of Class C RVs.
Pros
Amenities and additional features. The larger chassis allows for considerably larger appliances with many Class C RVs containing large kitchens, queen-sized beds and living spaces. You get the usual amenities with more open spaces at an affordable price as compared to coaches.
The perfect size. Not too big like a coach and not too small like a campervan. If you have a small family of 3-5 and are too intimidated by a Class A type then this is the perfect pick for you.
Economical. Class C RVs are more expensive than Class B RVs to purchase, however the extra space and amenities makes up for the extra bucks. They are also very fuel efficient thus more miles to cover and more places to visit.
Cons
Smaller size. This RV type undoubtedly offers a lot more space than others, however they fall short as compared to other types like Class A RVs, Travel trailers and even Fifth wheel trailers. If storage is a big concern for you then you are better off with the aforementioned RV types. Additionally, the limited size allows for the bare minimum amenities unlike other RV types where you can have luxurious amenities and features.
Other Motorhomes
A toterhome is a high-end motorhome, in fact one of the most expensive RV type yet. It abandons the coach style for a more functional, sturdier design. A toterhome offers ample space for amenities, luxury facilities and so on given its immense size. The biggest drawback to this type of RV is inescapably the price tag.
A Class B+ RV on the other hand, closely resembles a Class C RV but without a bunk above its cockpit. Its cab is mainly used for entertainment purposes. You still get a fairly large interior space plus a better road/landscape view and a low-profile design. Possible back end scraping due to its low-profile and a limited storage space are a few of the limitations of the Class B+ RVs.
Towable/Non-motorized RVs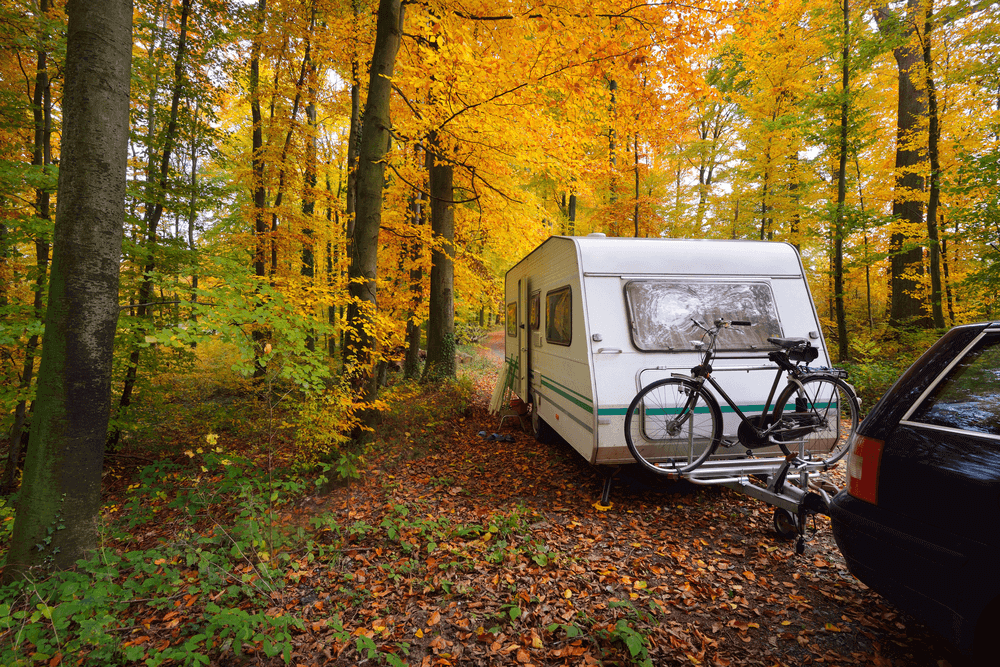 Towable Rvs are defined as non-motoized recreational vehicles. They are mainly a cabin with amenities and meant to be towed away by a motorized vehicle.
Generally, towable RVs are more advantageous over motorhomes mainly due to the following reasons:
Less initial cost and even lower maintenance & operation costs.
Convenience due to their detachable mechanisms allowing for quick trips and running of errands.
Reliable
Travel Trailers
Made on top of a standard trailer structure, travel trailers are basically large containers with living spaces and accompanying amenities. They offer an "empty" space for you to fill with as many conventional appliances or luxurious items as they can fit. Travel trailers come with their own water supply systems, small refrigerators and bathrooms. Some have expandable fittings for even more room.
The trailer connects with your typical ball hitch receiver and can be pulled by a van, truck or SUV. A travel trailer may be ideal for small families as well as fulltime RV-ers.
Pros
Tows with many different vehicles. You can hook it up to your day to day vehicle as long as it has been rated to handle the trailer's weight capacity. No need to purchase another vehicle for this purpose.
Affordable. As compared to full sized motorhomes travel trailers have a lower initial cost and are cheap to operate and maintain in the long run.
Ease of use and convenience. Travel trailers are easily attachable and detachable, thus you can make a quick dash to the store for some eggs without having to tow along the trailer with you. This is especially key as trailers tend to be the hardest to maneuver with.
Cons
Poor maneuverability It is a hair plucking ordeal when reversing or steering in restricted zones. The driver always has to be extra attentive when driving to avoid excessive tail swings. However, this is not only challenge to travel trailers but to other towable RVs as well.
Fifth Wheel Trailer
It resembles a travel trailer but with one distinctive feature, a fifth wheel trailer has a gooseneck connector that attaches to your towing vehicle. The connector makes all the difference as it is sturdier, centered and easy to manage than ball hitches. This results to easier maneuverability and easier towing. The overhanging part of the trailer offers extra interior space which is not an option in standard travel trailers. The towing vehicle must have an open or flat bed.
Pros
Better connection. Fifth wheel trailers are centered on their gooseneck connectors which makes it possible for easier towing and steering. The connectors are also stronger and relatively easy to manage as compared to other types.
More interior/storage space. The overhanging section of the trailer is improvised to offer more living space and more storage for your cargo. The trailer also houses several amenities among other modern conveniences.
Cons
Limited to specific towing vehicles. The gooseneck rig comes with its restrictions as only a vehicle with a flat or open bed can be used. This cuts down on passenger space and worsens the experience for long trips. Note that it is against the law to carry anyone in a trailer that is being towed.
Folding and Tent Trailers
Tent trailers are the smallest towable RVs yet. They spot collapsible partitions for ease of storage when not in use. Some folding camping trailers are built of durable tent canvas or with rigid composite walls that can be folded down. Tent trailers are easily maneuverable, light weight and can be towed by small trucks, full sized sedans and station wagons using suitable ball hitch receivers.
They offer the bare essentials for survival, hence tenting trailers are ideal for the once-in-a-while camping adventure.
Pros
Lightweight. Their compact collapsible design and light weight construction allow for easy maneuverability and easy storage.
Unlimited choice for a towing vehicle. As long as you have a suitable ball hitch receiver you can tow your tent trailer with pretty much any vehicle.
Low cost of maintenance and operation. Due to their small size as compared to others you get a higher fuel efficiency and relatively affordable initial and maintenance costs as compared to other RVs.
Cons
Limited space. Tent trailers are focused on short term use, say a day or two of camping activities, thus space is limited. There's noticeably less interior space, minimal to zero cargo/storage space as compared to other RVs. This limited space as well as the construction of the trailer leads to a lot of exposure to weather elements.
Faulty mechanical parts. The folding hinges are bound to fail over time thus limiting the use of the trailer and its space.
Other Towable RVs
Sport Utility RV trailers feature a rear compartment that is used to store snow mobiles, ATVs, dirt bikes, and sports vehicles. The trailer helps you to haul your toys to wherever you want. Other features of these trailers include front compartment for the living space, portable garage space and a folding wall that can be used as a loading ramp. These are the ideal RVs for camping on motorsports events. However, these toy haulers have less usable interior spaces given the proximity to odor-prone sections, motor supplies and motorized equipment.
For long off-the-grid travelling, Truck Campers are your best pick of the lot. Featuring four-wheel-drive functionality and a robust suspension equals to limitless off road adventures in expense of storage space. Included are the basic amenities, a rear door and in some models an overhead sleeping cabin as well as slide outs. They are ideal for one to three people.
Teardrop RV trailers are compact, lightweight trailers with basic amenities such as a kitchen, dining table, couch, bathroom and bed. They are easy to position in campsites and can be towed by many different vehicles. The limited storage and height of the trailer may be a drawback to some, however it makes up for it in ease of maneuvering.
Let's Get RV-ing!
There are so many models, types of RVs available in the market, each built to suit your specifications. Whether you want a giant motorhome to carry your not-yet-street-legal Porsche 911 Carrera everywhere you go or just a compact pop-up trailer for your next camping trip. There's always a suitable RV type for your needs in the market.