Last Update: 04 October 2022
Our recommendations are based on thorough independent research, testing, analyses, and comparisons of different products. When you make purchases through links on our website, we may earn affiliate commissions.
BPA-, BPS- and Phthalate-free
Makes use of great antibacterial technology
Reliable, durable and versatile
Self-cleansing mechanism
Requires some nerdy techniques when drying
Available in only two capacities
Not truly low-profile
Quick Navigation
1. Construction
An impressive reservoir that utilizes the strong Co-Extruded polyethylene in its construction, Source Tactical WXP comes in impressive natural colors. The reservoir itself is nature-green in color but its hose comes in either black, coyote or foliage colors.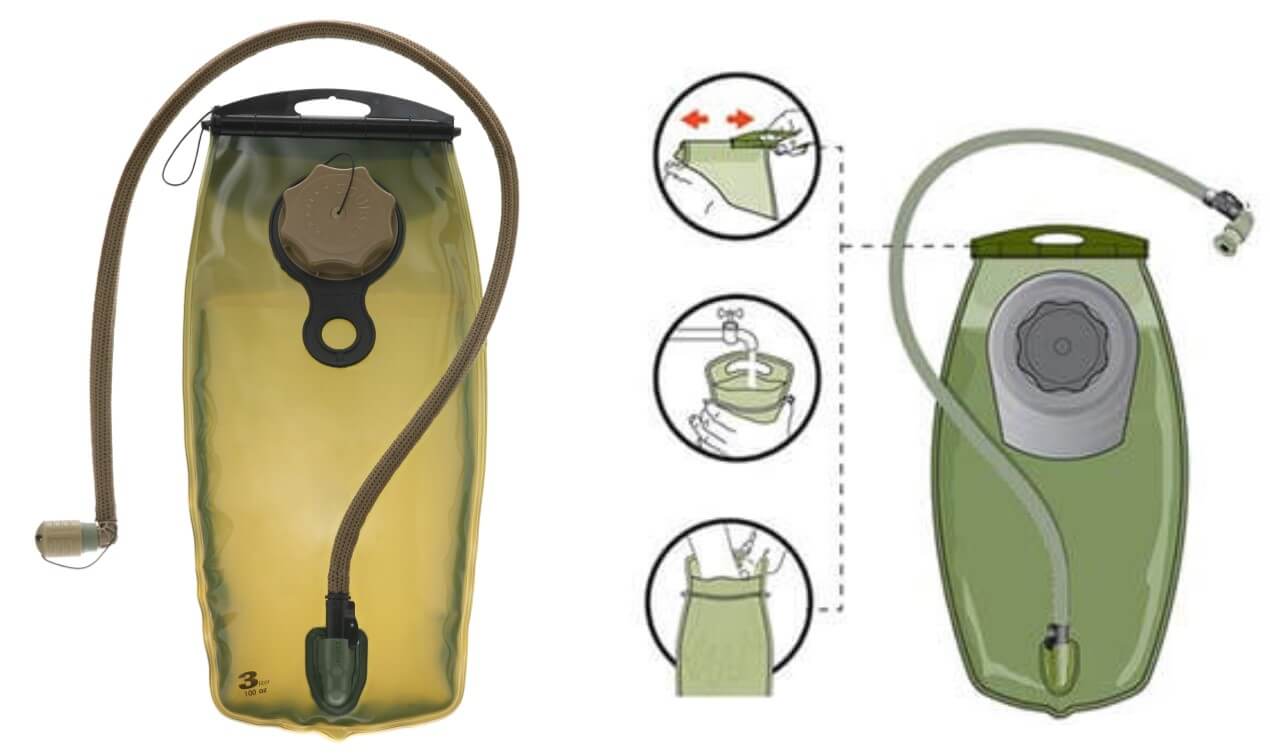 Polyethylene is spectacular for three reasons; flexibility, durability and tastelessness. As such, the Source Tactical WXP reservoir will see you enjoy odorless water in a flexible but durable bladder.
The bladder's interior is coated with a glass-like liner which confers a self-cleansing ability to it. This glass-like liner protects the bladder from biofilm buildup. Biofilm is an association of microorganisms in which cells stick to each other and together they stick to a surface, usually embedded in a slimy matrix which they produce from their cells. Bacterial biofilm is infectious in nature largely due to the fact that it is made up of a colony of bacteria, a dose enough to make you sick.
Additionally, the reservoir is guarded by the anti-bacterial Grunge-Guard technology. This consists of an antibacterial agent which is permanently embedded in the reservoir and in its tube, to last the entire lifetime of the bladder. If concern for your health is not enough to jolt you, then I don't know what is!
Ever had a sip of warm water in a scotching-hot summer? Not the best feeling in the world, right? The WXP reservoir takes care of this by use of a webbing insulation for its tube. This insulation will cushion the water within the tube against temperature changes or UV-rays. As such, you can always be guaranteed of cold water with every sip.
2. Ease of Use
In our general review of the best hydration bladders, we listed the Source Tactical WXP reservoir at the top partly due to the fact that it was one of the easiest reservoirs to use.
Unlike most reservoirs which use only a single opening/closing mechanism, the WXP uses two! It uses both the fold-top and the screw-cap mechanisms.
When you want to quickly fill the reservoir with water, simply use the screw cap. The fold-top opening is most suitable for ice cube-insertion, cleaning and drying.
The push-and-pull storm technology is a clever locking mechanism employed in WXP's suction valve. The valve delivers about 25% more flow of water than most other hydration bladders and requires no biting.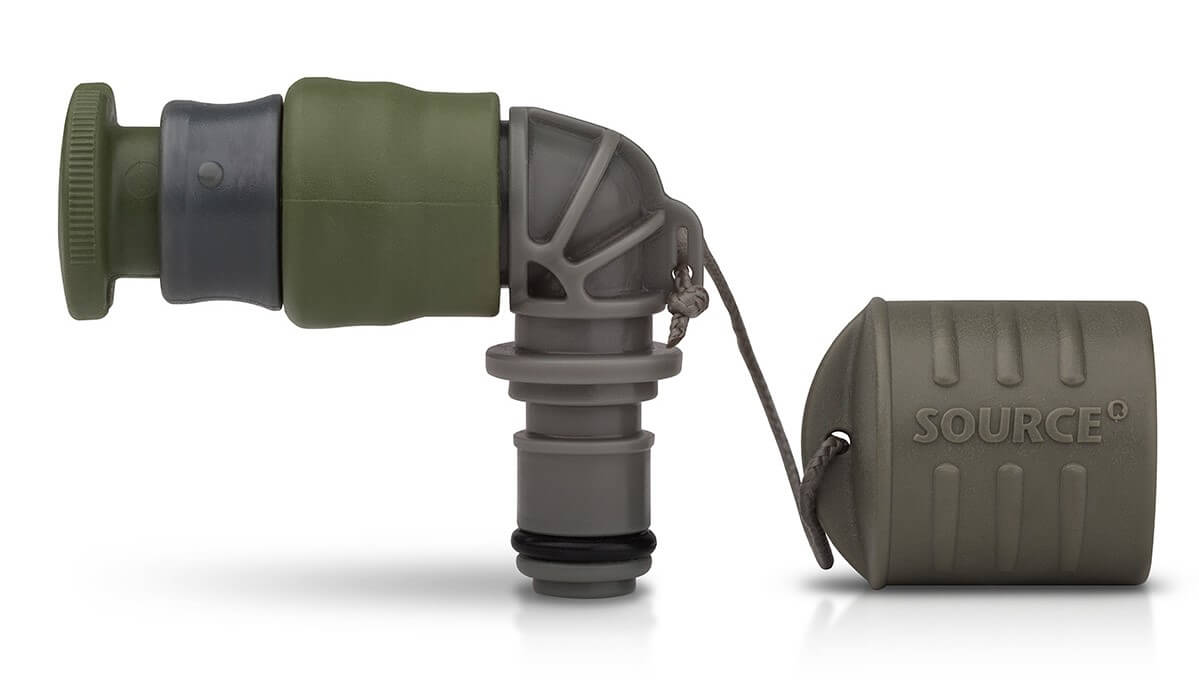 At first, some members of our crew fumbled with twisting and turning the valve to try and suck some water from it and we thought it was a bit of a nerd-stuff. After we all knew how it functioned, we agreed that this push-and-pull was simply the best and the easiest-to-use locking mechanism there is. It involves twisting the valve in a counter-clockwise direction then pull it to open. To close, simply push the valve back in and turn clockwise. It isn't nerdy after all, is it?
As for filling and refilling, we found the Source Tactical WXP to be the most adaptive bladder mostly due to the two opening/closing mechanisms. It is easy to refill on a tap, in a trickling water source or in a running stream using either of the two openings, whichever is appropriate. Take note however that you should be sure of your water source to avoid waterborne diseases.
3. Cleaning and Drying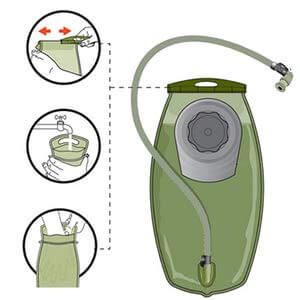 Due to the self-cleansing mechanism, the WXP will not require a too-frequent cleaning schedule like most other water bladders would. In our article on how to clean hydration bladders, we mentioned that you will need to clean your reservoir after every use. With WXP, there is a caveat to this strict rule.
Perhaps the many advantages that Source Tactical prides itself in are the major reason why it isn't dishwasher-safe. The reservoir has a wide slide-opening but due to its somehow ellipsoidal shape, it cannot be flipped inside-out. And even if it did, we think it wouldn't be safe to wash it in a dishwasher due to its antibacterial agent coating on the inner surface.
Still, having said that, we think the WXP is easy to clean. The large top opening, added to the fact that its drinking tube can be disconnected, increase the flexibility when handling and cleaning it.
At first, we thought that it was practically impossible to air-dry the WXP reservoir. Why? Because when empty, it was practically impossible to keep its apposed sides separated. The sides tended to stick tightly together, thwarting all our efforts. But we learned the hard way to deal with it.
The first technique was to disconnect its tube after cleaning, fold it in a spiral shape then insert it into the bladder to keep its apposed sides separated. The tube's webbing insulation cover acts as a wicking material helping to distribute and clear the moisture.
The second trick was to have the empty bladder stand upside-down, on a bottleneck of an empty bottle or a drinking glass. The moisture drains off albeit slowly.
The third hack was to use a small kitchen towel. Clean the reservoir, rinse it then insert into it the towel to keep its sides separated. The towel will also help in wicking away the moisture.
4. Reliability
Out of the 10 hydration bladders we reviewed, the Source Tactical WXP reservoir came top in terms of reliability. To test for reliability, we looked at features such as bladder material and durability, leak-proofing capabilities, availability of replacement parts, compatibility with easily available parts as well as the bladder's ability to fit into different hydration packs and backpacks.
Perhaps you already know that polyethylene is the material used in the construction of bullet-proof vests. With an excellent durability and resistance to abrasion, this material, used in the construction of the WXP hydration bladder, confers an immense reliability to it. As such, the bladder is one of those you can toss about, compress under pressure, fall with from the rocks and it will still hold. Now you know where 'Tactical' in its name comes from.
BPA-, BPS- and phthalate-free, the WXP is safe for your health. We strongly advise our readers against those hydration bladders that contain Bisphenol compounds due to health risks involved with them. In most cases (if not all), you will find such bladders are not FDA-approved.
We are yet to find a more leak-proof hydration bladder. Sufficiently sealed with well closing slide-top and screw cap, the WXP ensures that your backpack remains dry and comfy. Now we all hate that feeling of a stream of water from a leaked hydration bladder rolling down our back.
Given the independence of different parts of the Source Tactical WXP, replacing them is easy. The hose disconnects with the bladder at the quick-disconnect plug and with the Helix Bite Valve at the other end. These parts are freely available for purchase. As such, you will never have to worry about a damaged part rendering your water bladder useless.
Though not a truly low profile bladder, the Source Tactical Bladder is compatible with hydration bladder compartments of many backpacks. Incompatibility is seen only with squeezed compartments and shorter hydration packs due to the excessive length of this reservoir.
5. Versatility
Our entire team agreed that the WXP is one of those bladders that can be used for virtually any outdoor activity and in a number of conditions. Its use over the years has been mostly among the military commandos in adversely extreme conditions.
It comes in capacities of 2L and 3L and applicable for long hiking trips, short treks, camping, hunting and even mountaineering. Its hardy nature is something to count on in whatever condition you choose to try it out.
Our only caveat about its capacities is the lack of a smaller 1L bladder. But you can always fill your bladder up to half full if a small amount of water is what you need.
Compare With Similar Hydration Bladders
Conclusion
Our top performer in almost all aspects, the Source Tactical WXP Hydration bladder is simply a masterpiece! Coming in colors that seamlessly blend with nature, this hydration bladder has been carefully curved to suit all kinds of outdoor adventurers. It is versatile, easy to use and clean and in the least reliable. Our only caveat with it is its begging for nerdy techniques while drying.
The other hydration bladders that came close to Source Tactical WXP in terms of performance were the Source Widepac and the Deuter Streamer hydration reservoirs.
You will definitely fall in love with the fact that this bladder is absolutely safe for your health due to its Grunge-Guard technology, the glass-like inner-wall film, and absence of harmful BPA, BPS and phthalate. It is a product we can confidently forge for without second-guessing.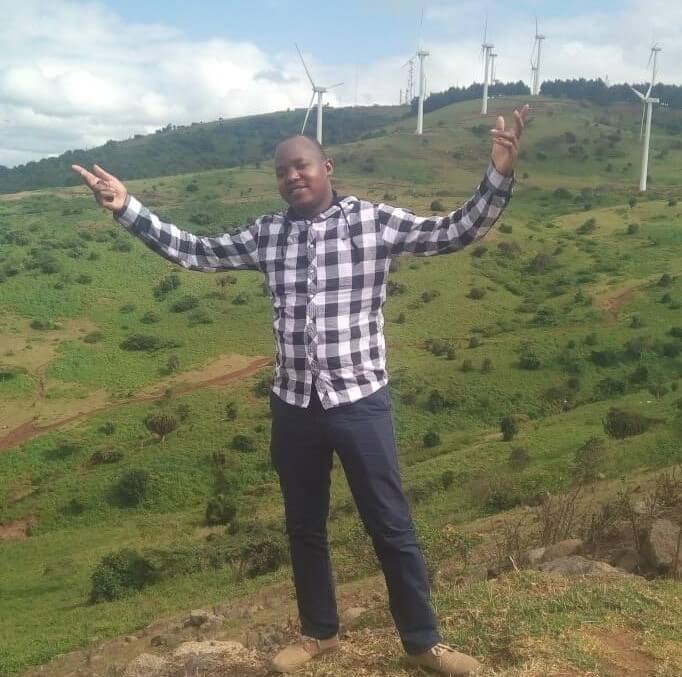 Written By Daniel Msanii
When he's not camping or adventuring the outdoors, you'll find him grinding hard on his keyboard to put up some super-awesome content on campingmaniacs.com. Starting off on camping escapades back in 2011, he has grown fond of the activity over the years. His exposure to a myriad of different camping terrains, gear and the outdoor atmosphere has hitherto changed his perception of the entire outdoor life. He enjoys sharing the experiences of his adventures and gear reviews with the awesome camping community on this platform. Read more about us.