Oregon Coast: A Scenery of Spectacles
Oregon prides itself in a wide variety of just about everything including desert plains, dense old-growth forestry, beautiful landscapes, massive climbing rocks, sea cliffs, snow-capped mountains, dunes, rocky beaches, and so much more.
Most notably, the state is home to the colorful Painted Hills of Wheeler County, the towering Smith Rock of Deschutes County, the deepest lake in the US, Crater Lake, and above all, the number one destination for most outdoor lovers, the Oregon Coast.
The Oregon Coast stretches over 362 miles along the Pacific Ocean from the mouth of the Columbia River to the California border. The coastline is free to access for the public and features plenty of outdoor recreational activities to participate in all its three sub-regions – North Coast, Central Coast, and South Coast.
Alongside sport fishing and cycling, other popular outdoor activities you can try on the Oregon Coast include tent camping, RVing, hiking, and glamping.
Our guide takes you through some of the most scenic camping sites, activities you will enjoy along the coastline as well as giving you an exclusive preparation checklist to make sure you get it right the very first time!
Plan Beforehand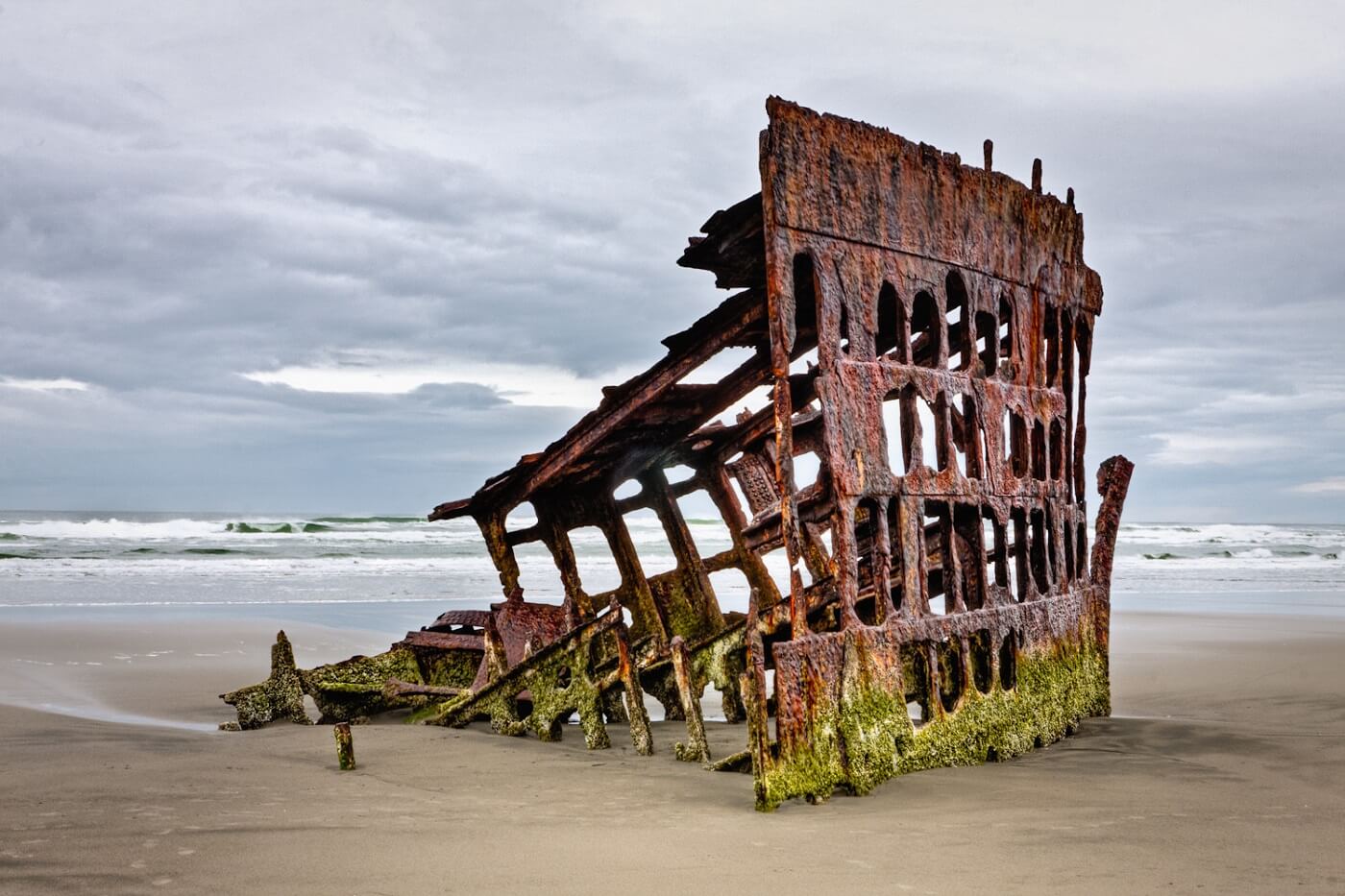 While spontaneity might help make your trip feel more exhilarating, it is always ill-advised to head out to the great outdoors unprepared. You want to be well-versed with weather expectations, available sheltering options, and the general rules and regulations of your dream destination.
Anything from bad weather to limited-capacity campgrounds might easily get in the way of you enjoying this treasured shoreline.
Weather
The North Coast is mostly cloudy or partly cloudy for most of the year with summer days being the sunniest. Temperatures can dip a bit during winter to about single-digit readings but never below zero degrees Celsius.
Heavy downpour is typically expected in November and December, usually preceded by higher temperatures in September. July and August are by far the driest months in the North Coast Region.
On the Central Coast, visitors and residents enjoy slightly more sunny days or partly cloudy skies but the weather patterns are very close to those on the North Coast. The South Coast receives even more sunny or partly cloudy days than the north or central coast regions.
With that in mind, late spring or early fall are typically the best times to visit most of the campgrounds and attractions on the Oregon Coast. The shoulder seasons feature fewer crowds on the shoreline and relatively fair weather for tent camping and exploration.
Brace yourself for the large crowds and extreme valley heat if planning on summer visits to the Oregon Coast. Surprisingly, you might need a jacket or a windbreaker to tackle the windy beach conditions and cool coastal fog expected during this season.
On the other hand, winters along the Oregon Coast are perfect for storm watching. You get a front-row seat to all the action – storms rolling into each other with breaks of soothing warmth and sunshine.
Beachcombers might even get a chance to collect shell fragments, agates, shell fossils, and driftwood among other valuables left by the tides.
Whether you prefer the sun-kissed summer scene or the winter storms, the Oregon Coast will be sure to meet your expectations.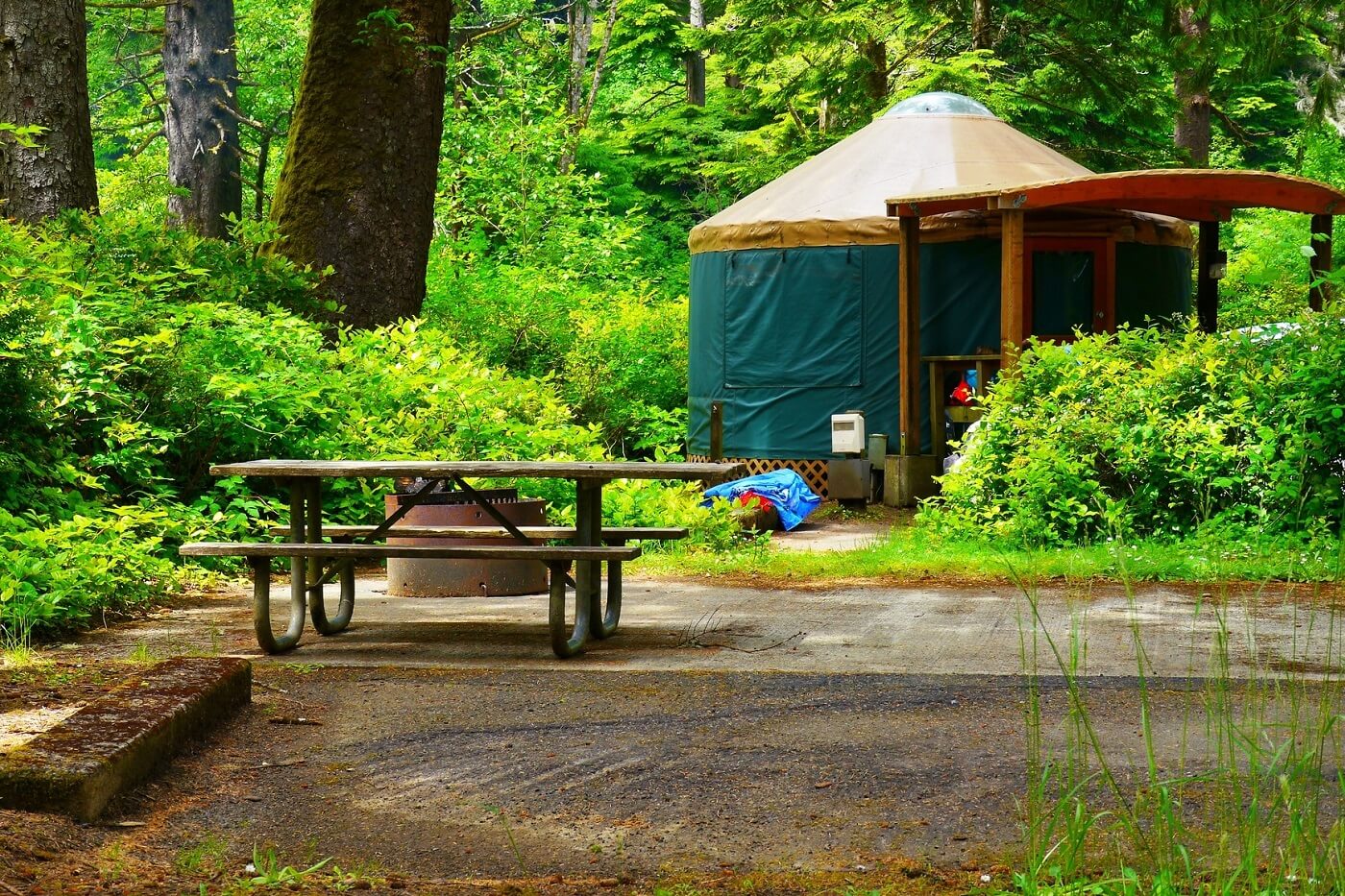 Where to Stay
Choosing where to spend the night or day will depend on a couple of factors including your tastes and preferences, how close the camp is to sites of attraction, and proximity to resupply points. Most campgrounds on Oregon Coast are near small towns so you can enjoy nature while still having quick access to amenities and supplies.
Oregon Coast provides a wide variety of accommodation facilities to suit most people's needs. There are beachside resorts, glamping yurts and cabins, and campgrounds with hookups among other options.
For campsite stays, you will most likely encounter two main types; those with hookups and those without. Campgrounds without hookups are best suited for emergency stays and dispersed tent camping where many amenities might not be the priority.
Other campgrounds may include hookup options such as water, electricity, sewer, cable television, phone, and internet services. The more the hookup options the more appealing the campground might be to RV campers.
Further, these campsites range from group sites, hiking & biking camps, horse camps, to even fly-in camps. So, whether you prefer the luxurious end of the spectrum characterized by airplane camping or the simplistic end marked by bike camping, to anything in-between, your preferences are catered for.
For instance, if you prefer the homey comfort provided by glamping, some of the available options you can try to include rentable cabins, yurts, and tepees. You may even consider spending the night in the many hotels and motels in the region for better comfort and convenience.
Oregon Coast has hundreds of campgrounds throughout its state parks. Some of them operate by the first come first served policy while others must be reserved. Keep in mind that teepees, cabins, and yurts are usually booked up to eight months before most summer weekends.
Fees and permits might be required to access some state parks and campgrounds but a good majority are free to access.
Ideally, you want to prepare your trip itinerary beforehand to help you plan out your stays and reservations. Feel free to research and call ahead to enquire about the various sheltering options and their availability.
Oregon Coast's official website is a good place to start looking for a place to stay. For federal recreational areas, booking can be done through Recreation.gov.
Expect Surprises, But Keep the Rules
Getting to your destination might be affected by seasonal challenges such as bad weather or off-peak-season-related inconveniences. An updated and detailed state map, a Bureau of Land Management (BLM) map, or any related forest service map will come in handy when making your way through the shoreline, so make sure you remember to pack appropriately.
Backcountry roads are rarely maintained so be sure to carry a car repair kit in case of any mishaps.
Your emergency vehicle gear should include a car jack, a spare tire, a tire pump, tire chains, jumper cables, and a fully topped-off fuel tank. These precautions will help you overcome most of what the rainy and winter weather will throw at you.
Remember, off-peak seasons often mean less staff and operations at the various campgrounds and destinations. Therefore, you may be required to fend for yourself and bring along toiletries and other comforts and essentials if you plan to camp during such seasons.
Winter might be characterized by many closed-off locations, fewer sheltering options, reduced services, and potentially a dry-camping-only experience. So, again, make the right calls and pack weather-specific essentials to prevent incurring avoidable costs and getting stranded outdoors.
In the spirit of recreating responsibly, it is prudent that you familiarize yourself with the campground rules and regulations beforehand. Double-check on key issues such as campfire restrictions, group size restrictions, noise regulations, border closures, and pets on the beach.
Some campgrounds might only accommodate certain lengths of RVs while others might have very strict stay limits. It will be prudent to familiarize yourself with this information before heading out.
Like many outdoor activities, a trip to and within the Oregon Coast should be in adherence to the seven principles of Leave No Trace. Zero-impact camping is a sacrifice we all must take to better preserve the great outdoors for future use and generations.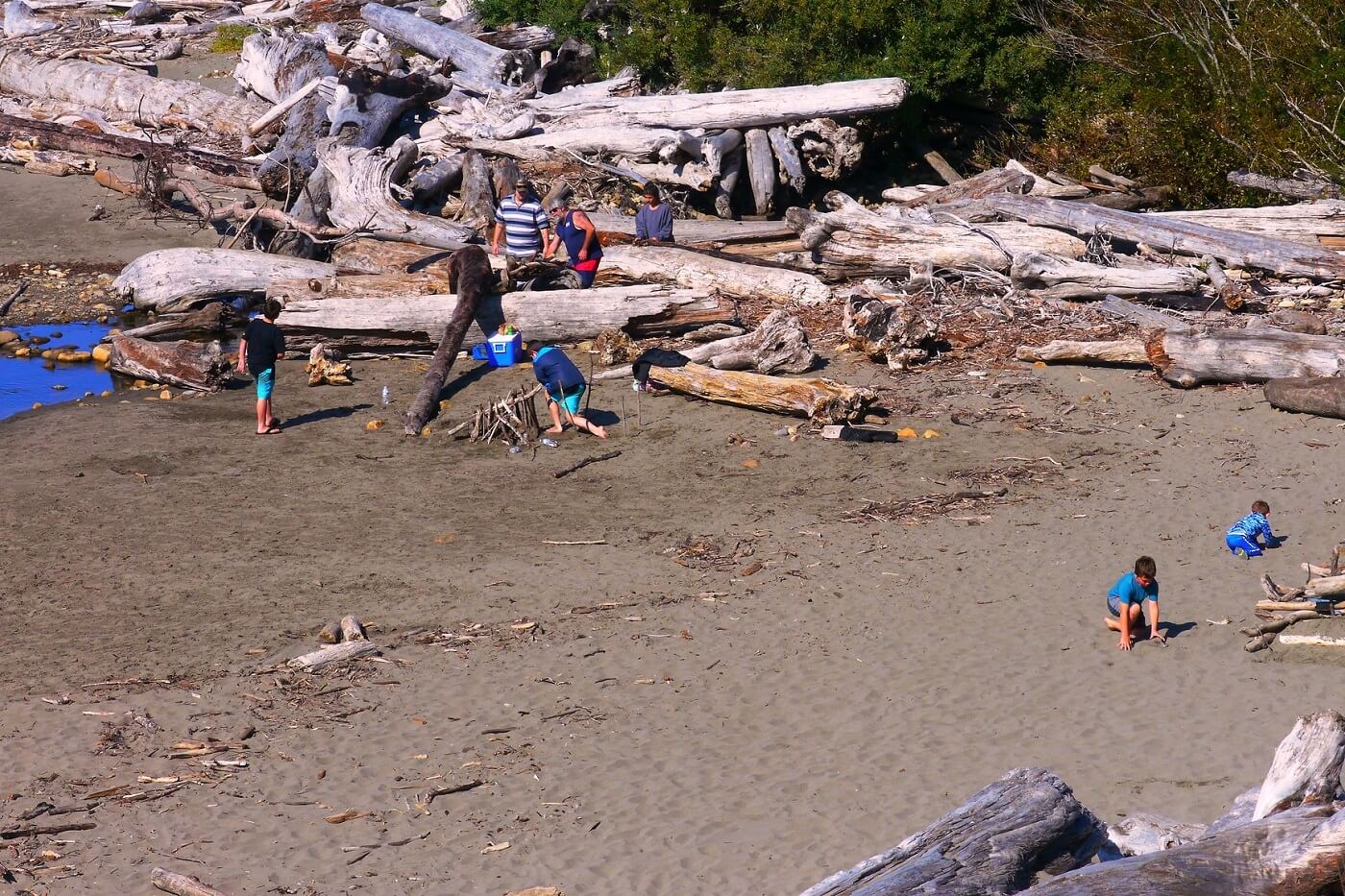 What to Bring
To avoid packing too much or too little for your Oregon-bound adventure, always go with the Ten Essentials as prescribed by veteran hikers and Scouting organizations. These essentials include the following:
shelter: camping tent, sleeping bag, and sleeping pad;
kitchen: fire starter kit, stove, fuel, cookware set, and a knife;
food and water;
weather-appropriate clothing;
trail guides, maps, and compass among other navigation tools;
headlamp with extra batteries;
sun protection: sunscreen, sunglasses, and a wide-brimmed hat;
first aid kit and bug repellent;
toiletries and other personal items.
A camping tent and rainfly combo will come in handy for keeping out water during rainy nights. Rain jackets or ponchos must be packed in anticipation of rainy weather along the Oregon Coast. In addition, you don't want to leave home without several sets of warm clothing to help you deal with the sudden temperature dips.
A good pair of hiking boots or trail runners matched with a comfortable pair of moisture-wicking socks will ensure your feet stay comfy as you enjoy your walks along the beach. Aside from the usual camping essentials, you will want to pack items that align with your camping style and the activities you plan to participate in.
Whale watchers and storm watchers might consider packing some binoculars. Beachcombers might need sand sifters, rakes, or even metal detectors to help them find some loot on the sandy beaches of Oregon.
If you're embarking on an RVing or Glamping trip, then you won't be too constrained for space and weight as backpackers would. So, feel free to carry all manner of creature comforts and entertainment tools you might need to better enjoy your time outdoors.
Finally, other measures you should take to improve your experience on the coast include mundane tasks such as applying for travel insurance, booking accommodations and finalizing your itinerary.
The Best Destinations on the Oregon Coast
Below are some of the most captivating destinations on the Oregon Coast. We've classified them into their originating sub-regions and do hope you will find them as much fun as we did. Whatever your style of camping or means of transport, there's most definitely a spot for you in any of the attractions and campgrounds below.
Northern Oregon Coast
Fort Stevens State Park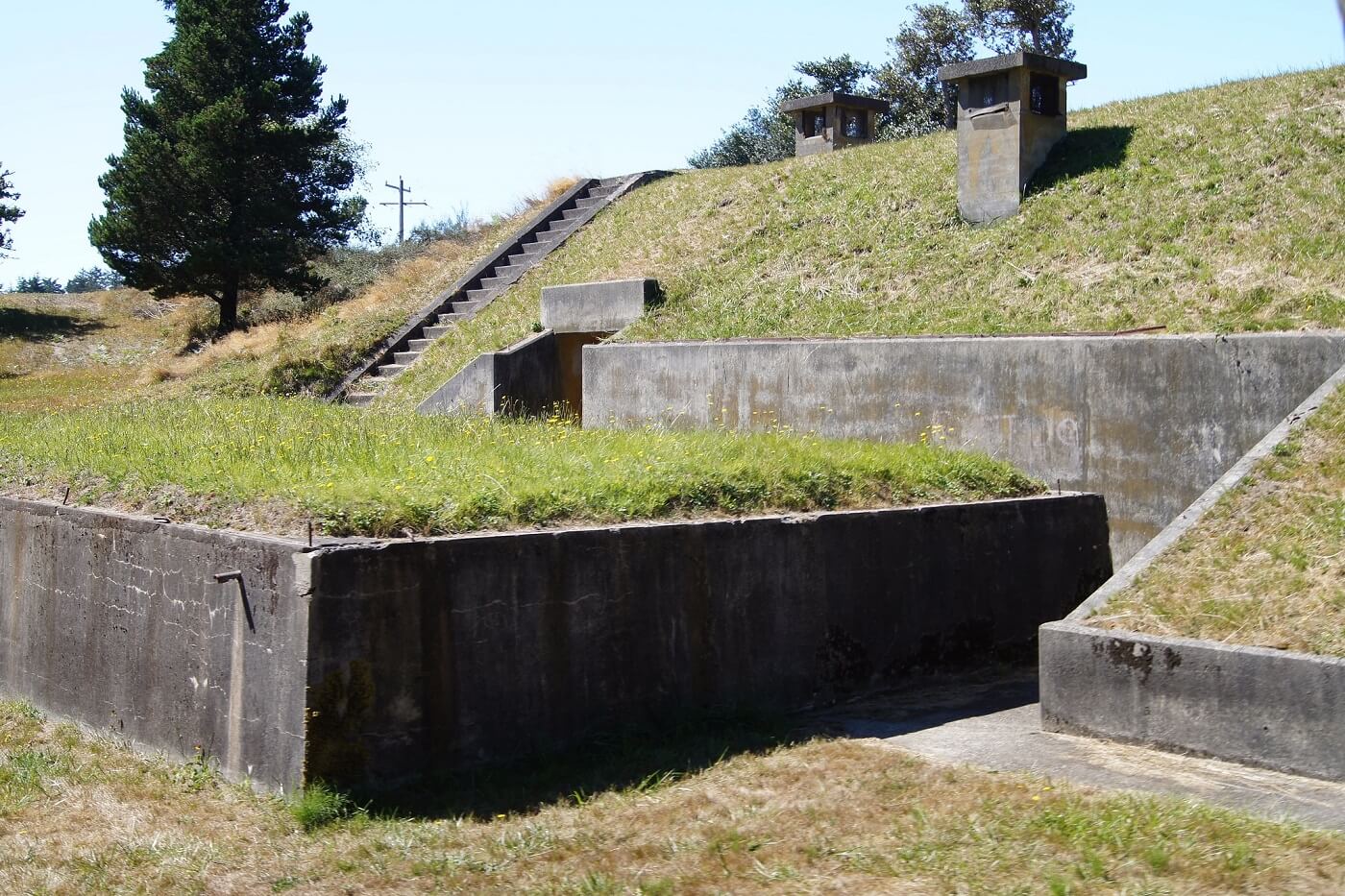 With more than 500 campsites, Fort Stevens State Park has one of the largest campgrounds in the nation.
Back in the 1800s, the area was a military installation and was used to guard the mouth of the Columbia River. As such, the Park features an onsite Military Museum, batteries, retired barracks, bunkers, and even the famous shipwreck of the Peter Iredale vessel. Fort Stevens State Park will be perfect for history buffs and pirate-loving outdoors people.
Other popular pastimes in the park include walking on the beach or at the Columbia River mouth, fishing in the Coffenbury Lake, cycling, and watching migrating bald eagles. Besides its partial hookup campsites, the Park has several glamping shelters including cabins and yurts.
Nehalem Bay State Park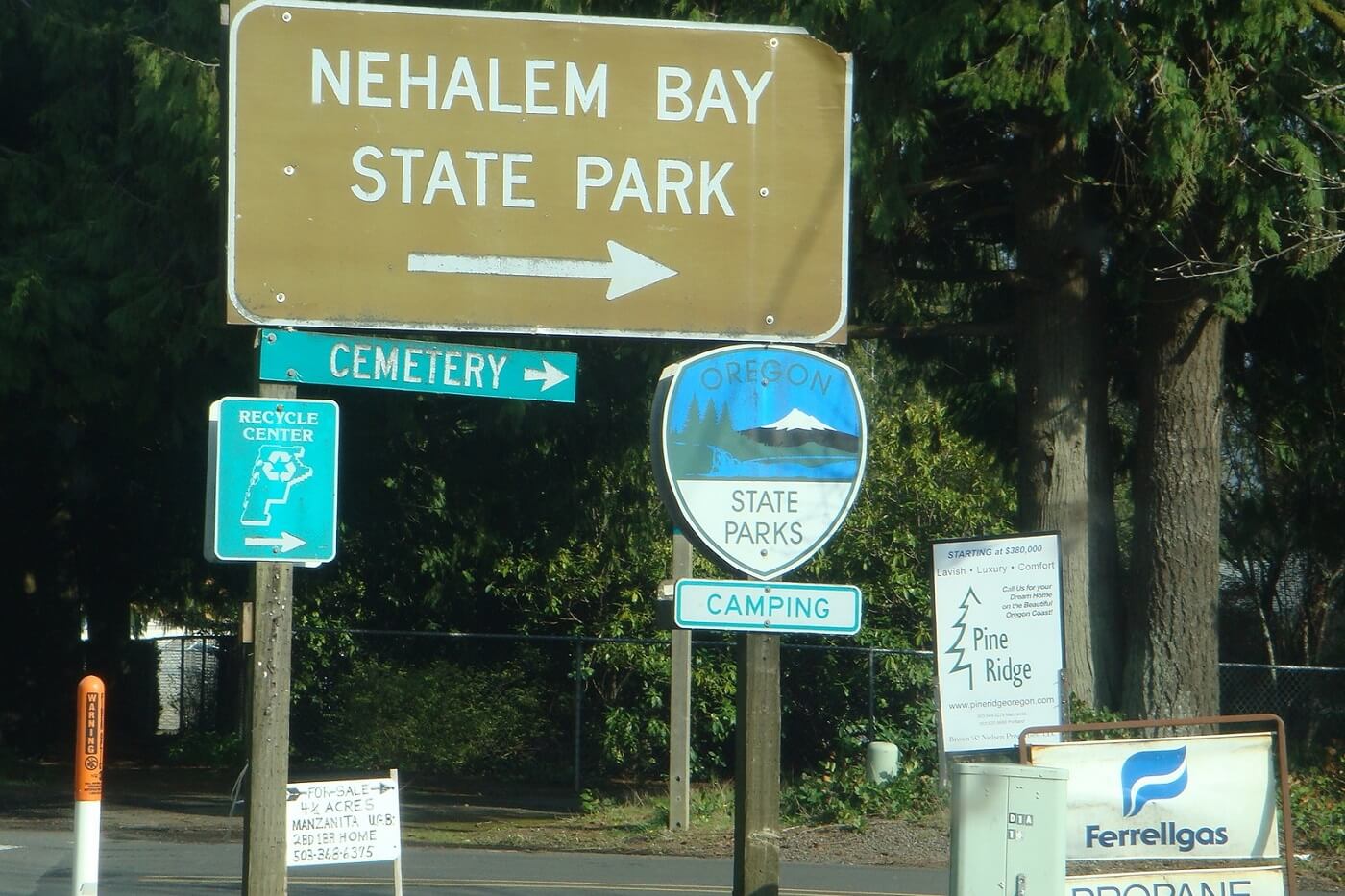 Located near Manzanita town, the Nehalem Bay State Park provides year-round camping opportunities and prides itself in over 300 sheltering options. The Park features an expansive beach and stunning bay making it a popular spot for most campers.
Nehalem Bay State Park is the ideal place to go if you are looking forward to beach walks.
Be sure to try its two easy-to-moderate sandy trails, the Nehalem Spit Trail and Nehalem Bay Trail. Other than the casual hikes, you can try the area's many offerings including horseback riding, crabbing, fishing, wildlife spotting, kayaking, or bike trailing.
In addition, beachcombing for shells and agates is a popular activity in this beachside park. However, be prepared for the large crowds if you prefer summer camping.
Cape Lookout State Park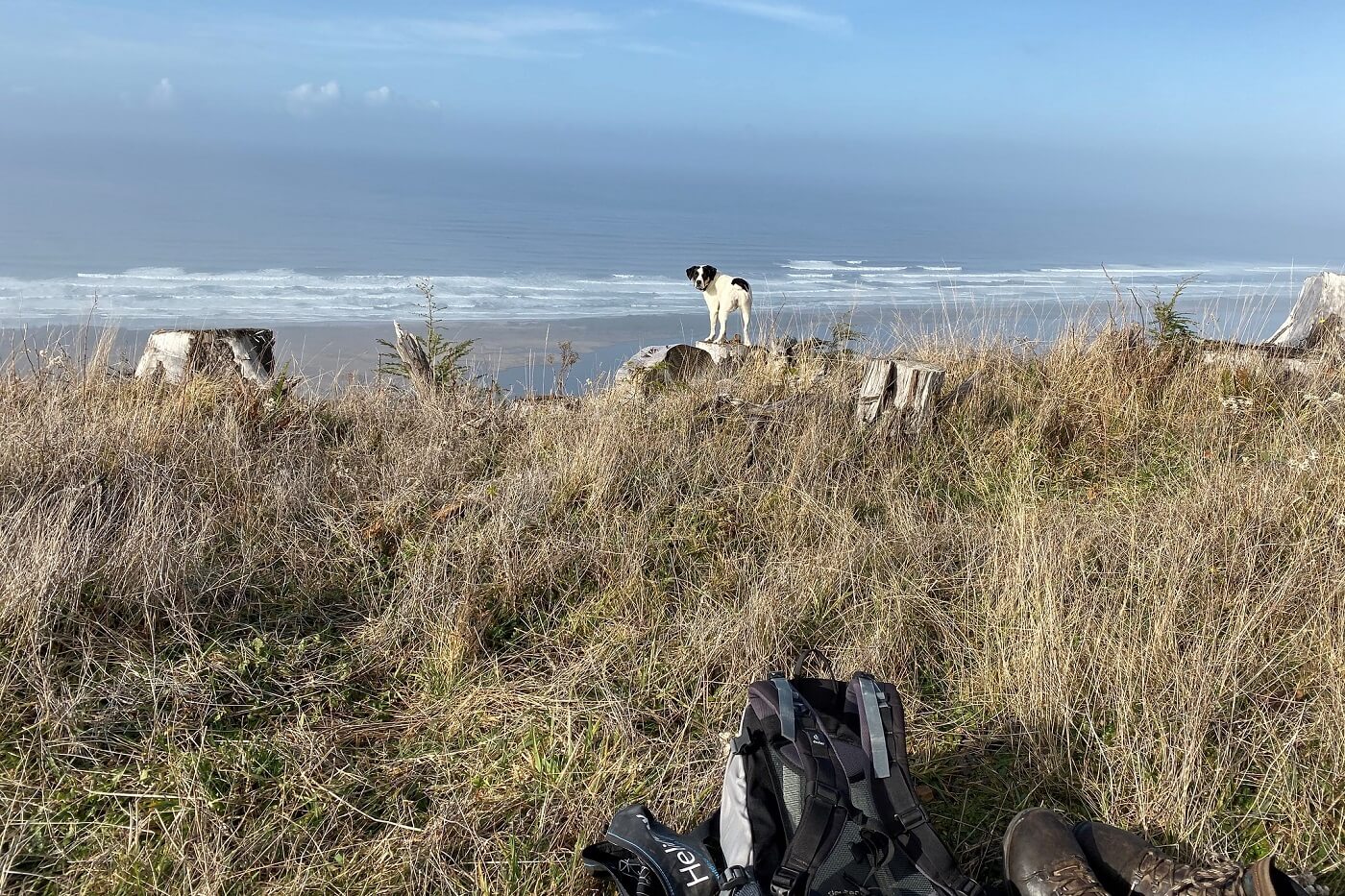 This cape is located on a sandpit between the Pacific Ocean and Netarts Bay in Tillamook County. The Cape Lookout State Park is a popular destination for beachcombers, hikers, sightseers, and anyone looking for a good mix of recreation and nature.
It is tucked away from the highway and thus more attractive to tent campers than RV campers. You get to enjoy unobstructed views of the sandy shorelines, trails through old-growth forests, and casual beach walks along the ocean.
If you are planning on doing the Three Capes Scenic Drive, Cape Lookout State Park is part of the adventure. The route will spoil you with impromptu entertainment by paragliders and hand gliders, hidden beaches, old-growth forests, scenic offshore rocks, historic lighthouses, and cliffs.
The picturesque scenes will delight many photographers and outdoor lovers.
Tillamook State Forest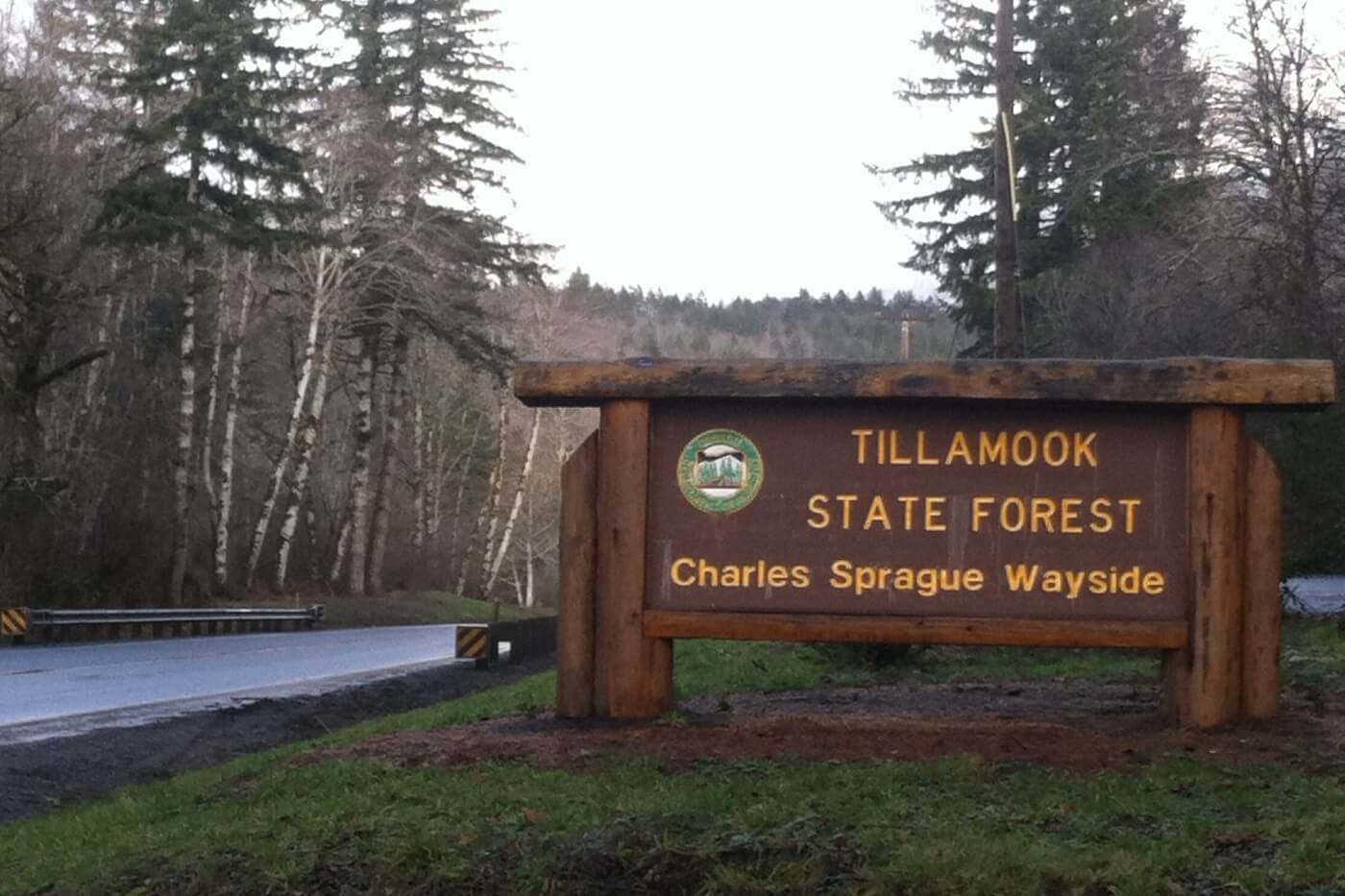 Perhaps the most successful case of reforestation yet, today's Tillamook State Forest has plenty to offer in its expansive 364,000-acre wonderland. You get to enjoy a plethora of activities such as wildlife viewing, hiking, hunting, fishing, tent camping, horseback riding, swimming, picnicking and so much more.
The location is home to the most comprehensive spectacle about the 1933's series of forest fires, the Tillamook Burn. The showcase is complete with a tall fire tower, a long suspension bridge, ground designs, and a few remaining buildings.
If you're into boating or fishing, Tillamook State Forest has several lakes and rivers where you can try your luck catching the available fish species.
In terms of shelters, the Forest has a wide variety of campsites including developed fee-site campgrounds, day-use areas, designated campsites, and even off-highway vehicle staging & camping areas.
Hares Canyon Horse Camp, L.L. Stub Stewart State Park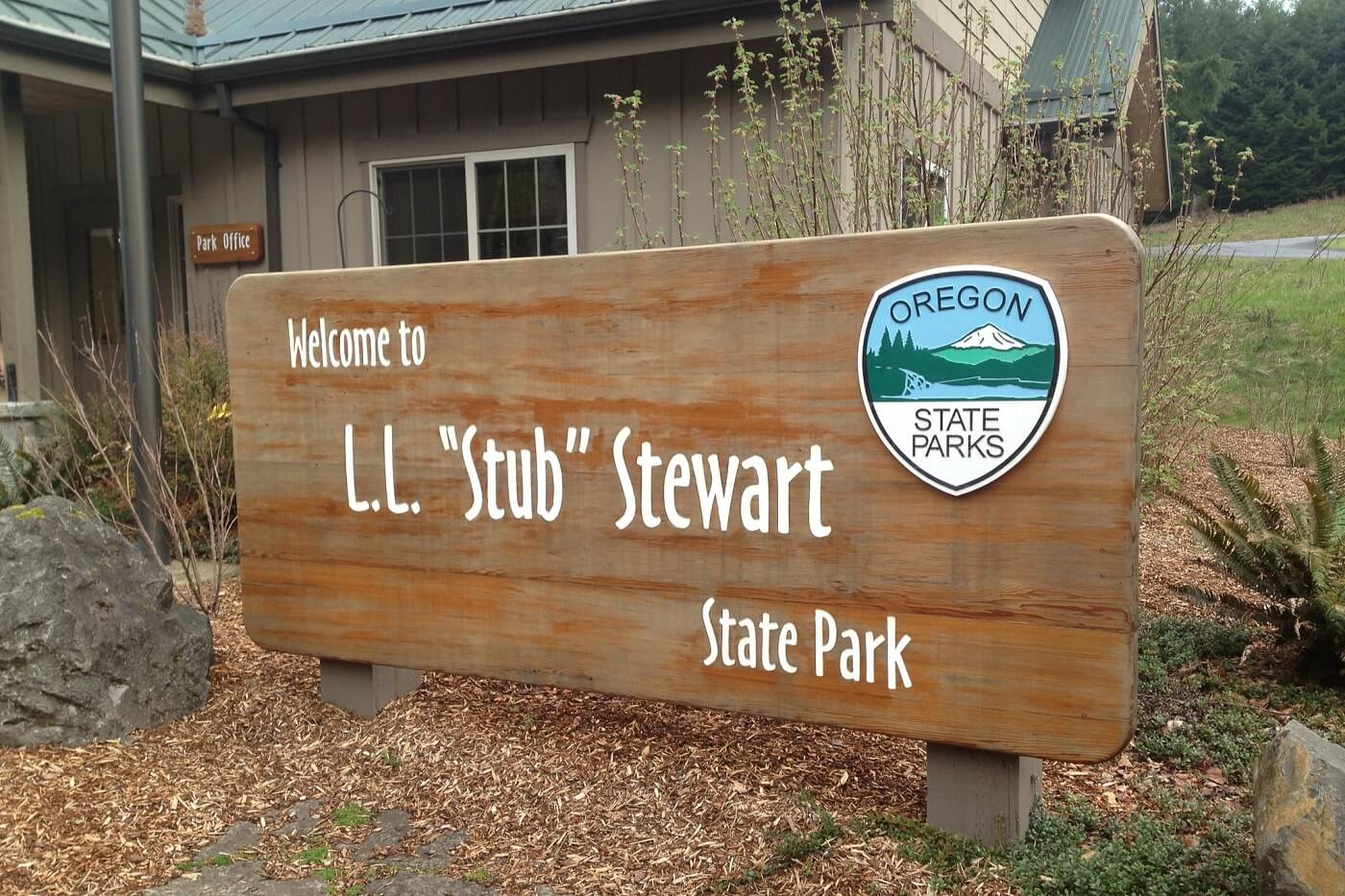 Offering full RV hookups and unmatched horse camping experience, Hares Canyon Horse Camp is the premier destination for horse owners. The site is chock-full of amenities both for you and your equine friend.
For horses, the campsites have four- to six-stall corrals and manure bins to allow for a clean and comfortable stay. The surrounding equestrian trails are partly paved and comfortable to allow stress-free horseback riding.
However, it is a small campsite that gets booked up fast so you may want to reserve your spot ASAP. That said, the camp is just a small unique dot of the larger L.L. Stub Stewart State Park which boasts well-maintained trails, graveled campsites, and year-round availability.
Central Oregon Coast
Devil's Lake State Recreation Area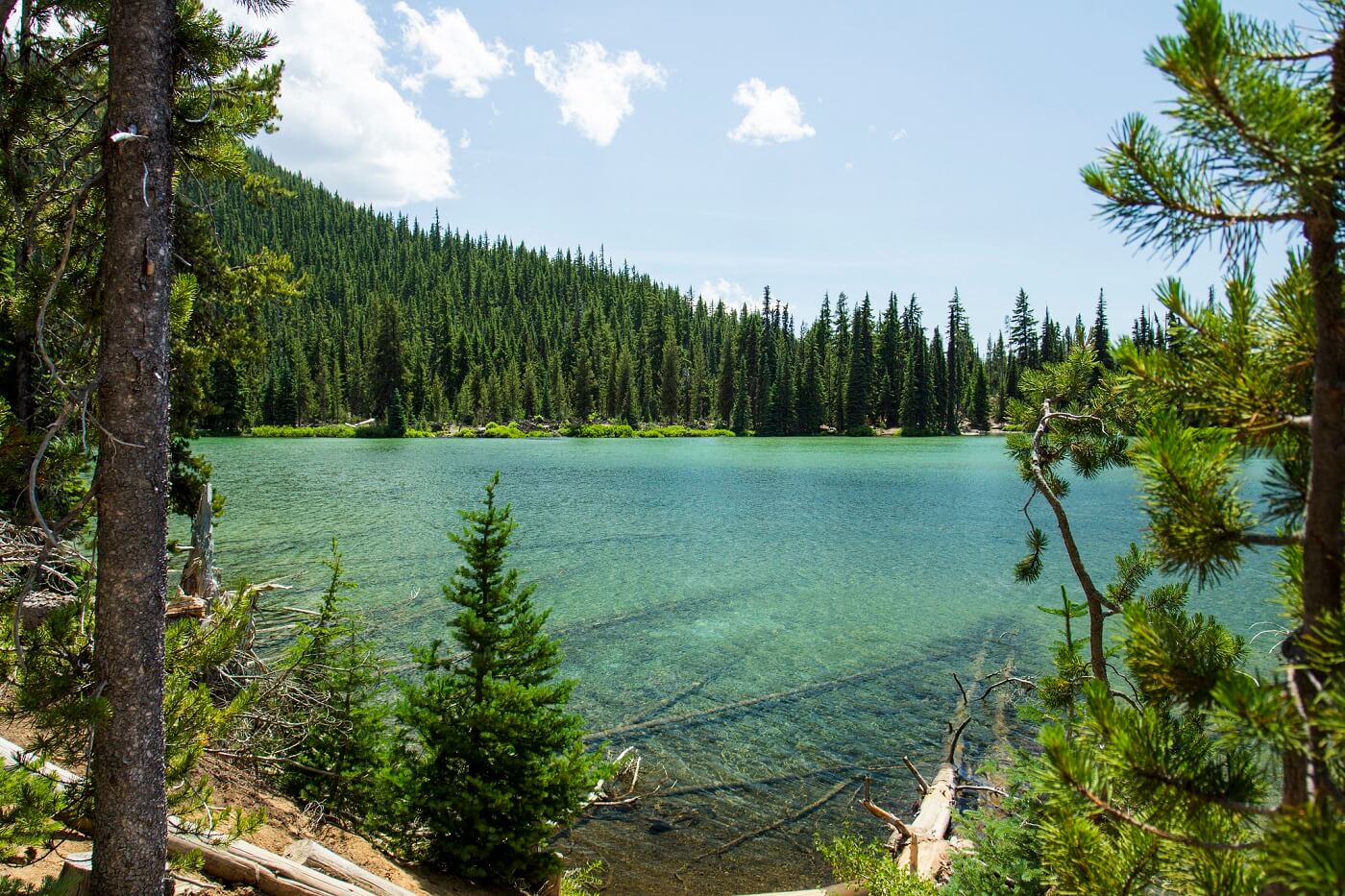 Also known as Devil's Lake State Park, the park is in Lincoln City and comprises two sections on the opposite sides of Devil's Lake. The east shore park is for day use while the west shore side includes overnight campgrounds.
The Devil's Lake Park is the only campground on Oregon Coast to be located within a city and is perfect for campers looking for urban camping feel without having to forgo nature. The campground has very close proximity to Lincoln City's beaches, restaurants, and shopping centers.
It features full-hookup sites, plenty of tent sites, and yurts to suit most people's needs. Despite what the name might suggest, Devils Lake State Park is a laid-back destination with many types of activities. Its 3-mile-long lake is the go-to place for personal watercraft rides, water skiing, kayaking, boating, and swimming.
Umpqua Lighthouse State Park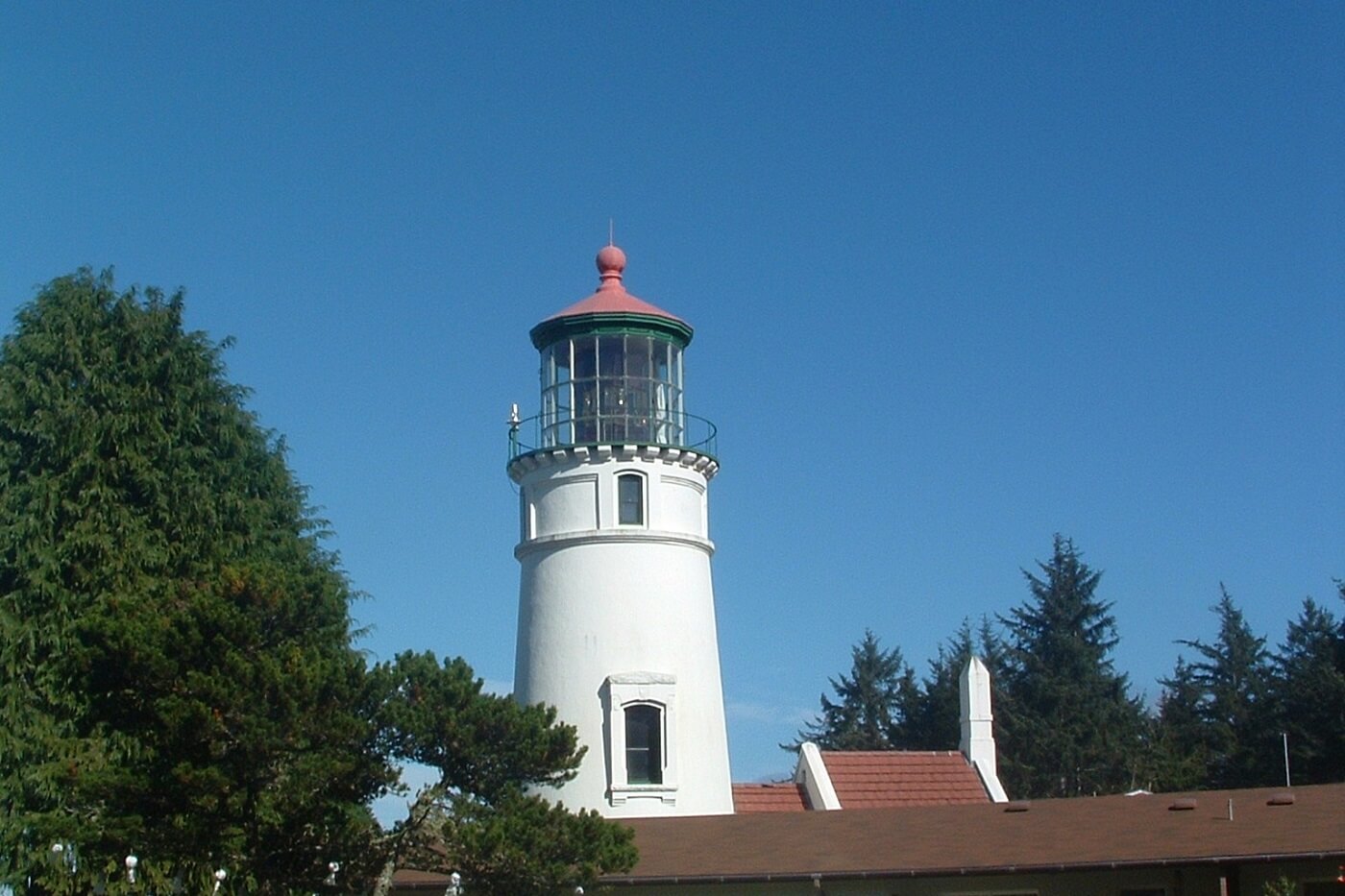 A little more modest in size, the Umpqua Lighthouse State Park surrounds Lake Marie and is just a short drive to the Oregon Dunes National Recreation Area and beach. Some activities in the park include boating, fishing in the freshwater lake, wildlife watching, off-roading, and swimming.
Furthermore, tourists can visit the Umpqua Valley Museum or the more popular Umpqua River Lighthouse. The campground still manages to pack about forty tent and RV sites, two lake view log cabins, and about eight yurts.
Crowds are fewer in October due to the cooler temperatures and light rain, unlike around Memorial Day and Labor Day when the weather is warmer with minimal chances of rain.
South Beach State Park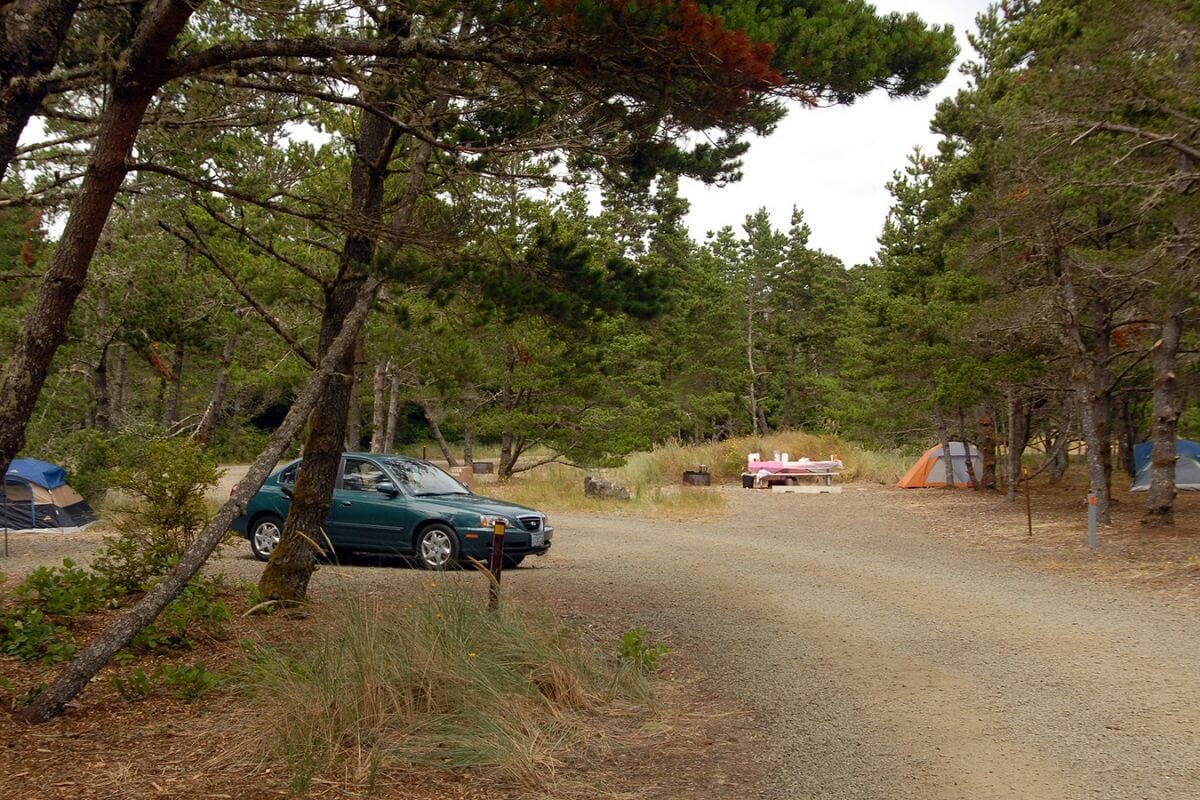 Just a few miles south of Newport, the South Beach State Park features a lengthy sandy beach and numerous biking and hiking trails. You can fish off the jetty, beachcomb the shoreline, try crabbing in Yaquina Bay, kayak at the nearby Beaver Creek State Natural Area, and enjoy the wide variety of campsites in the park.
The paved Jetty Trail is among the most popular spots for joggers, hikers, and bikers alike.
The Park even has an equestrian trail that begins at the South Jetty trailhead for your equine friend to pace along. The included playground area, nine-hole disc golf course, and horseshoe pits, which are just a stone's throw away from the campground area, make for a good family pastime.
South Beach State Park has over 200 full-hookup sites for tent and RV campers as well as a whopping 27 yurts for glamping. That said, the park can be a little crowded during summer seasons and spots get scooped up fast.
Carl G. Washburne Memorial State Park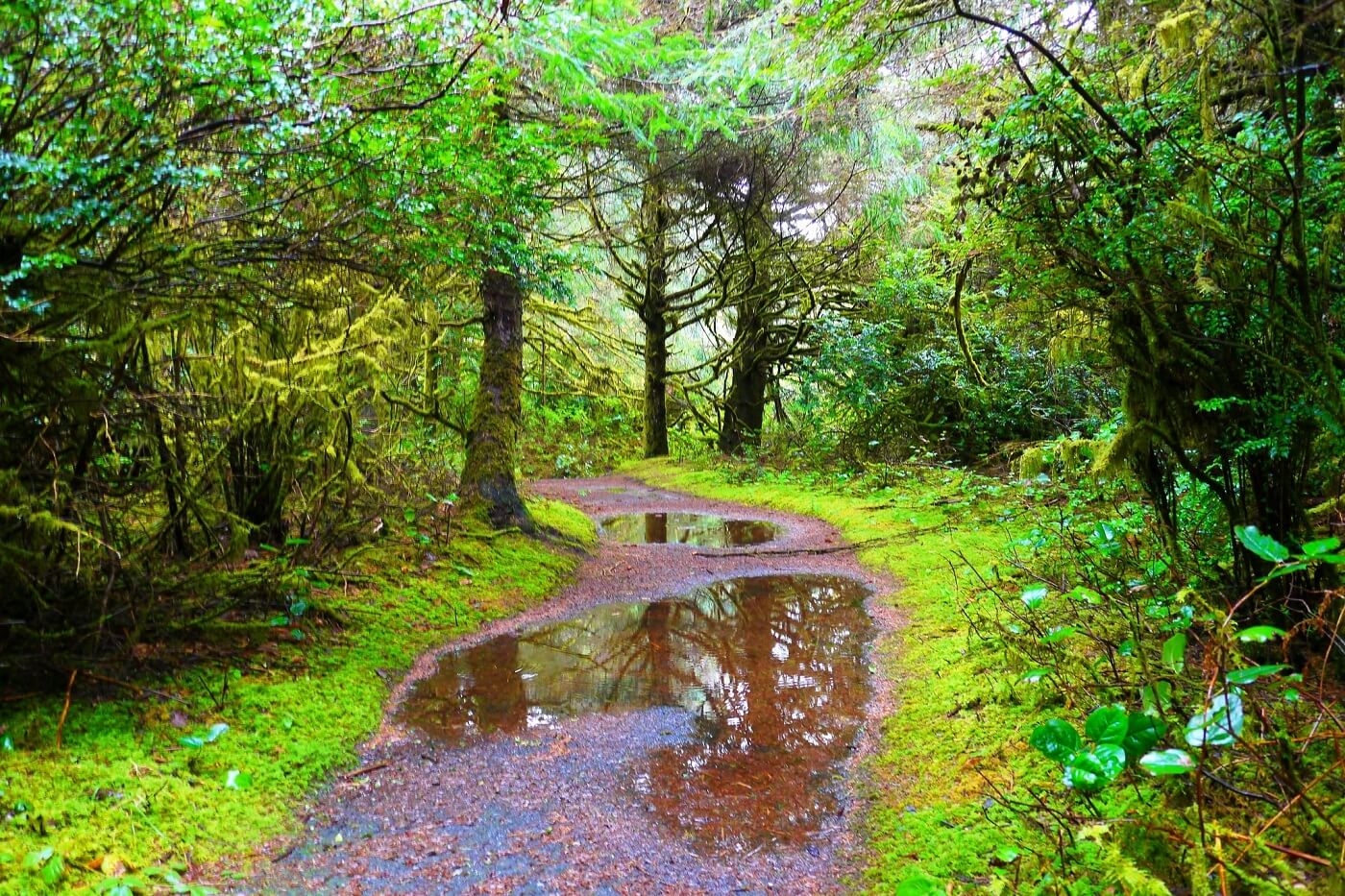 Managed by the Oregon Parks and Recreation Department, this state park is located about 14 miles north of Florence.
With its lush coastal forest and few miles of sandy beach, the park offers a good mix of wildlife viewing, hiking, and beach activities. Most of its hiking trails lead from the campground to the beach and vary in difficulty levels.
Hiking the Devil's Elbow, Heceta Head Lighthouse, and Hobbit Trail hiking trails makes for a rewarding outdoor experience.
Some of the beach activities include discovering tide pools, agate hunting, picnicking, biking, whale watching, swimming, and wildlife viewing. Carl G. Washburne Memorial State Park has over fifty hookup campsites, seven walk-in tent campsites, and just two yurts to meet your accommodation requirements.
The only minor inconvenience here is that the park has no drive-in tent campsites. Additionally, wintertime in the park brings with it temperature lows of up to 40 degrees Fahrenheit and lots of rain.
Beverly Beach State Park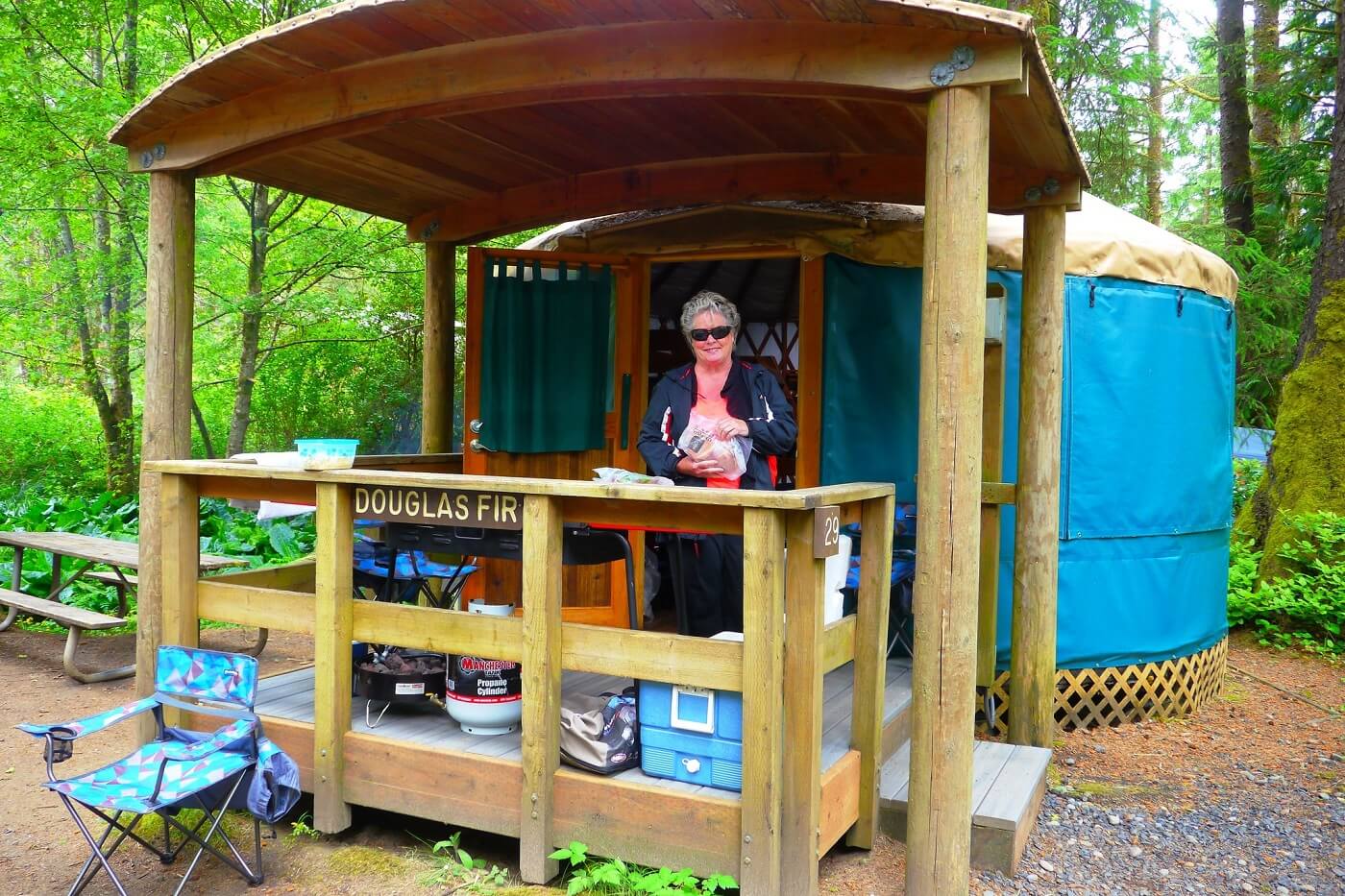 Situated just five miles north of Newport, Beverly Beach State Park is primarily an RV camping area with plenty of amenities, activities, and hookups.
The park's 135-acres of land sits between the Cape Foulweather to the north and Yaquina Head Outstanding Natural Area to the south. The popular and pebbly Spencer Creek threads through the park, under Highway 101, and spills into the Pacific Ocean.
Beverly Beach State Park has access to nearly five miles of open, serene, and sandy beaches where you can enjoy pristine gray whale watching viewpoints, tidepools rich with sea life, kite flying pastimes, and surfing among other beach enticements.
Sandcastle building and fossil hunting are similarly very popular in the area.
The campground area is forest-sheltered with giant trees surrounding the campsites. Visitors can settle down for the night in either the 200+ hookup and basic sites or 21 yurts. Finally, if you need to resupply or just a change of scenery, the Yaquina Head, Oregon Coast Aquarium, City of Newport, and other prime locations are short drives from the park.
Jessie M. Honeyman Memorial State Park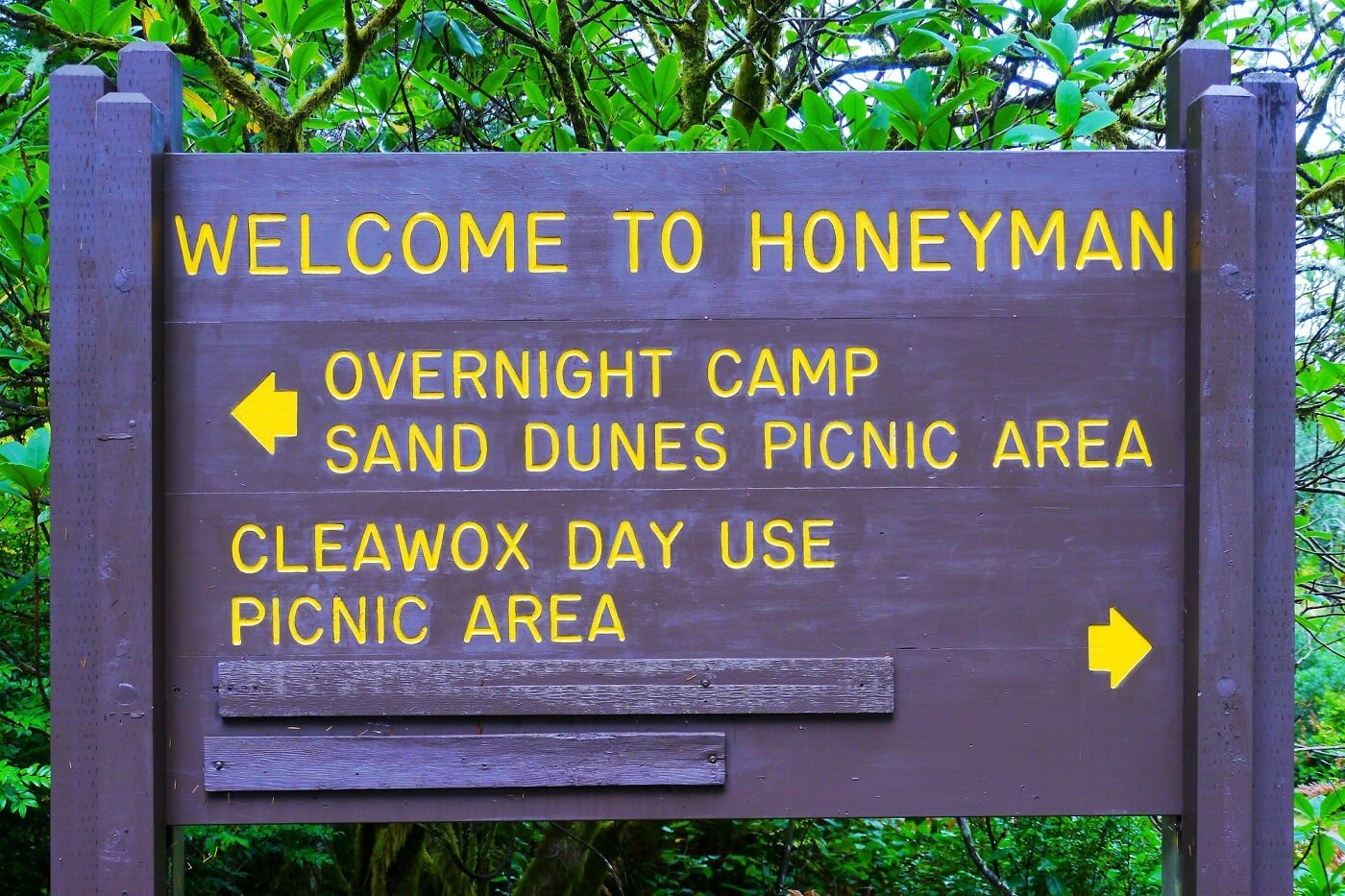 More commonly known as Honeyman State Park, the park is located three miles south of Florence and is within a two-hour hike from the ocean. With over 350 campsites, the park is the second largest state park campground in Oregon.
It is home to lengthy miles of dunes, hiking trails, and two stocked freshwater lakes. Cleawox Lake is perfect for swimming while Woahink Lake has a boat ramp making it more suitable for boating, kayaking, and canoeing. Whether you visit Honeyman State Park during spring or summer, it will have plenty for you to enjoy and marvel at.
In spring, pink rhododendrons provide breathtaking scenery while the fall season means the available blackberries and huckleberries are ripe for foraging. Summertime attracts families in droves ready to enjoy the pleasant weather together.
Additionally, the H Loop may be flocked with off-road vehicle users having fun on the dramatic dunes.
Southern Oregon Coast
Sunset Bay State Park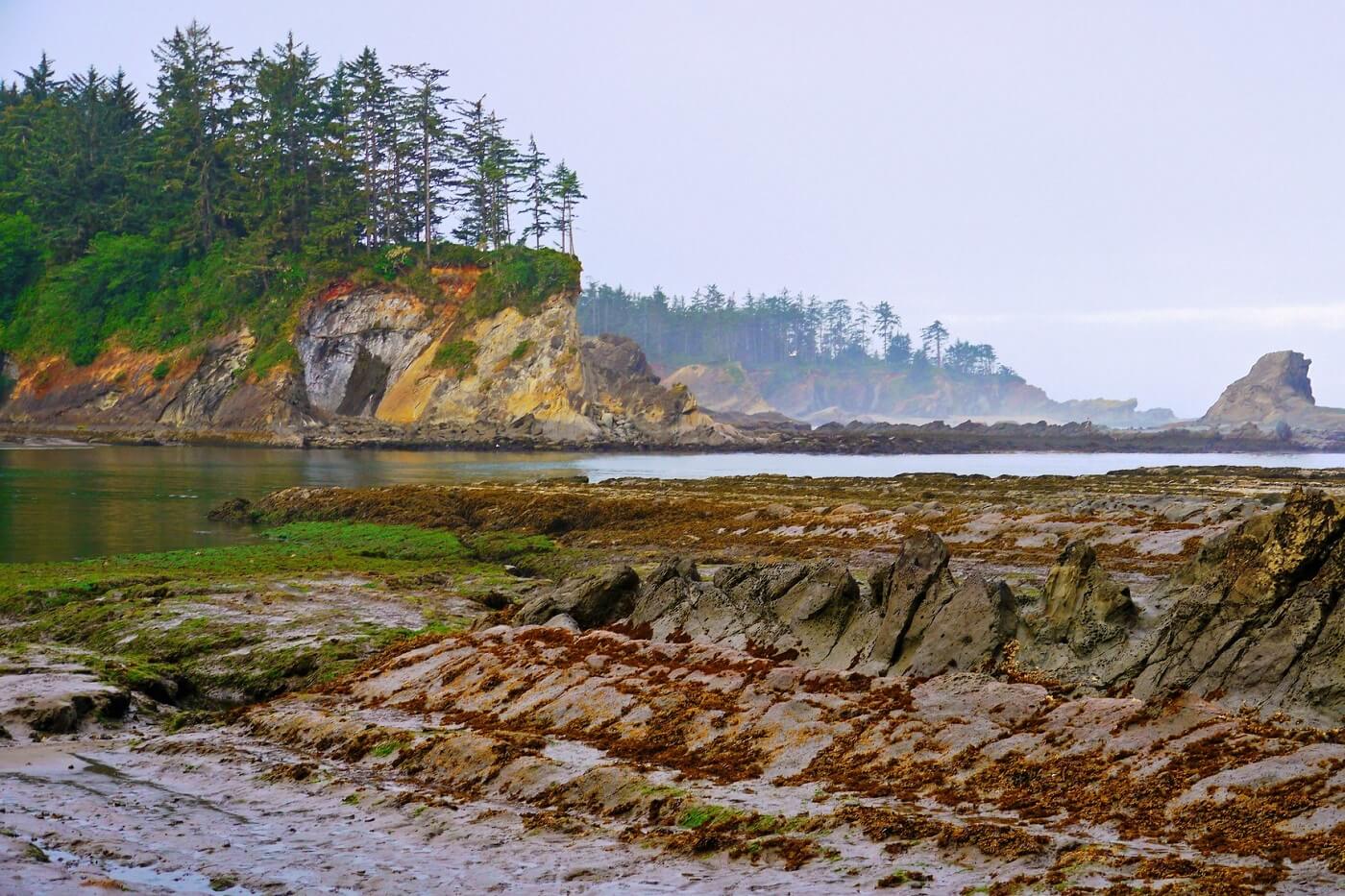 Featuring sandy beaches towered by tall sea cliffs, Sunset Bay State Park is one of the most picturesque areas on the entire Oregon Coast. The Park is connected to the nearby Cape Arago and Shore Acres State Parks by a large network of hiking trails weaving through its center.
The trails lead to pristine coastal forests, sandy beach fronts, stunning seasonal wildflowers, and incredible viewing points such as the Cape Arago Lighthouse and the Gregory Point. Atop the tall sandstone cliffs and headlands, you'll experience unmatched ocean vistas.
Nearby attractions include a public golf course and a fishing village called Charleston where visitors can try out fishing, clamming, and crabbing. The park's day-use areas are filled with a little bit of nature and "civilization" including playing courts, grassy and shaded picnicking areas, reservation-only group spaces, and horseshoe pits.
With the cover of its flourishing greenery of maples, spruces, shrubbery, firs, ferns, and other foliage, campsites in Sunset Bay State Park feel a bit more private than other car camping destinations.
Cape Blanco State Park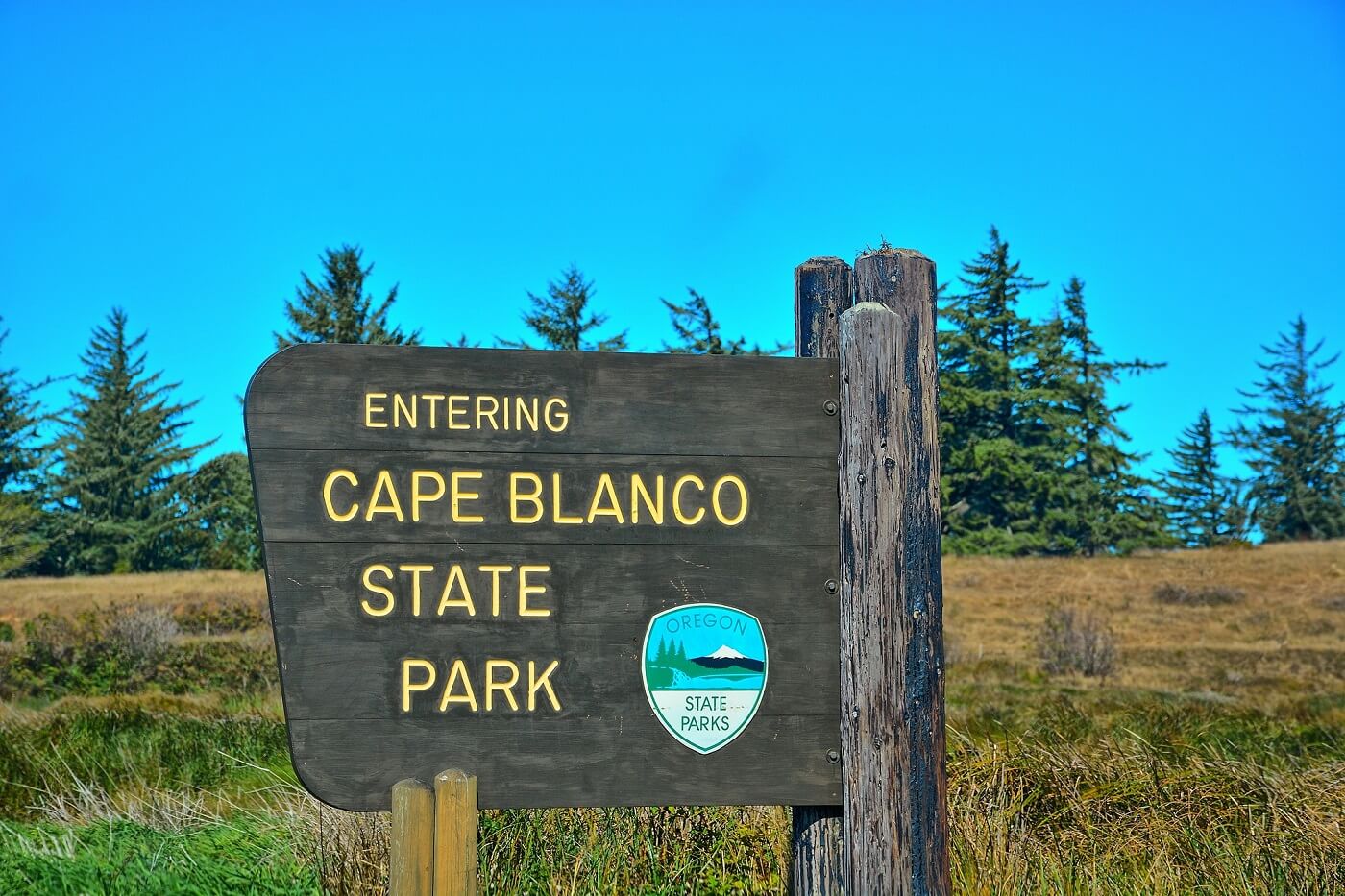 A 19th-century lighthouse, Cape Blanco Lighthouse, and an old Irish immigrant's home, Hughes House, are perhaps the biggest highlights of Cape Blanco State Park. This remote state park is located at the most western point of Oregon, about nine miles north of Port Orford and between Gold Beach and Bandon Beach.
Cape Blanco State Park features incredible hiking trails with amazing views and worthwhile endpoints. For instance, the Pacific View Trail provides great coastal views, the Mouth of Sixes River Trail leads to the relaxing Sixes Beach, and the Hughes House Trail works up to the historic Victorian house.
Other than the trails, the park has over 50 electrical campsites and even a horse camp to make your experience more meaningful. Port Orford town is just nearby for quick resupplies and visits while Humbug Mountain offers more challenging hikes and greater viewpoints.
Harris Beach State Park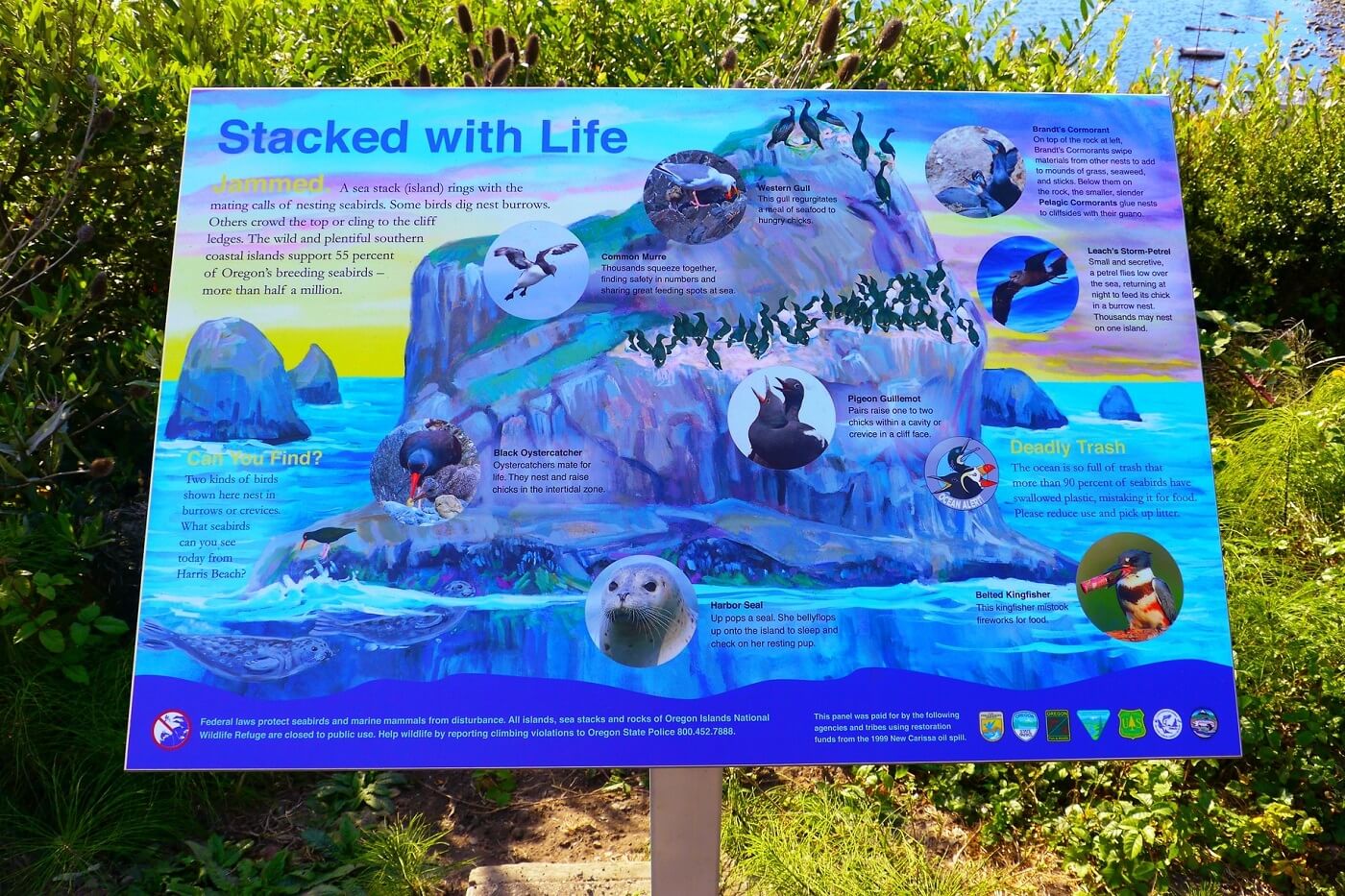 If you prefer wildlife watching and a bit of hiking, then Harris Beach State Park is the place to be. Located in Brookings, Curry County, the park is popular for its wildlife and bird watching opportunities. Tufted puffins and other rare birds get taken care of on the nearby Bird Island and you are most likely to see wildlife such as California sea lions, harbor seals, and gray whales.
Further, the park features panoramic coastal views, quiet rocky beaches, tide pools swarming with sea life, and over 100 campsites. Some of its scenic footpaths include the Harris Beach Trail where you get to take in sights of offshore rocky outcroppings and beautiful views of Harris Beach.
The trails are short and interconnected so you can easily cover them in a short time.
Nearby attractions to the park include the Pistol River State Scenic Viewpoint where you can admire dunes, windsurf in the ocean, or birdwatch. Gold Beach offers worthwhile hikes, jet boat tours, and plenty of beachside activities.
Lastly, the picturesque Samuel H. Boardman Scenic Corridor has plenty of trailheads, great viewpoints, secluded beaches, and beautiful rock formations.
Alfred A. Loeb State Park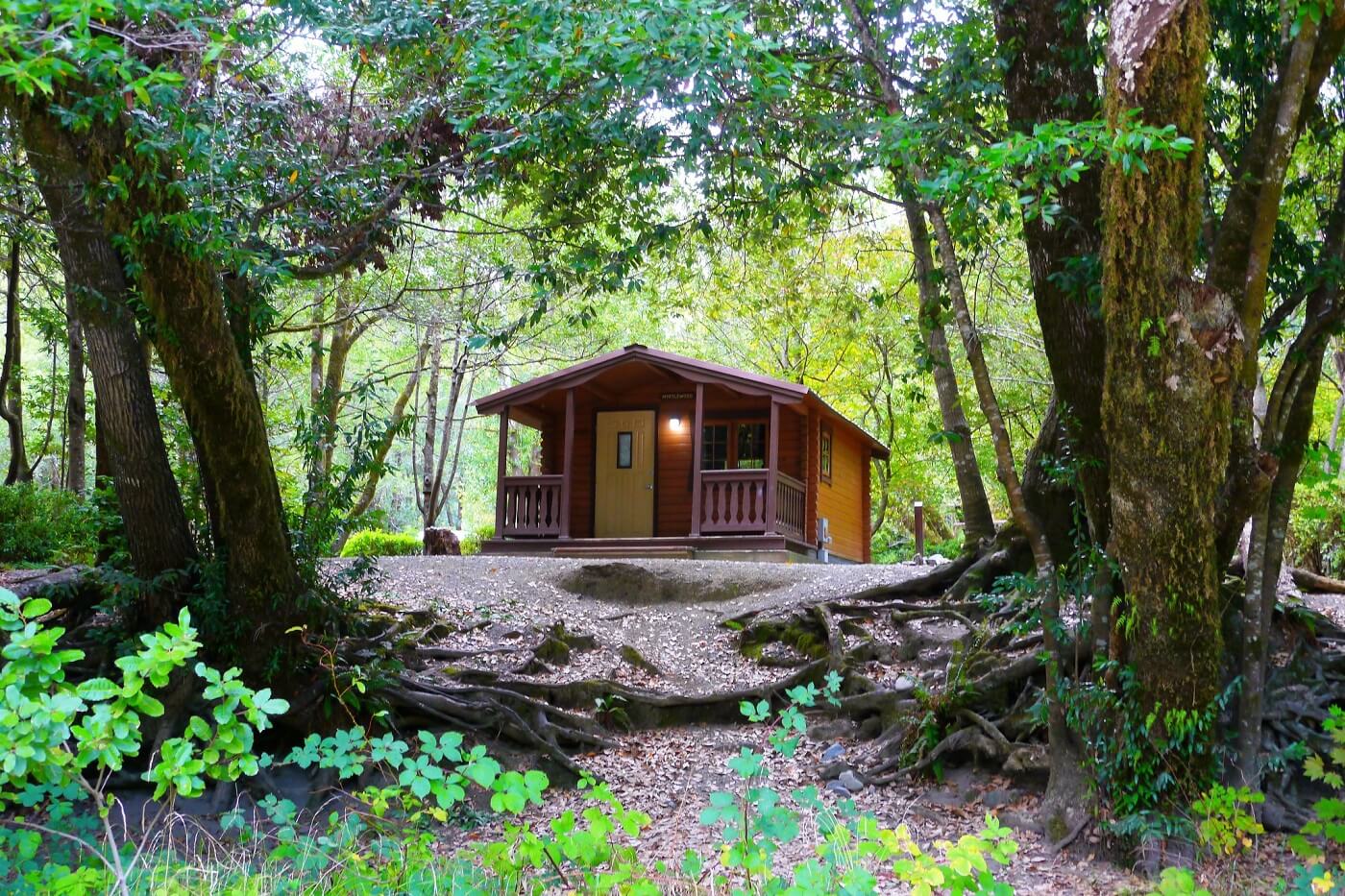 Managed by the Oregon Parks and Recreation Department, Alfred A. Loeb State Park is nestled in a dense old-growth myrtle wood forest along the north bank of Oregon's Chetco River. It offers a relaxing campground atmosphere away from the town and industry noises. Alfred A. Loeb State Park is where nature lovers go to escape society and live off the grid.
The fresh scents of the myrtle wood forest intermixed with evergreens will quickly make you forget the busy urban life. Indulge yourself in the park's many offerings including hiking, steelhead and salmon fishing, picnicking, swimming, and rafting.
Fishing the Chetco River in fall and winter is the biggest attraction of the park.
The campground only has a handful of hookup sites and cabins so you may want to call ahead for reservations and inquiries.
Staying Safe on the Oregon Coastline
When visiting any of the shoreline attractions along the Oregon Coast, safety must always be a primary concern. Ocean-related accidents happen fast and can sometimes lead to fatalities. Fortunately, you can avoid all that by following the given guidelines and learning basic safety tips.
Most importantly, supervise your kids closely and leash your pets as they may not be aware of all the risks.
Sneaker Waves and Tides
Sneaker waves are perhaps the deadliest hazards in the region. They come seemingly out of nowhere and can either knock you down or drag you into the water. The best way to avoid encountering them is by always keeping your eyes on the ocean, and to follow both written and unwritten camping rules.
For instance, one of the unwritten camping rules is to never set your tent at the beach front. You could be having a time of your life in the tent and then out of nowhere, a tide sweeps you and your tent to the ocean. And I bet rescuing yourself at such a sitution will not be easy.
Studying tide tables is highly recommended before taking a random stroll on the beach. You want to know exactly where the tide rolls back in and which locations to avoid entirely. Incoming tides mostly roll back in shorelines with rocks and enclosed beaches.
In addition, you want to stay away from drift logs during incoming tides. The incoming water has enough force to lift, shift, or even toss logs to nearby distances.
Coastal jetties might offer a false sense of safety especially when larger waves are involved. The waves can still knock down a person, prevent the safe recovery of victims, and weaken the top surface of the jetties. The resulting sea spray may also cause the rock surfaces to get extremely slippery.
Avoid Swimming on the Oregon Coast
Swimming areas are mostly unguarded and the conditions in those areas can be quite rough. If you still want to swim, be sure not to swim alone and survey the area first for hazards. Keep in mind that the waters can get very cold ranging from 58 degrees Fahrenheit in summer to about 46 degrees Fahrenheit during the winter season.
Additionally, a combination of strong undercurrents and cold temps can immobilize even the strongest of swimmers. Venturing into deeper waters increases the risk of getting caught in an undertow so always keep to the shallow waters for your safety.
Be Careful Around Steep Cliffs
You want to keep away from coastal cliff edges as the vegetation and grounds there can be slippery from mist, rain, or fog. Any misstep from these dangerous spots could mean hefty medical bills to settle or even death.
Furthermore, cliffs may prevent a successful escape when a strong tide is encroaching. The bases of cliffs are just as dangerous as the cliff edges due to their slippery and unstable grounds.
Weather Risks
Ideally, you want to stay prepared for potentially erratic weather and drastic temperature changes in the region. Under preparation might lead to heat exhaustion, hypothermia, or even Seasonal affective disorder (SAD).
Packing and wearing weather-appropriate clothing are perhaps the best ways of dealing with weather changes. That said, staying updated on the weather forecasts of the area is an even better approach here.
In summation, let your instincts and good judgment prevail when faced with an unprecedented risk you might face on the beautiful Oregon Coast.
See You There!
An expansive shoreline well-known for its iconic sandy beaches, sea cliffs, and pristine sea stacks, the Oregon Coast is a primary destination for most outdoor lovers. The shoreline attracts all with its jaw-dropping scenery and endless opportunities for paddling, beachcombing, camping, hiking, wave watching, and other outdoorsy activities.
While our guide might not be exhaustive of all that awaits you on the Oregon Coast, we hope it provides you with solid footing to help you plan your trip better.