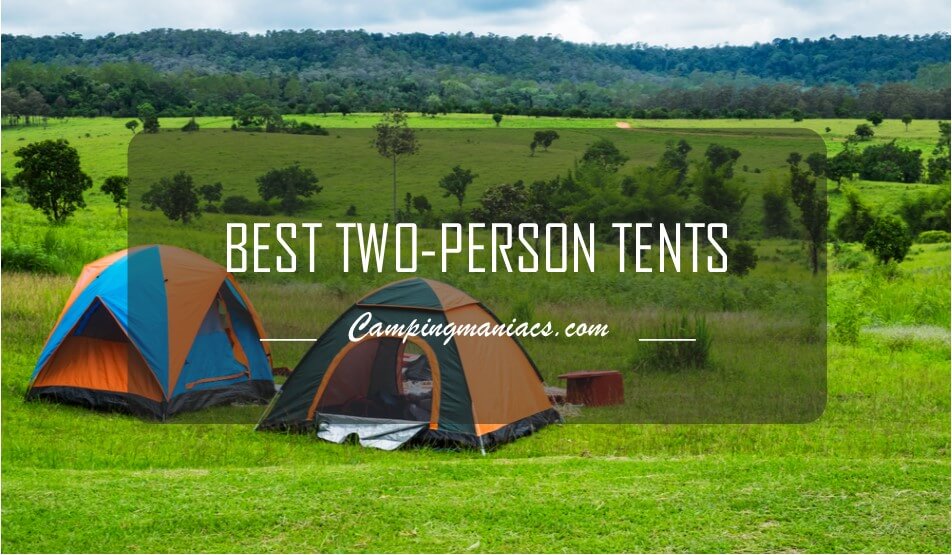 The Best 2 Person Backpacking Tents (Review) In 2022
Our recommendations are based on thorough independent research, testing, analyses, and comparisons of different products. When you make purchases through links on our website, we may earn affiliate commissions.
Ask a camping maniac what they think makes camping interesting, and they will tell you that it is spending time with people that make camping fun. And after a long day of hiking, car camping, or bonfire celebration, spending a night with a partner makes camping nights the best days far away from home.
One of the must-have accessories that you must bring with you is the two person camping tent. This will be you and your partner's temporary house far away from home.
I know how hard it can be to find the best two-person tent. That's why I cut to the chase in this review and let you in on some of the best 2-person tent brands that can give you the biggest bangs for your bucks.
And, trust me guys; there can't be a better list for the finest two-man backpacking tents.
Which are the best 2 person backpacking tents of 2022?
Let's take a deeper look into it and find out which tent best suits your needs.
1. KeltySalida 2 People Tent – Editor's Top Pick
When you look at KeltySalida, the color of the tent isn't what often comes to mind first but the build. And you wouldn't even think that a product this cheap has additional premium features, like a gear loft, which costs extra dollars.
Salida does pretty well in terms of weight. Weighing only 3 pounds, this camping tent is easy to carry and move around. Its weight makes it a perfect choice for car camping as well as endless backpacking trips.
You can carry this tent alone in your backpack. But if you can find an extra helping hand, feel free to split the weight between at least two people.
An Easy-to-Pitch Tent
Freestanding tents are always easier to pitch, making Kelty Salida a better option for people that want to save their time. The tent has an expandable shock code; it connects the collapsible poles and hooks to the inner part of the tent.
The rain fly takes minutes to drape, and connecting it to the corner clips takes less than 20 minutes.
Comfort is a Guarantee, Yet Not Always
KeltySalida is praised for its comfort. You might be tempted to give it a five-star rating as far as comfort goes. But not so fast. While it is perfect for use in dry or mild weather, it's not useful for chilly spring rainstorms and wet conditions. That's because the rain fly wets out pretty fast, making it dump, cold, and unfriendly.
No Guesswork on Setup
Thanks to the color-coded clip, setting up this thing is a straightforward business. No guessing what to do, and no wasting time on the job.
You could say the clips are user-friendly. And I think the manufacturer doesn't want to waste your time as far as pitching the tent is concerned.
Yes, the Tent is Durable
KeltySalida is one of the most durable tents on the market. While its breathability and resistance to harsh weather isn't up to par, it does pretty well on dry seasons, making it a good option for people that love camping during summer.
Pros
This tent has a good mesh ventilation on the inside.
The aluminum pole and clipping system collapse easily, making the tent easy to pitch.
KeltySalida is cheap; it goes for under 100 dollars online.
Good for those who want extra storage because it comes with pockets for storage.
It is precipitation-resistant.
Cons
The design of the steel stakes and the collapsible pole add to the weight of the tent.
Not a good option for people who want enough vestibule storage.
The close-fitting rain fly was a bad integration because it causes frequent internal condensation.
Closing the rain fly fully to protect the interior against inclement weather is obviously not a bad thing. But it causes poor ventilation inside the tent.
---
2. Coleman Sundome 2 Person Tent: A Tent with a Hooded Fly
Sundome isn't just known for being a 2-person tent. It also stands out for its hooded fly that enhances tent ventilation.
And if that doesn't sound good enough, it has a rear window that provides the inhabitants with maximum airflow in the tent.
Given that the tent is freestanding, the setup process should be a piece of cake. In fact, it takes a normal backpacker less than 30 minutes to pitch the Sundome 2-Person Tent.
The ventilation system is up to par. In fact, this is one of those features that isn't common with many camping tents for 2 persons.
Perhaps what's quite surprising about Sundome is that it is one-of-a-kind tent for under $100. Really, if you can't afford a $100 tent, Sundome can still make your nightlife in the camping jungle quite memorable.
Comfortable, But Lacks Longevity
Sundome camping tent for two may not be a durable camping tent, but it is more comfortable than many two-person tents on the market.
Given that it is waterproof, it makes a perfect choice for people who love camping in wet conditions. Sundome is known to have about 35% water resistance, making it the best waterproof camping tent. It performs better than many tents that we already know.
What about the Design?
A lot of people say that this tent has an interesting design, because there is more to it than just its unique color. It is a freestanding tent with a good X-shaped construction for the pole. The free-standing structure of Sundome 2-person tent makes it easy to pitch on any ground, in the shortest time possible.
It Has Never Broken the Bank
For most people, $300 is too much for a camping tent.
And probably that's why Sundome goes for cheap.
But seriously, Sundome is as cheap as it is because it is a camping accessory for campers and backpackers on a budget. In fact, it is one of the high-quality two-person camping tent for under $100.
Sturdy & Great Ventilation
It is amazing how Sundome offers tons of premium features for cheap, one of them being a good ventilation. Even with the rain fly on, you still get an exceptional ventilation, and that's because of the mesh proof.
Pros
Sundome has large storage pockets that are suitable for storing accessories that you bring with you to the camping ground.
Carry sacks and stakes are included.
It has a D-shaped door suited for easy entry and quick exit.
Sundome has hooded flies. These flies help to protect the door as well as window from rain. What's more, the hooded flies support cross ventilation quite well.
The tent is easy to pitch and taking it down is a piece of cake, thanks to the freestanding design with a shock-corded fiberglass frame.
Cons
Not a good tent to use around water logged camping areas.
Possible seepage of water near the floor in the event of heavy rains of more than 1.5 inches.
There isn't enough space for plenty of gear and equipment.
It is not suitable for winter because it is airy.
You can close the mesh vent under the rain fly.
---
3. Alps Mountaineering Meramac 2 Tent: Best Tent Under $100
Alps Mountaineering has what many competitors can only dream of: a solid name for its brand on the market. The brand takes for being the best two-person tent under $100 dollars.
This brand doesn't have an upper hand only in the terms of price. It also combines premium features, including a gear loft, hash mesh ventilation walls, guy ropes, and aluminum stake, all features that make it stand tall against the rough and tough competition.
I like to assume that this tent is big enough for more than two people. But really, it was designed for just two people. And, if you are sleeping in it alone, you'd really have a bigger home-like environment just for yourself.
Cheap, Definitely a Steal
Like Sundome, Meramac 2 Tent is so pocket-friendly that you wouldn't miss it for something else.
And it is not one of those cheap, under something tents that break down after a few days of use. Meramac 2 is a high-quality, under $80 camping tent that's built to last for the long haul.
For Two People, Not Plus One More
Meramac is primarily a tent for two people. Keep in mind that it is not the biggest, because it does not come with an extra space.
It makes a good option for car camping, in case you decide to bring along plenty of camping equipment.
A Great Design for Maximum Freshness
Tents do get stuffy. Trust me, I know.
That's why it is always best to pick a more comfortable option, like the Meramac 2-Person tent.
It has two doors and two windows that provide maximum ventilation, hence freshness inside of the tent.
With the storm flaps on each window, you can open and close the windows easily depending on the weather.
A Waterproof Camping Tent for the Money
Okay, waterproof tents are always the best option for many people. That puts Meramac 2 Tent right at the top to say the least.
But it is important to understand that while this one is water resistant, it is not built for the most extreme weather conditions.
Pros
Meramac 2 Tent is good enough for summer because it has 2 doors.
No signs of condensation build up, even after long hours of use, thanks to the mesh roof and walls.
The tent doesn't slide through nylon. It clips to the poles instead, making it easy to set up and take down.
It is waterproof. So, there is no water leaks are getting in when it rains outside.
Meramac 2 Tent is a ready-to-use camping tent because it is factory seam-sealed.
Cons
It is quite too heavy, but only initially. You should get used to the weight after a few rounds of use.
It does not have vestibule area. So, it is not a good option for people that intent to bring plenty of camping gear.
It is best only for two people. There won't be extra space in the room, unless you are both very small.
---
4. ALPS Mountaineering Lynx 2-Person Tent: A Lightweight Camping Tent
The one outstanding thing about ALPS Mountaineering Lynx 2-Person Tent is the quality of the product at a pocket-friendly rate. For just under $100, what you get is a high-quality camping tent for two that you can use for a very long time.
With tons of unique features, from proper ventilation and maximum adjustability to freestanding and large zippers, this two person's tent has all the comfort you need to sleep well in a lonely night far away from home.
It is lightweight, so it should be easy to bring with you in your backpack. It is spacious enough for two people. And you can use it alone if you are not coming to camp with your significant other.
Comfort that Sweetens Camping
I am not exaggerating when I say that Lynx 2 is the most comfortable camping tent that I have ever used. The fact that it is roomier makes it one of the best options out there, quite perfect for the asking price.
And if that doesn't sound good enough, this tent has two interior pockets and detachable gear loft for storing camping gears.
The Setup is a Breeze
Lynx 2 is easy to set up thanks to its straightforward construction. Lynx 2 does not feature a master point at the apex; it only has regular clips and cheap hook stakes. It is free standing with long enough stakes and two-pole construction.
Durable Compartments
Thanks to the 1500mm multi-pass urethane coating and the Poly Taffetta, the rain fly doesn't allow water penetration to the tent, no matter how long it rains. And even if it rains heavily for a few hours or more, you will remain completely dry.
Color Variations for Color Lovers
It might not make sense to include this here, but for the sake of color lovers, this tent is available in a number of color variations.
The color you choose is a matter of personal preference, which, in essence, means that a color that appeals to you won't appeal to someone else.
Pros
Because it has a large interior space, Lynx 2 Person tent is perfect for people who need extra room for camping accessories or for an extra person.
It is really cheap. Going only for under $100, Lynx is a pocket-friendly camping tent for campers and backpackers on budget.
It includes side doors.
It features a strong and durable construction.
If you need a tent that has a storage space for gears, you will love this because it comes with extra vestibules.
Lynx camping tent for two persons is durable and lightweight.
Cons
This tent is pretty basic. And I feel it looks more ordinary and feel a little more ancient.
This tent is not weather friendly. It is not quality enough to withstand harsh weather conditions.
It takes time to take down and transport.
It doesn't have a lot of premium features, hence not good enough for the asking price.
---
5. Mountainsmith Morrison 2 Person 3 Season Tent: A Tent for Seasons
Mountainsmith has stood the test for three things: quality, comfort, and durability.
It is hard to find a two person camping tent that strikes a good balance between quality and comfort, to be honest. But Morrison 2 Person 3 Season Tent is quite different. It is the camping tent that gives you more for less, for lack of a better description.
Given its comfort, durability, and ease of setup, this product is definitely a steal for the price.
It covers about 35 square foot floor space. That's a space big enough for two people.
That's not all. The tent also has extra space that can fit an extra person, or you can use the extra space for anything you plan to bring with you to a camping pitch.
A Livable Tent
Morrison 2 Person tent is more like Lynx 2 tent for two people. Besides the big, extremely livable space, it has two spacious doors that zip off smoothly. The doors not only give you an option for extra warmth. It also allows for easy movement in and out of the tent.
A 5-Minute Set Up
You will love Morrison 2 because it is easy to set up. It has two-pole design. Each pole has a master hook at the top.
Apart from the vestibule doors, this tent has two guy lines for weather resistance. The cord adjusters of this tent are quite flexible. They help to tighten the two-person tent down.
Pros
This tent has good ventilation.
It looks like a 3-person or 4-person tent. That is because it has plenty of room for just two people.
The top shelf construction makes this product worth the price.
It has quality rain fly with an exceptional coverage.
Overall, this product has tons of excellent features for the asking price.
Cons
Good product, but this one is very heavy and quite difficult to carry around.
While it has a larger screen, its ability to retain heat could use some help.
The floor is very thin. If you really love this tent, you may need to buy a foot print drop sheet.
Not suitable for people that hate tents with very think floors.
---
6. Featherstone Outdoor Backpacking 2 Person Tent: Best 3-Season Tent with Vestibule
In my many camping expeditions, I've always favored freestanding tents. This is due to the fact that you can easily relocate without having to disassemble them. Hence featuring this awesome tent in this list.
Featherstone is a lightweight backpacking tent suitable for a couple who detest claustrophobic spaces. Spacious enough for both of you and your pile of camping gear, Featherstone is a three-season tent that is not only lightweight but also sturdy and tear-resistant. It measures 210cm by 140cm by 110cm.
Its micro-mesh fabric confers the much needed comfort, waterproofing capability as well as breathability. Its two doors, apart from enhancing accessibility to it, add to this tent's breathability. Now we all hate those tents in which climate control is impossible.
Easy to Set Up
Nobody has time for all the hassle in the wild. We all love those tents which set up in a snap, making us feel like the real pros in setting up tents. And that's exactly what Featherstone 2-person camping tent delivers.
It is easy to set up owing to its single Aluminum pole structure.
Stashing it into your backpack is also a breeze, taking the fewest possible of your minutes. Given the fact that this tent is freestanding, one is only left to imagine the numerous possibilities it offers.
Weather-Resistant
Featherstone's seams are well taped, making them impenetrable to water. If you need a tent that will proudly stand in face of rain, then this tent is the one.
And if you thought that wet floors might be a thing, this tent's bathtub floor design, which elevates its bottom a reasonable height off the ground, puts your thoughts to shame. This is one of those tents that will sufficiently keep you dry for many seasons.
Many Extras
This tent comes equipped with Aluminum stakes, a waterproof footprint measuring 4'6" by 6'9", a large vestibule for storage and guylines. You will not have to purchase these essential tenting items separately.
That is in addition to its manufacturer's limited lifetime warranty which, apart from enhancing its lifelong-value, should also win your confidence.
Pros
Three-season tent.
Comes with a vestibule, stakes and footprint.
Sufficiently spacious.
Constructed with high-quality, durable material.
Cons
The poles might give in after several uses.
Its vestibule might not be spacious enough for some people.
---
7. Big Agnes Rattlesnake SL2 mtnGLO Tent: The Best Tent with Interior Lighting
Big Agnes Rattlesnake mtnGlo is a tent I can confidently give a 4.5-star rating because it is a high quality product. And it gives a buyer the value for their money.
This tent doesn't just hold up strong. It also folds down fast. And given that it weighs just 4 lbs 2 oz, it shouldn't feel too heavy on the backpack. It's not the most lightweight of backpacking tents definitely, but that is forgivable given its sturdy, compact build.
This tent stands strong after pitching. And it doesn't buckle or lose internal volume in the event of wind. The 8 aluminum hook stakes not only provide exceptional anchoring, but also offer the tent additional stability. And they are lightweight enough not to hamper portability.
One last thing worth mentioning is that the tent remains quiet throughout the night; no flapping in the wind, no creaking, and no groaning.
Topped up with the ambient mtnGLO LED lighting (patent pending), this tent's experience is the one you will take ages to forget.
Designed to Last
A lot of people praise Big Agnes because it is designed to last for eons. And while it might definitely need a replacement in the future, this is the one tent that might feel like an investment of a lifetime once you buy it.
The fabric used to design this tent is at least strong enough to withstand the harshest of abuses. It can withstand cold, heat, and Ultra Violet Rays better than any other tent does.
A Storm-Proof Tent
The one thing that makes this two person tent stand out from the hundreds of backpacking tents out there is the storm-proofing feature. With this tent, you can be sure of maximum protection from storm as well as harsh weather conditions throughout the night.
Pros
Has two media pockets and six mesh pockets.
It doesn't just feature a vestibule design; it also has dual door.
The walls have zippered mesh panels which enhance breathability.
It is the only tent in our list that's compatible with PowerCase Lofts and Big Agnes Entertainment Center.
Its floor is fully tapped.
Cons
This tent is more expensive than the other 2 person tents. However, the price is worth the value you get out of it. If you are looking for a high-end 2-person tent that will last you for years without disappointments, then this is your best bet.
---
8. Kelty TN2 Person Tent: The Most Lightweight Tent
It's great when you can get good sleep in a high-quality tent. But when you can have a gaze at the stars before you sleep, your camping night becomes double-rewarding with fun and adventure.
Kelty TN2 is more than just a two-person tent under budget. It is a top-rated tent for people that love tents that feature unobstructed, 360-degree mesh wall view.
Pitching is a breeze
The color-coded poles and clips make this tent easy to pitch. It uses a smooth ball socket to connect the body of the tent to the floor. And the clipping is instant.
And besides the colors, the clips themselves feature a unique, clever design, making them easy to lift, rotate, and clip.
Pros
You will love this tent because it is always quiet in the wind.
Besides being easy to set up, Kelty TN2 Person Tent packs really small.
The product is lightweight.
It has plenty of room for two people.
Kelty TN2 Person tent has two doors.
It is made from excellent, durable, and sturdy materials.
Cons
The pole design is annoying. If used during rainfall, this tent might create a swampy-like pond on the fly.
The cube-shaped stuff sack is not very useful for some people.
I noticed a poor quality control on the fly.
---
9. ALPS Mountaineering Taurus 2-Person Tent: The Best Snow-Proof Tent
ALPS Mountaineering has been in the tent making business for years. Right from the time it started operation, until today, the company has always taken part in creating durable, high-performance tents that give buyers the best value for their money. And they've done the same with Taurus 2 Person Tent.
Taurus 2 stands out because it is made from high quality materials. The materials used in the design are meant to last for a very long time. That means you are buying a camping tent for two that will last for a very long time. At least, long enough before you decide on a replacement.
Pros
Besides an ample space for two people, this tent has 2 vestibule areas for storing equipment.
It is easy to get in and out of the tent, thanks to the two large doors.
Taurus 2 Person Tent can withstand light snow for a very long time.
The tent is ready to go; you can use it straight out of the box.
Taurus 2 Person Tent is built to offer great ventilation, thanks to the additional vents.
Cons
The tent poles would be better than the fiberglass. That's because the fiberglass add more weight to it.
The bottom of the tent could use some strong material. What's used is susceptible to ripping, which means the bottom won't last for long.
The side windows are a pain in the ass, particularly because there is no way to close them.
---
10. Hyke & Byke Zion Two Person Backpacking Tent: Lightweight but Durable
Here is the truth: lightweight camping tents for two aren't often easy to find. Most of what we have on the market are a little heavyweight. And while they make a good option for people that tend to carry stuff around easily, a more lightweight product is better, to say the least.
Hyke and Byke Zion packing is almost the most lightweight tent in our list. It weighs only 5 lbs.; a weight range that we've hardly seen with the other tents on the list. But the problem with this tent is that it costs an arm and a leg. If you are not ready to spend more than $200, this is not a good option for you.
Pros
The poles are lightweight. They weigh only 1lb 3.7 oz.
It is big enough for two, measuring 90 inches long, 55 inches wide, and vestibule external length of 24 inches.
A tent body that's less than 2 lbs.
It comes with a bath tab.
Premium features for the asking price.
Cons
A little bit high-end on the cost but the value it offers is worth its price by all measures.
Two Person Tents for Backpacking - A Buyer Guide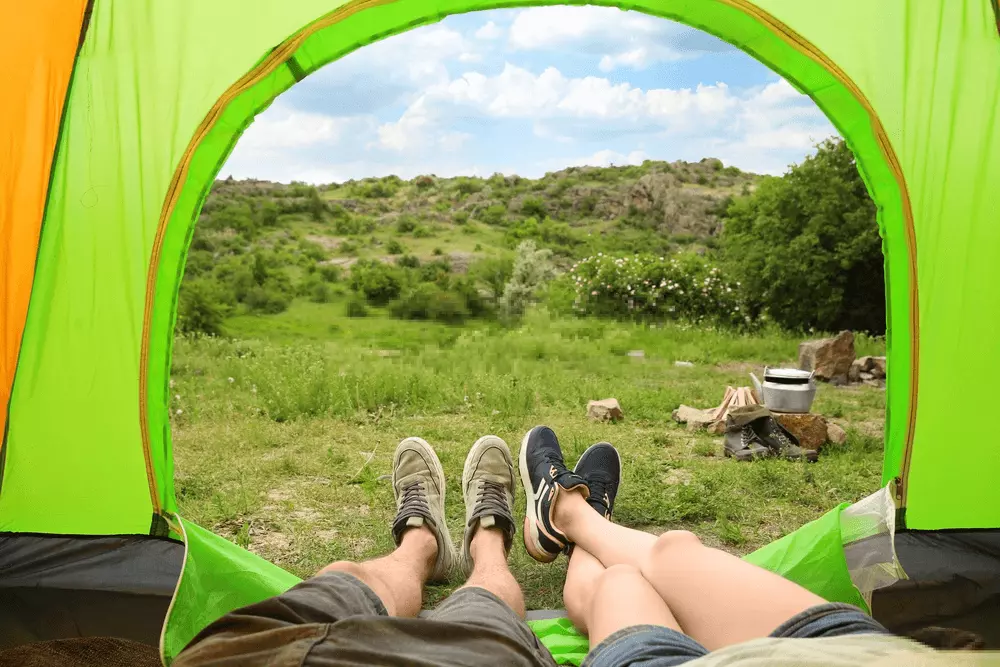 There are many things to consider when buying a camping tent for two people. In this post, however, we will look at only the most important ones. The following are 7 critical considerations for buying the best backpacking two person tent.
Price

Many backpackers and campers think they have to spend a fortune to get a high-quality two person camping tent. It does not matter whether you backpack a lot or go camping only on holidays. Because there is always a cheap, yet high quality, tent for two persons that you can buy.

In our reviews, we have highlighted some of the highest quality camping tents for 2 persons for under $100. The likes of Lynx 2 and Sundome are pocket-friendly, yet built to last. That means you can use them for years before the need for replacement.

Weight

Lightweight camping tents are the best. They make camping and backpacking fun. It is okay if a tent is a little heavier by a few ounces here and there. Yet, I wouldn't advice you going for this kind of a tent. After all, a little more weight and the tent becomes quite a pain to bring with you in a backpack.

Ask a regular camper why they prefer lightweight tents, and they'll tell you a backpack always has enough weight already. From camping shelter and sleeping bags to sleeping pads, adding a heavyweight tent can make the backpack difficult to carry. That's why it is important to keep the weight of the tent to the lowest.

Protection

Do not buy a tent blindly. Just because it is cheap and lightweight doesn't make it a good option to spend money on. In fact, if it does not guarantee maximum protection from harsh weather conditions like storms, rain, a lot of heat, and cold in the night, then don't buy it.

The tents we recommend here are not just good because they are cheap and lightweight. They are of high quality because they offer maximum storm protection. And they keep you dry, safe, and warm from the day you start camping to the day you go back home.

Interior Space

The interior space of a tent has always been a tradeoff between comfort and weight. Most camping tents have limited interior spaces to keep weight to a minimum. While this analogy applies to all tents in general, 2-person tents tend to be both lightweight and spacious.

Keep in mind that not all two-person tents are spacious, though. Some are lightweight yet very small on the interior. Some weigh a pound more and are spacious in the interior. Yet some are lightweight and quite spacious in the interior. Whatever you choose, just remember it is a tradeoff between your comfort and the weight of the tent.

Capacity

The one thing that makes two-person tents stand out is they have a good balance between weight and space. Some people say you should not expect the interior of a two-person tent to be breathtaking. I think that's more of a subjective rather than an objective thinking, because it depends on the design as well as what you would consider to be palatial.

While some backapcking tents have a small interior space that just fits its capacity, others have extra storage rooms on the side such as vestibules which come in handy for storage of accessories such as backpacks, hiking shoes, trekking poles and even camp cookware.

When it comes to evaluating capacity, you want to make sure the tent is, in fact, a camping accessory that can fit two people well as well as the other indispensable camping gear.

Ease of Setup

You do not want a tent that will take you ages before it is up and ready for habitation. In the same way, tents which take long to dismantle are undesirable.

Which means that those tents that come with poles in place may be the best choice when it comes to ease of setup.

Freestanding tents are favored because they can be easily relocated, for instance, from a flooded ground to a drier ground, without dismantling them. Non-freestanding tents, on the other hand, will require that you unpitch them before pitching anywhere else.

These are some of the factors that should inform your decision with regards to pitching. You may as well want to put into account the type of weather you will be camping in as it can be hard to set up some tents in rain and/or in wind.

Doors

People that share camping tents with their significant others can't use tents with one door efficiently. In fact, such tents make camping a lot more boring. If you and your partner intent to share the same tent, it is best to buy one that has two doors.

The advantage with two doors is that it makes entry and exit easier for both partners. Also, apart from creating a sense of expansive space, two doors are good because they help with ventilation.

Durability

It doesn't make sense to buy a tent that will serve you on a single camping trip. Unfortunately, low quality camping tents are available in different price ranges. And people buy them, every day! Then, they get disappointed because they can no longer use the same tent for camping.

Find a product that's designed to last for long. If your favorite pick is on the list of products that we have reviewed, buying should be easy for you. If tent the you love is not on this list, I recommend that you read buyer reviews on Amazon before buying.
Check Other Related Tents and products of the Year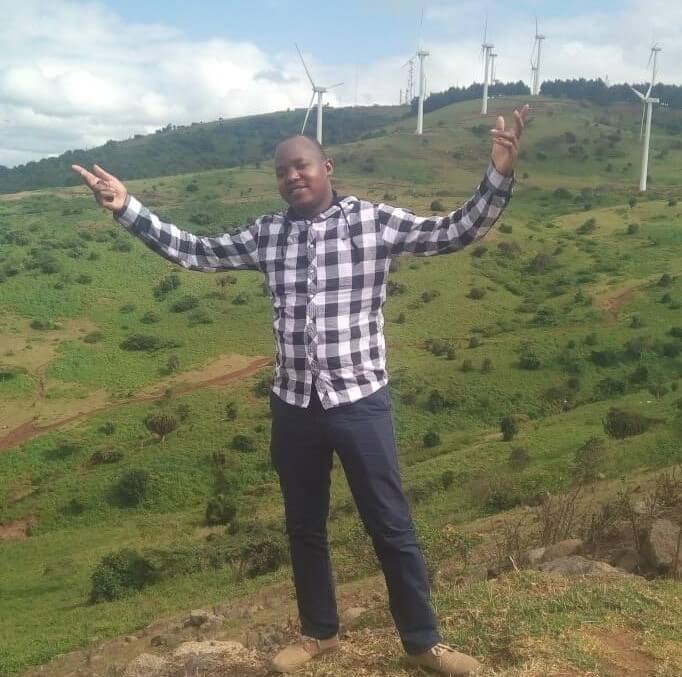 Written By Daniel Msanii
When he's not camping or adventuring the outdoors, you'll find him grinding hard on his keyboard to put up some super-awesome content on campingmaniacs.com. Starting off on camping escapades back in 2011, he has grown fond of the activity over the years. His exposure to a myriad of different camping terrains, gear and the outdoor atmosphere has hitherto changed his perception of the entire outdoor life. He enjoys sharing the experiences of his adventures and gear reviews with the awesome camping community on this platform. Read more about us.