Between Quilts and Sleeping Bags, Which Should You Pick?
Whether you're scaling the snowy alps or hitting the rocky trails, it's prudent that you carry every essential, and keep your load as lightweight as possible. Since you can't possibly lug along your plush duvets and comforters, you will most likely settle for a good quality sleeping bag, a quilt, or rarely a camping blanket for your sleeping needs.
Notably, there has been a slight uptick on the number of people ditching their precious mummy sleeping bags for quilts. Why this is the case is what we seek to find out.
But before we dive into this age-old debate of quilts versus sleeping bags, it's only fair that we first get acquainted with our contenders. Then hopefully you'll be able to make an informed decision when shopping for the right camping gear.
What's Up with Sleeping Bags?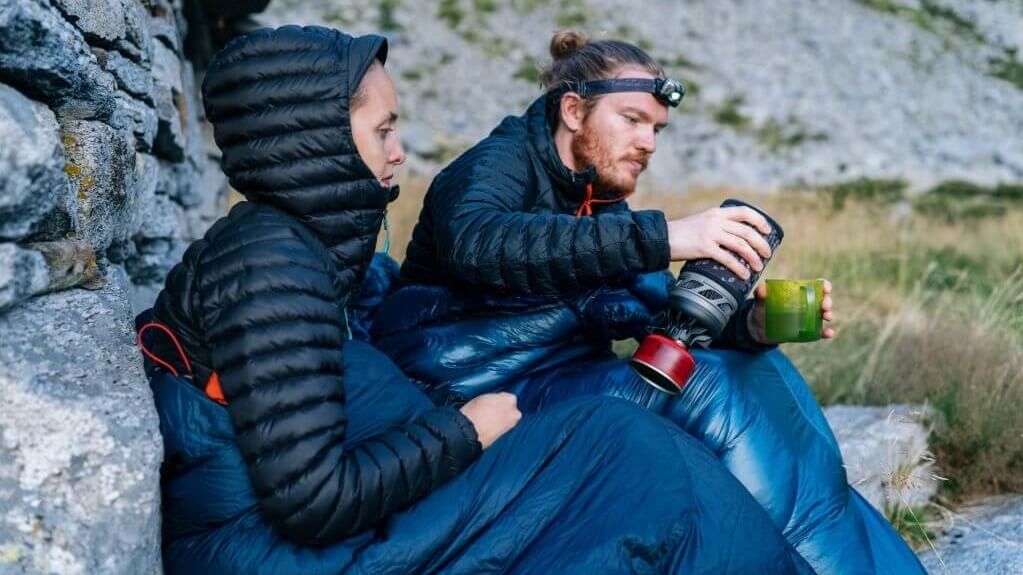 When we get down to the nitty-gritty, a sleeping bag is mostly an insulated encasing for one person or two that has a tubular form and can be closed with a zipper system. Sleeping bags are fairly popular among outdoorsy folks – backpackers, hikers, climbers, alpinists and campers, – and for a good reason.
Sleeping bags have the primary purpose of providing us with warmth while we're sleeping outdoors. They achieve this by trapping warm air generated by the body's metabolism and help recirculate it in and around the enclosure.
Essentially, the insulative bag forms a barrier between the warm air inside and the colder outside air or ground. The science side of things dictates that if there were no insulation then an equilibrium would be the final result.
Some common parts and features you can find in a sleeping bag include the following: the shell, hood, zipper system, baffles, and footbox. Just underneath the shell is where you find the insulative layer that is either stuffed with natural (down or wool) or synthetic fill.
Down and Synthetic Fill Sleeping Bags
Natural fill refers to the use of down as the main form of insulation. The down, which mostly comes from the under feathers of ducks, geese, or a combination of the two, will keep you warmer than any of the synthetic options out there. This is as long as the down stays dry.
Additionally, down tends to be lighter and more heat retentive than synthetic materials but with a higher price tag. Premium down sleeping bags will feature water-resistant outer shells, which is essential for use in unpredictable weather.
In some cases, you may also be lucky to find "dry down" that has been treated with some form of durable water repellent (DWR) substance.
When shopping for a down sleeping bag, you'll also want to pay attention to the fill-power rating on the product. Fill power is the unit of measure for the fluffiness or loft of the down product in relation to its insulating value. A higher fill power rating equals more insulation.
Synthetic fill is mostly made of polyester or some modification of the same including brands such as; DuPont Quallofil, Dupont Hollofil, Polarguard 3D, 3M's Thinsulate and Primaloft PL1 among others.
Some key benefits that you will get to enjoy with these types include; affordability, fast-drying, easy cleaning, non-allergenic, and effective insulation even when damp.
Cheaper sleeping bags may also have other materials such as cotton or wool. However, do keep in mind that despite wool's compression resistance and superior ability to repel water, it weighs slightly more than other options. Further, cotton is just as weighty and retains water for longer periods.
Sleeping bags with cotton or wool insulative fills should only be considered for stationary camping, backyard camping, and/or car camping.
In summation, when choosing which filling is ideal for you, you'll want to look for things such as:
weight and bulkiness,
expected performance when damp,
how well the bag holds up in cold weather and
the overall cost of the product.
Other desirable add-ons and features to check out in your dream sleeping bag includes a stash pocket, a stuff sack, a bag liner, multiple or two-way zipper systems, a draft collar, and bag hoodie.
Accessories to make your sleeping bag homier include sleeping bag liners, sleeping mats, air mattresses, and travel pillows among others. A liner helps extend the life of the bag, improves insulation/warmth, and improves hygiene.
The Various Forms and Sizes of Sleeping Bags
To not only stand out but to also provide practical solutions to campers, manufacturers avail customers with sleeping bags of all shapes and sizes.
In general, sleeping bags come in three main shapes: rectangular, semi-rectangular and mummy bags.
Rectangular sleeping bags are the most basic types you can find today. They feature ample space big enough to stretch out your arms and legs and may sometimes come as unzipped comforter-types.
However, they are less effective at retaining heat as compared to other options making them ideal for summer camping, caravanning and indoor use.
Semi-rectangular bags are a slight upgrade from the basic envelope ones as they are so designed to favor warmth instead of spaciousness.
Mummy bags, on the other hand, are more modern and ingeniously designed to enhance warmth, reduce weight, and to offer a snug fit. Rolling over during sleep means having to roll over with the whole bag but despite this, comfort is not compromised.
When shopping for a sleeping bag, you'll want to double-check on its dimensions, weight as well as its overall fit. It shouldn't be too small to restrict movement and in effect creating cold spots and curtailing insulation. If too big, then you'll spend too much energy heating up the empty space.
Double bags and kid-size sleeping bags are a bit rare to find and are best suited for couples and children, respectively. Some bags will come with a right or left pair that can be zippered up together to form a doubles bag.
Understanding Temperature Ratings in Sleeping Bags
Most of the American stores and manufacturers follow the European Standard, EN 13537 when it comes to classifying sleeping bags. The temperature rating of a sleeping bag indicates how well it can do in providing warmth at various temperature levels.
The rating will typically show the minimum and maximum temperature at which a given sleeping bag is engineered to keep a normal person warm in the cold.
That said, the EN Standard came up with four main operating temperatures for labeling sleeping bags i.e. the upper limit, comfort rating, lower limit, and extreme rating.
In an ideal situation, the comfort range is where an average woman sleeps most comfortably and in a relaxed posture. In the transition range, a standard man would be fighting off the cold and be in curled up posture but not shivering.
Anywhere between and over the risk range, a sleeping bag should only be used in emergencies as there is a high risk of suffering from hypothermia and other cold-related health effects. However, it should be noted that the EN13537 standard is just a mere baseline meant to better compare different sleeping bags.
Other factors will play a huge role in helping you stay warm in your sleeping bag through the night. To enhance the overall insulation and consequently the performance of the sleeping bag, you'll want to invest in a thicker closed-cell foam sleeping pad as well as thermal wear.
Moisture-wicking materials such as polypropylene or fleece are perfect for your nightwear as cotton clothing tends to absorb moisture (read perspiration). The type of tent you sleep in will also slightly influence the performance of your sleeping bag.
Lastly, you may stumble upon season ratings on sleeping bags, which are a more simplified form of classification. There are three main categories of sleeping bag under this grouping:
Winter Sleeping Bags - +15°F and lower
3-Season Sleeping Bags - +15°F to +30°F
Summer Season Sleeping Bags - +30°F and higher
Not to take chances with the cold, you may also want to check out the overall construction of the sleeping bag.
Typically, a multi-layer construction ensures that the fill is evenly distributed throughout the bag reducing the chances of cold spots. This type of construction also helps improve the longevity of the product.
If your sleeping bag of choice has extra fill in high-stress sections such as the footbox, in shoulder/zipper baffles, and around high-stress sections then the more effective it will be in keeping you warm.
Advantages of Sleeping Bags
Tend to be warmer as they may be completely enclosed.
Easily the most common and readily available sleeping system in the market.
Does not require you to fumble with cumbersome pad attachment systems.
Includes the all-important hoodie and footbox right out of the box.
Considerably cheaper than camping quilts.
A sleeping pad is optional when camping warm weather.
Fairly easy to use as compared to backpacking quilts.
Offers better draft protection in cold weather.
Available with down and synthetic fill.
Shortcomings of Sleeping Bags
They may be slightly heavier owing to the beefier zipper system and extra fabric.
They take up more space in your backpack.
The zipper system is bound to fail thus limiting the bag's longevity.
They are more restrictive to movement and thus may be uncomfortable for people who toss and turn constantly during sleep.
They are less versatile as they can only be used for camping, unlike quilts that double up as emergency shawls and blankets.
They are fairly classical camping items and thus may lack the much-needed innovations for today's camper.
They trap more moisture and may require a liner for quick cleanups and maintenance.
Quilts, Anyone?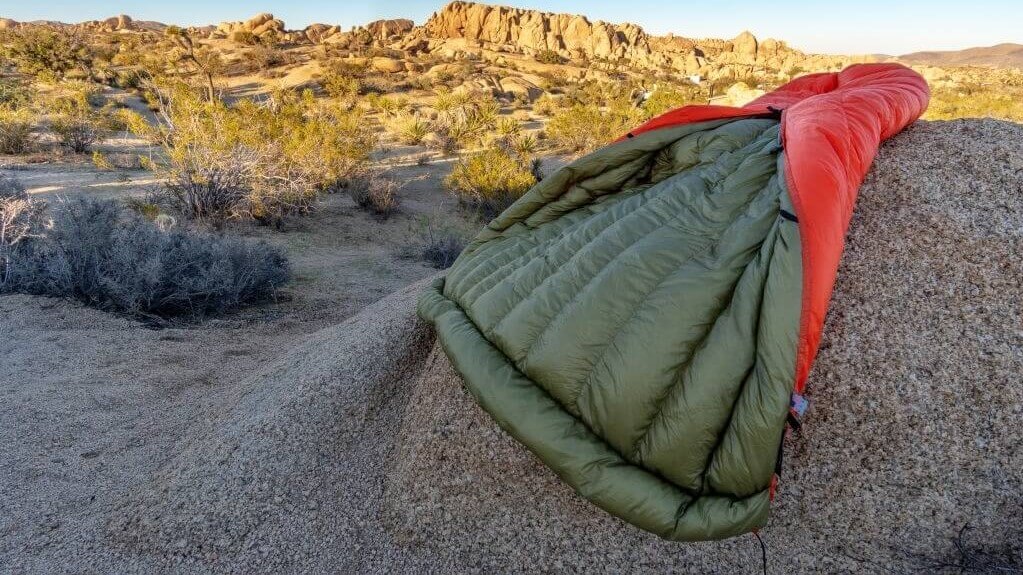 If you're looking for something closer to home like a duvet or comforter for your outdoors sleeping system then camping quilts are as good as it gets. A camping quilt resembles sleeping bags at first glance but in reality, they lack the bulky, less useful components such as the back, hoodie and zipper system.
These insulated blankets of sorts differ slightly from your regular quilt in breathability, materials used, durability, compactness, and overall weight. Quilts will mostly consist of a durable outer shell and a comfy insulating filling.
With a quilt, your body will lie directly on your sleeping mat or pad but some models may feature a buttoned, sewn, or zipped footbox at the bottom.
Further, quilts offer unparalleled versatility as they can be used on warmer nights or fastened down to a sleeping pad to keep you warm on cold nights. In most cases, quilts will work effectively all-year-round irrespective of the season.
Quilts are perfect for backpacking, car/RV camping, winter camping, and even hammock camping. A slight variation to quilts is underquilts, which go hand in hand with hammock camping or lounging. Underquilts are wrapped around the hammock to shield your body from the chilliness underneath.
Common Features in Quilts
The most common fabric for the outer shell in most camping quilt is ripstop nylon, which ranges from 10 to 20 denier rating. The fabric is well preferred for its lightweight and durability qualities. A higher denier rating on the outer shell fabric will also mean more thickness and less/no down loss through the fabric.
A 15+ denier rated outer shell will be the most ideal for backcountry camping trips or if you regularly sleep on rough terrain.
If possible, you'll also want to go for quilts with outer shells that are either coated with DWR treatment or water-resistant by default. The water repellency ensures that the filling doesn't get damp, which would make it less insulative and less heat retentive.
Breathability is also a major key to a good night's sleep else you risk sleeping hot and waking up constantly through the night. In such a scenario, a breathable inner lining on the quilt would help out a great deal.
Just underneath the outer shell, we have the filling. As was the case of sleeping bags, you can expect the filling in quilts to be either natural or synthetic. The performance of natural filling (goose or duck down) is pegged on its fill power and weight.
Keeping in mind that the more space occupied equals better insulating qualities, you want to go for a higher fill power and a higher fill weight. The higher the fill power, the more compressible it will be and the higher quality the down.
Fill weight refers to the overall quantity of down in a given quilt; however, you should only use it as a secondary measure for expected insulation of a product. Differences in the designs and size of quilts make the fill weight a poor metric to rely on as down could be concentrated in specific sections.
The footbox design in quilts comes mainly in two form factors; sewn-in and zippered footbox. The sewn-in option is closed permanently to maximize warmth; however, you won't be able to use the quilt as an open blanket.
Zippered footboxes may also include a drawstring to cinch up the section for a snug, warm fit. To eliminate the chances of cold drafts entering into the footbox, some manufacturers include hooks and loops to help secure it in place.
Despite their versatility, quilts with zippered footboxes are slightly heavier than other options and the presence of the zipper system may not be a compelling reason to ditch one's sleeping bag.
Other measures you can take to keep your footbox draft-free is by wearing socks or down booties.
The bottom opening of a camping quilt greatly differs from sleeping bags in that you don't need to have a full-length zip to secure the quilt around/underneath you. Most quilts will come with shock cords or elastic straps that pull together to fit the quilt around your body.
Cold drafts can be a problem when using a quilt as your back is left almost entirely bare.
With that in mind, a pad attachment system should come in handy. The system has straps to secure around the sleeping pad and attachment points to hold down your camping quilt. This is particularly a lifesaver if you toss and turn during sleep.
In case of those chilly nights, you'll want to cinch up the collar of the quilt tightly around your neck.
You'll want the collar to be comfortable and just as insulative regardless of whether it's a snap button, clip, or drawstring mechanism. A draft collar is what you should opt for as it is filled with down, which helps retain warmth when the collar is cinched up around your neck.
Backpacking quilts do not have hoodies and thus you should always pack a separate down hood, fleece hat, or any other suitable headwear for the cold nights.
Insulation in Backpacking Quilts
Similar to sleeping bags, the temperature ratings of a given backpacking quilt is a good place to start when enquiring about their insulation effect. There are no standard tests for backpacking quilts yet so take whatever the manufacturer has printed out with a pinch of salt.
A good approach to getting a clearer picture of the actual performance of the quilt is by adding at least 20°F to the stated temperature rating. For instance, a 20°F rated quilt would most likely be comfortable to sleep in at about 40°F.
Another key factor that influences the quilt's insulation effectiveness is the fill power. A higher fill power means more air is trapped and further, the more comfy and warmer the quilt will be.
While synthetic fill may fare well when it comes to water resistance, down's superb weight-to-warmth ratio is worth every extra dime. Plus, a quilt with a DWR-coated outer shell will sort out the water resistance issue.
Pros of Backpacking Quilts
They are lighter as compared to sleeping bags since they lack the full-length zipper and underside.
They tend to be more compact and compressible making them highly portable and packable
The lack of zippers in most quilts also does a great deal in prolonging their life
Available with down and synthetic fill
Quilts are fairly modern and clearly, are an improvement over sleeping bags
Perfect for side sleepers and people who toss and turn during sleep
They can be used in a variety of weather conditions as long as the footbox is to up to par and that you have your headwear with you
More versatile in its uses
More ventilation and consequently less moisture from perspiration
Cons of Backpacking Quilts
You may sleep colder in a quilt as it increases the chances of an encounter with cold drafts around the neck, feet and backside.
Requires more investments in accessories for the best experience
A sleeping pad is a must-have if you intend to use a quilt as part of your sleeping system
Can be more expensive against comparable sleeping bags
Not always that easy to use
Which Should I Go For – Quilts or Sleeping Bags?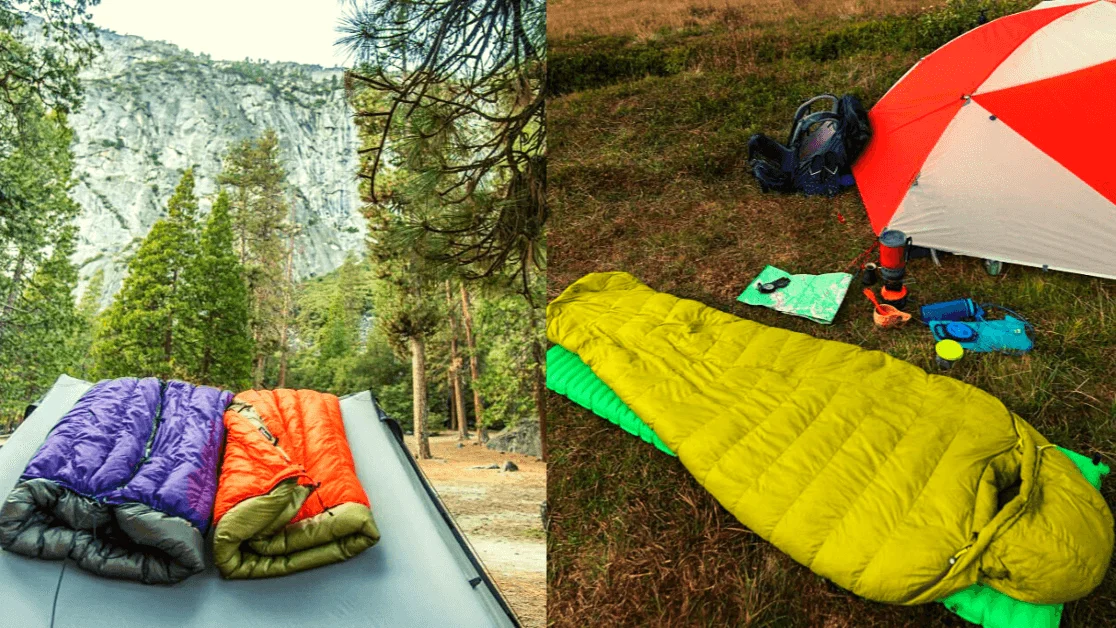 Usually, a catch-all answer to this quagmire would be to give them all a try and see which you'd like best. However, we understand that this may not always be possible or practical for plenty of logical reasons.
That said, we will help you make an objective decision by focusing on these key aspects: weight, packability, size/shape, insulation/warmth and durability.
We didn't factor in the price as quilts would theoretically be cheaper since they use less material; however, that's not the reality. More often than not you'll find only high-end quilts thus they would be costlier than a comparable sleeping bag.
Packability and Weight
Generally speaking, quilts are about 15% to 30% lighter than comparable sleeping bags. This is because quilts lack hoods, underside insulation and in some models footboxes. You'll especially notice the difference in weight if you already pack a sleeping pad.
In particular, ultralight campers will appreciate the slight weight savings that camping quilts provide.
Quilts don't take up too much volume and thus require less compression, which also translates to quick re-lofts when looking to quickly warm up and sleep.
To this end, quilts may be used as filler items over your camping gear in the backpack instead of storing them in the main compartment, leaving more room for extra gear.
Size, Shape, and Design
Sleeping bags have been available in the market for many years and thus you can find many shapes and sizes. Whether it's the mummy, modified mummy, rectangular, or couple's bags, you'll most likely find a model that suits you.
On the other hand, aside from the choice of bottom opening securing mechanism, there's not a lot to choose from when it comes to camping quilts. To avoid cold drafts, quilts are mostly designed for use by one person only.
Besides, the design of sleeping bags has a good balance between form and function across most models whereas; quilts may not always be that easy to use despite their explorative designs.
Insulation, Warmth, and Comfort
Given that the two use the same fills inside them, insulation and warmth retention can be a bit subjective. Good quality quilts have come a long way, from the day-one draft-prone models to today's insulative pieces.
Most camping quilts feature down-filled neck collars and improved pad attachment systems to eliminate possible exposure to cold drafts. They also allow for freedom of movement and limit the dead air space within to a minimum resulting in a cozy night's sleep.
As compared to sleeping bags, the only shortcoming that would compromise the insulative effect of quilts is the lack of head protection. So, you may want to pack some extra beanie hats and always layer up when sleeping in the cold.
Further, sleeping bags are structurally better at retaining warmth since a tightly cinched cocoon and hood wouldn't hold a candle to the halfway-insulative camping quilts. That said, you also need to pay attention to the fill power, temperature ratings, and other features of your sleeping system of choice for a fair comparison.
Durability
Zipper systems are the number one weak link when it comes to sleeping bags. The slider/pull may break, get stuck, or the teeth may refuse to close, keep popping or misalign.
Sure, some of the zipper problems may be solved using pencil (graphite) lubrication, paperclip/fork hacks, or worse yet by opting for a safety pin but are they really long-term or even practical when outdoors?
Sleeping bags are an incident away from sleeping cold whereas camping quilts eliminate the zippers all together. The quilt models that do use zippers, use them for the footbox together with a drawstring and/or elastic straps.
Our Verdict
Sleeping bags offer a tried and tested route to sleeping systems while in the great outdoors but camping quilts, on the other hand, may be a hit or miss for most campers. If you're camping in cold regions then a mummy bag would probably be the best choice.
However, if you don't mind the extra hassle of carrying some headwear, pad attachments and other accessories then enjoy the feathery weight and unrestricted movement that quilts will offer.
Remember, whether you go for a sleeping bag or a camping quilt, neither of them can generate heat –they only retain the existing warmth. So, make sure to eat enough food, drink lots of water, avoid alcohol, and always keep things dry.