The Hiker's Bane: Wet Feet!
Whether it's from the sweat, water puddles, dew on the grass, or inclement weather, the last thing you want to experience is moisture seeping into your shoes and socks.
Your feet must stay dry at all times as they are usually your most prominent arsenal to take on all types of hiking trails. It is especially crucial for long-distance hikers, who stay for extended periods in hiking boots.
Else, finishing any hiking trail may become more challenging or even result in fungal infections, blisters, blotchy skin, and other unpleasant consequences.
Why Should You Keep Your Feet Dry?
Feet are perhaps the most neglected part of our bodies despite them being such an integral part of mobility. They bear most of the weight and pressure exerted by the body as you stand, walk, dance, climb, or run.
Physicians and podiatrists highly advocate for proper foot care to not only keep your feet healthy but also to prevent long-term pains in the knees, hips, and even spine.
Keeping your feet clean and dry is one of the few measures you can take to keep them healthy.
If your feet get soaked, you're not only risking experiencing general discomfort; the wetness can also lead to other severe conditions. You may get bacterial or fungal infections, stinky feet, immersion foot conditions, or other severe cold-related illnesses.
Diabetics who are also hikers will especially want to keep their feet as clean, dry, and healthy as possible. The disease itself tends to restrain the feet's blood supply and lead to other severe problems to one's feet.
Fungi grow rapidly in warm, moist environments and can lead to infections such as Athlete's foot, which affects the feet and skin. The risk of contracting Athlete's foot is greatly increased by having sweaty feet, wearing tight hiking boots or trail runners, or staying too long with your feet wet.
Always keep an eye out for Athlete's foot's symptoms such as itchy white patches between the toes, blisters, dry skin on the soles, and cracking/peeling/bleeding of skin on the toes and soles.
The best way to prevent fungal foot infections is by washing your feet daily or after each hike with soap and water and keeping them dry. You may also want to minimize walking barefoot especially when crossing rivers or traversing waterlogged areas.
By making sure that your feet stay dry, you'll also be avoiding other ailments such as immersion foot syndromes. These conditions are solely caused by water getting absorbed into the skin's outer layer. The dreaded Trench foot condition is a popular example of these immersion foot syndromes.
Mostly common during World War I, the Trench foot condition occurs when your feet are continually exposed to damp, unsanitary, and non-freezing cold environments. The soaked-up feet may become shriveled, numb, red or blue in color due to poor blood circulation, or sometimes emit a decaying odor.
Advanced Trench foot syndrome may also lead to blisters, open sores, and increased susceptibility to fungal infections (mostly jungle rot).
Scary, right? Well, it gets worse as there are two other immersion foot conditions – warm water immersion foot and tropical immersion foot. Suffice it to say that prolonged exposure of your feet to muddy and warm waters is just as damaging.
Frostbite is also an imminent threat for winter hikers and more so if your footwear isn't protective enough to keep your feet warm and dry.
With all the above horrors in mind, let's investigate practical approaches that you can use to keep your feet dry while hiking. We'll first talk about some preventive measures then conclude with some possible treatments for lessening the effects of wet feet.
Get Waterproofed Hiking Shoes or Boots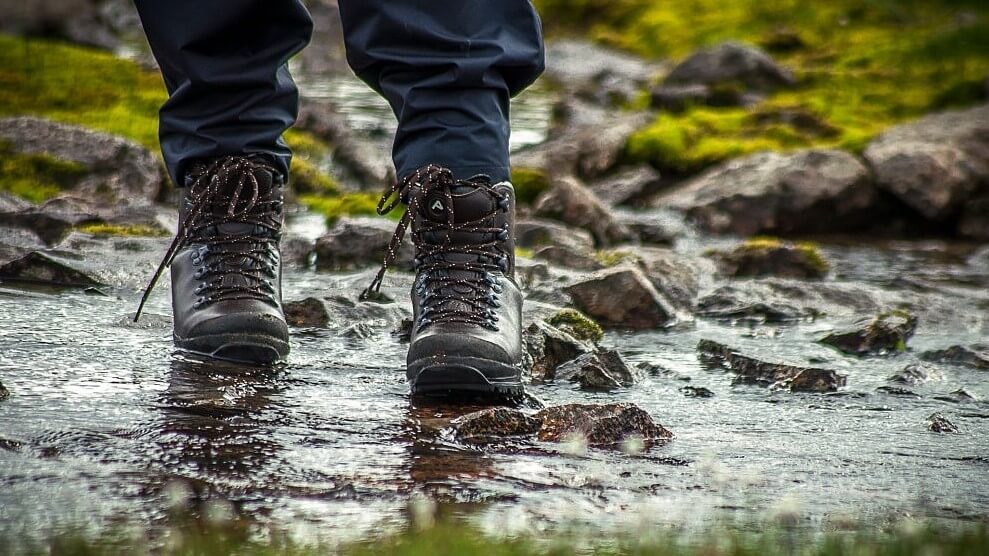 When it comes to keeping your feet dry, investing in a good pair of hiking boots and its related accessories is preeminent.
That said, you must understand what qualities to look out for in suitable footwear and more so find practical but inexpensive approaches to keeping your feet dry and warm.
Not to leave anything to chance, you should always go for waterproof but fairly breathable footwear to prevent moisture from getting to your feet. The breathability aspect helps let out perspiration while the waterproofing blocks out moisture from outside.
Materials used to make the boot's upper greatly influence its water repellency, breathability, and longevity. You'll mostly get boots with uppers made of leather or synthetic options. Leather options include full-grain, split-grain, or nubuck variants, while synthetic ones may include nylon, polyester, fabric, or combinations of either.
While such materials have varying degrees of water repellency, some boots will have an extra waterproof membrane for good measure.
Uppers made of full-grain leather or Nubuck leather tend to offer the best breathability and waterproofing as compared to those made of split-grain leather.
Despite the split-grain leather uppers being relatively lightweight, cheaper, and more flexible, they are not the best for keeping your feet dry. The nylon additives in them easily compromise on the boots' water repellency and breathability aspects.
On the other hand, synthetic uppers tend to be more affordable, lighter, and quick to dry but at the expense of durability.
Hiking boots usually have a durable water repellent (DWR) coating or a thin waterproof membrane on the outer layer of the upper. A pair of boots with both waterproofing agents are your best bet at keeping your feet dry no matter the terrain or weather.
See, your standard hiking boots may come with a fluoropolymer based water-resistant treatment, which sadly doesn't last too long. When there's a rise in humidity, a build-up of condensation in the outer fabric of the boots will always occur.
Manufacturers solve this wetting-out problem by using a DWR coating together with a waterproof-breathable membrane on the footwear. Polyurethane (PU) is the most commonly used DWR treatment while Gore-Tex® and eVent® are the most popular and most effective breathable waterproof membranes you can find.
Even with the feet well-protected from the elements, perspiration could still prove a challenge to regulate. So, you'll want boots with a breathable and moisture-wicking lining to absorb any sweat from inside the boots and if possible, prevent staining of the upper fabric.
There's a good number of hiking boot brands that feature Gore-Tex and eVent membranes. However, you're likely to find boots with linings made of either a soft leather, Terry loop, or woven nylon.
Winter hikers may want to opt for boots with some extra thermal insulation to eliminate possible effects of cold feet. That said, a good way to test the waterproofing on your boots is by splashing some water on them and observing to see if the water beads up and rolls off as expected.
Don't want to buy new waterproof boots? Don't fret as there are home remedies that you can use to waterproof your normal boots.
If your boots are made of synthetic materials then a waterproofing spray should do the trick. Else, for leather boots, you can use oil (mink oil, neatsfoot oil, or mineral oil), beeswax, or lanolin to add some degree of waterproofing to them.
Related: Best hiking boots for men (revealed by expert hikers).
Wear the Right Hiking Socks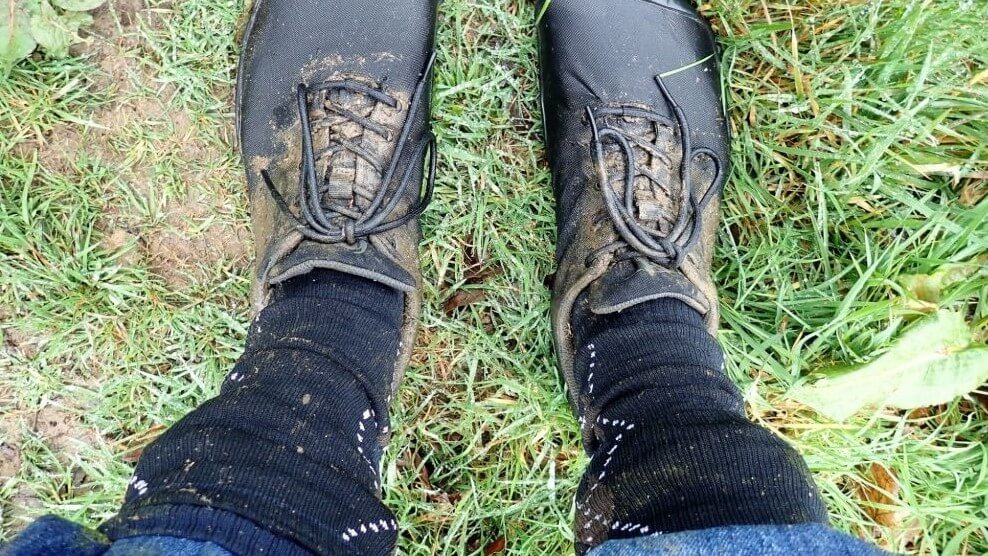 Wearing good quality waterproof socks can be a more direct approach to keeping your feet warm and dry. They are especially a lifesaver when the water eventually gets into your hiking boots.
Nevertheless, waterproofing is not enough as your dream socks should also be breathable and snug-fitting to prevent odors and keep out bacteria and fungi. Most waterproof socks are designed to be worn on their own while others need to be worn over other socks.
The type of material making up the socks directly affects breathability and waterproofing. Some commonly-used materials include nylon, merino wool, bamboo rayon, neoprene fabric, and Gore-Tex.
Steer clear off any waterproof socks made of mostly cotton as the material tends to dry slowly, have low heat retention, and leave your feet cold.
Waterproof socks usually have a three-layer construction consisting of the outer shell, inner lining, and breathable membrane. Outer shells made of synthetic options like nylon with Lycra offer a better fit, greater comfort, and good water repellency.
Merino wool or its blends is usually a good option for the inner lining as it wicks away sweat and moisture and keeps your feet warm and dry. However, merino wool socks tend to be more expensive and the material isn't as fast-drying as synthetic options.
Lycra or Gore-Tex can be good substitutes for the inner lining especially due to their superior waterproofing, breathability, and heat retention. A breathable membrane made of hydrophilic materials may be present in some waterproof socks to add extra insulation and repel sweat and moisture away from your feet.
The most popular moisture-wicking socks you'll find will likely be made of polypropylene, which is also well-liked for its quick-drying properties.
Washing and drying your waterproof socks may also affect how they keep your feet warm and dry. While most of these socks will be machine-washable, always follow the included instructions to prevent damaging the socks' waterproofing or breathability.
When it comes to drying them, remember to dry them inside out and strictly stick to air drying. It's also advisable that you bring along multiple pairs of socks to change into since air drying will take a long time.
Away from the fundamentals, you may also want to consider getting some knee-length waterproof socks as they offer more coverage and protection. They're particularly ideal for snowshoeing and paddling in deep waters.
Related: Best hiking boots for women (top contenders of the year).
Alternative Footwear and Accessories to Keep Your Feet Dry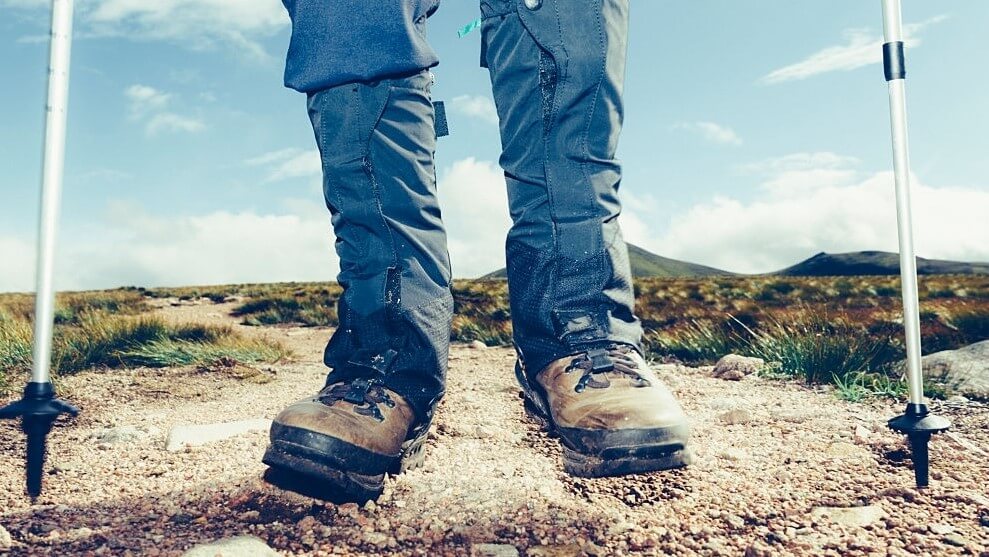 When crossing rivers and streams, seasoned hikers usually take off their boots and socks then dry their feet later before putting them back on. While that may be a practical approach to the problem, an even better solution would be to bring along some extra footwear. That's if you have space to spare in your pack.
Flip flops and quick-dry hiking shoes will do just fine for walking across shallow waters. Just make sure that you dry off your feet completely before slipping back into your hiking boots.
When walking in wet weather or through grass, gaiters will come in handy in keeping moisture at bay. Gaiters can be strapped over the boots and around your leg to prevent any snow, rainwater, dew, or mud from entering the top of the boots.
What's more, they are very lightweight and portable for any type of hiker. You may also pair your gaiters with rain pants for maximum effectiveness. Wear the waterproof pants over the gaiters to ensure that the water will roll down the pants and gaiters instead of into the gaiters.
Your ideal water repellent pants should be DWR-treated and waterproof to keep water out, zippered/Velcroed and stretchy for optimal mobility, and with taped seams and zippers.
Galoshes or silicone overshoes may also work in terms of keeping the water off your footwear but they may be a bit exaggerated and impractical for backpacking. The same goes for duct-taping a shower cap, plastic wrap, or zip-lock bags over the shoes.
A plastic bag or cling film over your regular socks is also an inexpensive way to keep out the water.
However, it may not be suitable for long-distance hiking or snowshoeing. You should instead go for wool or fleece boot liners over your socks as they are solely designed to keep your feet warm and dry in frigid weather.
Go the Extra Mile to Keep Your Feet Dry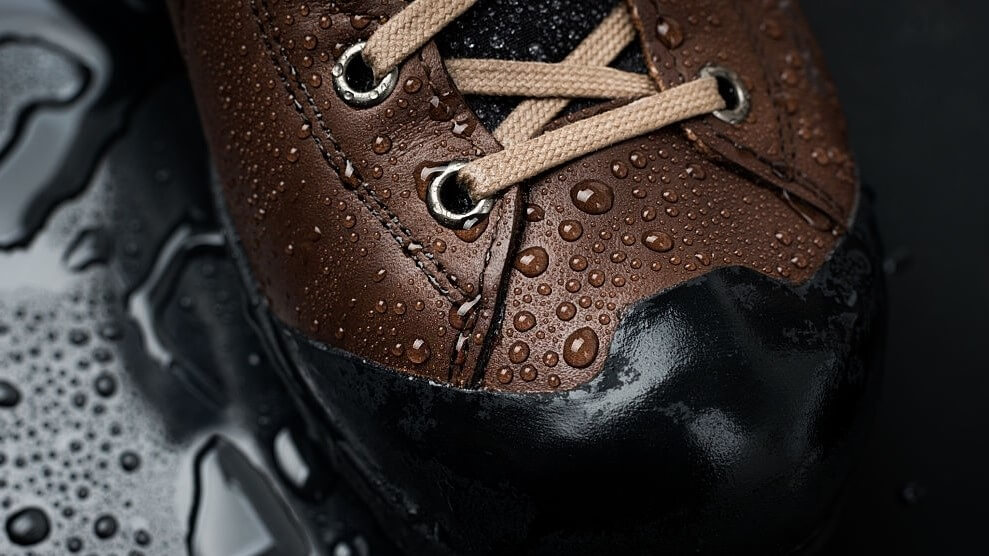 In true outdoorsman fashion, a backup plan is well warranted even when it comes to issues such as keeping your feet dry. After all, some of the tips shared above may be impractical when miles away from home.
Re-Waterproof Your Boots Now and Then
Even with the highest quality waterproof hiking boots, the DWR coating eventually wears off due to washing, continued use, and general environmental factors. You'll notice a decline in the boots' breathability and the wetting-out issues may also worsen.
Expectedly, this means your feet won't stay dry as desired when hiking through muddy or wet trails. A good solution to counter this is reproofing your boots.
Reproofing your boots begins with acquiring a suitable waterproofing treatment then thoroughly cleaning the boots. You can find waterproofing treatments as spray-in or wash-in applications and specific to the material making up your boots.
You'll need to clean the boots thoroughly as dirt and grime tend to hold water and attract fungi and bacteria. Dirt also removes the natural oils found in leather that gives it its edge over other materials.
Next, always apply the waterproofing treatment as per the given instructions as the process may differ from one brand to the other.
Lastly, take your time drying your hiking boots by air. Dry them at normal temperatures and in well-ventilated areas with low humidity. Refrain from using a heat source such as direct sunlight, a tumble dryer, campfire, or a radiator to dry your boots as this may cause irreversible damage to them.
To speed up the process, you may use a fan or stuff some old newspapers into the boots.
Take Care of Your Key Hiking Arsenal
Away from the paved walkways and tarmacked roads, muddy and gritty pathways are an inescapable reality for any hiker looking for some fun out in nature. We know, no one looks forward to cleaning out that caked-in mud and dirt from the boots.
However, it's an essential activity that must be carried out if you want the boots to serve you for longer. Else, the leather may suffer from abrasion from sand, grit, and dirt. Plus, the continued moisture build-up can't be good for your feet as we've seen above.
Clean your boots as you would your other footwear but avoid submerging them fully in water as that would damage their waterproofing. A boot cleaning solution should suffice for removing stains on the fabric or leather.
If you get the full-grain hiking boots, a conditioner will be needed to keep the material moisturized and crack-free. That said, you'll need to apply the conditioner sparingly to prevent "over-softening" the leather. Conditioning may not be necessary if you have yourself a pair of nubuck or suede leather boots.
Furthermore, normal wear and tear may increase the risk of moisture getting in the shoe. Whether it's the worn-out insoles, cracked or delaminating soles, or stitching coming apart at the seams, routine repairs and fixes on your boots are highly recommended.
Other Tips and Tricks
Still worried about your feet macerating or pruning? Well, fear not as the following ideas will be sure to put your mind at ease.
Firstly, be sure to check the weather updates for the area you intend to hike in. This helps you to zero down on what clothes and footwear you'll need for your trip. Waterproof hiking boots may be an overkill if you'll be hiking in warm dry weather.
Next, try incorporating short breaks to your hiking trip to check on the status of your feet. Dry off any moisture present, re-powder your feet, and change into a fresh pair of socks if needed. Also, consider switching between trail runners and hiking boots whenever the weather allows.
Additionally, bear in mind that waterproof boots and socks take a longer time to dry than conventional alternatives. Still, some water will eventually find its way into your boots especially when wading through puddles and shallow waters.
Always wear fitting shoes to minimize sweating and more so to prevent developing other issues such as foot cramps, heel spurs, and hammertoe.
Another no-brainer way to reduce the risk of wet feet is by avoiding wet trails and terrains all together. Instead, go for trails at a higher elevation and those that get the most sun exposure as the grounds there will be far much firmer and drier.
Lastly, you should understand and accept that your feet will get wet despite all the protection and measures taken. With that in mind, you'll be able to work towards reducing the effects of wet feet more efficiently.
How to Minimize the Effects of Wet Feet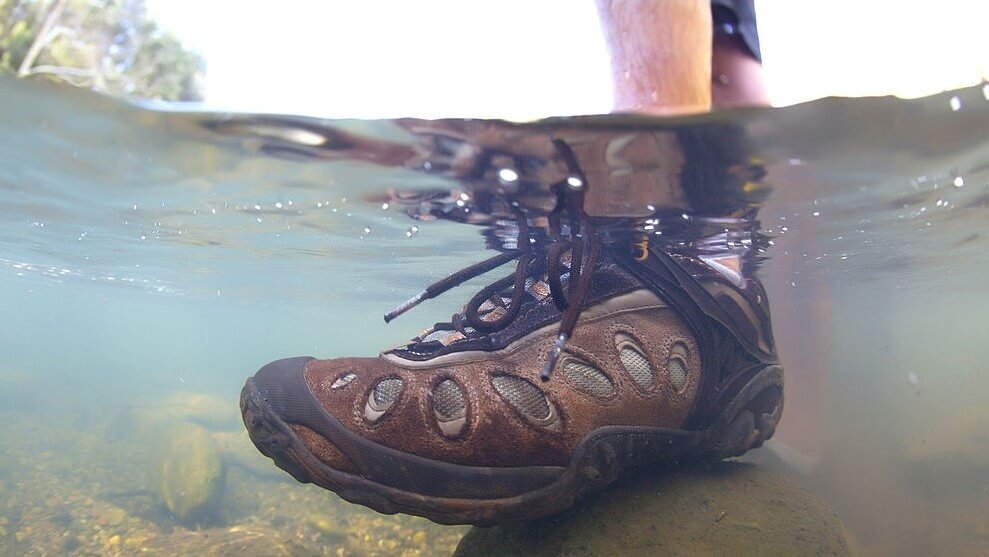 You can stop or minimize the effects of wet feet by washing and drying your feet and footwear accordingly, treating preemptively, and practicing good moisture management.
After being wet, the obvious first step is to get your feet dry to prevent any further moisture-related effects. Wring out the socks and hang them on the attachments on your pack or under your jacket. An extra pair of socks and shoes will be perfect to slip into after drying off your feet.
Good foot hygiene greatly helps to reduce the growth of fungi and bacteria. Washing your feet with a tea tree oil cleanser or just soap and water should do the trick.
Additionally, talcum powder or cornstarch may be used to ensure the spaces in-between the toes always stay dry. Applying lube to your feet also helps to reduce the friction present when your socks and feet get soaked wet.
If your feet sweat a lot, try either of the following solutions to prevent the problem:
Wear the right socks and get a good-fitting pair of boots or shoes;
Always carry extra pairs of socks and a change of shoes;
Apply antifungal powders, antiperspirant, or rubbing alcohol;
Wash your feet regularly and soak them in black tea;
See a podiatrist about possible solutions.
Lastly, you may also apply a hydrophobic balm or waterproofing salve on your feet to keep them moisturized and prevent damage from wetness.
Over to You, Fellow Hikers!
Armed to the teeth with your weather-appropriate footwear and all the above knowledge, the ball's now in your court to take on more adventurous trails outside. Keep in mind that the most effective way to keep your feet dry while hiking is by planning and improvising accordingly as you go.