Which Rain Gear? Ponchos or Rain Jackets?
An unexpected downpour is all it takes to bring your hiking, fishing or camping adventures to a sudden halt. Then again, the fresh smell and the magical sounds of the raindrops hitting the ground can be quite therapeutic. Accordingly, having the right rain gear with you can be quite the thing.
Raincoats and ponchos are the most popular items when it comes to protecting yourself from the rain while in the great outdoors.
Essentially, rain gear should keep the rain on the outside and keep you dry and comfortable on the inside. There are several intricacies and basics that you need to be aware of so that you can make an informed decision when it comes to picking the right rain gear.
Commonly Used Terms
To best discern the strengths of each type of rain gear, a good starting point is to learn the jargon in the given field. The below-mentioned set of words are the most common buzzwords when it comes to rain gear.
Waterproof
This typically means that the given rain gear is resistant to penetration by water. Test standards and ratings may differ but waterproofing can either be achieved by laminates or by use of coatings.
Laminates offer a more durable and effective waterproofing since the waterproof membrane is bonded under the rain gear's fabric. On the other hand, coated rain gear is lighter and more affordable as they have a waterproof film spread across the inner surface of the fabric much like paint spread on a wall.
Polyurethane (PU) is commonly used in coatings and laminates while polyester membranes and expanded polytetrafluoroethylene (ePTFE) is typically used in making durable, high-end waterproof rain gear.
Water-Resistant
This refers to rain gear that has been treated to repel water and can handle light rain for short periods. They also offer better breathability as compared to waterproof versions. However, water-resistant rain gear becomes ineffective if the downpour lingers or starts raining down sideways.
Breathable
When you are out and about, sweat vapor is bound to form under your rain gear mainly due to the contrasts in temperature and humidity between the outside and the inside of the garments.
Breathability refers to how efficient this vapor transfers to the outside of the fabric and in effect keeping you dry and comfy. Air permeability can also be used interchangeably when talking about this aspect.
The biggest trade-offs when it comes to breathability is that very breathable fabrics will require a warmer insulating layer as compared to others.
Durable Water-Repellent (DWR)
DWR is an outer finish or coating that makes the fabric water-resistant or hydrophobic, in fact, water will just bead and roll off the surface without penetrating.
The DWR protection wears off over time due to abrasion, oils, sweat, and dirt. You can revive the DWR abilities by first washing then applying heat to the poncho or rain jacket. Be sure to follow the included instructions for DWR care in your given rain gear.
Spray-on or wash-in DWR revival products are also available in the market to help you reapply the layer again.
Lastly, most manufacturers will test the effectiveness of DWR protection and even include performance after a given number of washes. A higher score equals to better performance. For instance, an 80/10 rating means the water spraying test achieved 80 points score after 10 washes.
Raincoats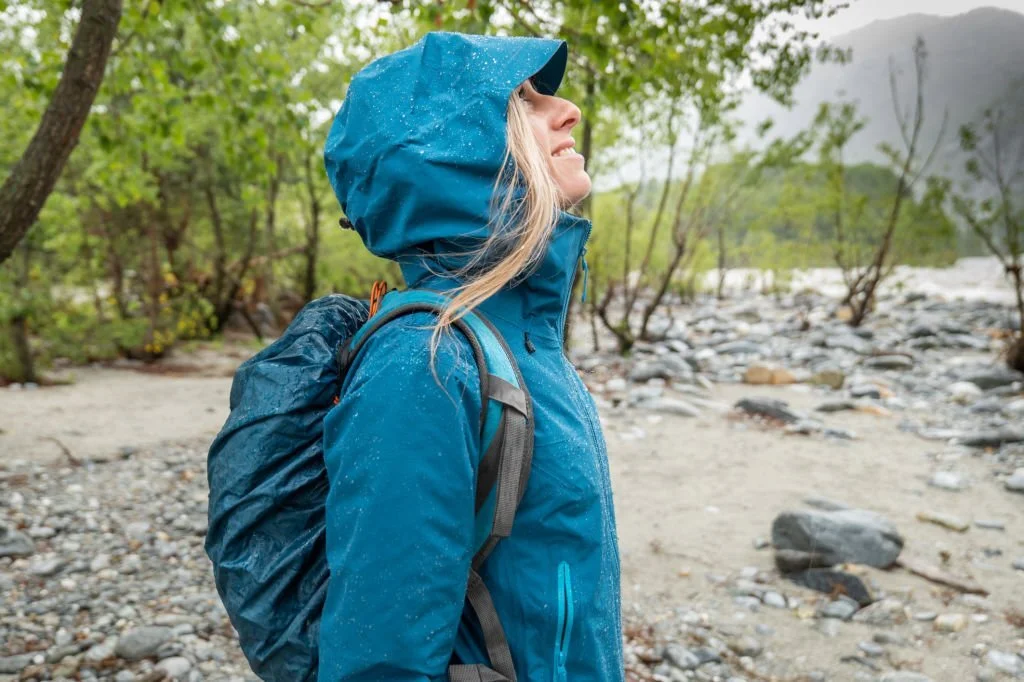 A rain jacket, slicker or raincoat is a versatile piece of clothing, usually waist length that can be worn in many different types of weather and events. Rain jackets will keep you snug and dry during heavy downpours.
Rain jackets provide an extra layer of protection that not only keeps out water but also traps air to keep you warm. A good quality raincoat should be lightweight, waterproof, compact and easily packable.
Seam taping helps enhance the waterproofing qualities of the jacket and can be found in all waterproof jackets. The zippering systems in most rain jackets comprise of a rubberized coating or storm flap and a zipper hut/cover to help keep water from seeping through.
To improve on the fit of the jacket you can expect the hoods to have brims and string adjustments on the sides as well as the back. A drawcord at the bottom hem or at the waist and even have wrist enclosures in some raincoats is included to help in fine-tuning the fitting to one's liking.
Also, vents such as pit zips or underarm vents may be included in some raincoats to enhance airflow and ventilation. Pockets may also influence the price of the rain jacket, for instance, multiple waterproofed pockets or those with headphone cords will mostly be premium-priced.
Raincoat Merits
Offers a body-contouring fit and comes with full sleeves.
Stylish and versatile for many other applications.
Keeps you warm and dry during a heavy downpour.
May have wind- and waterproofing benefits.
Provides better mobility through rough bushy trails and thick underbrush grounds.
Offers total coverage with zero openings to let in rain.
More durable than ponchos.
Raincoat Demerits
Typically waist-length thus offering little to no protection to the bottom half of the body.
Slightly bulkier than ponchos.
Costlier than other types of rain gear.
Poorly ventilated for warm weather and light rain showers.
Rain Ponchos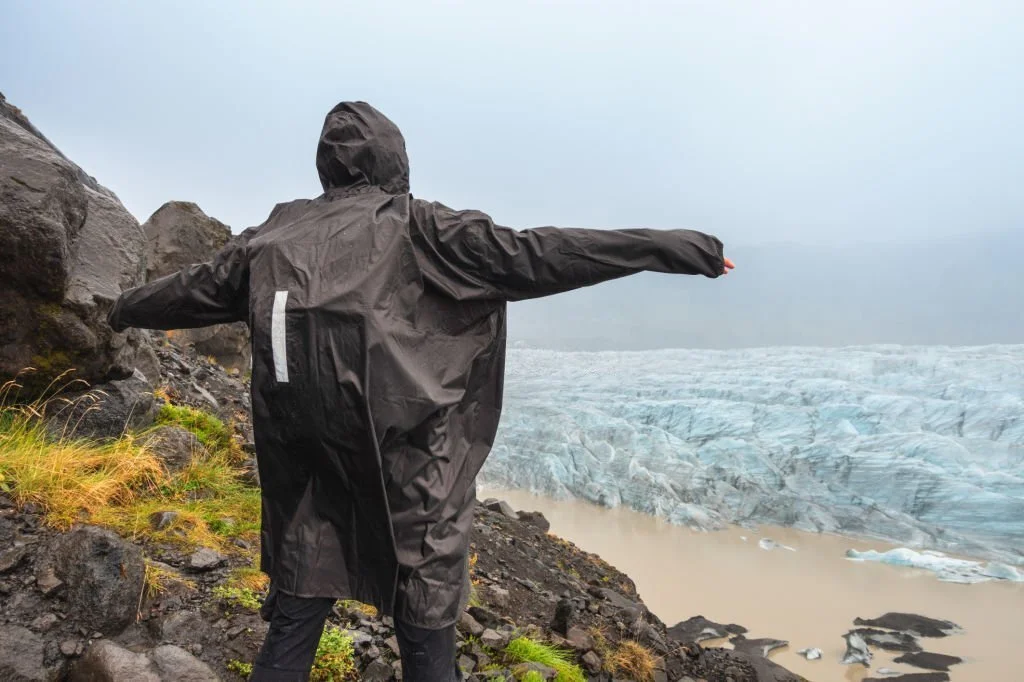 A poncho is a large outer garment with an opening in the center, which may also be designed as a hood for the head. Ponchos serve as fashionable pieces in some rare occasions or primarily as rain gear.
Materials used to make bacpacking rain ponchos include Sil-nylon, Sil-poly, PU-coated nylon, Cuben Fiber (CTF3) and PVC among others. Typically, a blend of polyester/nylon with silicon is sufficient for an inexpensive, waterproof, durable poncho.
PVC ponchos are revered by many avid outdoorsmen for their affordability, effectiveness and easy reparability. PU coating may be used on the nylon ponchos to give the durable nylon fabric waterproofing abilities on the inside.
High-end ponchos made of Cuben Fiber, which is comprised of a thin sheet of Dyneema bonded between two sheets of Mylar, excel at being ultra-lightweight and waterproof.
The design for rain ponchos may not turn any heads fashion wise but be sure to look for features such as; full-front zipper, arm sleeves, and drawstring for fine adjustments. Pit ventilations are also a welcome feature in ponchos and may come in the form of a snap cover or flap.
Ponchos have a one-size-fits-all design which means they can fit even though loosely any body shape or size.
Poncho Merits
Affordable and easy to repair and maintain.
May be used for many other purposes.
Lightweight and compact to pack away and carry.
Waterproof and well-ventilated.
May be worn over your backpack .
The cover up to the mid-thigh section thus you can sit on wet surfaces.
Poncho Demerits
Offers a loose fit thus may snag on trees or branches during hikes.
Ineffective in rains with strong winds.
Prone to tears and leakages over time.
Has a bland design.
Juxtaposed: Ponchos or Rain Jackets?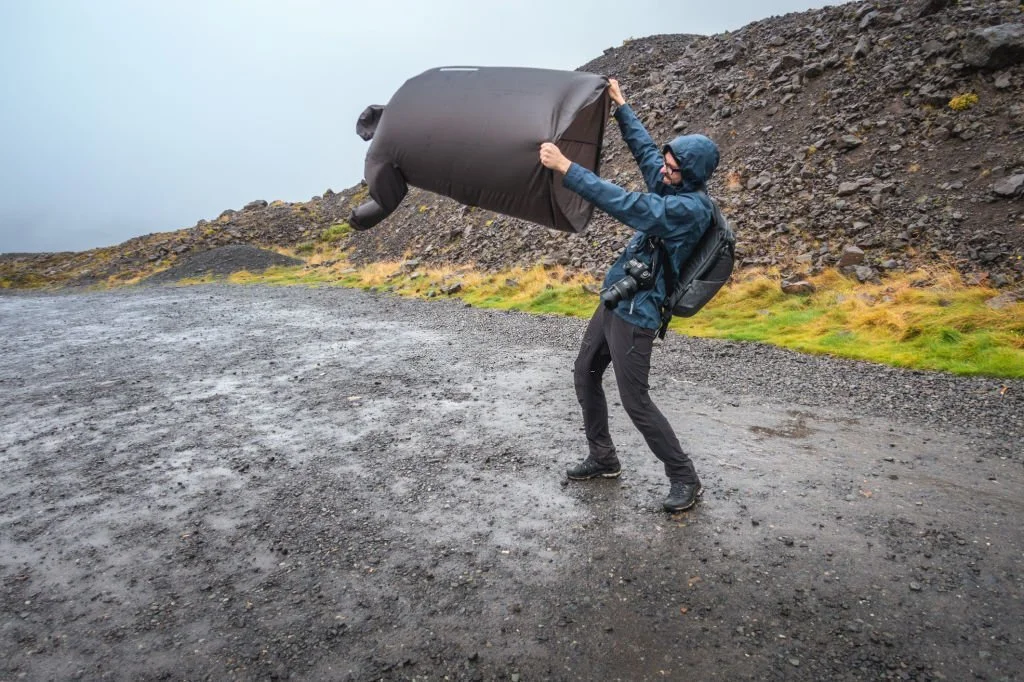 In a nutshell, ponchos are extremely practical in their uses while rain jackets are geared to additional comfort. Rain ponchos offer protection from downpour up to the mid-thigh section while rain jackets are a little shorter.
Rain ponchos have superior windproof, waterproof and breathability functions as compared to rain jackets.
They are also lightweight, large and can even be used for other purposes such as rainproof dressing for injuries, water container, rain tarp, carry bag, stretcher, floor tarp and even as a rainproof tent. Another point for rain ponchos is that they are quite inexpensive as compared to rain jackets.
That said, rain jackets are unmatched when it comes to providing a contouring fit, durability and features. They will keep you warm and dry regardless of any drizzling or heavy downpour during hikes.
The extra bucks spent on buying a raincoat will be well worth it given the high level of performance and value that they deliver. Ponchos should be your go-to if trekking over open trails with minimal obstacles or when expecting light rains.
Final Word
When it comes to rain gear especially for ardent outdoorsmen, ponchos and rain jackets get the most mentions. The two have varying strengths on important factors such as waterproofing, breathability, portability and so on.
To some extent, it can be said that ponchos are an affordable yet effective option to rain jackets. It is our hope that the information shared above will help you distinguish between the two and more so help you decide on which one to go for.