The most spectacular hikes to do in the French Alps
Have you been looking for your next hiking adventure? Are you looking to get inspired by unique scenery? If so, the French Alps should be your next location!
The French Alps is a stunning location with shimmering blue mountain lakes, gorgeous peaks, and alpine fields.
Although you'll find the French Alps towards the South of France, you'll still need to plan your trip accordingly. The mountain ranges of the Alps can get cold pretty quickly; for this reason, it's best to plan your trip between May and October.
There's no better place for hiking than the alps, thanks to the 300,000 km2 of mountain ranges that span eight countries. And with the French Alps lying on the frontiers with Italy and Switzerland, there are plenty of cultures to discover.
But for many people, the main pulling point is taking on some of the most respected hikes in the whole of Europe or trying their hand at a touch of skiing.
No matter what your reason is for visiting the French Alps, one thing is for sure; you need to try at least one of the hikes on this list.
So, without wasting any more time, let's look at some of the most spectacular hikes to do in the French Alps:
Tour du Mont-Blanc (Mont-Blanc Region) / Multi-Day Hike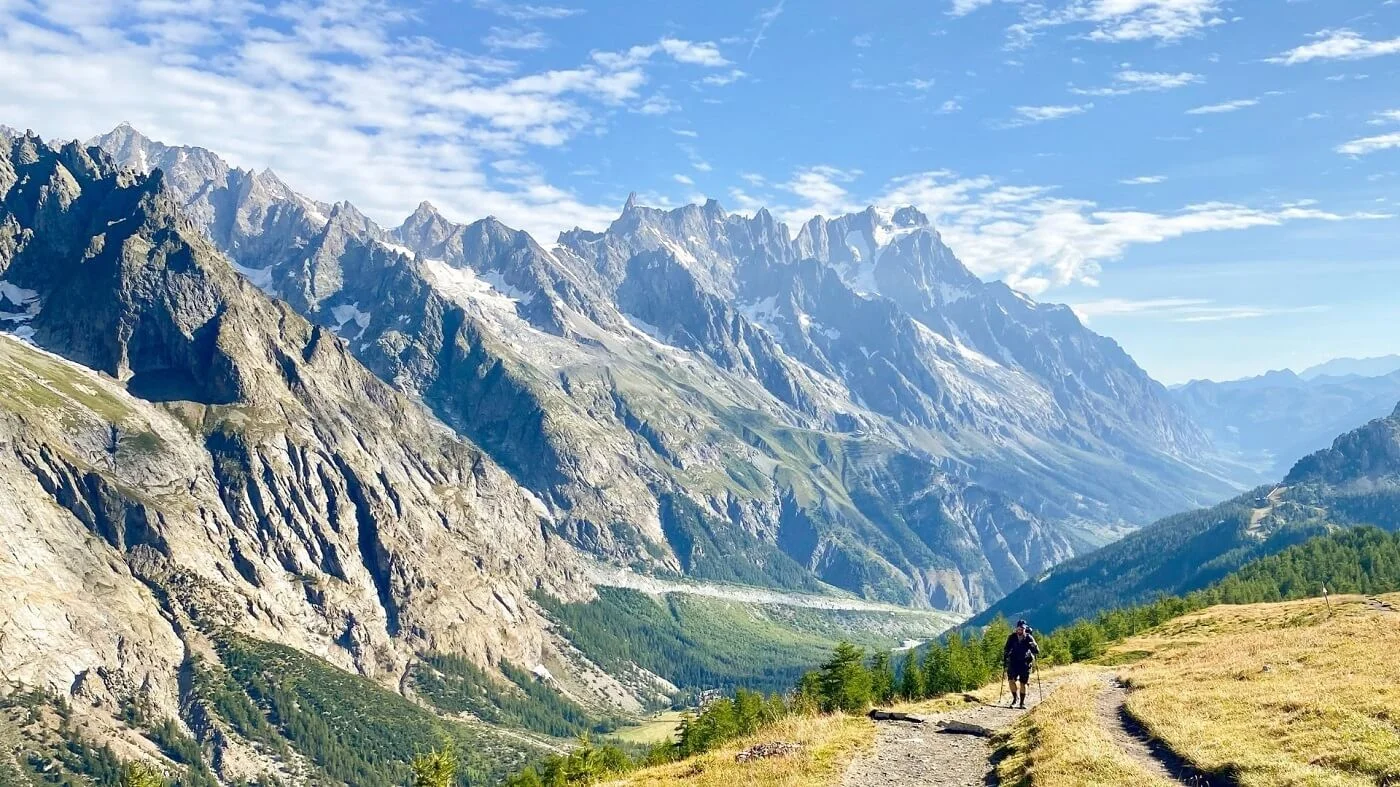 Mont-Blanc is the biggest mountain in the region, making it a trendy area among hikers. But it's not just the mountain that draws crowds…
Along the way, you'll be treated to epic alpine scenery, including glaciers, rivers, lakes, and wildlife. On top of the stunning scenery, you can also get an incredible history lesson from the times gone by.
On the hike, you'll find churches that have been left intact from the 18th century, which mark the routes Roman soldiers walked nearly 2,000 years ago.
The feeling of walking past these beautiful structures and knowing this was the route the Romans took on their fantastic voyage is genuinely something to behold.
And that's not the only aspect that brings people to the route. One of the main selling points is hiking through 3 different countries in one route. The hike starts in France and passes through Switzerland and Italy.
As you walk the Tour du Mont-Blanc (TMB), you'll pass through extensive hut systems that are stocked with food, water, and somewhere comfy to sit for when your feet get tied. And trust me, your legs will get exhausted along the way.
If you want to start at the most traditional location, you should go from Les Houches, about a 10-minute bus journey from Chamonix. The route goes counterclockwise and finishes in the Col de la Forclaz-to-Argentiere after 170 km of hiking.
How long does the hike take?
Well, due to it being a 170 km hike, it's not going to be a quick one. You can expect it to be anywhere between 8-13 days, but this all depends on how fast you walk.
You also need to consider that you're going to be taking on 32,800 feet, which is no easy task. For this reason, it must be rated as extremely difficult; the sheer distance and elevation aren't something everyone can handle.
One thing to point out is that you will be at a high altitude, which usually means snow and ice. So, when spring comes round, you will need an arsenal of safety gear like snow grips to ensure safety while you're hiking.
Location: Mont-Blanc Region
Duration: 8-13 days
Difficulty: Extreme
Elevation: 32,800 Feet
Distance: 170 km
Lac Blanc From Chamonix (Mont-Blanc Region) / Day Hike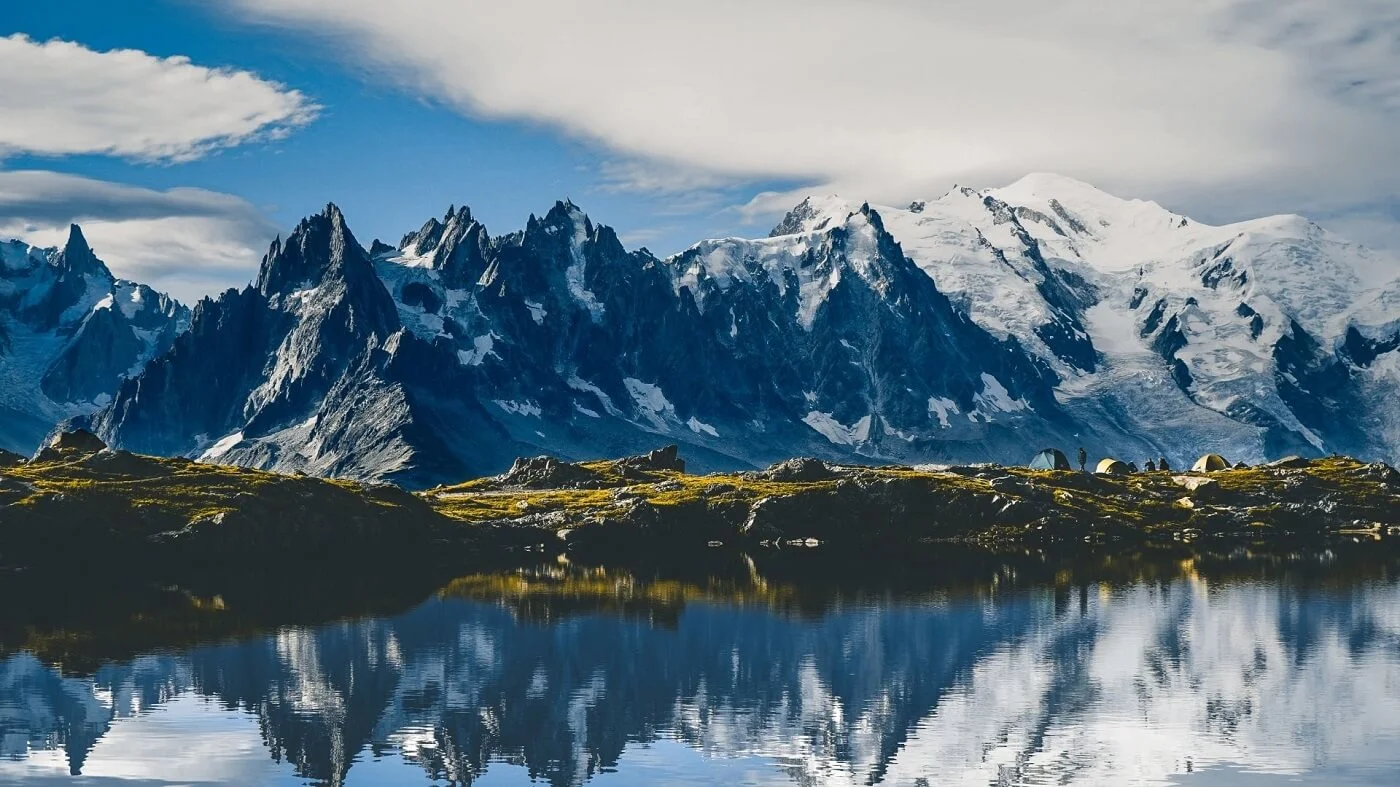 Lac Blanc is one of the most famous walks in the alps due to the straightforward access and breathtaking panoramic views.
During your hike, you'll find dramatic landscapes full of mountains, lakes, and snow. Around the Nature Reserve of Aiguilles Rouges, you should also see an array of wildlife from, Chamois, Marmots, Bouquetin, and deer.
You'll find the mountain range of Lac Blanc in Chamonix, which is just north of the world-famous mountain Mont Blanc. It's also very close to another popular location called Grotte de glace and an awe-inspiring glacier.
On average, hiking Lac Blanc will take you anywhere between 3-6 hours, which will heavily depend on your fitness level. The thing is:
This isn't an easy hike; there are many steep sections you need to contend with, which is why your fitness level heavily depends on you quickly you get the while done.
Most people would rank this hike for intermediates, mainly because of the fitness you need to finish the walk. The good thing is, it's not massively technical, so you shouldn't have any problems there.
Overall, you'll be walking around 12.08 km depending on where you start from and which route you take, with a collective elevation of 7,716 feet. So, if you have a good fitness level and a passion for hiking, you shouldn't have any troubles at all.
Location: Chamonix
Duration: 3-6 hours
Difficulty: Intermediate
Elevation: 7,716 feet
Distance: 12.08 km
Vallée des Merveilles (Mercantour Region) / Multi-Day Hike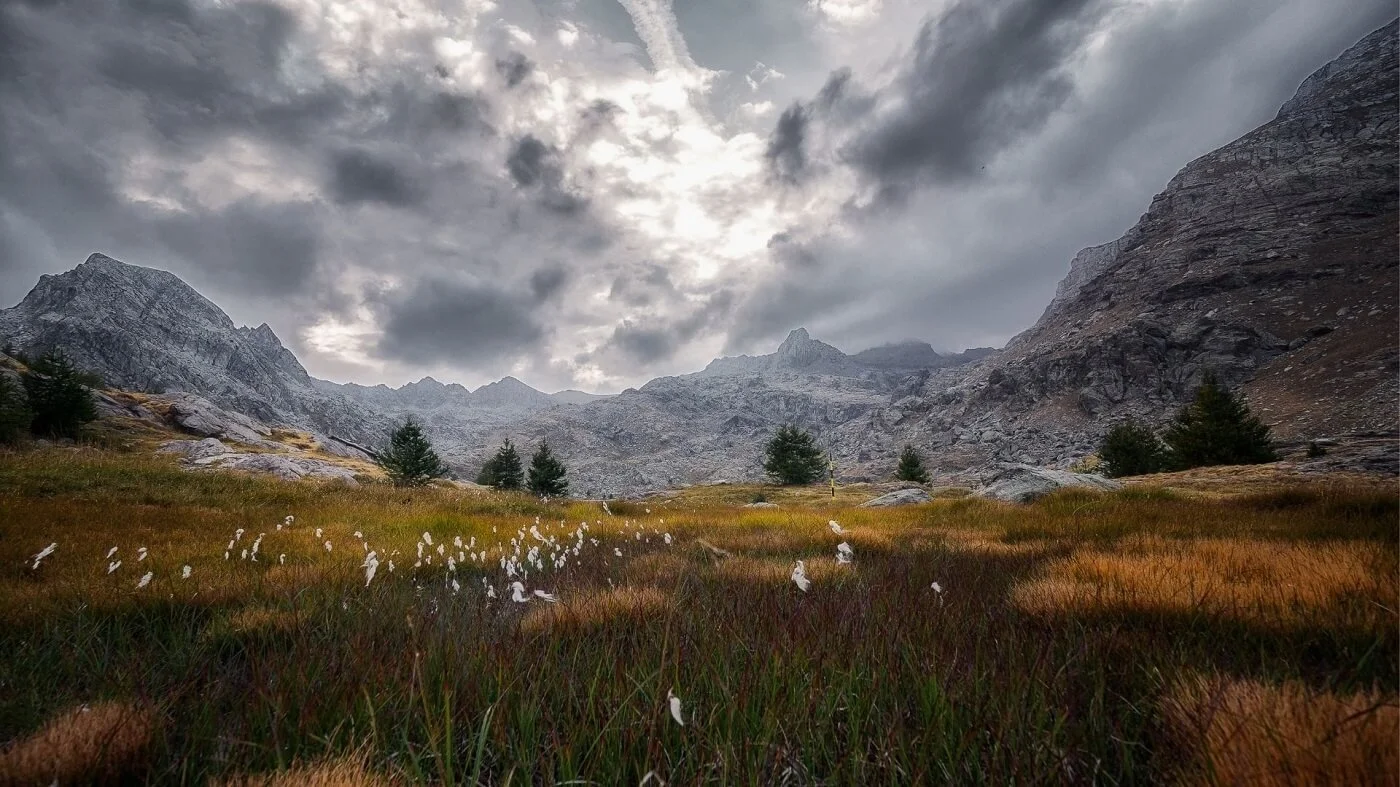 If you're looking for a beautiful weekend away with you and your family, the Vallée des Merveilles is a great location to check out. Its name translates to the Valley of Wonders, and it's easy to see why.
The route is very long, but what makes it so unique is the wealth of historically exciting sites. Along the hike, you'll find more than 100,000 carvings that date back between 5,000 years and 1,500 BC.
And it's not just the historic carvings that bring people to the area. The hike also offers a richness in nature and vegetation that exhibits luxuriance throughout the year.
The walk starts at Lac des Mesches, located west of Tende, which is probably the best place to stay if you plan on taking on this route.
As for how long the complete route takes, it will depend on the person. But you can expect anywhere between 2-4 days. And that really depends on your abilities and how much time you want to spend exploring.
With over 100,000 wall carvings to gaze at, you can quickly add up the hours.
The good thing about the hike is it's not massively difficult. At the maximum elevation, you'll be around 8,362 feet. And an accumulated elevation of approximately 10,000 feet, which isn't too bad when you split it over three days.
And that's why I rank it as an easy to intermediate difficulty. You don't have to contend with excessively steep sections; it's just the hike's distance some struggle with. Overall, you have to walk around 31 km, which works out to approximately 10 km per day.
Location: Lac des Mesches
Duration: 2-4 days
Difficulty: Easy/Intermediate
Elevation: 8,362 feet
Distance: 31.59 km
Lac du Clou From Le Monal (Mont Blanc Region) / Day Hike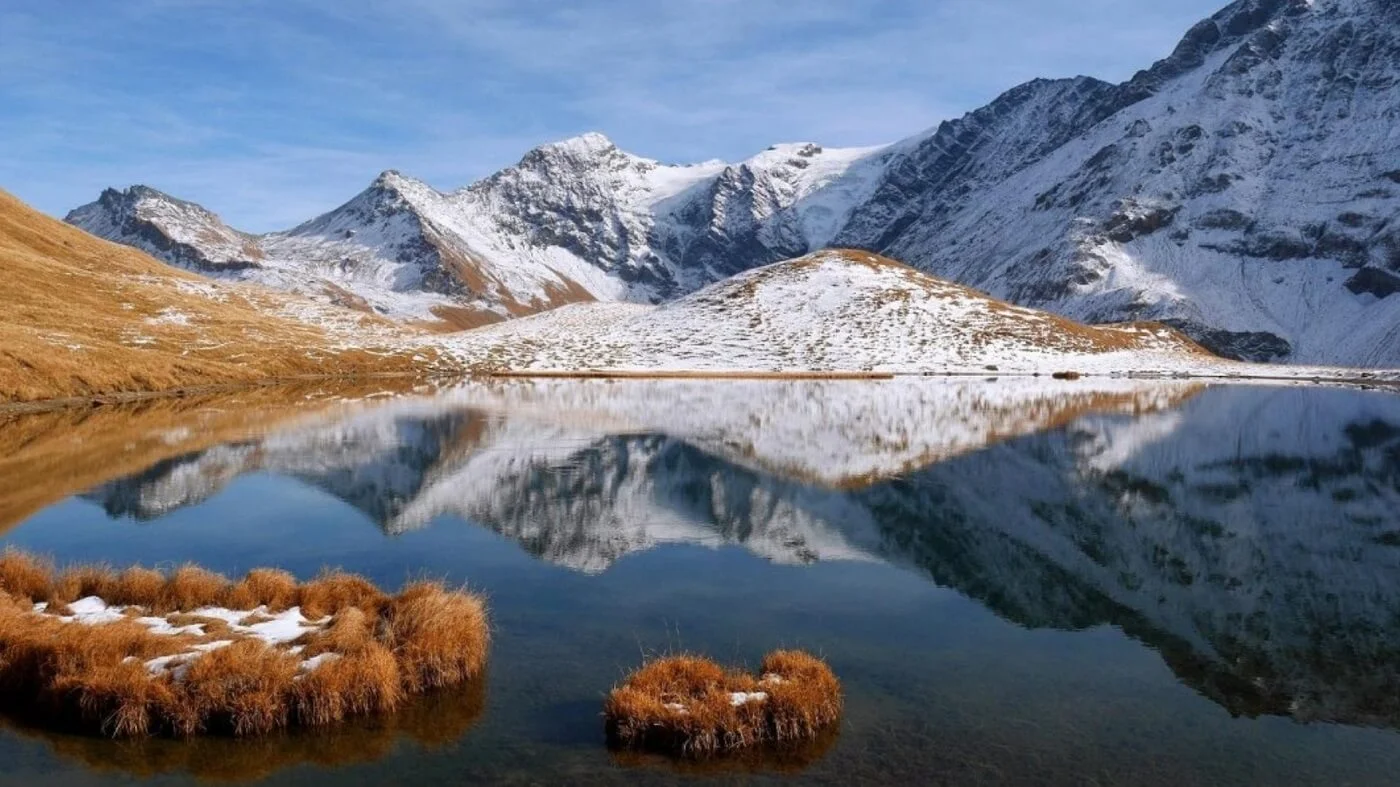 The hike to Lac du Clou from Le Monal is a stunning hike filled with glaciers, green pastures, and delightful scenery of Italy. Not only are you presented with scenery that takes your breath away, but you'll also find delicious cheese to tuck into after your walk.
You start the hike in the heart of Hamlet of Monal, which is famed for its architectural beauty of old wooden and stone chalets. Once on the walk, you'll pass through charming green pastures and forests and the awe-inspiring glaciers before finally reaching Lac du Clou.
The closest point of reverence from Le Monal is Sainte-Foy-Tarentaise which is north of your starting location. And to the west of Le Monal, you'll find Mont Pourri, which is a stunning mountain range in the Alps.
For most people, it takes around 4.5 hours to complete the hike. But as always, it depends on your fitness levels.
There's nothing too challenging about the hike; you only have to deal with a few steep sections, which can be tricky for some people to handle. But, if you have a good fitness level, you should be fine.
The route is 15 km and only rises 2,208 feet, with most of the elevation coming in one section.
Location: Le Monal
Duration: 3-6 hours
Difficulty: Intermediate
Elevation: 7,339 feet
Distance: 15 km
Tour des Écrins (Écrins Region) / Multi-Day Hike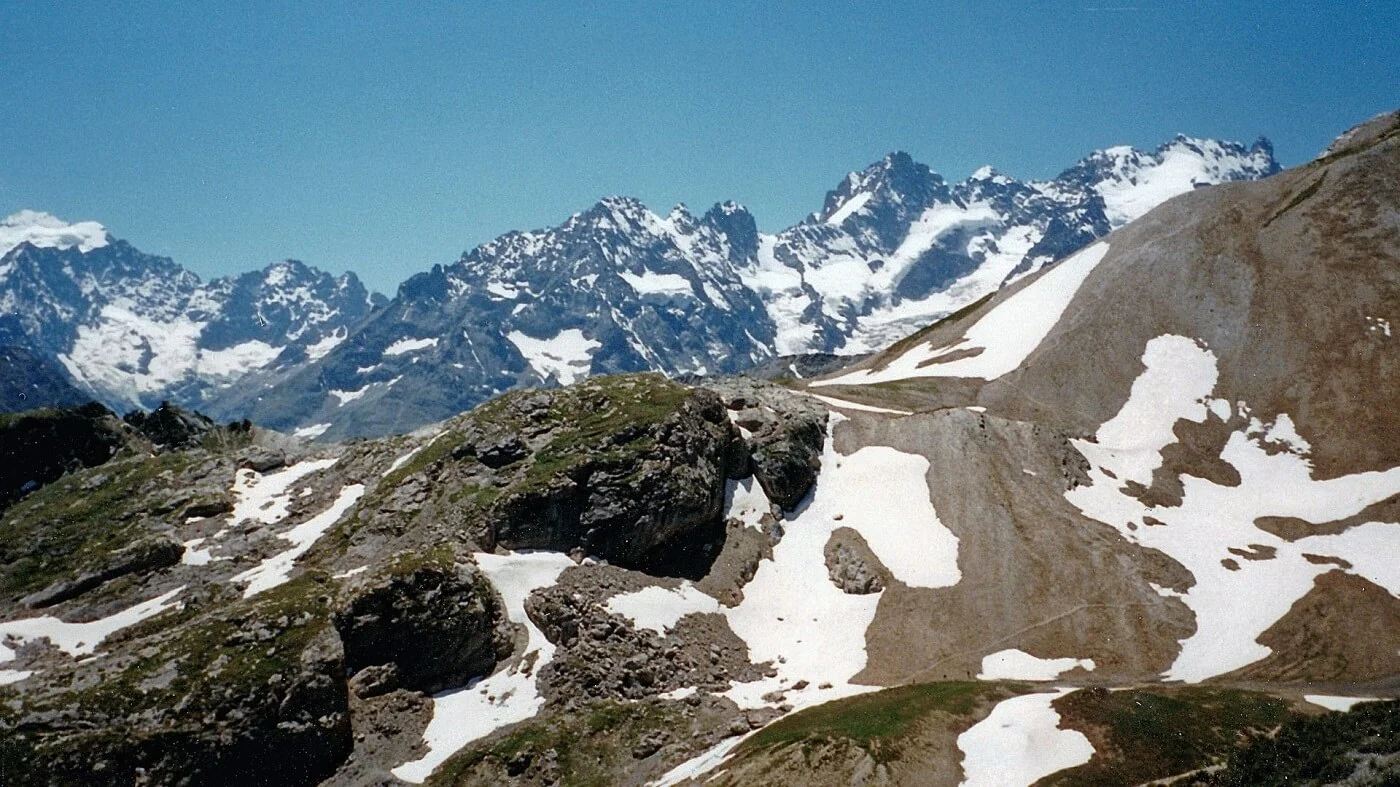 The Tour des Écrins is renowned for being one of France's wildest GR treks. During the hike, you'll have amazing views of the main peaks, Ecrins Massif and Lac Lauvitel, which honestly just blows your mind.
And it's not just those two peaks that stand out. You follow a mountainous route around the Barre des Ecrins to the northwest of the park, which is the most southerly 13,000 ft peak in the Alps.
To add to this, you'll also pass the spectacular peaks of La Meije (13,067 ft), Mt Pelvoux (12946 ft), and numerous other mountains that all sit above 11,000 ft.
The enormous rocky accents and the contrast between ice and green valleys really stand out along the route. And it's this diversity of beauty and wilderness that makes this route one of the most exceptional GR hikes.
One of the best things about this route is how accessible it remains due to the sheer number of shelters available along the way. It's entirely possible to spend each night in a hut, which means you can travel light.
The start of the route is located at La Garde, which isn't far away from Altiport de L'Alpe D'Huez, making it quite accessible for people traveling abroad. You just need to take a quick internal flight to get there.
As for the duration of the walk, it really does vary depending on your fitness level and how far you can walk in a day. Most people complete the 180 km hike in around 7-12 days.
You won't go higher than 8,973 feet at the maximum elevation, so anyone with a reasonable fitness level shouldn't have any issues.
The problem is, during the 180 km hike, your take on a whopping 41,995 feet of accents and cross 14 cols.
Luckily, even though it's classed as one of the most challenging treks in the Alps, the nature of the paths and accessibility to mountain refuges makes it very possible if you have the experience, enthusiasm, and fitness.
Location: La Garde
Duration: 7-12 days
Difficulty: Extreme
Elevation: 8,973 feet
Distance: 180 km
Wrapping Up
Hiking in the French Alps offers something for everyone. It doesn't matter if you are looking for something that puts you through your paces or a small hike to enjoy with family… it has it all!
What makes the French Alps even more stunning is the proximity to Italy and Switzerland and the feeling of cultures pouring out over the borders.
In the local areas of the alps, you can find spectacular glaciers, lakes, green pastures, wildlife, vegetation, birds, and so much more.
So, if you ever find yourself on the border of the French Alps, be sure to check out one of these hikes along the way. You're guaranteed a life-changing experience full of mystery and awe.