What is it with the colors of tents?
Color is often an overlooked factor when shopping for a camping tent. Besides aesthetics, the color of a tent does play crucial functional roles such as temperature regulation, outdoor safety, and keeping away some bugs.
Generally, choosing the right color comes down to picking either a dark or bright color. Popular bright tent colors include yellow, orange, white, and beige while darker options include brown, tan, moss green, blue, black, khaki, and red.
So, do all these colors matter at all? Read on for an in-depth breakdown of the superficial and functional benefits of color in a tent.
How Tent Color Affects Your Safety While Outdoors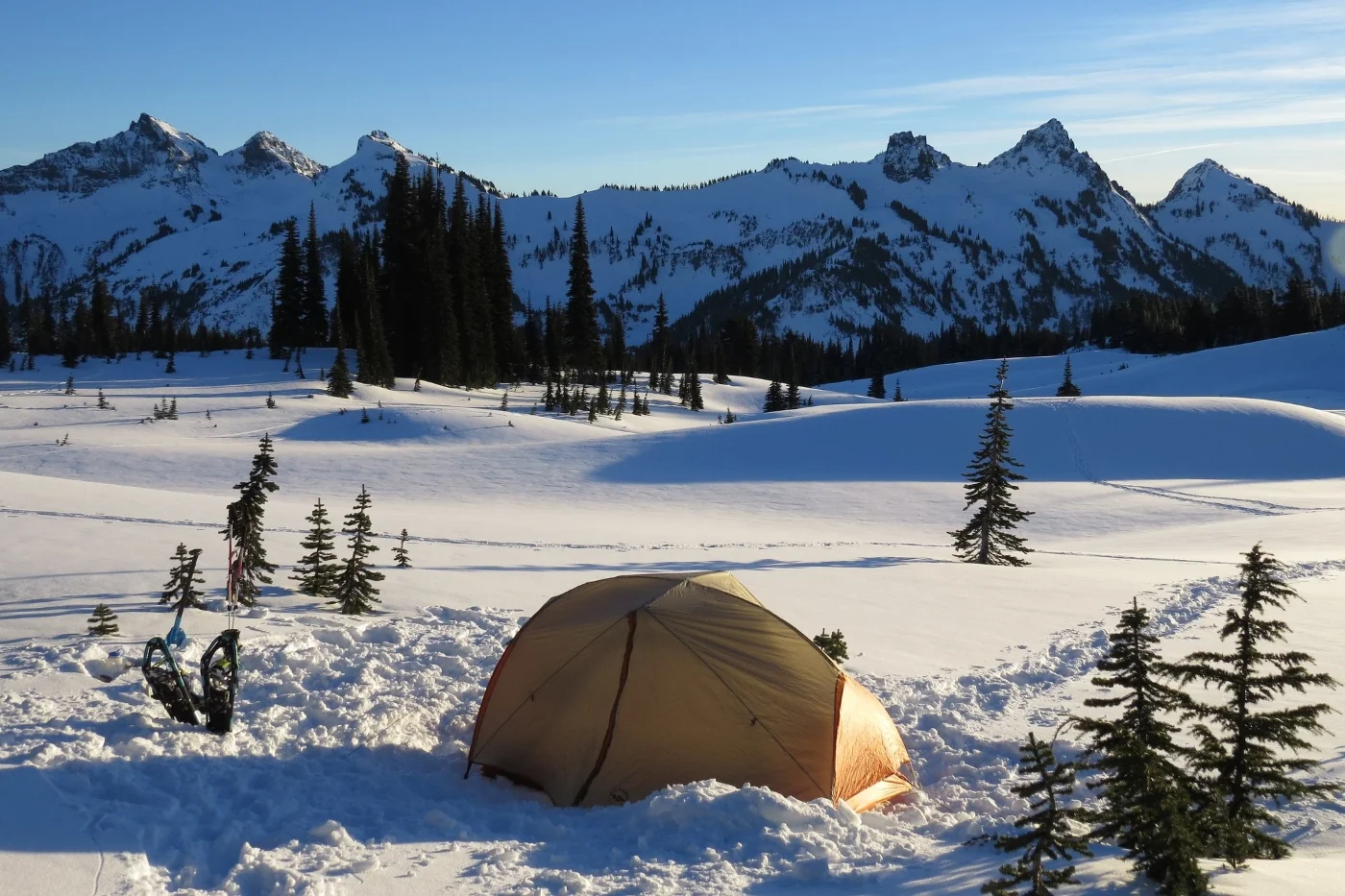 Tent visibility is typically determined by the campsite environment and the color of the tent. Campers seeking higher tent visibility will usually choose light-colored tents over dull-colored alternatives. Further, a brightly colored tent is arguably much easier to set up in the dark.
For the best visibility, the tent color must be in contrast to the campsite environment. A hot pink or red tent, for instance, would be stark when pitched in the meadows whereas blue camping tents would be blatant on desert campsites.
But why would you want your tent to be highly visible?
Search-And-Rescue Missions
Bright-colored tents with tones such as yellow, orange, or red are highly visible. As such, these colors can be easy to spot by rescue teams during emergencies, especially from aloft in a helicopter.
When camping in snowy areas, at remote backcountry hideouts or mountaineering destinations, consider such bright-colored tents for the simple reason that they could be the difference between being spotted and rescued, and being hidden from the rescue team.
Be sure to leave a detailed itinerary with a friend or family member for a more efficient rescue mission. It should include the color of the tent and other relevant information.
Related: How to be safe when camping: all the steps you can take.
Wayfinding
Yellowstone National Park has about 900 miles of hiking trails and it only takes a whim to get lost, whether you're experienced or a rooky. Making your way back to camp can be greatly aided by an easy-to-spot tent on top of the usual navigation tools such as a topographical map, a compass, and a GPS device.
If you're in pursuit of a solitude-seeking camping experience, high-visibility tents can sometimes signal other campers to pitch their tents a little farther from your spot.
Vehicle Hazards
Dispersed camping is a highly liberating and enjoyable outdoor experience. However, it often means pitching tents along roadsides, backcountry dirt roads, or trails. A driver might easily crash into your tent due to a missed turn or bad weather.
In areas where off-highway vehicles (OHVs) are prevalent, camping next to the trails could result in getting run over by these vehicles.
A brightly-colored tent will be easy to spot by most attentive drivers, unlike dull-colored or camouflaged tents. Moreover, if the tent has reflective sections, it can be an effective warning at night for drivers to keep to the road.
Hunting Season Mishaps
In the United States, most National Parks and Reserves have open seasons for hunting specific wildlife species such as deer, turkey, quail, duck, and elks. During that time of the year, most campgrounds turn into pseudo shooting ranges as each hunter tries to bag the season's limit.
The last thing you want during your camping trip is to be on the receiving end of shotgun slugs meant for deer and elks. So, whether you're participating in the hunt or not, it is mandatory to always wear high-vis clothing and use a bright-colored tent.
Else, you might end up a very unlucky statistic given that the mortality rate of hunting-related incidents is only 0.6%.
Light and Temperature Regulation Inside the Tent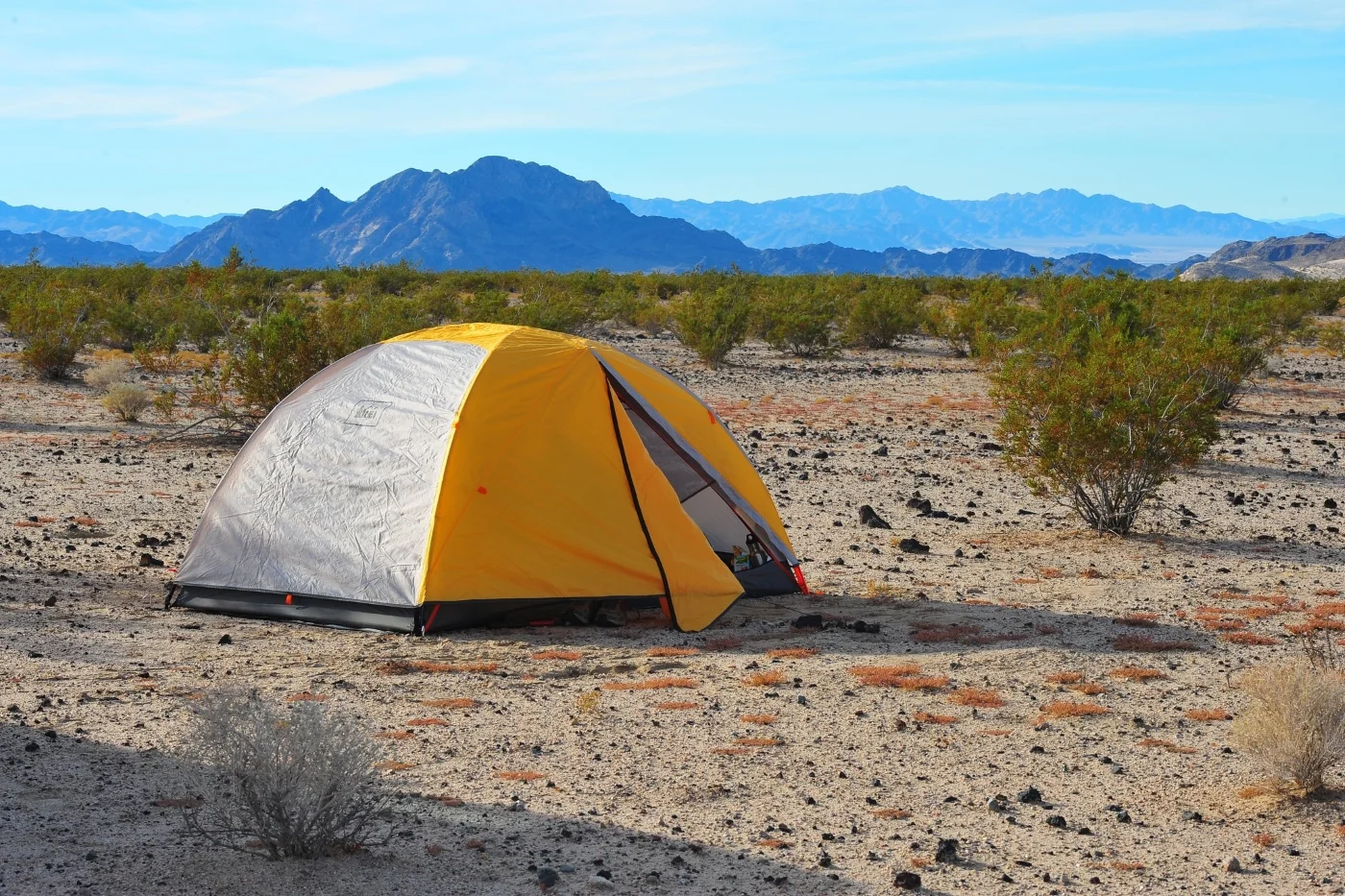 The color of the tent partially influences the levels of light and temperature inside the tent. Light-colored tents let in more natural light than dark-colored tents.
A bright interior environment is just what you need during forced downtimes. Plus, reading your favorite book or spending time with friends and family feels much cozier in a bright, naturally lit tent.
The golden rays of the morning sun are best appreciated in a light-colored camping tent. However, if you treasure sleeping through the early morning, then a tent with a darkened interior is the way to go. It is no wonder some companies now make "dark room" tents in favor of a better sleeping experience.
Darkened tent interiors can also be a lifesaver for people with high sensitivities to light.
Tent Color vs. Heat Absorption
When you shine a white light on a colored object, the object absorbs some of the light and reflects its perceived color. The more light is absorbed by an object, the more heat (light energy) is absorbed. Similarly, tents with darker tones absorb more heat than their lighter counterparts.
White tents will reflect most, if not all, wavelengths of light resulting in a cooler interior. Light-colored tents are your best bet for beach camping and fair-weather camping seasons. Dull camping tents are ideal for cold and winter camping seasons. Check out the guide we wrote on how to keep your tent cooler in hot summer weather.
The absorption of UV radiation is yet another aspect that is influenced by the color of the tent. Darker or more intense colors absorb harmful UV rays more effectively than lighter colors. So, you could bank on a dark-colored tent for extra protection from the sun.
However, the type of dye, thread count, and anti-UV additives used on the tent fabric also affect its efficacy at keeping out these sun rays.
Visual Impact and the Leave No Trace Concerns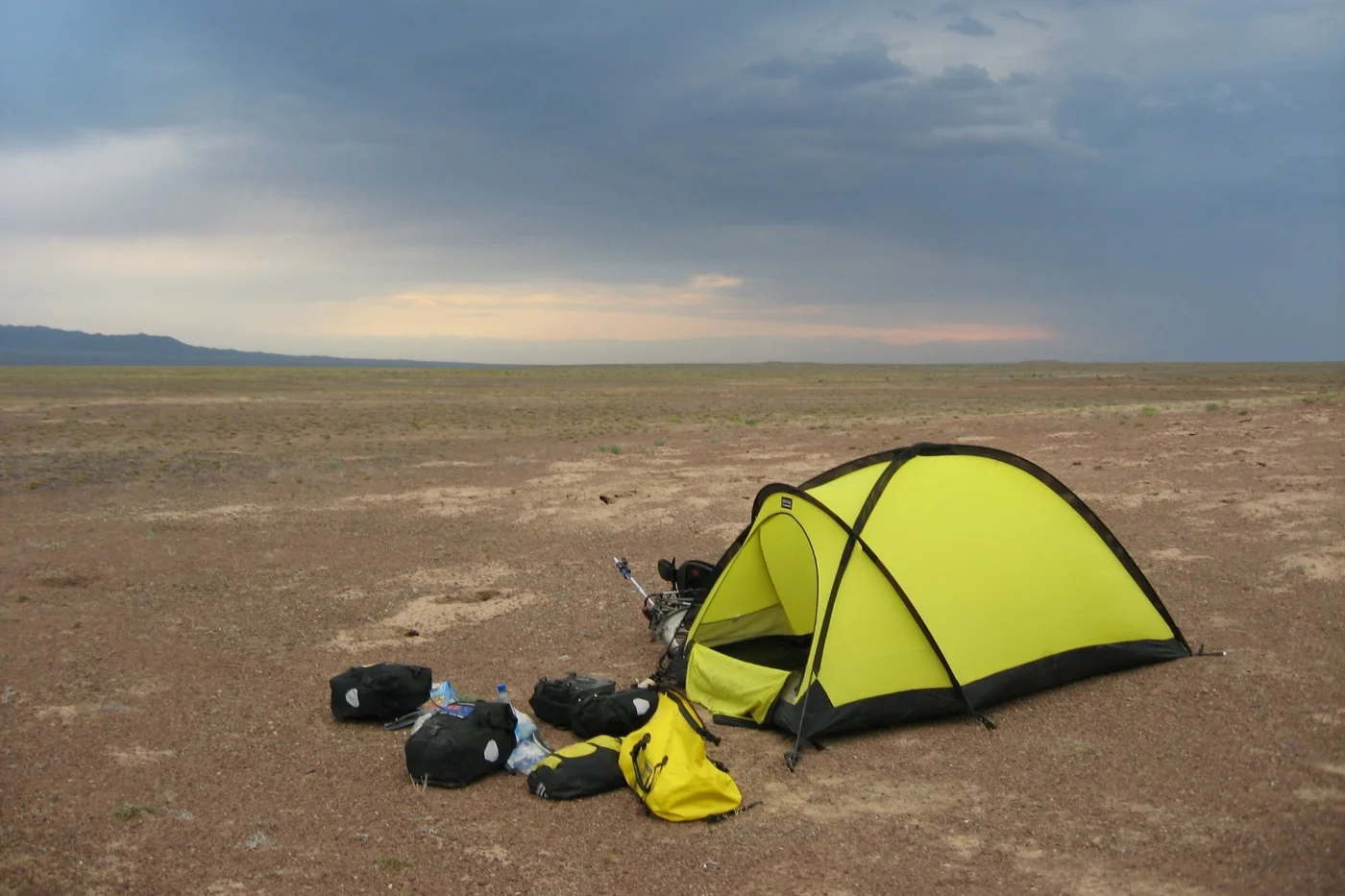 The core of the Leave No Trace spirit is to make as little impact on the great outdoors as possible. Bright yellow or orange tents can be considered visual pollution especially if they stick out in the given environment.
Remember other campers might be in pursuit of solitude or are trying to escape civilization. So, be considerate of their enjoyment by opting for muted or earth-tone colored camping tents, especially when camping in a campground.
Staying Hidden
Colors such as light green, tan, khaki, and camouflage patterns can help minimize your visibility while still serving functional roles. These subdued tent colors help you to easily blend into the environment — sometimes referred to as stealth camping. For instance, a green tent will blend more into a forested environment while a khaki one will tend to blend into a sanded desert more.
Minimizing your visibility ensures that potential thieves won't easily spot your abode and you won't scare away animals during the hunting season. A nicely camouflaged tent can help stealth campers to go unnoticed by park rangers or strangers.
Tent Color and Its Effects on Bugs and Wildlife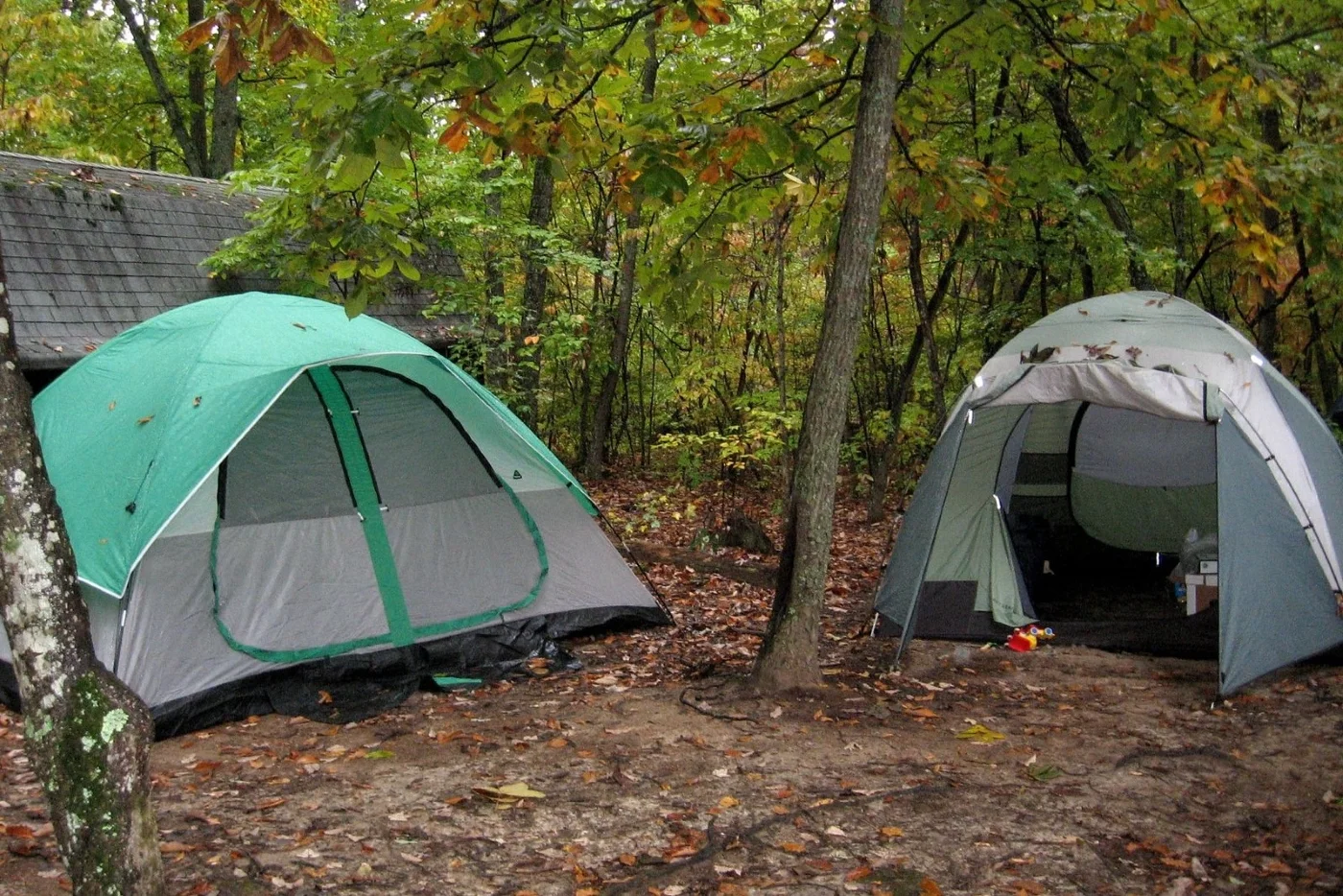 Black flies are partial to dark tones including navy blues and blacks. So, you want to stick with white, gray, or other bright-colored tents and clothing when these biting insects are most active. The same goes for ticks but only to easily spot these parasites.
A recent study done by researchers at the University of Washington observed that mosquitoes are more attracted to cyan, orange, red, and black colors. The mosquitoes in the study completely ignored colors such as blue, white, purple, and green.
A tent with any of those "repellent colors" would be a good first step in protecting yourself from mosquitoes during camping.
Bears
Though bears can see and discriminate colors, scents and smell from poorly stored food are the most likely reasons they will come to your tent. Bearproof food canisters and bear sprays are your best weapon against the bears. That said, you don't want to bring a highly visible bright-colored tent in bear country as these animals can be quite curious.
Effects of Tent Color on Melancholy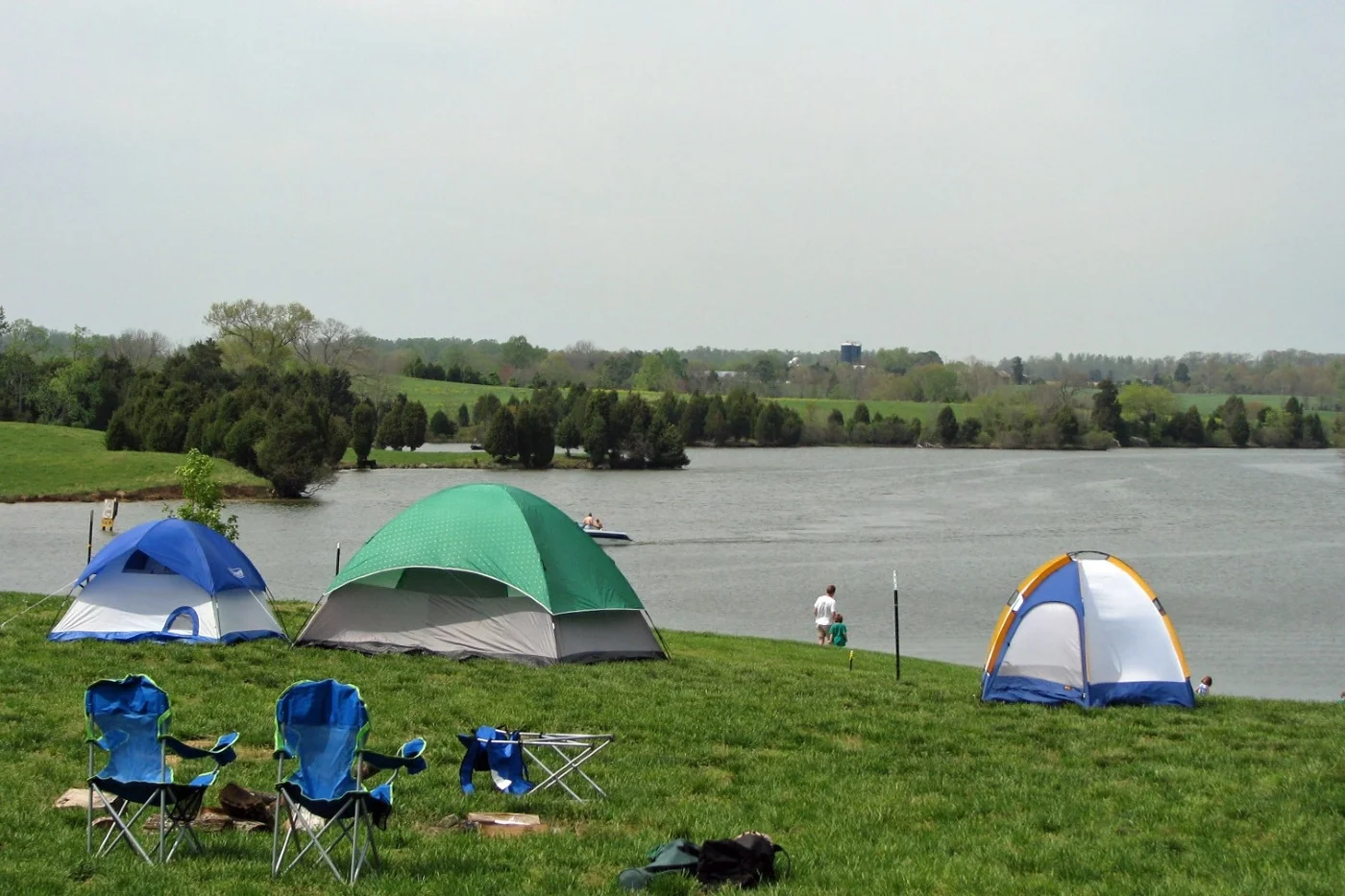 Studies show that color may influence a person's physical and mental state. Research carried out by Patricia Valdez and Albert Mehrabian concluded that brighter colors are more pleasant and less arousing than more muted colors.
In another study, researchers found that brown, dark grays, black or darker tones evoke negative emotions, whereas white, yellow, or brighter colors are mostly associated with positive emotions. Additionally, reds are even more negatively perceived by most people.
Therefore, to avoid the blues while camping, then you might want to go for tents with bright colors.
Effects of Color on Tent Durability
While color might not hugely affect the longevity of a tent, some colors are known to fade faster than others. Camping tents with darker colors, such as black, show fading quicker than those with lighter fabrics such as white, grey, and yellow.
Keep in mind that the dyeing process, finishing process, and type of fabric quality equally contribute to the rapid fading of the tent.
Can You Change the Color of Your Tent?
Yes, you can easily change the color of your tent by spray-painting it using fabric paint with the color of your choice. However, it's not totally impossible to do that without running the risk of damaging the fabric's waterproofing abilities and possibly its durability. So, instead of repainting your tent to your desired color, it is better to simply buy a new tent with your preferred color choice.
Perhaps the better, and a more affordable alternative, would be to instead cover the tent with a rainfly that has your preferred color.
Final Verdict
Sure, the color of a tent does matter but you want it to be the last thing to consider when choosing a camping tent. Since the benefits of any given tent color can be quite subtle, choose what appeals to you. After all, most manufacturers provide multiple color styles for the same tent model.