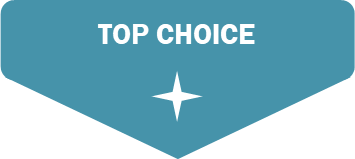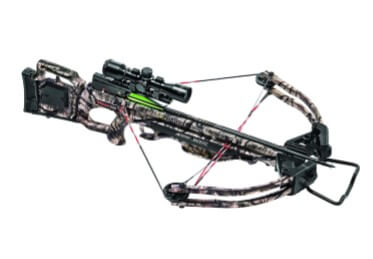 CenterPoint Sniper 370-Crossbow Package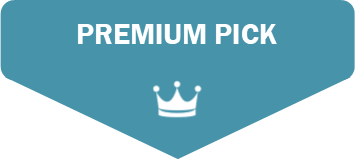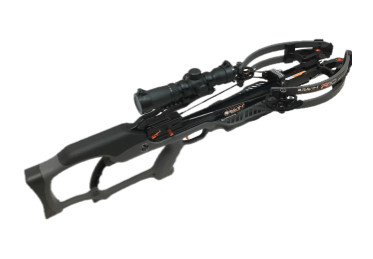 Ravin R10 Crossbow Package: Premium Choice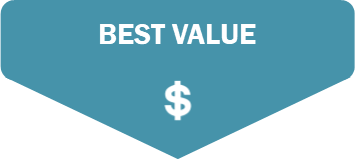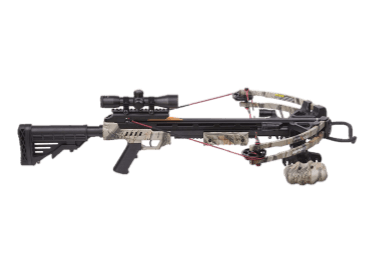 TenPoint Titan SS Crossbow Package


Best Crossbow Reviews - 2019 Top Picks
Hunting for that crossbow that you can trust for that long-awaited hunting experience? No pun intended but the hunt is over as we have done the heavy work for you.
This narrowed authentic list delves into the features of best crossbows in the market. Take a look.
1. Ravin R10 Crossbow Package
Notable Features
6 Ravin-branded arrows and nocks
1 removable cocking handle
Six 100-grain field points
1 quiver and mounting bracket
Built-in cocking mechanism
Anti-dry fire/ auto-safety
Built-in sling mounts
Launched in 2019, the Ravin R10 is undoubtedly among the fastest and most accurate crossbows on the planet. Not to be confused with the R9, the R10's stock, reduced by 1.5 inches, has a smaller stance.
The crossbow, available in either the camo or the gunmetal camo, comes equipped with bolts with 100-grain practice field points. You need not tire yourself with assembling as the bow is mostly assembled. All you have to do is mount the scope on the picatinny rail then sight it in. Thereafter you are ready to shoot.
You can easily cock this crossbow even while sitting down, due to the integrated cocking mechanism. Not only that, but it also has anti-dry fire mechanism specifically included for your safety.
With an arrow speed of up to 400 feet per second, this crossbow is definitely one of the most fast-paced arrows in the field. This means that the shooting range allows more room for distance as the speed of the arrow can allow accurate shots at longer distances of up to 60 yards.
The smooth and solid trigger as well as the scope that lights up is an added feature you will appreciate during those early morning or late evening hunts.
There is little to complain about this masterpiece. The scope's visibility may not be clear and prove strenuous, the reticles within taking effort to see. Even with the lighting which can be altered from black to red and even green, this still may be faulty.
Nonetheless, the crossbow carries well as the weight is evenly balanced. With a five-year warranty, relative noise when fired, built-in cocking mechanism and anti-dry fire making an excellent balance, this is by far the best in hunting crossbows.
We rate it at 4.8 stars.
Pros
Helicoid technology
Versa-draw cocking system
Safety switch design
Fast arrow speed
Easy assembly
Balanced weight
Cons
Unclear scope
A little noise when fired
2. Barnett Ghost 375 Crossbow, Realtree Max 1 Camo
Notable Features
Nose bolt
Step-through carbon-lite riser
Anti-vibration technology limbs
4x32 Illuminated scope
7/8 picatinny rails
Side arm quiver
Two 20-inch headhunter arrows
Rope-cocking device
Safety trigger guards, anti-dry fire trigger
Bristle brush retainer
Lube wax
The Barnett Ghost 375 guarantees exceptional shot placement. It comes almost fully assembled except you have to attach the riser with the accompanying nose bolt. After correct assembly, you are sure to experience smooth dead-on shooting on a target at 50 yards with outstanding penetration.
The crossbow accommodates 20-inch bolts with 100-grains Brodhead giving a total of 400 grains for the bolt. It has smooth, accurate and lethal shots.
The 4x32 scope comes already mounted and requires a few adjustments to the factory settings to accurately sight in. Further, the scope is illuminated meaning that you can easily hunt in low-light environments.
Indeed, this is one of the lightest bows in the industry with a practical overall weight and a smaller profile. With an aluminum rail, side quiver and a rope-cocking device, there is little to add to this quality crossbow.
Its anti-dry fire mechanism will keep your bow protected from damages as it will not fire without correct setting of the bolt.
Precision, safety and performance of the crossbow is taken care of for you. The Ghost 375 features a cocking device that lightens the weight for you. The package also includes lube wax for your strings, a thoughtful and much-needed addition if you asked me.
It is however not whisper-quiet as it lacks a String dampener to reduce noise when the bow is fired. This means that far shots on game can't be taken as the game will most probably be alarmed by the noise. Other shortcomings include the scope being unclear thereby inappropriate to use.
The sleek machine with deadly accuracy which will come in handy during archery season earns 4.4 stars from our panel of editors.
Pros
Easy assembly
Safety mechanisms
Precision of shots
Lightweight
Cons
Not whisper-quiet
Unclear scope
3. TenPoint Titan SS Crossbow Package
Notable Features
Risers with limbs attached
Quiver foot stirrup
3x Multi-line Scope
Fully-coated 3x32 optics
The TenPoint Titan SS Crossbow Package is available in four styles; the 3x Multi-line Scope, the 3x Pro-view 2 Scope, W/ Acudraw & 3x Pro-view 2 Scope and the W/ Acudraw 50 & 3x Pro-view 2 Scope. We tested the first of the four and it emerged an overall top-scorer in terms of functionality when compared with other crossbows. It is exceptionally accurate at 20 yards, right out of the box.
Its scope comes already mounted thus requiring little adjustment to the factory settings. Its duplex crosshairs are calibrated at 20, 30 and 40 yards. The scope is however non-illuminated making low-light environment hunts a bit of a tussle.
The package comes with the bow and stock both fully assembled, so you'll have easy assembly as you only have to attach the two by mounting the bow on the stock. Being a skinny package, it comes with no arrows nor string suppressers. Without these suppressers, the sound that usually resonates after shooting is loud and very inconvenient. Despite lacking a string suppresser, the bow is surprisingly very quiet.
More importantly, this package is entirely accommodating of novices as it comes with an instructional DVD which guides all users. This, in addition to the easy assembly and impressive accuracy of the bolt and scope earn the bow 4.9 stars.
Pros
Easy assembly
Dead-on accuracy
Handy instructional DVD
4. Excalibur Null Matrix SMF Grizzly Crossbow
Notable Features
Excalibur crossbow
Crossbow kit
With a mass weight of 5.5 pounds, the Excalibur Grizzly bow may need some foundation to add to its accuracy. This weight however makes it more portable than most crossbows in the market.
This recurve crossbow accommodates a 20 inch bolt with 125 grain tips. Assembling it is easy even for beginners as it comes with an instruction manual and a DVD that guides you. Further, it sighted in very easily taking only a few shots to align the scope to dead center. Other than incredible accuracy, the scope itself is made of high quality glass enhancing the bow's durability.
Its 200-pound draw weight is moderate and easy for seniors to pull even though this has a large bearing on the speed of the arrow. The minimal weight lowers arrow speed.
The package includes a rope-cocking device which is easy to cock. You can depend on this bow at the field as you will have no hard time changing its strings. The ease of changing strings ensures that you need not interfere or end your hunt.
The bow fits well on the shoulder and its trigger, though a bit stiff at first, pulls very well once oiled.
It lacks an anti-dry fire mechanism meaning that you have to be extra careful to avoid injuring yourself or the bow through dry fires.
With a limited lifetime warranty, the crossbow being easy to draw, compact and having amazing balance it garners 4.4 stars from us.
Pros
Lightweight
Conveniently portable
Durable
Cons
No safety mechanism
Minimal draw weight lowers arrow speed
5. Barnett Whitetail Hunter II Crossbow
Notable Features
4x32 scope
Rope-cocking device
Side-mount quiver
Two 2-inch headhunter arrows and lightweight quiver
Lube wax
7/8 inch picatinny rails
Metal Injected Molded (MIM) trigger
Anti-dry fire trigger and finger safety reminders
Pass-through fore grip
The Barnett Whitetail Hunter II hosts 20-inch bolts with 100-grain Broadheads. It comes mostly assembled requiring little time to assemble. Just attach the riser to the provided nose bolt and you are ready to go. Right out of the box, it can shoot 50 yards very accurately.
You will be particularly impressed by how quiet the bow is when fired due to the string dampeners it comes with as well as its custom composite laminated limbs.
With the whitetail hunter II, your safety is guaranteed as it comes with an anti-dry fire trigger barring any explosion and self-harm. This is in addition to finger-safety reminders that guide you on where to correctly place your fingers before firing. The bow's safety is also guaranteed thanks to a nock sensor that deters dry fires.
The bow, being narrow across the limbs, makes it easy to use on a tree-stand. Moreover, it features a rope-cocking device that makes pulling back the 150-pound limbs very easy. It further allows the integration of a crank-cocking device sold separately.
The package features lube-wax advisable to wax every ten shots in addition to a quiver that holds three bolts. Equipped with an adjustable stock, the bow can be shared with family. By just removing the butt pad to adjust, the bow can be carried by both young and old hunters.
On the flip side, its scope doesn't adjust well. Furthermore, the instructional manual had unclear pictures which could be worrisome for new crossbow users.
Although the anti-dry fire trigger is an applaud-worthy safety feature, it comes as a shortcoming when you need to de-cock. The safety mechanism means that you either have to shoot into the game to de-cock or have a shooting block with you at all times if you want to de-cock it.
This ambidextrous product made in the U.S with a warranty, shoots nice, and is easy to sight in, light, fast and compact. It earns 4.3 stars from our team.
Pros
Hushed shots due to string dampeners
Included wax to prevent wear
Finger safety
Cons
Its anti-dry fire system makes it cumbersome to de-cock
Unclear instructional manual
6. PSE Fang series 2019 model
Notable Features
4x32 scope
Five-bolt quiver
Cocking rope
Three 20-inch carbon bolts with half-moon nocks
Three 100-grain bullet points
Anti-dry fire & auto safety
Foot stirrup
4-lbs. pull trigger
String stops
You can choose from the fang XT Mossy oak, break up infinity, fang LT mossy oak or the fang LT Muddy girl of this model. This compound crossbow hosts a 20-inch 400-grain bolt.
It comes mostly assembled, with instructions on how to mount the bow. However, I encountered trouble assembling the limbs to the bow. After overcoming that, it fires impressively on target at 20 yards right out of the box. It only required a few shots to correctly sight in. Even so, you might have to upgrade it to experience the full potential of the bow.
The package comes with a cocking rope whose advantage over other cocking devices is that it is very quiet if the need arises to cock it in the woods. It also features 3 arrows, a quiver, dual string stops as well as a picatinny rail system where the scope can be mounted.
This crossbow, with a limited lifetime warranty that excludes its strings and cable, is fast and very accurate. For that it earns 4.2 stars.
Pros
Accuracy of shots
Quiet cocking
Warranty
7. CenterPoint Sniper 370-Crossbow Package
Notable Features
4x32 mm scope
Three 20-inch carbon bolts
4-arrow quiver
CNC-machined aluminum rail with shoot-through riser
Quad limbs with precision
CNC machined Cam system
Rope-cocker
Shoulder sling
Anti-dry fire & auto safety
String suppressors
Lube wax
This crossbow is the perfect march for hunters looking for a fully-equipped package. Available in black and camo, this compound bow features well-finished metal on metal screws, an adjustable stock and an anti-dry fire and auto safety which not only ensure the safety of your fingers but also that of the bow itself.
With dead-on consistent accuracy, alongside whisper-quiet shots, it is no surprise that this powerful crossbow makes an appearance in this list. The bow's strength is evident in the impressive speed of 370 feet per seconds with a draw weight of 185 pounds. Its quad limbs made of Compact Recurve Technology are fitted with such precision that it shoots this speed with no qualms.
The CenterPoint sniper 370 has integrated string suppressors that aid in keeping your shots quiet and void of vibrations. It further features a tactical cool AR handgrip and adjustable M4-style stock. The adjustable stock makes it suitable for both youth and adults, or with and without heavy wear.
With only one major shortcoming being that the directions are poorly made hence confusing for beginners, this crossbow lacks in no other way. To put it simply, this crossbow is by far one of the best hunting crossbows. It scores 4.5 stars.
Pros
AR style adjustable stock
Picatinny rail
Removable quiver
Shoots quietly
Devastating power
8. Invader G3 Crossbow Package
Notable Features
ACU-52 cocking device
TenPoint 3x32 Multi-line scope
Wicked Ridge 3-arrow quiver
Three 400-grain carbon arrows with 100-grain practice tips
Safely-engineered fore grip and wings
Rail lube
The Wicked Ridge is accompanied by a manual with clear and complete instructions on how to link its stock and bow. This makes for easy assembly.
Its pull weight is 50% With Acu-52. Once pulled, it reduces the 165 lbs. draw weight by half with consistent and accurate drawing. The cocking device further entails mini-magnets instilled to hold the handles securely in place.
It sports safety-engineered fore grip and wings which keep your fore-grip hand safely below the bowstring release path. Self-harm is inhibited as its safety becomes automatically engaged when you cock the crossbow. You must then release it manually in order to fire a bolt.
This product features 20-inch bolts which come with omni nocks. Another safety feature is that the string has to be centered on the nock for firing. In the same manner, the safety of your fingers is ensured by the dry-fire inhibitor it incorporates. They also deter firing of the crossbow without an arrow.
With a non-illuminated scope, the bow still shoots excellently up to 50 yards. The ambidextrous bow further comes with lube to prevent wear and damaging of the bow's strings. Although it does not come with a sling, there are two attachment areas for it.
Due to the lack of noise dampeners, the bow is loud when shot. This may interfere with the hunt by alerting your game giving it easy chance of reaction and escape, especially when shot at far range.
This crossbow made in the U.S.A is by far the safest, lightest, narrowest and fastest bow. Incorporating a limited lifetime warranty, the powerful machine that is easy to use and sight in, earns a clean 4.6 stars from our panel.
Pros
Lightweight
Cocking device reduces weight by 50%
Safety ensured through dry-fire inhibitor
9. Barnett Recruit Compound Crossbow Package
Notable Features
Three 20-inch headhunter arrows
Three field tips
Premium red dot scope
Rope-cocking device
Finger reminders
String wax
Anti-dry fire mechanism
This product from Barnett comes in black and its size makes it just ideal for women and small framed people such as smaller men or larger boys. It is easy to assemble, even for novices as it simply entails mounting the riser to the stock and the scope to the stock.
A kinetic energy of 80 is just enough to take down game when combined with a draw weight that is extremely easy to pull back thanks to the cocking rope that accompanies it.
It sports a picatinny rail where you can attach other accessories as well as a red-dots scope alongside its batteries. The scope allows you to sight with both eyes being open hence remain alert and more aware of your surroundings even when aiming.
Its durability is guaranteed by the heavy-duty string it is made of. Further, it features an adjustable stock that makes it interchangeable between adults and youth or one can simply maintain it as they get older.
The ambidextrous crossbow comes with a rope cocking device and still allows integration of a crank cocking device. With it, your safety is guaranteed owing to the finger reminders on the fore-grip. Safety is further guaranteed with anti-dry fire which prevents unintended firing without a bolt.
Instructions that accompany the bow are clear. They, for instance, state that the odd-colored arrow fletching has to be facing down. Even so, this may not be handy as the scope only functions well within 10 yards. An upgrade of the scope should suffice to enjoy the maximum potential of the bow.
Including just the right amount of safety mechanism and complete accuracy, this crossbow earns 4.4 stars from us.
Pros
Features a solid liner lock
Centered blade
Four-way carriage
Cons
Closing not accommodative of the left-handed
10. Barnett TS390 Tactical Series Crossbow
Notable Features
4x32 illuminated scope
Rope-cocking device
Side-mount quiver
Two 22-inch headhunter arrows
Patented step-through riser
String dampeners
CNC-machined aluminum flight track
Nock sensor
Anti-dry fire trigger system
Finger-safety reminders
Lube wax
This product from Barnett comes in digital grey camo that is appealing to the eye. It entails string dampeners that enhance stealth-like shooting. The CNC machined aluminum flight track adds to this feature.
It comes mostly assembled requiring little time to fully assemble. The 4x32 illuminated scope is added deliberately for fast and clear target acquisition.
The crossbow allows integration of a crank cocking device for support of the weight. It also has an adjustable butt stock making it appropriate for all sizes. Other features include three picatinny rails that allow the attachment of more accessories.
Barnett TS390 Tactical Series Crossbow has an innovative incorporation entailing a self-adjusting soft-low floating bristle arrow retainer. This securely holds the arrow once loaded.
With it, your safety is ensured due to the anti-dry fire system as well as the nock sensor barring dry fires by only allowing shots when the arrow is correctly seated. This coincides with the finger safety reminders that enhance correct placing of fingers to avoid accidents.
Lastly, its scope is clear with red/green illumination for low light shots, easy to sight in and can be used without illumination.
The only shortcoming is that the cable frayed after about 100 shots.
This crossbow shoots perfectly and is really quiet. For that it scores 4.5 stars.
Pros
Thick blade
Molle Compatible
Lanyard hole
Reversible tip-up pocket clip
Ambidextrous lock
Comfortable grip
Lifetime warranty
Cons
Handle is color absorbent
Finding the Best Crossbow for Hunting: Which Factors Matter?
While most hunters are normally already decided on whether they want a compound or recurve crossbow, there are other deciding factors that highly impact the crossbow that they end up with.
Follow these narrowed guide to get full exposure to the essentials to look out for when purchasing a crossbow.
1. Draw weight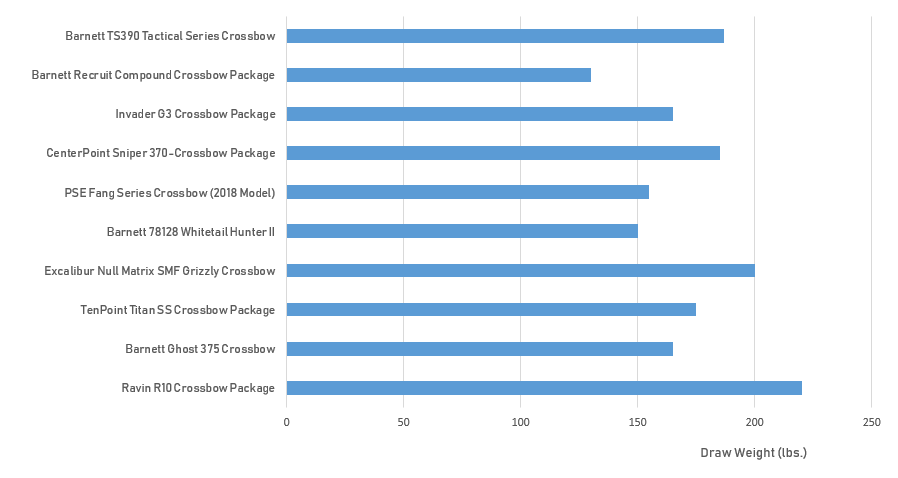 Draw weight refers to the number of pounds it takes to pull the crossbow's string back into cocked position. Most quality bows have a draw weight of 150 to 200 lbs. This weight is adequate to kill game at moderate range. Note that a crossbow's speed is enhanced by a higher draw weight.
Look into how many pounds you can comfortably draw back. Crossbows usually come equipped with cocking devices that aid with this weight.
Crank cocking devices are either normally built-in or are attached to come up with a pulley-like mechanism that lightens the weight for the archer. One of these pulley-like systems is the cocking rope which is usually attached to the string and will reduce the draw weight by half.
The ACU draw is one such cocking device that reduces the amount of force necessary to cock to FIVE pounds!
2. Arrow speed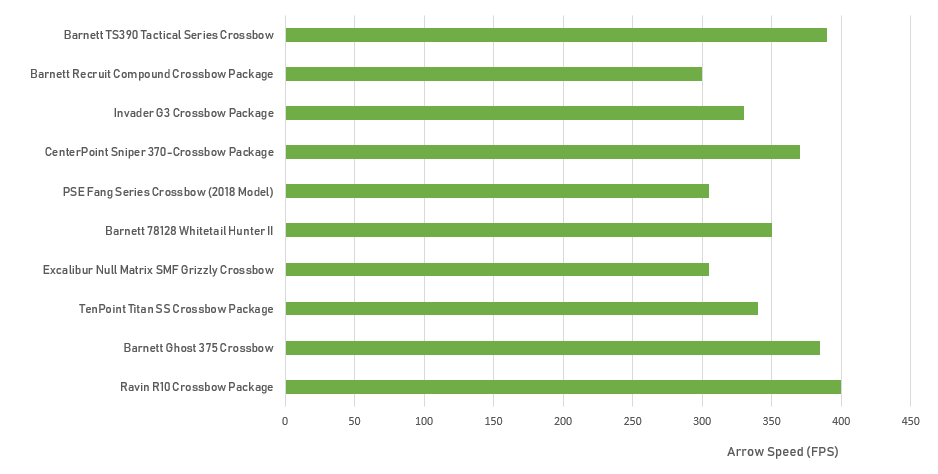 While the draw weight affects the arrow speed, other factors have a say as well. These include the length of the power stroke.
The average speed for modern crossbows is 270 to 400 feet per second. A velocity of 300 fps will result in a clean hunt and is just enough energy to maintain arrow trajectory when shooting at longer ranges.
When shooting at live game, it is advisable to do so within 40 yards to avoid a complete miss especially because most crossbows create a noise when fired. This alerts the game which then instantly reacts by taking off. You want to maintain a reasonable shooting range while being aware of your bow's arrow speed.
Because crossbows have shorter power strokes as compared to conventional bows, they lose their kinetic energy faster. Kinetic energy refers to the energy required to propel an object. This means that you have to be close to the game for ethical hunting that does not result in injuring your game and leaving it like so.
3. Arrow features
The features of the arrow including its length, weight, type of broadhead and even type of nock all have an impact on your hunting experience.
The correct size of an arrow is significant because light arrows in the wrong crossbow may result in a blow-up. Crossbows usually come with instructions from the manufacturer on the appropriate length and weight of an arrow in order to avoid dry-fires among other mishaps.
Opt for a lighted arrow as it is easier to recover. The make of the arrow is equally important. You want to work with carbon or aluminum arrows which will ensure that the arrow is not flimsy. The nock also has to be designed for crossbows.
Crossbows require heavier broadheads to even out their flight. 100 to 125 grains should do but shoot plenty of shots first to determine whether it will fly accurately from your crossbow. Remember, the arrow should be around 400 grains inclusive of the broadhead meaning a 100-grain broadhead would be appropriate for 300-grain arrow. They should also have sharp blades.
4. Optics (type of scope)
Sighting devices aid in making accurate shots. The rule of the thumb is that you are always going for the game's vital organs when hunting.
The most popular ones are multi-reticle scopes. With them, the goal is to zero the top-most reticle or dot at 20 yards. If your scope has one dot then you can sight it for any distance.
An illuminated reticle will come in handy especially during early morning or late evening hunting.
5. Accessories
These are the factors that enhance the functionality of your crossbow. They include string suppressors, slings and string lubricants among others.
A sling and a crossbow are just the perfect pair especially when hiking. You want a robust sling that is well padded and has a non-slip surface that will keep the crossbow in place.
String dampeners are meant to attenuate sound and vibration. Lastly, to guarantee a good harvesting, keep your strings lubricated as they are prone to wear and tear from the string-to-rail friction. A hunt is only as good as the state of your crossbow.
Develop your hunting skills rather than opting for a bow with faster arrow-speed. With these essentials in mind, you will be sure to hunt and capture game easily.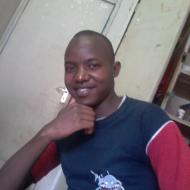 ABOUT DANIEL MSANII
When he's not camping or adventuring the outdoors, you'll find him grinding hard on his keyboard to put up some super-awesome content on campingmaniacs.com. Starting off on camping escapades back in 2011, he has grown fond of the activity over the years. His exposure to a myriad of different camping terrains, gear and the outdoor atmosphere has hitherto changed his perception of the entire outdoor life. He enjoys sharing the experiences of his adventures and gear reviews with the awesome camping community on this platform. Read more about us.