41 Expressive John Muir Quotes to Rekindle Your Bond With Nature
Ever the wanderlust person, John Muir lived most of his 76 years enjoying the mountainous ranges of Sierra Nevada and fighting for preservation and conservation of forests.
Muir had foreseen the eventual depletion that would befall the forests and mountains due to industrialization. He had heard the mountains' call for help and answered it in the most effective of ways. In fact, he influenced the establishment of Yosemite National Park, Sequoia National Park, Kings Canyon, Grand Canyon, Mt. Rainer and Petrified Forest National Parks.
He also co-founded the Sierra Club, in 1892, which was responsible for the establishment of several national parks even after he was long gone.
Muir had a long held conviction that all wilderness areas must be protected by the government as national parks. This laid the foundation to today's environmental activism and further provided opportunities for many individuals to enjoy the beauty of America's landscapes devoid of industrialization influences.
He was the most fascinating of all environmentalist heroes in history. Muir has been honored in many ways including; having a lot of things named after him such as minerals, plants, geographical places, an asteroid and a minor planet plus being featured on two US commemorative stamps.
Deservedly dubbed the "Father of the National Parks", John Muir left us a handful of quotes about the mountains and nature, and many years later, we are wowed by the deep connection with nature these quotes rekindle in us. Here we go:
15 John Muir Mountain Quotes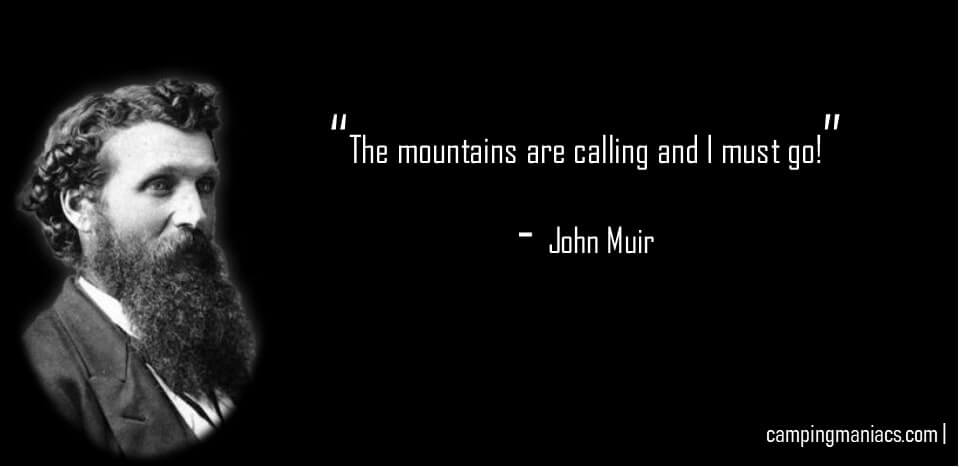 I am losing precious days. I am degenerating into a machine for making money. I am learning nothing in this trivial world of men. I must break away and get out into the mountains to learn the news.
- John Muir
Going to the mountains is going home.
- John Muir
Few places in this world are more dangerous than home. Fear not, therefore, to try the mountain passes. They will kill care, save you from deadly apathy, set you free, and call forth every faculty into vigorous, enthusiastic action.
- John Muir
Thousands of tired, nerve-shaken, over-civilized people are beginning to find out that going to the mountains is going home; that wildness is a necessity.
- John Muir
We are now in the mountains and they are in us, kindling enthusiasm, making every nerve quiver, filling every pore and cell of us.
- John Muir
This time it is real — all must die, and where could mountaineer find a more glorious death!
- John Muir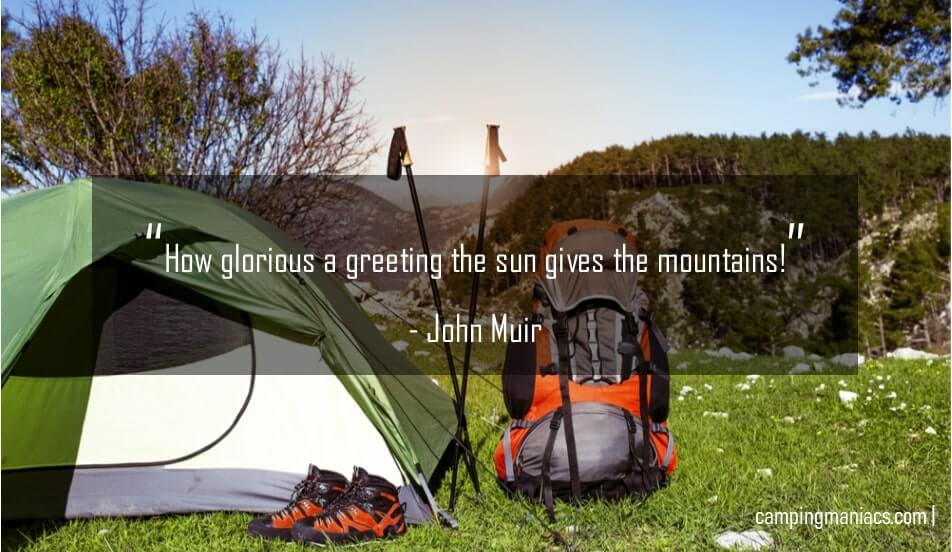 Who wouldn't be a mountaineer! Up here all the world's prizes seem nothing.
- John Muir
One day's exposure to mountains is better than a cartload of books.
- John Muir
Walk away quietly in any direction and taste the freedom of the mountaineer.
- John Muir
I don't like either the word [hike] or the thing. People ought to saunter in the mountains - not 'hike!'
- John Muir
Long, blue, spiky-edged shadows crept out across the snow-fields, while a rosy glow, at first scarce discernible, gradually deepened and suffused every mountain-top, flushing the glaciers and the harsh crags above them. This was the alpenglow, to me the most impressive of all the terrestrial manifestations of God. At the touch of this divine light, the mountains seemed to kindle to a rapt, religious consciousness, and stood hushed like devout worshippers waiting to be blessed.
- John Muir
No synonym for God is so perfect as Beauty. Whether as seen carving the lines of the mountains with glaciers, or gathering matter into stars, or planning the movements of water, or gardening - still all is Beauty!
- John Muir
Climb the mountains and get their good tidings. Nature's peace will flow into you as sunshine flows into trees. The winds will blow their own freshness into you, and the storms their energy, while cares will drop away from you like the leaves of Autumn.
- John Muir
26 John Muir Nature Quotes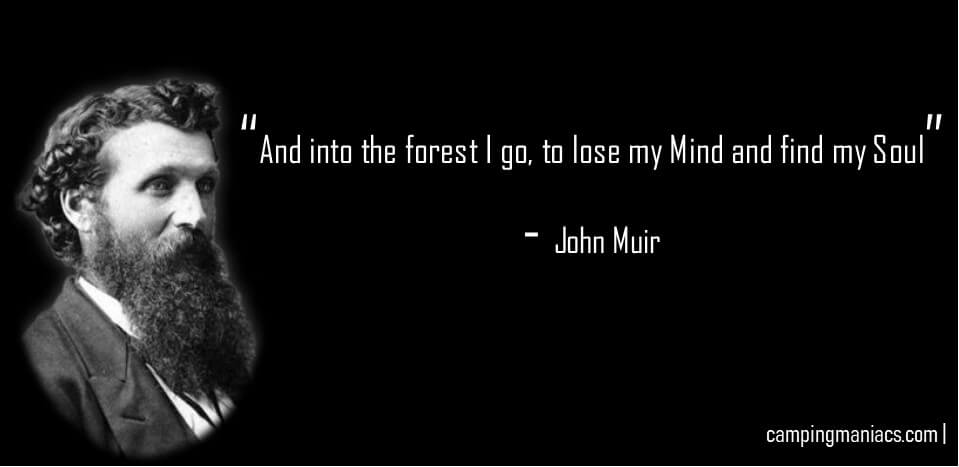 Everybody needs beauty as well as bread, places to play in and pray in, where nature may heal and give strength to body and soul.
- John Muir
The world is big and I want to have a good look at it before it gets dark.
- John Muir
The battle for conservation will go on endlessly. It is part of the universal battle between right and wrong.
- John Muir
Handle a book as a bee does a flower, extract its sweetness but do not damage it.
- John Muir
I ran home in the moonlight with long, firm strides; for the sun-love made me strong.
- John Muir
And into the forest I go, to lose my mind and find my soul.
- John Muir
I only went out for a walk and finally concluded to stay out till sundown, for going out, I found, was really going in.
- John Muir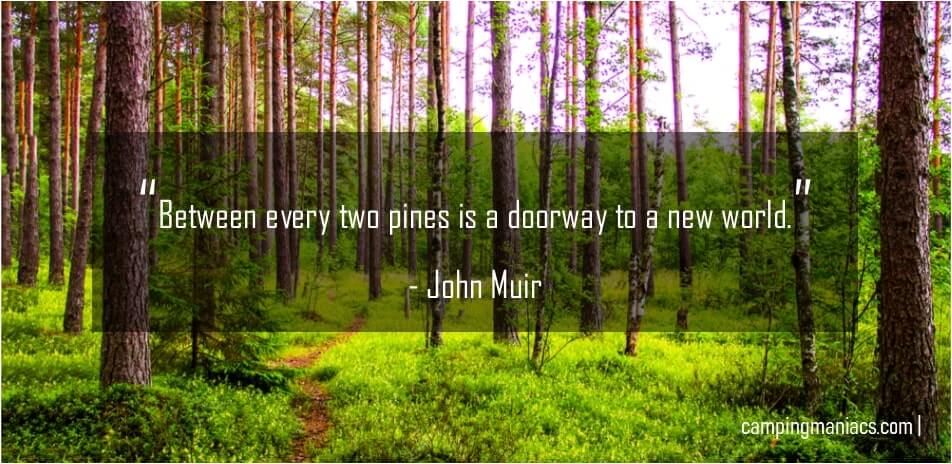 God has cared for these trees, saved them from drought, disease, avalanches, and a thousand tempests and floods. But he cannot save them from fools.
- John Muir
One should go to the woods for safety, if for nothing else.
- John Muir
When one tugs at a single thing in nature, he finds it attached to the rest of the world.
- John Muir
On no subject are our ideas more warped and pitiable than on death. ... Let children walk with nature, let them see the beautiful blendings and communions of death and life, their joyous inseparable unity, as taught in woods and meadows, plains and mountains and streams of our blessed star, and they will learn that death is stingless indeed, and as beautiful as life, and that the grave has no victory, for it never fights.
- John Muir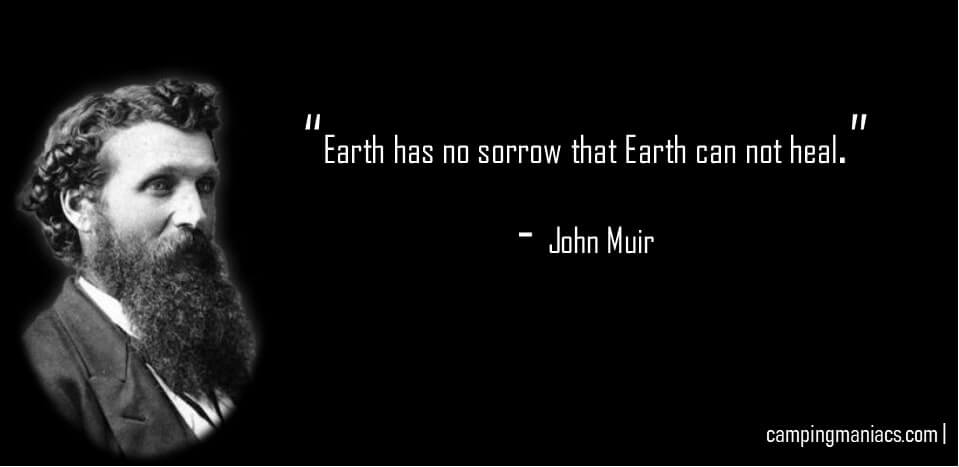 Only by going alone in silence, without baggage, can one truly get into the heart of the wilderness. All other travel is mere dust and hotels and baggage and chatter.
- John Muir
I care to live only to entice people to look at Nature's loveliness.
- John Muir
The clearest way into the Universe is through a forest wilderness.
- John Muir
None of Nature's landscapes are ugly so long as they are wild.
- John Muir
Most people are on the world, not in it.
- John Muir
Come to the woods, for here is rest. There is no repose like that of the green deep woods. Sleep in forgetfulness of all ill.
- John Muir
The sun shines not on us but in us. The rivers flow not past, but through us.
- John Muir
The world, we are told, was made especially for man — a presumption not supported by all the facts.
- John Muir
In every walk with Nature one receives far more than he seeks.
- John Muir
As long as I live, I'll hear waterfalls and birds and winds sing. I'll interpret the rocks, learn the language of flood, storm, and the avalanche. I'll acquaint myself with the glaciers and wild gardens, and get as near the heart of the world as I can.
- John Muir
The power of imagination makes us infinite.
- John Muir
Most people who travel look only at what they are directed to look at. Great is the power of the guidebook maker, however ignorant.
- John Muir
I never saw a discontented tree.
- John Muir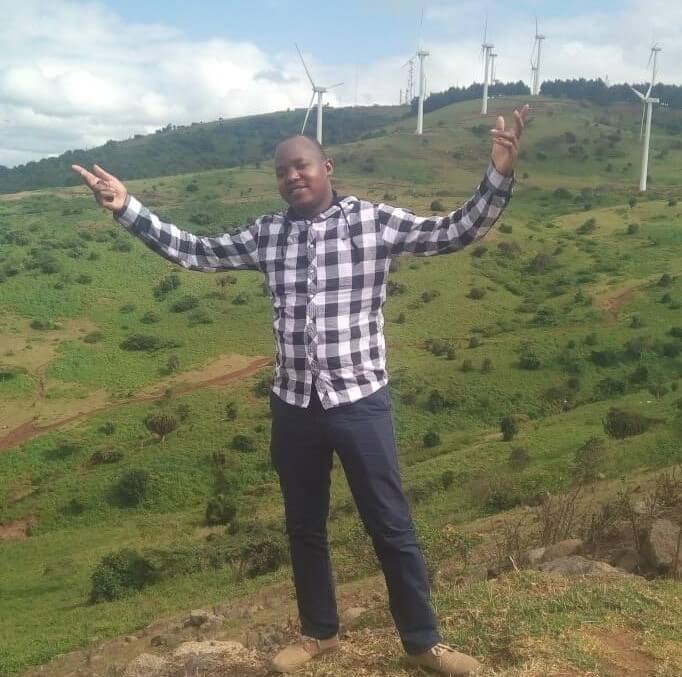 Written By Daniel Msanii
When he's not camping or adventuring the outdoors, you'll find him grinding hard on his keyboard to put up some super-awesome content on campingmaniacs.com. Starting off on camping escapades back in 2011, he has grown fond of the activity over the years. His exposure to a myriad of different camping terrains, gear and the outdoor atmosphere has hitherto changed his perception of the entire outdoor life. He enjoys sharing the experiences of his adventures and gear reviews with the awesome camping community on this platform. Read more about us.